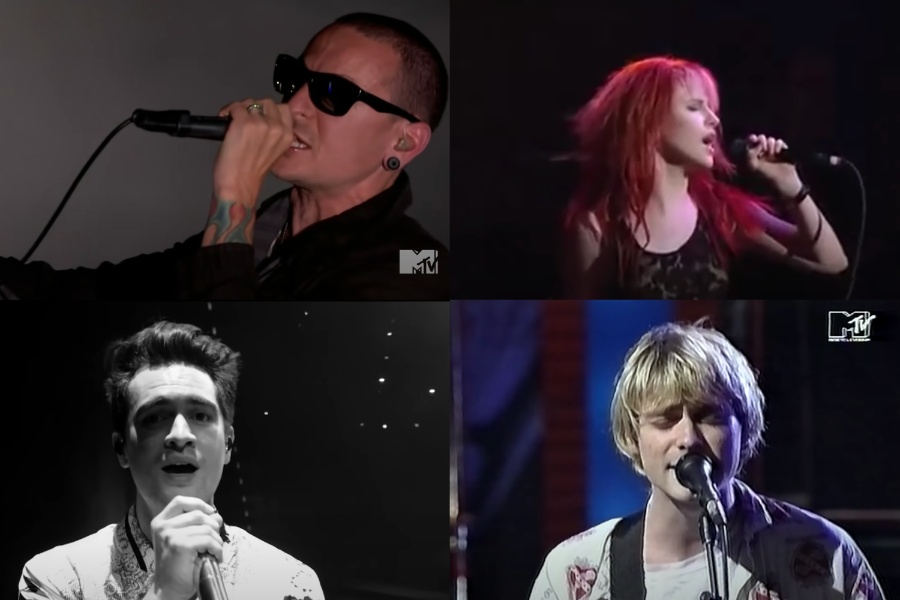 The MTV Video Music Awards isn't just a superficial awards show. It's an institution that has crafted some of pop culture's most iconic moments. Frankly, no other awards show has created massive ripples in the cultural zeitgeist such as Miley Cryus' famous twerking moment and Beyoncé's baby bump reveal alongside bands such as Alien Ant Farm playing their cover of "Smooth Criminal" or Rage Against The Machine and Limp Bizkit feuding onstage in 2000. However, many viewers equate the MTV VMAs to purely celebrating the efforts of most American Top 40 artists. This could not be further from the truth. Unlike the Grammy Awards, the MTV VMAs seem to have a better grasp on the alternative and rock music that truly moves people.
This year, the rock and alternative music video categories are absolutely stacked. The Best Alternative category nominees include "EDGING" by blink-182, "the film" by boygenius, "Hold Me Like A Grudge" by Fall Out Boy, "Candy Necklace" by Lana Del Rey ft. Jon Batiste, "This Is Why" by Paramore, and "Stuck" by Thirty Seconds To Mars.
Additionally, the Best Rock nominees include "The Teacher" by Foo Fighters, "Lost (Original Version)" by Linkin Park, "Tippa My Tongue" by Red Hot Chili Peppers, "THE LONELIEST" by Måneskin, "Lux Æterna" by Metallica, and "You Make Me Feel Like It's Halloween" by Muse. Voting is currently open for your favorite rock and alternative acts. Narrowing down one vote might be tough. Luckily, you have up to 10 votes to distribute per category per day leading up to the awards show. The VMAs will take place September 12 at 8 PM ET/5 PM PT. You can stream the show on MTV as well as Paramount+.
As we barrel toward the 40th anniversary of the MTV VMAs, walk down memory lane as we reminisce on our 12 favorite performances from alternative acts throughout the years. From stunning dance routines and vocal perfection all the way to glass-smashing and booty-shaking, these rockers really know how to command the stage and make their fans proud.
Oliva Rodrigo — "good 4 u" (2021)
Olivia Rodrigo is the latest star bringing pop-punk to the mainstream, and we are so here for it. She made her VMAs debut with smash-hit, Dan Nigro-produced "good 4 u" featuring stunning purple Sour-inspired visuals. Rodrigo made a huge showing at the 2021 VMAs, taking home Push Performance Of The Year and Song Of The Year for "drivers license," and even the award for Best New Artist. With a smashing performance, literally, this live show deserves a spot in the VMAs Hall of Fame. Ahead of her sophomore album release, Rodrigo was nominated for five awards for her single "vampire." She just might make a killing again this year.
Lady Gaga — "Paparazzi" (2009)
Now, many might consider Lady Gaga to be solely an A-list pop performer, but she is much more than that. She is a prolific artist who can sing alongside variations of jazz, dance, glam rock, and more. Frankly, her entire Mother Monster persona and ethos screams rock 'n' roll star. Her 2009 performance is, perhaps, one of the most memorable of the aughts, right up there on the list next to Britney Spears carrying around the albino Burmese python during "I'm A Slave 4 U." Few performers could pull off a full bloody scene of their own demise onstage with such effortless glamour.
The meaning behind the show is incredibly deep and hard-hitting. Gaga shared in an interview, "I wanted to say something about how the celebrity sort of has this inevitable demise that we love to watch. But are we killing them, or are they killing themselves?"
Panic! At The Disco — "Don't Let The Light Go Out" (2022)
Regardless of which Panic! At The Disco era is your favorite, it's easy to get choked up while watching their most recent and overall final VMAs performance. Similar to the official music video for "Don't Let The Light Go Out" pulled from 2022's Viva Las Vengeance, the live performance is captured in black and white, but then transforms into full color with the arrival of live pyrotechnics.
This was a full-circle moment for Brendon Urie, first performing for the awards show in 2006 with the band's breakout single, "I Write Sins Not Tragedies." The band then took the world by storm with 2018's performance of "High Hopes." In 2006, the band swept the Video Of The Year, Best Group Video, Best New Artist In A Video, and Best Rock Video categories. Now, in 2023, the band has one final nomination for Best Choreography for "Middle Of A Breakup." We've got our fingers crossed and our dancing shoes on.
OK Go — "Here It Goes Again" (2006)
OK GO wow both on YouTube and on stage. Of course, it's astounding even in this decade to witness their viral "Here It Goes Again" treadmill video. In 2006, the indie rock quartet brought their exercise-themed dance routine to the MTV VMAs stage, and it was flawless. OK Go's Damian Kulash and Tim Nordwind even got some advice from NSYNC's JC Chasez before their dance, who shared the iconic line, "The best part is, MTV is kind enough to tell [the people in the VMAs pit] to cheer or die." Unsurprisingly, the band scored a VMA win in 2015 for Best Choreography on "I Won't Let You Down."
Paramore — "Misery Business" (2008)
Helmed by a bright red-haired Hayley Williams, Paramore played their Billboard-charting single "Misery Business" for the 2008 awards show. In a pre-show interview with MTV, Williams said, "We always love playing shows, and this one just happens to be the biggest show out there." The band was nominated for Best Rock Video three times across three years, including in 2008 for "crushcrushcrush," in 2009 for "Decode," and in 2010 for "Ignorance." Though they didn't snag a win, 2023 could be their year. After a wild ride on Taylor Swift's Eras Tour and on their own headlining tour, Paramore is heading into the fall with a nomination for "This Is Why" in the category of Best Alternative at the VMAs.
Fall Out Boy — "Sugar, We're Goin' Down" (2005)
Fall Out Boy graced the 2005 VMAs stage with their best private school uniforms and pure, unadulterated angst to perform "Sugar, We're Goin' Down." Patrick Stump solidified himself as the ultimate vocalist then, and continues to prove his prowess on each So Much (For) Stardust tour date taking place this year. While Fall Out Boy's VMAs debut is the award shows' best-sounding performance, one can never forget their iconic 2007 VMAs suite performance with Rihanna, Gym Class Heroes, Panic! At The Disco, and Cobra Starship. It sounds like a fever dream, but Stump truly sang along to "Shut Up And Drive" with Rihanna, and Fall Out Boy played "The Carpal Tunnel Of Love" live, featuring Pete Wentz' screaming. Fall Out Boy is nominated for Best Alternative with "Hold Me Like A Grudge" and Best Visual Effects for "Love From the Other Side." What a time to be alive, right?
Nirvana — "Lithium" (1992)
Nirvana was at the height of popularity with "Smells Like Teen Spirit." Though, they wanted to play "Rape Me" or "Tourette's" from In Utero on the 1992 VMAs stage. The network and the band eventually compromised on a performance of "Lithium." Though, Kurt Cobain did cheekily play the first few notes of "Rape Me" before fully committing to "Lithium." Beyond this wild performance's beginning, it also ended with Krist Novoselic throwing up his bass and getting hit in the head with the landing.
While this wasn't Nirvana's best night by any means, it remains a historic piece of VMAs and overall rock history. Of course, this was also the same night that Cobain and Axl Rose's beef reared its ugly head on the innocent Elton John. In retaliation, Cobain spit on piano keys that he thought would be played by Guns N' Roses for their "November Rain." Much to Cobain's surprise, Elton John played that piano along with the classic rock band.
Måneskin — "Supermodel" (2022)
Sometimes, the best performances come from an Italian rock band just looking really hot. Eurovision winners and "Beggin'" performers Måneskin are both sexy and talented, especially while performing "Supermodel" from their January 2023 full-length album RUSH! for their VMAs debut. Plus, it doesn't hurt that lead singer Damiano David did all of this in leather assless chaps. Bassist Victoria De Angelis also had a nip slip, but America is still rooted in a patriarchal system that both overly sexualizes and aggressively fears feminine bodies, so it was sadly censored. The band took home one win out of their three nominations for Best Alternative: "I Wanna Be Your Slave." The band is set to perform live on the 2023 show and is nominated for Best Rock for "The Loneliest."
My Chemical Romance — "Helena" (2005)
My Chemical Romance brought their modern rock prowess to the VMAs stage in 2005 with "Helena." They also returned in 2006 with their emo anthem "Welcome To The Black Parade." The stunning visuals of Helena emerging through a sea of white umbrellas onto the VMAs stage with her own red umbrella is a perfect nod to the music video, all while being completely unique to the live performance. In typical My Chemical Romance theatrical fashion, the group arrived at the show in an armored Brinks truck, dressed to the nines in black suits. While "Helena" was nominated five times, it didn't bring any awards home. In fact, Green Day swept most of this year's categories with "Boulevard Of Broken Dreams."
The Smashing Pumpkins — "Tonight, Tonight" (1996)
The 1996 MTV VMAs treated The Smashing Pumpkins very well. The band was the most nominated group of the year with nine nominations in total, and the most awarded of the night, taking home seven wins. Plus, they had the chance to perform the timeless "Tonight, Tonight" from Mellon Collie And The Infinite Sadness. Billy Corgan's flawless vocals weren't just backed by the band, they also had support from a full orchestra. "Tonight, Tonight" in and of itself was awarded six times during the show for Video of the Year Breakthrough Video, Best Direction in a Video, Best Special Effects in a Video, Best Art Direction in a Video, and Best Cinematography in a Video. There's nothing to be "mellon collie" about with those awards.
Linkin Park — "The Catalyst" (2010)
Performing "The Catalyst" at LA's Griffith Observatory, Linkin Park sounded spectacular at the 2010 MTV VMAs. Chester Bennington and Mike Shinoda's vocals sound just as perfect live as they do recorded, even while performing atop beaming electronic platforms, fog swirling around their ankles. While this track from A Thousand Suns was not nominated for any awards, Linkin Park has been raking in VMA nominations since 2001 and won awards in 2002 for "In The End," in 2003 for "Somewhere I Belong," in 2004 for "Breaking The Habit," and in 2008 for "Shadow Of The Day." Watch this year's MTV VMAs to see if Linkin Park wins in the category of Best Rock for "Lost."
twenty one pilots — "Heavydirtysoul"/"Lane Boy" (2015)
twenty one pilots' VMAs performance is a perfect representation of the utter chokehold Blurryface had on the alternative scene of the mid-late 2010s. This 2015 performance wasn't just any "Heavydirtysoul" and "Lane Boy" medley, it was a mash-up between these hits featuring A$AP Rocky's "M'$" and "L$D." Frankly, this just proves that almost every A-list artist has a bit of a soft spot for emo music. The duo scored their first nomination in 2013 for Vessel's "Holding On To You." They landed their first win for "Heathens" in 2016 in the category of Best Rock Video. Later, they also won the same category in 2017 for "Heavydirtysoul."