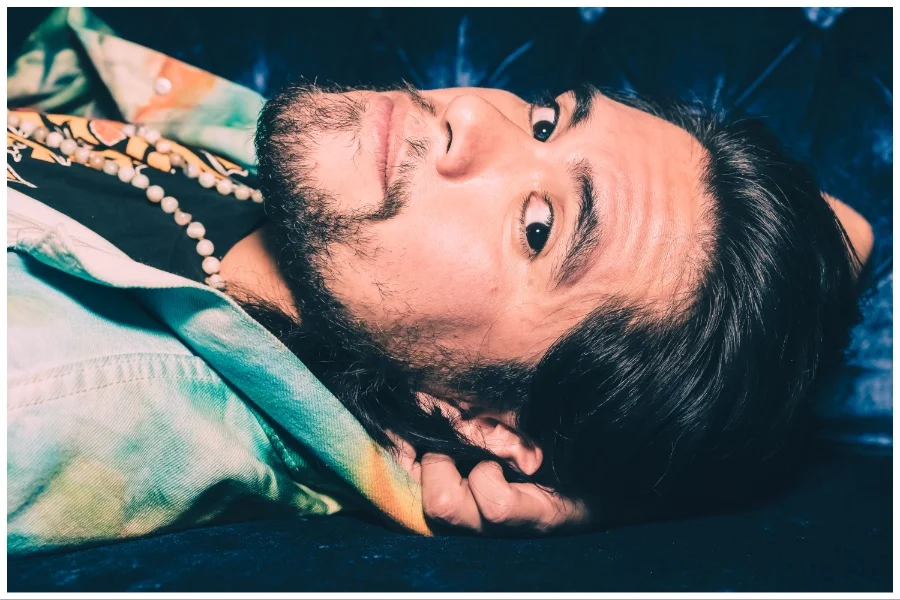 After releasing their self-titled album this May, electro-pop trio A R I Z O N A have now released A R I Z O N A (R E M I X E D) on Fueled By Ramen. This new rendition of the album features remixes of all 12 tracks by rising and establishing EDM artists, such as T. Matthias, Alle Farben, Leondis…oh, and Bilmuri, who remixed "Dark Skies."
Wait… Bilmuri, the one-man post-hardcore project by Johnny Franck, formerly of Attack Attack!? The Bilmuri remix might come as a surprise to those not familiar with this bit of A R I Z O N A's history: guitarist Nathan Esquite grew up going to metal and hardcore shows and playing in heavy bands. So how did he come to play in a slick, polished electro-pop band like A R I Z O N A, and how did the Bilmuri remix come together? idobi Radio spoke with Esquite to get answers to those questions and more below.
The first show you ever went to was Underoath and mewithoutYou at the Starland Ballroom. What drew you to those bands?
My parents raised me very conservative Christian—I grew up in a Spanish Pentecostal church, and they were very strict about the music I could consume. Anything I listened to had to have a good Jesus message. But every Christian song felt a little too sure of itself; it didn't feel authentic to me.
The Tooth & Nail and Solid State rosters were very easy for me to show my parents; I would have to examine all the lyrics and write out papers about why I should be allowed to listen to these bands. Listening to mewithoutYou and Underoath was the first time I felt like it was okay to doubt or question all the things that I'd been raised to believe. The more I got into that, the more people in the church called me out: "Oh, metal is the devil. Oh, it sounds like they have demons inside them." The more I felt pushed away from the church, the more I fell into the heavy music community, and I found acceptance in it that I had never found anywhere else.
You also played in some heavy bands. I found videos from your screamo band The Advent, The Adversary. When did you realize that you wanted to start playing music?
I got started in music at a very young age. I'm one of six kids, and my dad had always had this dream of us being a family band, like Selena y Los Dinos or The Partridge Family. When I was seven years old, my dad took me and my two sisters to sign up for music lessons. My oldest sister goes first; he signs her up for drums. My next sister goes up; he signs her up for guitar. I'm next. I tell him, "I want to play the guitar, too." And he goes, "The thing is, the family has a drummer and a guitar player. What we need is a piano player."
So he wasn't really asking you?
No. He was just like, "Yeah, you're going to play piano." I also started playing in a church when I was very young in Elizabeth, NJ. They opened up a second campus in Queens, NY, that my father started leading up, and I played in the worship band. Being older now, I look back at that time playing Sunday mornings—I enjoyed it because you just get up there and jam.
The more I got into Underoath and that scene, I wanted to be in that environment at all times. I had all these dreams of getting in a van and seeing the world while playing music. When I was 13 years old, my mom asked me what I wanted to do with the rest of my life. I said, "I don't know, but I think it'd be pretty tight to live in a van, drive around, and play music." So I chased it. Never stopped chasing it.
After high school, things took a shift. You went to Berklee College of Music, and before starting A R I Z O N A, you were songwriting and producing pop music. How did you get interested in other types of music?
A lot of it had to do with wanting to be a better guitar player. A very noticeable shift for me was, honestly, I got really into Guitar Hero and the bands that were on there. I fell in love with Kansas and spent a few weeks sitting in my room learning how to play "Dust In The Wind." That got me super interested in fingerstyle guitar, which led to me going down the folk, indie rock, and bluegrass rabbit hole.
Being at Berklee and studying other types of music, I found appreciation for so much music that I had never been very interested in. There was a class called The Music of John Lennon; at the time, I wasn't a Beatles fan. I never took the time to dive into their library to analyze their songwriting. Then I took this class and came away the biggest Beatles fan.
In the fall of 2012, I met Dave [Labuguen, keys], and we decided to start rooming together in Boston. Zach [Charles, vocals] was Dave's good friend for a very long time, and they had been working together on the other side of the glass—while I was in basements and punk rock venues, they were in studios working on polished pop music. They were two of the most inspirational people I'd ever met. At Berklee, there were so many people trying to do the same thing, and nobody blew me away the way Zach and Dave did. And they weren't even Berklee students—Zach wasn't in college, Dave was at Emerson College—and that's what blew me away the most.
I quickly attached myself to them and worked with them nonstop. Then, in the spring of 2013, Zach moved to LA to start working with PJ Bianco, who produced all the A R I Z O N A songs with us and who mentored him and Dave.
That summer, I dropped out of school cause I couldn't afford it anymore, and I was back in Jersey, not doing much. Zach called me one day and asked what I was up to. He was like, "You should start working in LA with me. I'll show you the ropes. You can engineer sessions." I was broke as hell but decided I might as well look at ticket prices—there was a glitch in the United Airlines system that lasted for 20 minutes, where all domestic flights were $5.
I spent $10 on round-trip tickets from Newark to LAX, and I spent the month of November 2013 out there working with Zach, taking sessions with all these people. At the end of the month, I was supposed to fly back. Zach looks at me and goes, "So you're going back home tomorrow, huh? What do you got going on? Why don't you stay here?" So, I stayed in LA, and the next night, after I should have been on my flight was when we wrote the first A R I Z O N A song, "Let Me Touch Your Fire."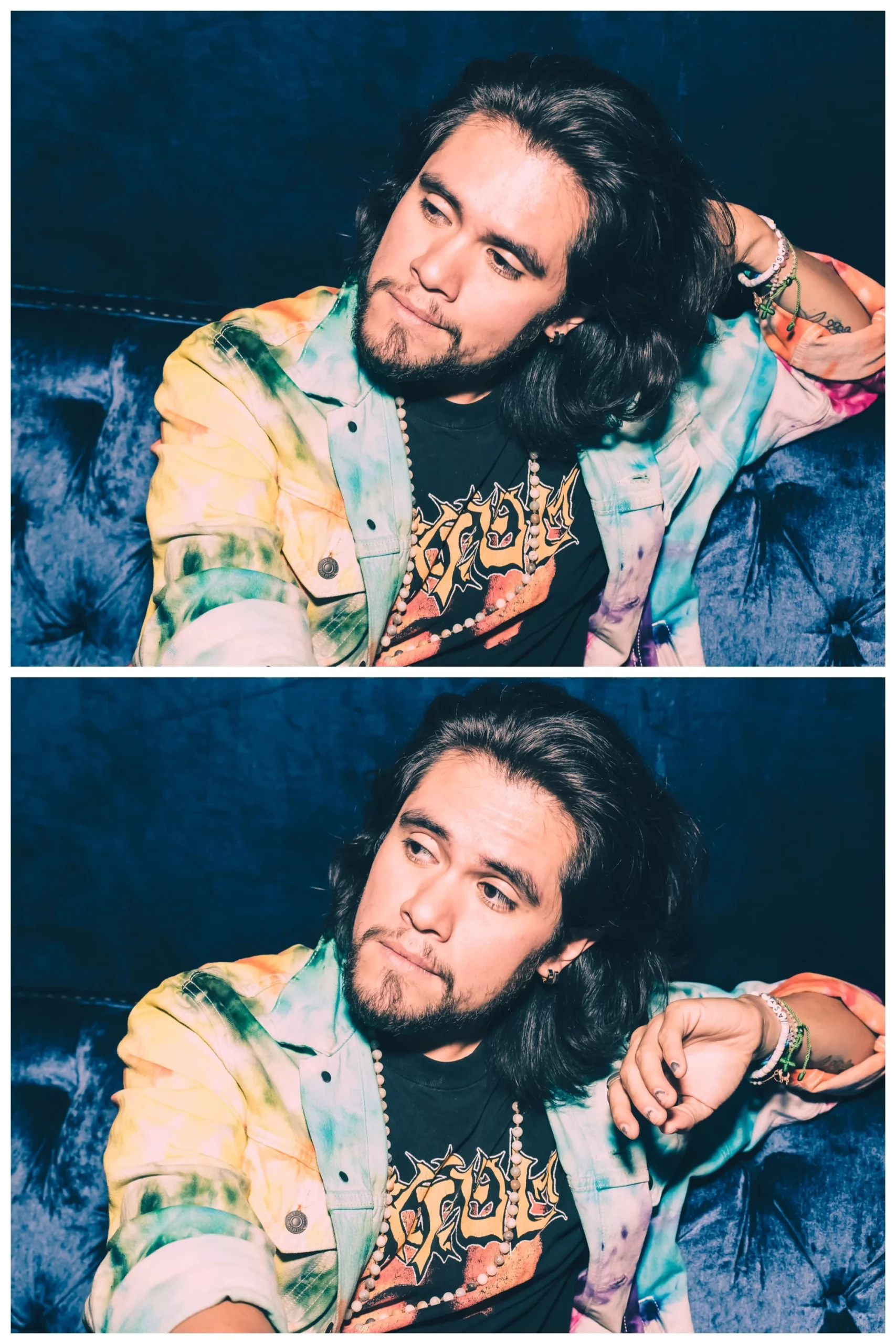 Your third album, A R I Z O N A, came out this May on Fueled By Ramen. Were there any Fueled By Ramen bands that were big for you growing up?
Oh, definitely. I was very into The Academy Is… and Paramore. In 2005, I saw a band called Acceptance at a small club called Obsessions. From opener to headliner, it was Paramore, Panic! At The Disco, Cartel, Augustana, The Receiving End Of Sirens, and Acceptance.
We got to tour with Panic! At The Disco in 2018. I went up to Brendon [Urie], and I was like, "Hey man, this is such an honor. One of the first shows I went to, I saw you and Acceptance on the Take Cover Tour." It was this super cool full-circle moment for me because I'd seen him on his first-ever tour and then joined him on his first arena tour. That felt really special.
You just released the remixed version of the album A R I Z O N A (R E M I X E D), and Bilmuri remixed "Dark Skies." How did this collaboration come about?
I've been a fan of Bilmuri and Johnny Franck's music for as long as I can remember! He came out to one of our shows this past year, and we all became friends. At the time, we were just starting to play with the idea of putting together a remix album, and we all loved the idea of a Bilmuri x A R I Z O N A collab and thought this was the perfect way to start that relationship.
The other remixes on the album lean heavily into the EDM/electronic world—T. Matthias, Alle Farben, Leondis, etc. How does Bilmuri fit in with these artists?
The basis of these remixes wasn't necessarily making dance remixes but collaborating with our friends. I think DJs are more inclined to do remixes, but Bilmuri has such a distinct style and sound that. For me, he was honestly the number one pick to get on the remix album.
What can you share about the process of making this remix?
Honestly, on our end, it's pretty hands-off. We reached out to friends and let them take our music in a different direction. It's always so fun to hear how someone else can imagine your songs. Every single collaborator on this project crushed it!
Let's say that I'm a Bilmuri fan, and I've heard the "Dark Skies" remix, but I've never heard your other music. Which A R I Z O N A song would you tell me to listen to first to convert me?
I would say, "Let Me Touch Your Fire," "Pray To God," and "What She Wants." When I wrote "Pray to God," the guitar part was very inspired by metalcore guitar parts. I always thought of that as a part I would've written for my metal band at one point.