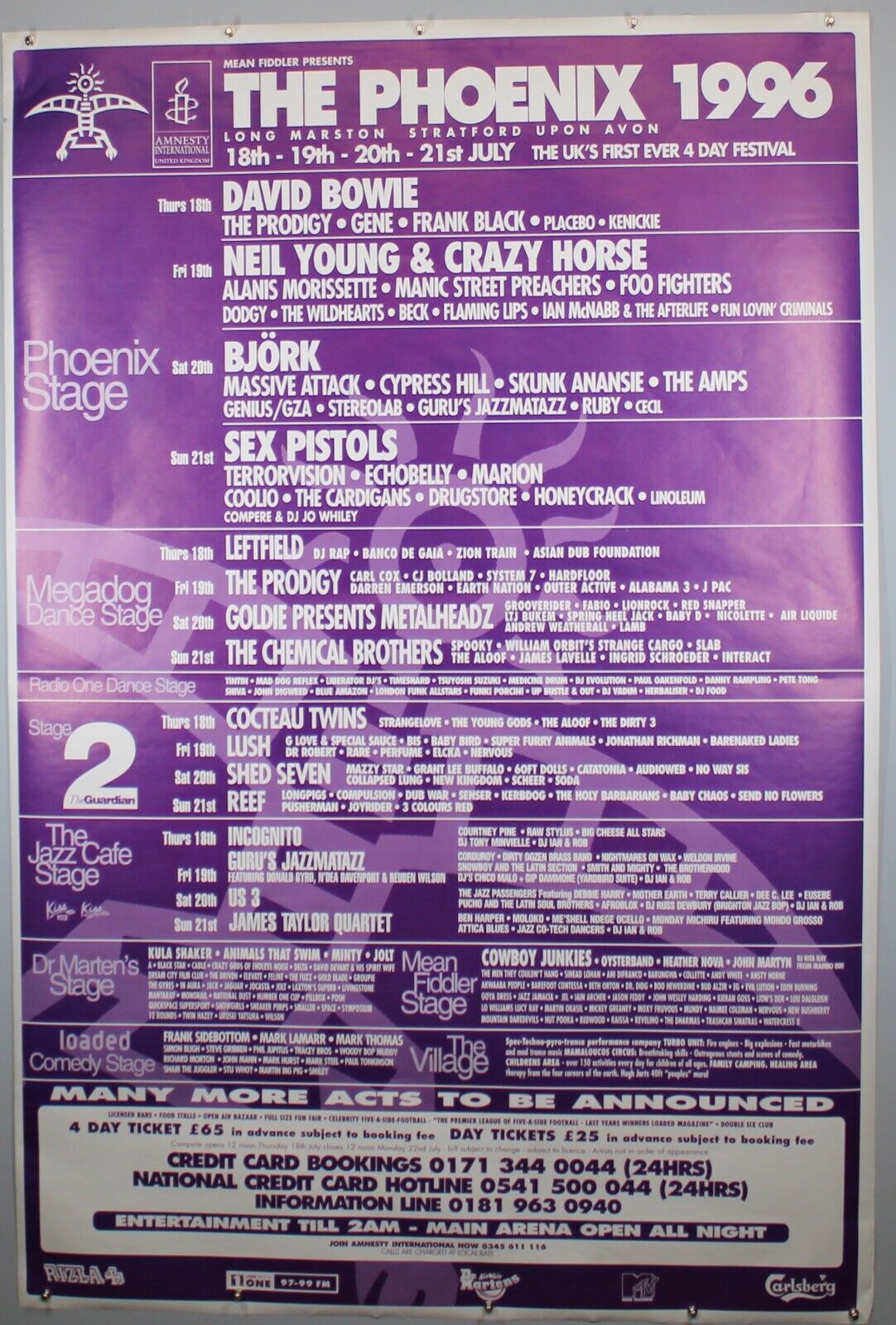 —
As UK music festivals go, the Phoenix Festival doesn't have the storied history of Glastonbury or Reading. It only ran for five years, between 1993 and '97, but it was located pretty close to my home in the Midlands region of England when I was growing up, and so I went to the 1995 event and the two that followed.
The 1996 Phoenix Festival is the festival that I judge all festivals on. So high was the bar it set, I've yet to see it be bettered (and I've attended Glastonburys, Readings, Coachellas, Riot Fests, Rocklahomas, Download/Doningtons, and more besides).
For starters, the weather was incredible (which isn't a given in England). It was borderline-too hot but was just fine if you kept hydrated and got some shade in the tented stages from time to time. But the lineup was simply mind-blowing.
Phoenix, unlike most other festivals, was spread over four days—it went from Thursday to Sunday. The Main Stage headliners in '96 were David Bowie on Thursday, Neil Young reunited with Crazy Horse on Friday, Björk on Saturday, and the freshly reformed Sex Pistols on Sunday. HOLY SHIT—that alone was worth the ticket price.
Incidentally, the ticket price was 75 UK pounds for the whole weekend, including parking and camping. That was probably about $100.
Immediately before Bowie on Thursday, The Prodigy performed under a scorching sun and that band was in its prime at the time. "Firestarter" was not long out, and the crowd went insane. It was a career-defining performance.
Elsewhere, the eclectic bill included Frank Black (of Pixies), a fledgling Placebo, Alanis Morissette riding her Jagged Little Pill wave, a still new Foo Fighters, Brit rockers Manic Street Preachers, The Wildhearts and Terrorvision, trip-hoppers Massive Attack, rappers Cypress Hill, and so much more.
In terms of how it shaped me, I was rock-centric at that point in my life. I was psyched to see Bowie and the Pistols, both of which were phenomenal. But Phoenix '96 was also the year that my young mind was yanked open. I swayed with Massive Attack, soaking in the chill. I danced like a loon, deep into the night, when Goldie's Metalheadz drum 'n' bass club took over the dance tent. I got Björk, for the first time.
There are eclectic festival bills all over this country and all over the world, but I've never experienced anything since with the variety and undeniable quality of Phoenix 1996.