TRIGGER WARNING: This article contains accounts of sexual misconduct.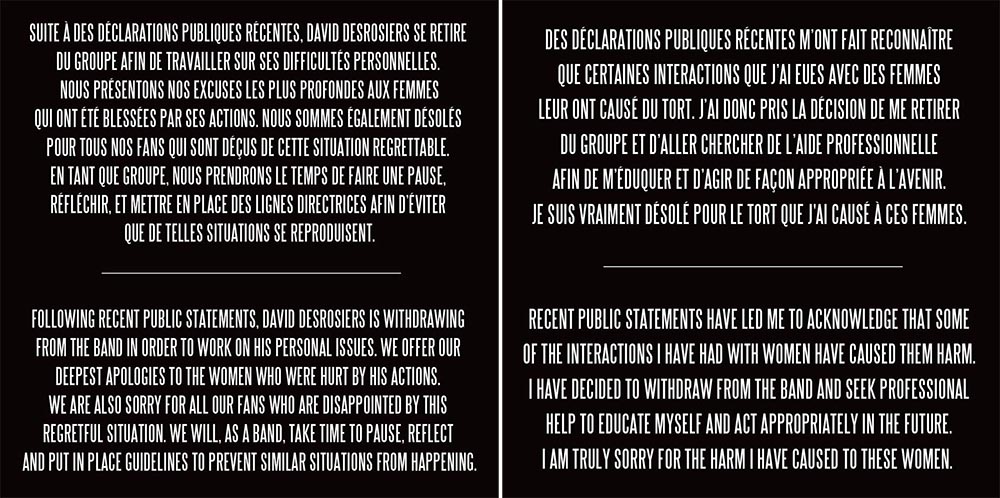 On July 10th, it was announced that David Desrosiers has left Simple Plan following allegations of sexual misconduct. The band have also announced they will be pausing to reflect on the situation and learn. In a statement on Instagram, Simple Plan said:
"Following recent public statements, David Desrosiers is withdrawing from the band in order to work on his personal issues. We offer our deepest apologies to the women who were hurt by his actions. We are also sorry for all our fans who are disappointed by this regretful situation. We will, as a band, take time to pause, reflect and put in place guidelines to prevent similar situations from happening."
Desrosiers released his own statement on his Instagram account that he would be stepping down and seeking professional help:
"Recent public statements have led me to acknowledge that some of the interactions I have had with women have caused them harm. I have decided to withdraw from the band and seek professional help to educate myself and act appropriately in the future. I am truly sorry for the harm I have caused to these women."
We requested our own translation of the original allegation, which appeared on the Instagram account @victims_voices_montreal. The original post and account has since been deleted.
"He started making inappropriate "jokes" when I was a minor. Once I became of age he started running after me for sex. I had never had sex with a guy in my life. We had consenting sexual intercourse but he started inviting his friends without asking me for "butt trips" which I didn't want to participate in. Put on the spot I didn't say anything, he had already threatened to go to the police because I spoke up about the way he acted. If I refused to sleep with him, he always used words to belittle me, belittle my boyfriend or say "how can you say no to me? You don't have anything else to do."




He picks his victims from his band's fans so they stay silent and believe the way he treats them is normal. He plays with threats. Threats to make the fan not go to a show or kick her out of a show if she does something he doesn't like. I know there are tens of girls he threatens this way who are scared to speak up because he's in a big band, but it doesn't matter, his behaviour is disgusting and he needs to be held responsible."