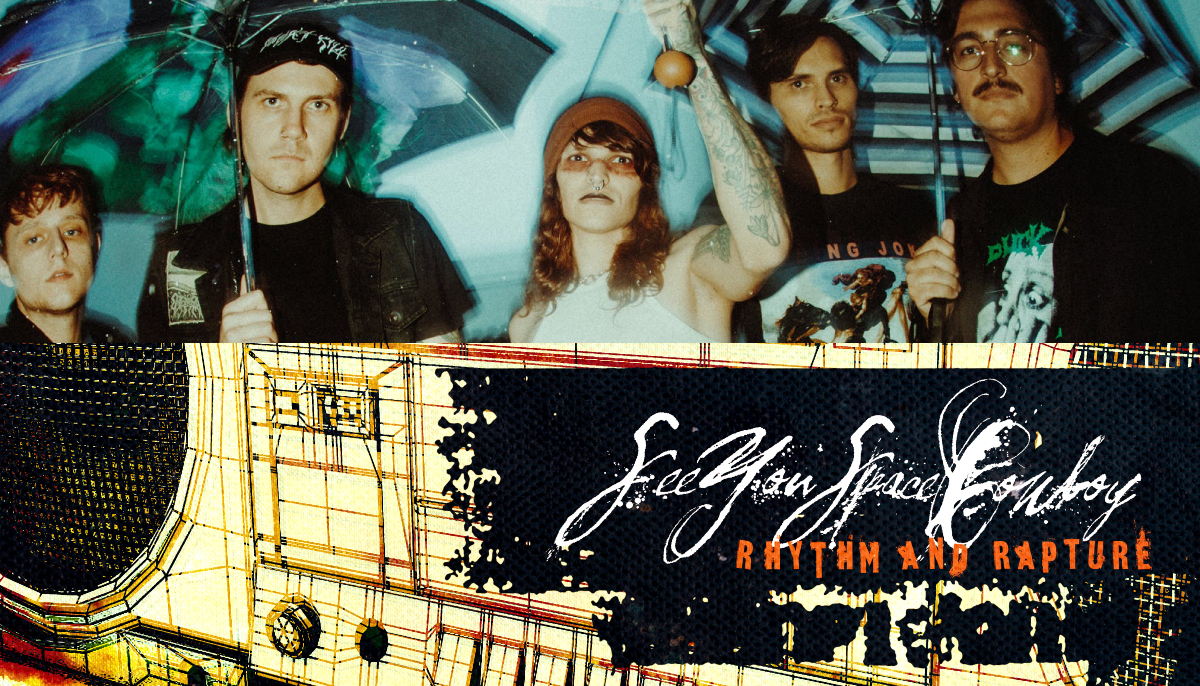 SeeYouSpaceCowboy have gone and done it again with their new track "Rhythm and Rapture". Always a band to never rest on their laurels, their expansion over the last few years has been nothing short of astonishing. Mastering sassy mathcore, bludgeoning metalcore and dense post-hardcore, there is very little that they cannot do. Even on their recent track "Chewing The Scenery", they managed to incorporate a waltz in their frenzied beatdowns. And with this new offering, they have paid tribute to another genre of music in a way only they could.
Beneath the caustic surface of "Rhythm and Rapture", there is an appreciation for the British indie movement of the mid-00s. Essence of Bloc Party and Foals coat the guitars of the track, without leaving out any of the stunning emotional depth that the band are renowned for. It also features an appearance from nothing,nowhere., who himself loves an expedition into the unknown. With the pair set to tour the US together this Fall, it's the perfect pairing. And in practice, they bounce off each other wonderfully, bringing different degrees of chaos to proceedings.


Vocalist Connie Sgarbossa had this to say about the inspiration for the track:

"This song was created out of a desire to mix 00's dancey indie rock like Foals, Cut Off Your Hands, and Bloc Party with a post-hardcore sound. We wanted to create a song in a style we've never done before that really reflects the variety of what we grew up listening to.

"Outside of just nostalgia, wanted to make something that was more focused on being dancey and fun like parts we had all the way back in the Songs For The Firing Squad era, but with less dissonance and more embracing the joy of simplicity.

"Even though it sounds like a wild departure it has its roots in stuff we have done with SYSC in the past, just expanded and with a different flavor."
And nothing,nowhere. had this to add concerning his inclusion:
"I'm honored to have been a part of this track with SYSC. They're one of my favorite bands and are always pushing boundaries."

As mentioned, SeeYouSpaceCowboy and nothing,nowhere. will be touring the US together alongside Static Dress and UnityTX. Here are all the dates you need to know.
Tour Dates:
Sept. 5—Burlington, VT @ Higher Ground
Sept. 6—New York, NY @ Gramercy Theatre
Sept. 8—Boston, MA @ Big Night Live
Sept. 9—Philadelphia, PA @ The TLA
Sept. 10—Baltimore, MD @ Baltimore Soundstage
Sept. 12—Pittsburgh, PA @ Thunderbird
Sept. 13—Toronto, ON @ The Phoenix
Sept. 14—Pontiac, MI @ The Crofoot
Sept. 16—Chicago, IL @ Riot Fest*
Sept. 17—Cleveland, OH @ The Roxy
Sept. 18—Columbus, OH @ King of Clubs
Sept. 20—Indianapolis,—@ HiFi
Sept. 21—Louisville, KY @ Louder Than Life*
Sept. 22—St. Louis, MO @ Red Flag
Sept. 23—Atlanta, GA @ Heaven @ The Masquerade
Sept. 25—Fort Lauderdale, FL @ Revolution
Sept. 26—Tampa, FL @ The Orpheum
Sept. 28—Austin, TX @ Empire Garage
Sept. 29—Dallas, TX @ The Studio @ The Factory
Oct. 1—Albuquerque, NM @ Sunshine Theater
Oct. 2—Denver, CO @ Ogden Theater
Oct. 3—Salt Lake City, UT @ The Union
Oct. 5—Sacramento, CA @ Aftershock*
Oct. 6—Portland, OR @ Hawthorne Theater
Oct. 8—Santa Cruz, CA @ The Catalyst
Oct. 10—Los Angeles, CA @ The Regent
Oct. 11—San Diego, CA @ House of Blues
Oct. 12—Santa Ana, CA @ Observatory OC
*nothing,nowhere. festival performance