This week: His Dark Materials, London Hughes: To Catch a D*ck, The Midnight Sky, Sylvie's Love, Bridgerton, One Night in Miami, News of the World, Promising Young Woman, Wonder Woman 1984, SOUL, Letterkenny, Best Leftovers Ever!, Yearly Departed, Chilling Adventures of Sabrina, Doctor Who, The Watch, The Rookie
His Dark Materials
"Malice" – Season 2, Episode 6
Mon Dec 21 – 9PM
On HBO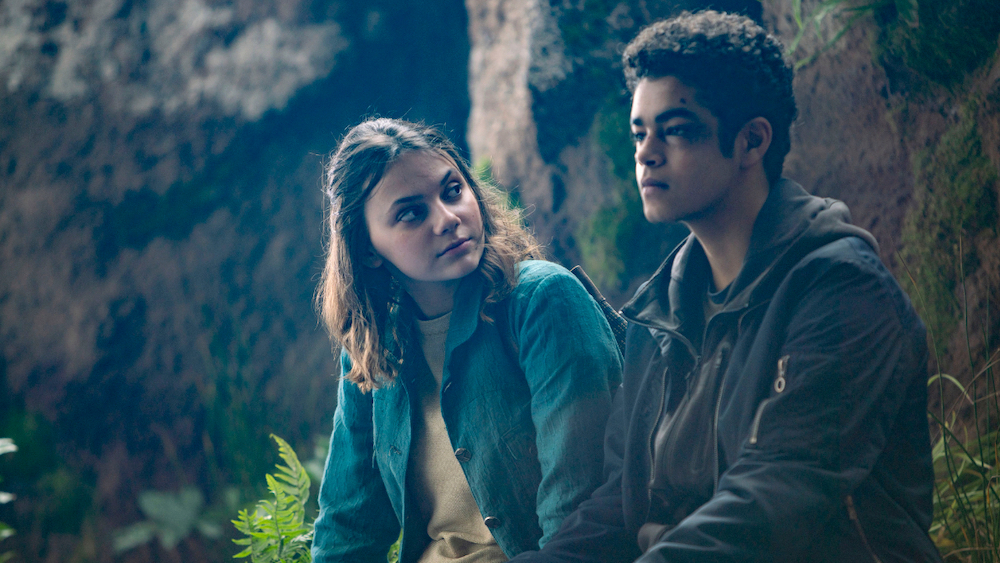 Photo: HBO
Will (Amir Wilson) and Lyra (Dafne Keen) are in a tight spot but the Witches aren't far behind them. Can they trust each other? The theme of home is strong in "Malice", raising questions as to whether home is the place you know best or the people you find along the way. Lyra and Will are definitely far from home and they're struggling to figure out where to go next. And of course, Mrs. Coulter (Ruth Wilson) is always haunting them like a shadow, using her mysterious powers to shape her path through this new world. His Dark Materials uses simple but effective visuals to show off the magic of the multiverse. The result is eerie yet strangely enthralling. You'll be drawn in into the beauty of this episode, lulling you into a sense of wonder, before snatching your breath away with a chilling turn. Whew, you won't know what's more terrifying, fighting off the unknown or realizing just how powerful Mrs. Coulter really is. "Malice" is full of just that and you'll be too invested to fight it.
His Dark Materials is on HBO tonight.
From HBO:
Lyra and Will search for Will's father. Mrs. Coulter meets a formidable foe.
—
London Hughes: To Catch a D*ck
Tues Dec 22
On Netflix
London Hughes: To Catch a D*ck hits Netflix tomorrow.
From Netflix:
London is confused. She's awesome, successful, attractive, and has no gag reflex and yet.. somehow, incredibly single… how on earth has that happened?! In this hilariously provocative, empowering show, London will explore the complete mystery of why the world is full of desirable, brilliant but single women – who definitely don't need a man but wouldn't mind the option.
—
The Midnight Sky
Wed Dec 23
On Netflix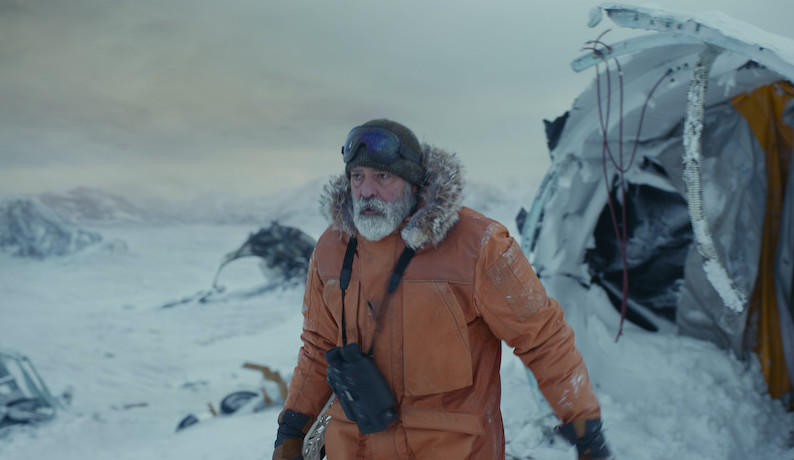 Photo: Netflix 
The Midnight Skygoes down like a cocktail of Arrival (2016) and Frequency (2000) but it lacks the emotional potency of either. Both those films explore the same thematic territory with a deftness. The connectivity of past and present, the indomitability of the human spirit, the transformative impact of loss—Arrival and Frequency thrive within the same themes that The Midnight Sky squanders. (read our review)
Stream The Midnight Sky on Wednesday on Netflix.
From Netflix:
This post-apocalyptic tale follows Augustine (George Clooney), a lonely scientist in the Arctic, as he races to stop Sully (Felicity Jones) and her fellow astronauts from returning home to a mysterious global catastrophe. Clooney directs the adaptation of Lily Brooks-Dalton's acclaimed novel Good Morning, Midnight, co-starring David Oyelowo, Kyle Chandler, Demián Bichir and Tiffany Boone.
—
Sylvie's Love
Wed Dec 23
On Amazon Prime Video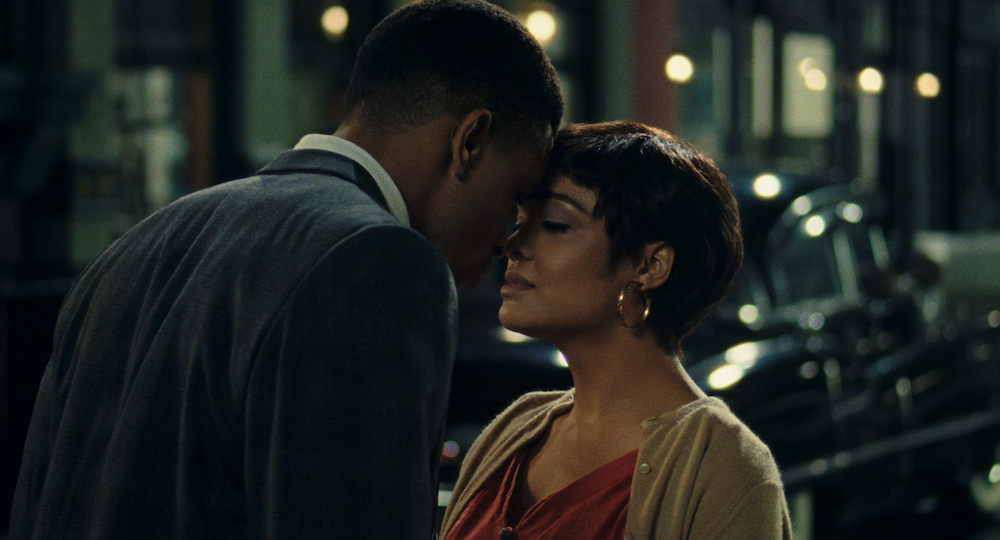 Photo courtesy of Amazon
The first thing that stood out to me is how the film looks—the use of film grain and the type of lighting used gives Sylvie's Love an aesthetic of older films from that time period and really helps set the mood. Thompson and Asomugha have good chemistry, nothing feels forced and both are able to play the initial infatuation and deeper connection of a loving relationship. A lot of this film is about Sylvie, not only her love but her ambitions to work in television. We see how being a woman in the 1960s conflicts with those passions. (read our review)
Sylvie's Love hits Amazon Prime Video on Wednesday.
From Amazon:
When a young woman meets an aspiring saxophonist in her father's record shop in 1950s Harlem, their love ignites a sweeping romance that transcends changing times, geography, and professional success.
—
Bridgerton
Season 1
Fri Dec 25
On Netflix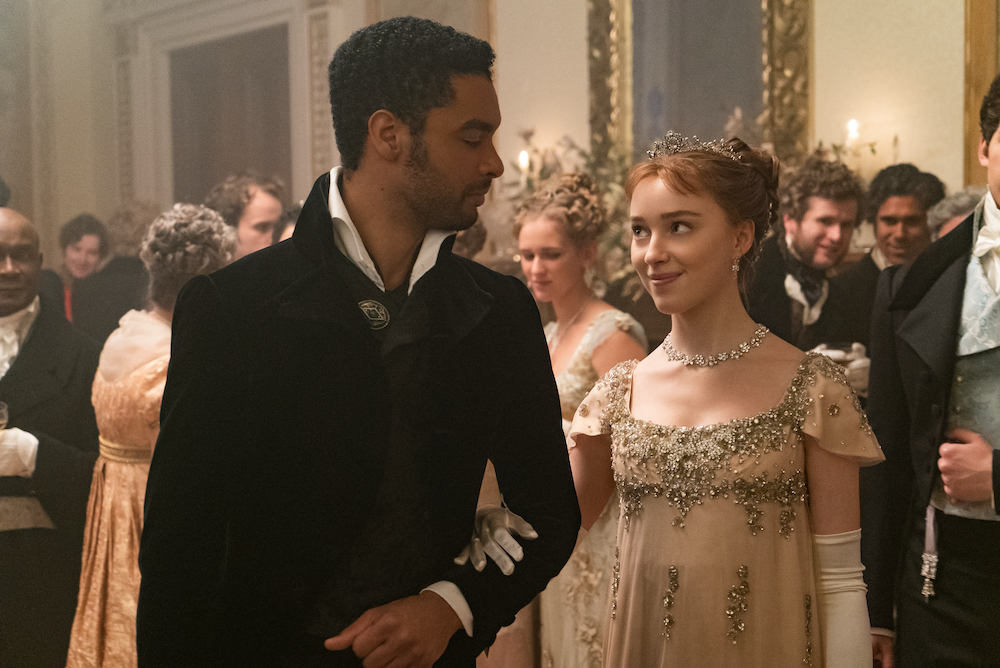 Photo credit: Liam Daniel/Netflix © 2020
SHONDALAND works some magic with Bridgerton, the love-story period drama of 1800s high society based on the historical romance series by author Julia Quinn. Of course, no happily ever after (HEA)—especially not one set in the Charlottian era (see what we did there?)—could ever be complete without plenty of delicious scandal, turnabouts, and anonymous gossip. This time fueled by the mysterious columnist Lady Whistledown. Voiced by none other than the duchess of delight, Julie Andrews, Lady Whistledown narrates the series with such wry wit you can't help but hold out your cup for all the tea she spills. Oh goodness, it's so divine. (read our review)
Watch Bridgerton on Netflix on Friday.
From Netflix:
From Shondaland and Creator Chris Van Dusen, Bridgerton follows Daphne Bridgerton (Phoebe Dynevor), the eldest daughter of the powerful Bridgerton family as she makes her debut onto Regency London's competitive marriage market. Hoping to follow in her parent's footsteps and find a match sparked by true love, Daphne's prospects initially seem to be unrivaled. But as her older brother begins to rule out her potential suitors, the high society scandal sheet written by the mysterious Lady Whistledown casts aspersions on Daphne. Enter the highly desirable and rebellious Duke of Hastings (Regé-Jean Page), committed bachelor and the catch of the season for the debutantes' mamas. Despite proclaiming that they want nothing the other has to offer, their attraction is undeniable and sparks fly as they find themselves engaged in an increasing battle of wits while navigating society's expectations for their future.
—
One Night in Miami
Fri Dec 25
On Amazon Prime Video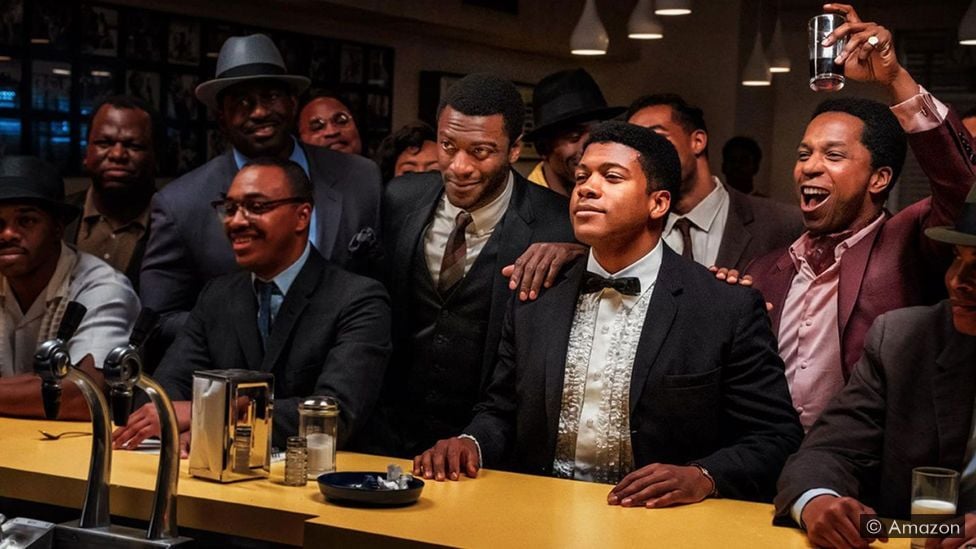 Photo courtesy of Amazon Prime
February 25, 1964 – Cassius Clay (Eli Goree) beats Sonny Liston to become the heavyweight champion of the world. Afterward he celebrates in a Miami motel with three of his closest friends—Malcolm X (Kingsley Ben-Adir), Sam Cooke (Leslie Odom Jr.), and Jim Brown (Aldis Hodge). All true. The history books tell us it happened. What we don't know is what was said or how it all went down. Directed by Regina King and written by Kemp Powers, based on his original stage play, One Night In Miami is a juicy slice of four extraordinary lives; not because of anything gossip worthy but because it hones in on who they were then to inform who we are now. (read our review)
One Night in Miami comes to Amazon Prime Video on Christmas Day.
From Amazon:
One Night in Miami is a fictional account of one incredible night where icons Muhammad Ali, Malcolm X, Sam Cooke, and Jim Brown gathered discussing their roles in the civil rights movement and cultural upheaval of the 60s.
—
News of the World
Fri Dec 25
In theaters via Universal Pictures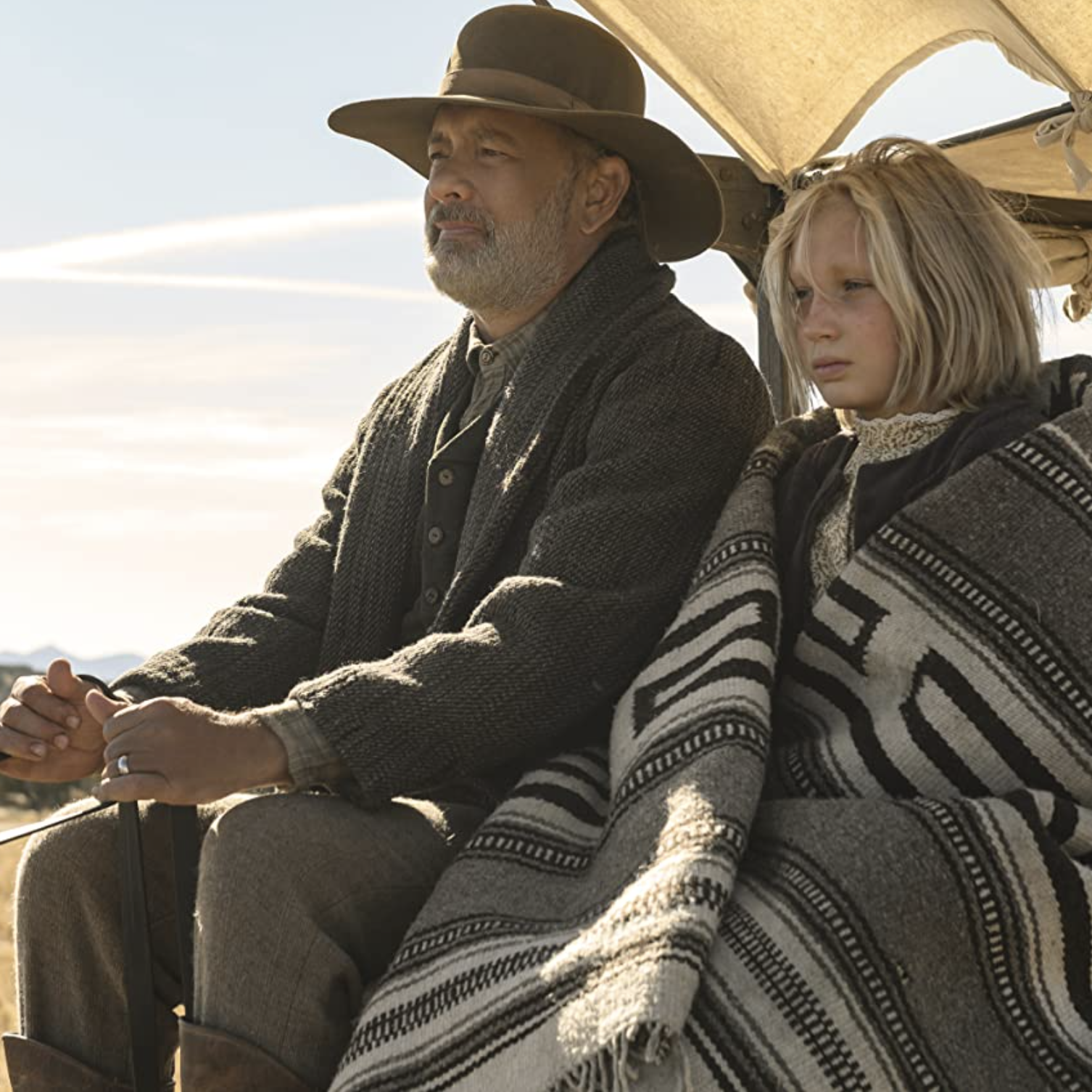 Photo by Bruce Talamon - © 2020 Universal Studios
News of the World is a western with all of the tropes intact. The bandits, the broken wagon wheels, the long stretches of land where there's nothing to do but finally listen to your traveling companion, and the sudden inescapable dangers—they're all here. In some moments, this warm gold toned film has the spark of something classic and that makes it engaging. Yet mostly it's just another western like the many I watched with my grandfather, father, or godfather without the long lasting sparkle of a True Grit (2010) or a 3 Godfathers (movies I thought of often while watching News of the World). (read our reviews)
See News of the World in theaters on Dec 25.
From Universal:
Five years after the end of the Civil War, Captain Jefferson Kyle Kidd (Hanks), a veteran of three wars, now moves from town to town as a non-fiction storyteller, sharing the news of presidents and queens, glorious feuds, devastating catastrophes, and gripping adventures from the far reaches of the globe.
—
Promising Young Woman
Fri Dec 25
In theaters via Focus Features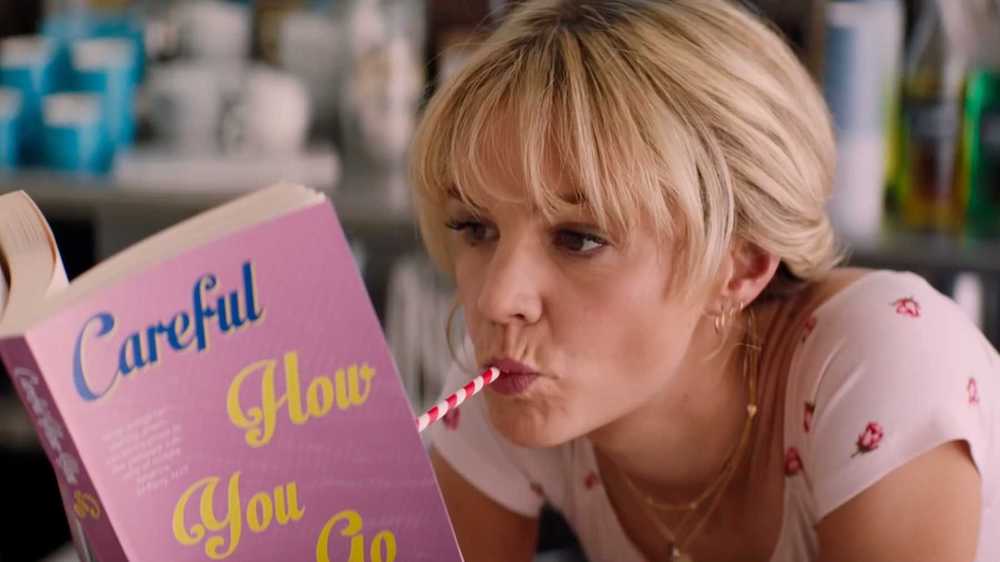 Photo courtesy of Focus Features
Cultural conditioning. It's a mixture of everything a culture is, all the things that help define its values and mores. That conditioning also provides the excuses we make for the harm we inflict on one another. In her hyper-stylized rollick through vengeance and festering wounds, Emerald Fennell kicks social interaction directly in its criminal underbelly. (read our review)
Promising Young Woman hits theaters on Christmas Day.
From Focus Features:
From visionary director Emerald Fennell (Killing Eve) comes a delicious new take on revenge. Everyone said Cassie (Carey Mulligan) was a promising young woman…until a mysterious event abruptly derailed her future. But nothing in Cassie's life is what it appears to be: she's wickedly smart, tantalizingly cunning, and she's living a secret double life by night. Now, an unexpected encounter is about to give Cassie a chance to right the wrongs of the past in this thrilling and wildly entertaining story.
—
Wonder Woman 1984
Fri Dec 25
On HBO Max & in theaters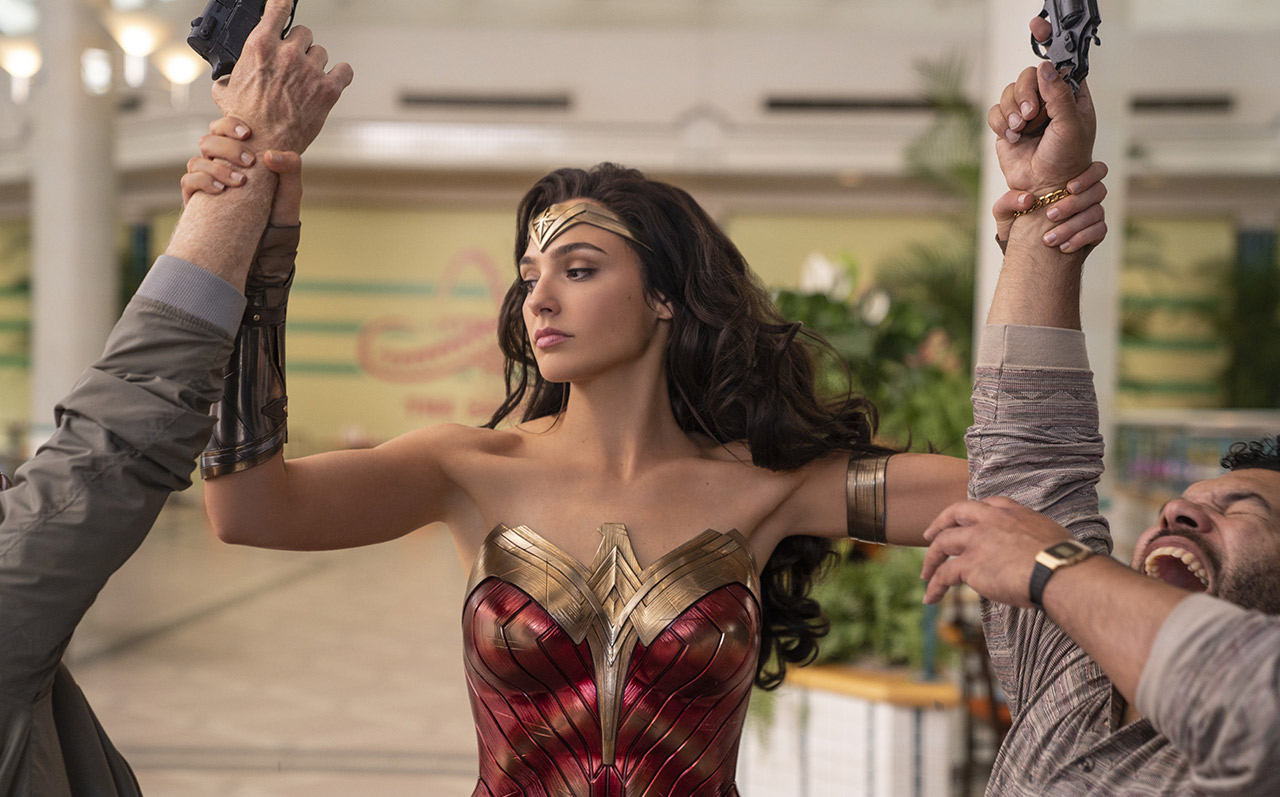 Photo © 2020 Warner Bros. Ent.
We jump forward to 1984. It is as neon glossy and over-the-top as all of our favorite movies tend to paint it. Anyone who lived in DC in the 80s and 90s will recognize many famed locations from Georgetown—the Commander Salamander store and the canal especially. Wonder Woman is already a hero at this point, she's just doing it in secret. She's also incredibly lonely, still pining for the love she lost sixty years earlier during WWI… Is this the hero we know? I wanted more. (read our review)
Watch Wonder Woman 1984 on HBO Max on Friday.
From Warner Bros:
Fast forward to the 1980s as Wonder Woman's next big screen adventure finds her facing two all-new foes: Max Lord and The Cheetah. With director Patty Jenkins back at the helm and Gal Gadot returning in the title role, "Wonder Woman 1984" is Warner Bros. Pictures' follow up to the DC Super Hero's first outing, 2017's record-breaking "Wonder Woman," which took in $822 million at the worldwide box office. The film also stars Chris Pine as Steve Trevor, Kristen Wiig as The Cheetah, Pedro Pascal as Max Lord, Robin Wright as Antiope, and Connie Nielsen as Hippolyta.
—
SOUL
Fri Dec 25
On Disney+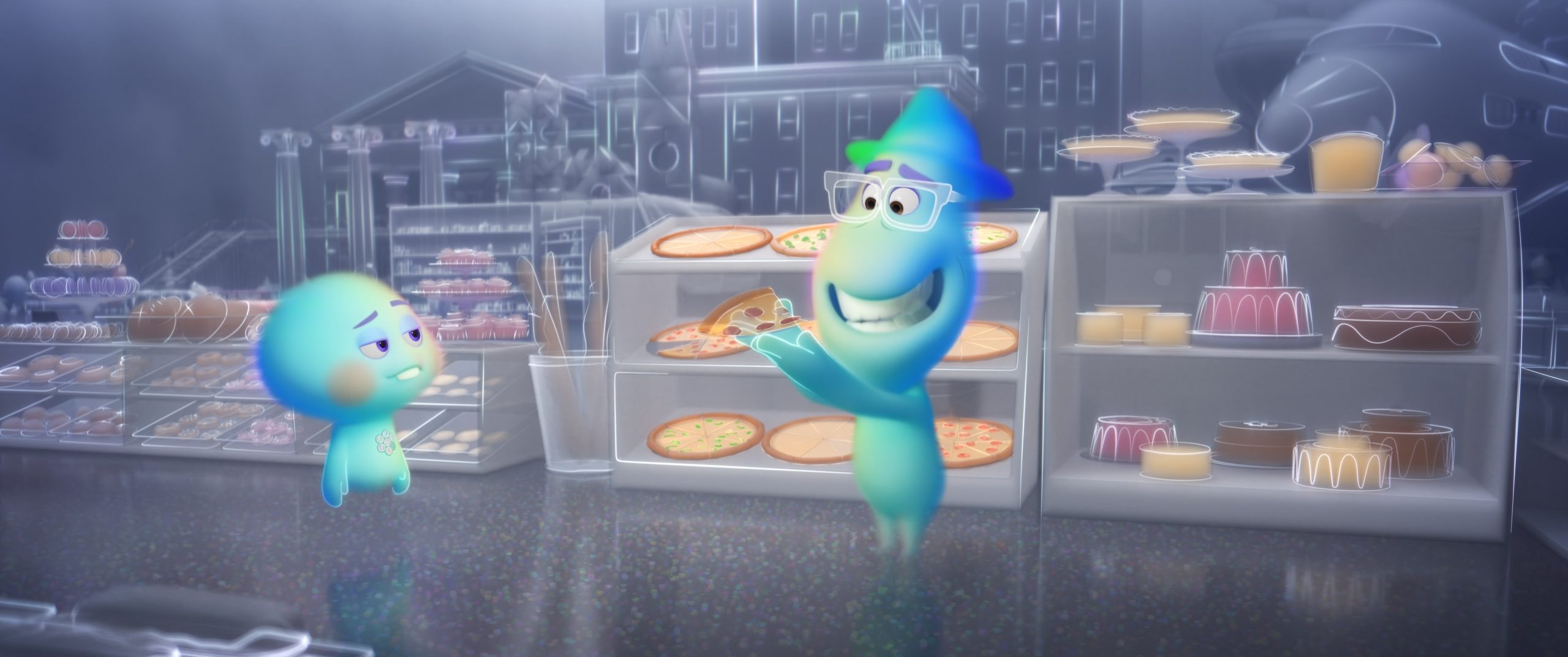 Photo © 2020 Disney/Pixar
SOUL feels like the plot of a movie you'd see in the late 80s. Like there were times where I think having a Pointer Sisters or a Pattie LeBelle song would've fit perfectly. But I don't know if this film will hit the way the creators might want it to with the audience. For me, it was easy to get into. I can empathize greatly with Joe's plight of trying not to lose everything you've worked for right when you have that glimmer of hope of reaching your goal. (read our review)
SOUL comes to Disney+ on Friday.
From Disney+:
What is it that makes you…YOU? This Christmas only on Disney+, Pixar Animation Studios' all-new feature film "Soul" introduces Joe Gardner (voice of Jamie Foxx) – a middle-school band teacher who gets the chance of a lifetime to play at the best jazz club in town. But one small misstep takes him from the streets of New York City to The Great Before – a fantastical place where new souls get their personalities, quirks and interests before they go to Earth. Determined to return to his life, Joe teams up with a precocious soul, 22 (voice of Tina Fey), who has never understood the appeal of the human experience. As Joe desperately tries to show 22 what's great about living, he may just discover the answers to some of life's most important questions.
—
Letterkenny
Season 9
Sat Dec 26
On Hulu
Letterkenny returns to Hulu on Saturday.
From Hulu:
LETTERKENNY kicks off post-fight with Dierks (Tyler Hynes), and the Hicks, Skids, and Hockey Players attend an American Buck and Doe. Katy (Michelle Mylett) takes her scorched earth dating strategy back to Letterkenny and Gail (Lisa Codrington) gets some action of her own. Meanwhile, The Hockey Players learn about Judaism and the whole town gets really into sleepover activities like movies, board games, and girl talk. Then, a competing restaurant opens in Letterkenny and Tanis (Tiio Horn) starts her own energy drink.
—
His Dark Materials
"Æsahættr" – Season 2, Episode 7
Mon Dec 28 – 9PM
On HBO
His Dark Materials airs on HBO every Monday.
From BBC:
As all paths converge on Cittàgazze, Lee is determined to fulfil his quest, whatever the cost. Mrs Coulter's question is answered, and Will takes on his father's mantle.
—
Best Leftovers Ever!
Season 1
Wed Dec 30
On Netflix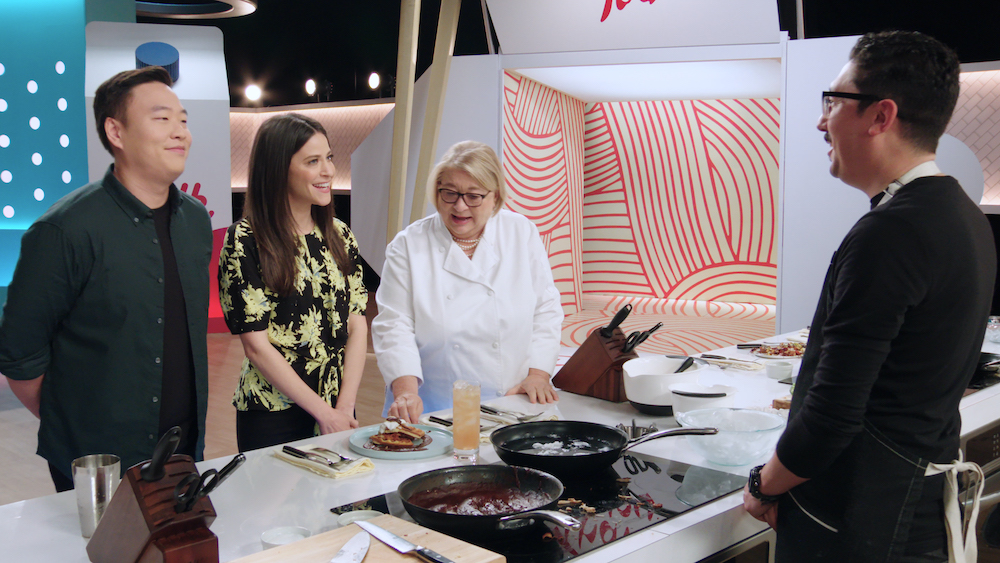 Photo courtesy of Netflix © 2020
Get ready to make the most of all that extra turkey you've got hanging around with Best Leftovers Ever! It's got all the cheery vibes of Nailed It! (including one of the most creative sets we've ever seen) combined with all the tasty snacks you'd never think to make out of your Christmas leftovers. This competition sees contestants given a range of last night's ingredients and tasked with putting together meals—the more creative the better. While they cook up something new & fresh, host Jackie Tohn and judges David So and Rosemary Shrager provide the witty banter and bring some great advice—so settle in and take some notes on what to do with what's left of your next big meal.
Stream Best Leftovers Ever! on Netflix on Wed Dec 30.
From Netflix:
The kings & queens of leftover cooking will take a leftover dish on an epic journey across two rounds. Each half-hour after party, our home cooks will compete in the ultimate food makeover, finding ways to give old leftovers new life, all in the hopes of winning a $10,000 prize! Join host Jackie Tohn and judges David So and Rosemary Shrager as they watch our contestants transform leftovers into delicious creations.
—
Yearly Departed
Season 1
Wed Dec 30
On Amazon Prime Video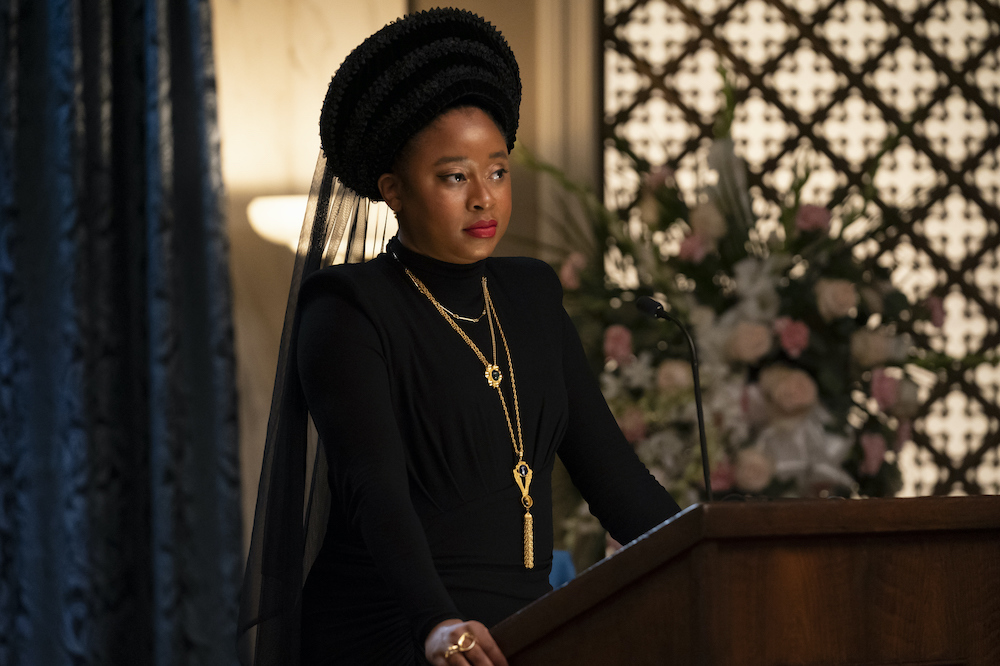 Photo courtesy of Amazon Prime
Family and friends, we are gathered here today to say goodbye to 2020. This occasion is not a particularly sad one, as the year brought us plagues, Karens, and political disasters. But we are going to pretend to mourn anyway, as we remember all the tragic things that happened. Yearly Departed gathers a lineup of women comedians—including Tiffany Haddish, Sarah Silverman, Rachel Brosnahan, and more—who take turns delivering their eulogies to 2020, complete with epic takedowns and zinging observations on the wildest of pop culture, politics, and WTF-ery that happened. Yes, there will be drinking. Yes, there will be shade. Yes, you'll want to join them as they give the year its due. Amen to that.
Watch Yearly Departed on Wed Dec 30 on Amazon Prime Video.
From Amazon:
Yearly Departed is a series of eulogies for the year 2020, where a lineup of all-women comedians will deliver everything from casual sex to beige Band-Aids and everything in between that we've "lost" in 2020. After a year of societal upheaval, plague, murder hornets and banana bread, Yearly Departed will give 2020 the huge send-off it deserves, from some of the world's funniest women.
—
Chilling Adventures of Sabrina
Part 4
Thurs Dec 31
On Netflix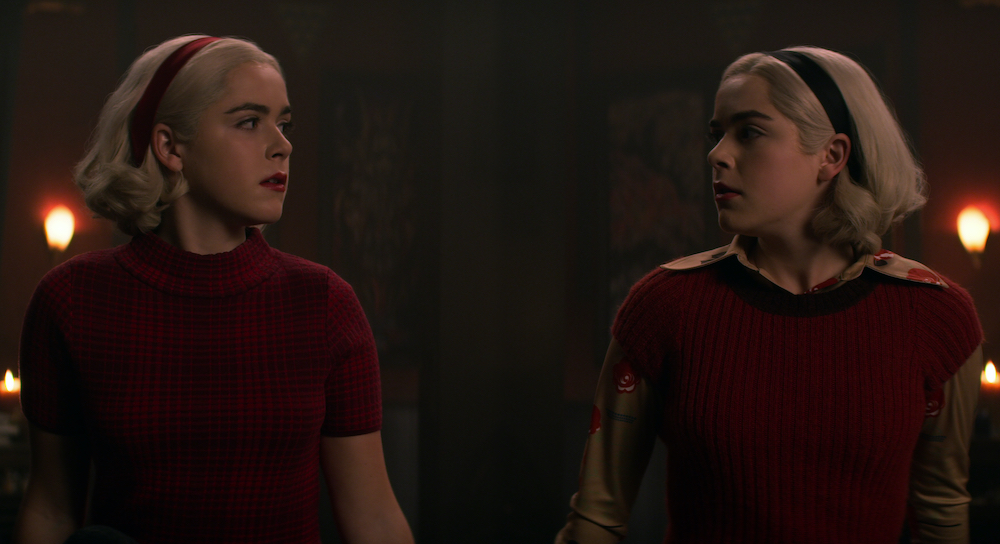 Photo courtesy Of Netflix © 2020
Be careful what you wish for and of the mischief you make. That is a solid theme for Part 4 of CAoS. As Sabrina (Kiernan Shipka) herself says, she was "chasing a queenship and everyone else moved on." But do queens ever really let anyone go? The answer is a big firm no that's laced with the foulest magic. What starts as a bonding exercise (or prank) ends up unleashing a whole new series of Eldritch Terrors on the town of Greendale. Which means you'll have to question whether any of the happiness the characters worked so hard for will stick. Here's a spoiler…maybe it will…but blood is also sticky. Chilling Adventures of Sabrina Part 4 lives up to its name—it is a ghastly adventure full of big bads you'll want to stomp back down to hell and thrilling turns of fortune that'll keep you squealing.
Chilling Adventures of Sabrina returns to Netflix on New Year's Eve.
From Netflix:
Chilling Adventures of Sabrina re-imagines the origin and adventures of Sabrina the Teenage Witch as a dark coming-of-age story that traffics in horror, the occult and, of course, witchcraft. Over the course of Part 4's eight episodes, The Eldritch Terrors will descend upon Greendale. The coven must fight each terrifying threat one-by-one (The Weird, The Returned, The Darkness to name a few), all leading up to…The Void, which is the End of All Things. As the witches wage war, with the help of The Fright Club, Nick begins to slowly earn his way back into Sabrina's heart, but will it be too late?
—
Headspace Guide to Meditation
Season 1
Fri Jan 1
On Netflix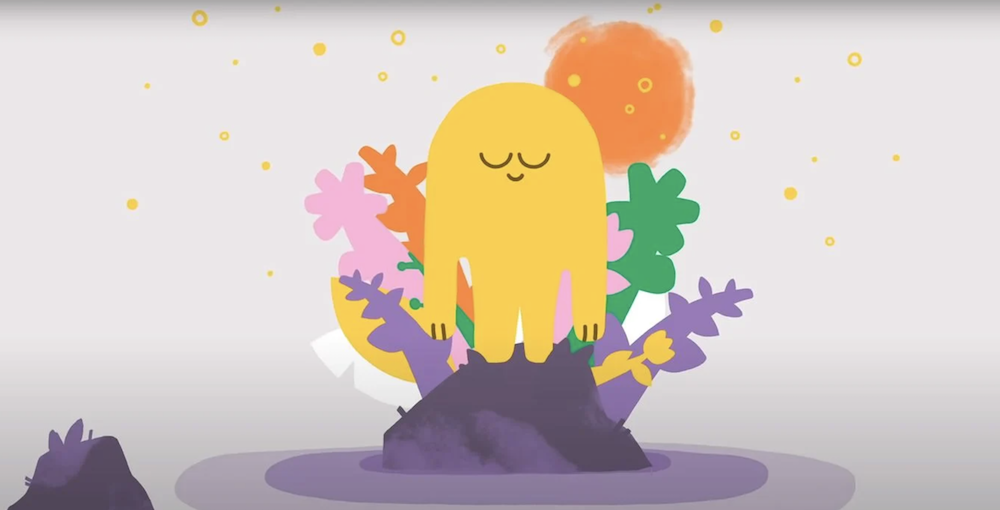 Photo: Netflix
Headspace is a popular meditation app (one that's often recommended in the UK by the NHS for patients struggling with their mental health but is utilized worldwide). Now the team behind the app has joined forces with Netflix to bring some guided meditation sessions to your screen. Through the use of brightly coloured animations—including Headspace's trademark orange blob—and soft sounds, each episode takes you on a journey to ground yourself, let go of what has been bothering you lately, and focus on your emotions in order to process them. Narrated by Headspace creator Andy Puddicombe, he draws on his own experience with mental health and his teachings as a former monk in order to help you visualise a clearer mindset and relax for a few minutes. Whether you've used the app before or you're new to the Headspace world, Guide to Meditation will give you some useful tools to practise in order to increase your mindfulness.
Watch Headspace Guide to Meditation on Netflix on New Year's Day.
From Netflix:
Take a deep breath and start the new year by being kind to your mind with the new Netflix original series Headspace Guide to Meditation. Over the course of eight animated episodes, Andy Puddicombe—former Buddhist monk and co-founder of the globally beloved Headspace meditation app—takes viewers through the benefits and science behind meditation. Each 20-minute episode showcases a different mindfulness technique that aids in the practice of meditation—focusing on subjects such as stress, sleep, and letting go—and ends with a guided meditation at the finale of every chapter. Headspace Guide to Meditation provides a moment of stillness and illustrates that practicing meditation is easy and accessible for everyone. Headspace Guide to Meditation is the first of three series with Headspace and Vox Media Studios, with subsequent series to include Headspace Guide to Sleep and an interactive experience.
—
Doctor Who
"Revolution of the Daleks" – Holiday special
Fri Jan 1 – 8PM
On BBC America
Watch Doctor Who on New Year's Day on BBC America.
From BBC America:
Jodie Whittaker is joined by guest stars John Barrowman MBE, Chris Noth, Dame Harriet Walter and Nathan Stewart-Jarrett for a brand-new holiday special. While the Thirteenth Doctor is locked away in a high-security alien prison, her friends discover a disturbing plan forming. A plan which involves a Dalek. How can you fight a Dalek without the Doctor? Even with Captain Jack's help, the gang are set to face one of their biggest and most frightening challenges yet.
—
The Watch
Season 1 premiere
Sun Jan 3 – 8PM
On BBC America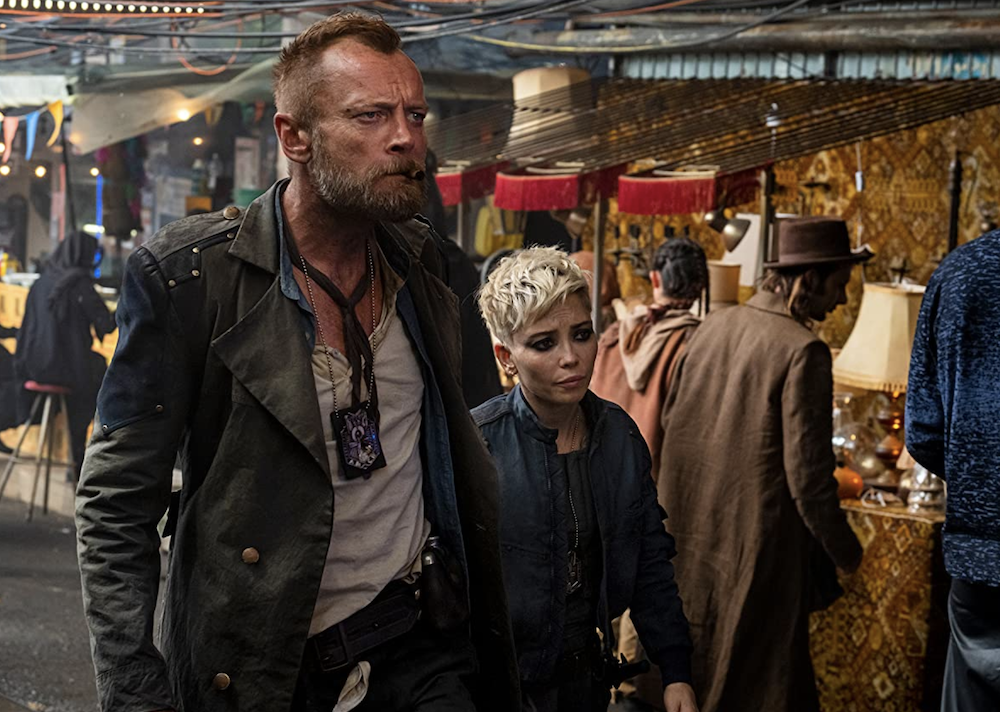 Photo courtesy of BBC America
What if BBC America made a show about Sakaar? (We're half expecting the Grandmaster to show up any minute.) In a city where crime is the order of the day, you might as well organize it—and that's where The Watch comes in. This unlikely group of "heroes" (we use that term loosely) keep the gangs in check and make sure no one strays from breaking the law. Yup. Inspired by Sir Terry Pratchett's beloved Discworld creations—although there are some major arguments about how accurate that is—The Watch brings wry humor and offbeat weirdness to a lawless world full of trolls, werewolves, wizards, and other misfits.
The Watch are led by Captain Sam Vimes (Richard Dormer), a whatever-means-necessary anti-hero who has all the swagger of Captain Jack Sparrow and all of the bad luck too. When fresh-faced cop Carrot (Adam Hughill) joins the team and tries to make people comply with the law, he disrupts the group dynamic. But they have bigger problems: All the city's alchemists are turning up dead which uncovers a fiery plot of destruction. Can The Watch save the city in time? The Watch immediately launches you into its wild world, which feels as real as our own but far more thrilling. It's got plenty of Pratchett DNA woven in, bringing out the magic of the series to add a fresh twist to what is effectively a police procedural, only with far more species and wonder.
The Watch comes to BBC America on Sun Jan 3.
From BBC America:
Inspired by the characters created by Sir Terry Pratchett's famous "Discworld" novels, 'The Watch' follows an unlikely group of misfits, The City Watch, are forced to find the guts to save the world, surprising even themselves in the process. The comedic yet thrilling series pits trolls, werewolves, wizards and other improbable heroes against an evil plot to resurrect a great dragon which would lead to the destruction of life as they know it.
—
The Rookie
"Consequences" – Season 3 premiere
Sun Jan 3 – 10PM
On ABC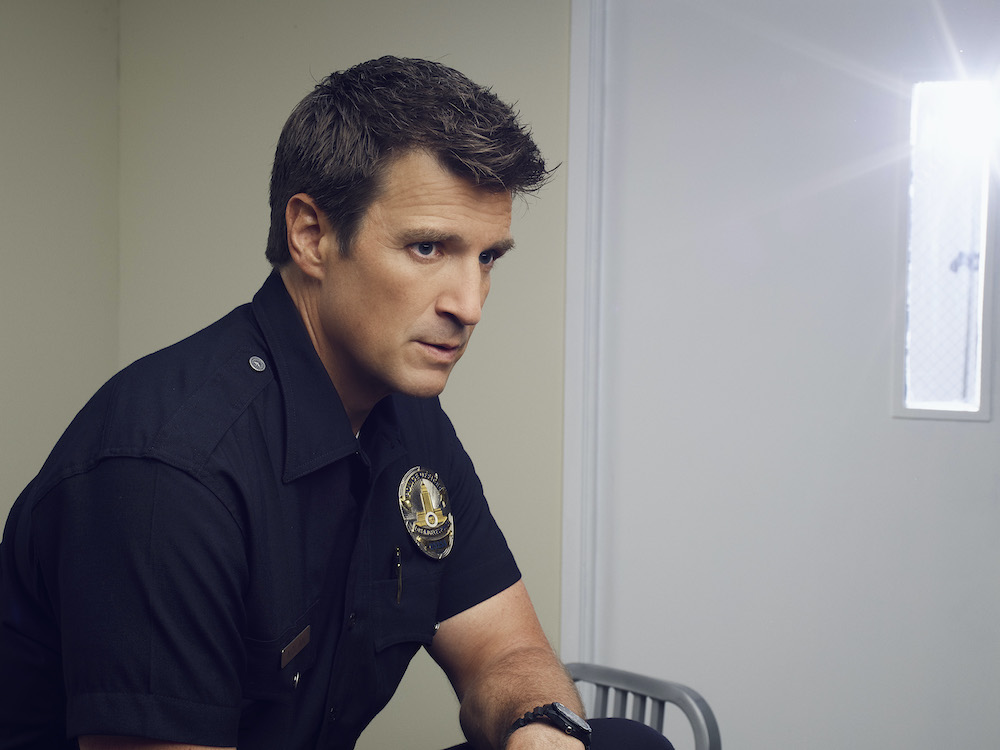 Photo: ABC/Andrew Eccles
The Rookie is kicking off the new year on a dark, dark note. Nolan (Nathan Fillion) is so close to finishing up his training (will they rename the show?) but he runs into some trouble that calls into question everything he's been working for. The episode examines Nolan and his team in a new way which makes tension run high. Can our team of officers figure out the truth before it's too late? The Rookie S3 kicks off with a bang and so much drama you're going to wish you had some popcorn. It'll plunge you right back into the show as if it never left and will leave you ready for more, more, more!
The Rookie returns to ABC on Sun Jan 3.
From ABC:
Nearing the end of his training, Nolan now faces his biggest challenge as a police officer yet when he must come to terms with the choices he has made in pursuit of the truth.