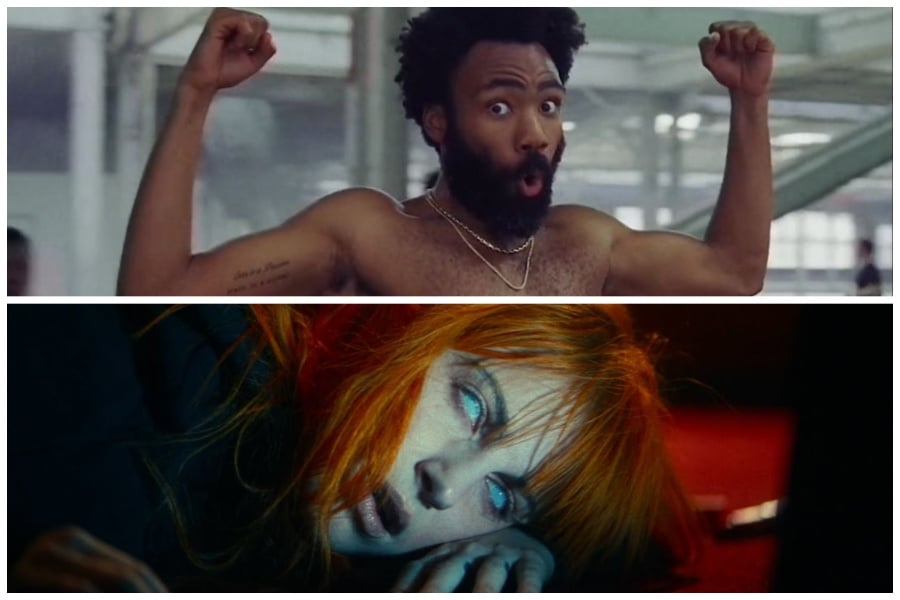 For Americans across the nation, this July 4th might not feel like one worth celebrating. June 30, mere days ago, the Supreme Court of the United States made three major rulings, which, in short, overturned affirmative action, halted President Joe Biden's plans to cancel student debt, and legalized discrimination against LGBTQIA+ individuals. Additionally, last year at this time, SCOTUS overturned Roe v. Wade, setting abortion rights back by decades. Refer back, even further, to 2020 to see the federal government's botched response to the COVID-19 pandemic, unchecked police power used against marginalized communities, and more. So, truly, it is well understood if you're feeling less than patriotic this year, or have never really cared for the holiday, in general. After all, none of these American issues are "new."
Take the protest anthems of "Holiday" by Green Day who melodically gave the finger to war monger and former president George W. Bush, or "Killing In The Name" by Rage Against The Machine pushing back against police brutality and racism, specifically in the case of Rodney King when the song was first written. You can even go back to the classic rock era with the likes of Bob Dylan, Bruce Springsteen, Marvin Gaye, and The Supremes to find impeccable anti-war anthems. Music is inherently political. I mean, hey, we even have UK's own YUNGBLUD in our corner with his political songs such as "Machine Gun (F**k The NRA)."
If you're looking for a new batch of protest songs highlighting the parts of America that are not so beautiful, we have the 11 best new-age records just for you. These tracks sound much better than the fireworks that may cause PTSD in American veterans and anxiety in puppies nationwide. Here are our favorite tracks for July 4th listening. 
1. "Planet Shit" – Every Time I Die
In their most recent and final album Radical, Buffalo's hardcore kings Every Time I Die offer a scathing review of American politics as it stands on the aptly named "Planet Shit." Opening the track screaming, "No future with a racist past/Oh, but we can't acknowledge that/So we burn a cross and pray to a flag," lead vocalist and lyricist Keith Buckley aims at corrupt politicians, religious leaders, and authoritarian police forces with each line. "I was just calling it like I was seeing it," Buckley says of the song. 
2. "BURN IT" – FEVER 333
Every Jason Aalon Butler project is rife with raw and vital political messages. From letlive.'s "White America's Beautiful Black Market" all the way to FEVER 333's most recent single "$wing,"  Butler uses his platform to highlight systemic racism and speak truth to power. Whether you're streaming FEVER's 2018 debut EP Made An America or their 2020 record WRONG GENERATION, you are in for an empowering, high-energy ride. "BURN IT" from the band's 2019 album STRENGTH IN NUMB333RS stands out as a class consciousness anthem to fight against authoritarian forces and eradicate the failed system that continues to oppress myriad Americans, especially Black individuals. "This song is about that bigger picture and a belief that sometimes you must completely eradicate tired, racist, sexist, and systemically ignorant traditions in the name of progress," Butler says. "Sometimes you have to burn it down to build it up again." 
3. "The News" – Paramore
Paramore's 2023 LP This Is Why has been deemed their most political record to date. Lead vocalist Hayley Williams told Entertainment Weekly, "It's our most political album in the sense that, I would expect or I would hope, any single person can find something that they fully understand that they're directly impacted by when it comes to social politics or otherwise." Tackling the exploitative nature of mainstream 24-hour news cycles, this song dives into how it feels impossible to escape war, violence, etc., and not being able to do a thing about it. Williams sings, "But I worry and I give money and I feel useless behind this computer/And that's just barely scratched the surface of my mind."
4. "This Is America" – Childish Gambino
Arriving in 2018, this Childish Gambino track quickly rose to the top of the charts and dominated social media conversations. Gambino, aka Donald Glover, uses, not just lyrics, but graphic imagery in his music video to depict gun violence, the reality of being Black in modern America, and Black art as it's used in pop culture. Time Magazine theorizes that Gambino's shooting down of the Black choir in his video is in reference to the Charleston mass shooting at a predominantly Black church. This is only one of several hidden topical messages thought to be contained in the "This Is America" music video. In an E! red carpet interview, Gambino said of the song, "I just wanted to make, you know, a good song and something that people could play on Fourth of July."
5. "Blood // Water" – grandson
grandson never minces his words, especially when it comes to the tracks on his hyper-political, rap-infused modern rock trilogy of EPs: a modern tragedy. Stand-out track and RIAA-certified Platinum song "Blood // Water" is a searing indictment on corporate greed and political corruption and how said elites are actively harming future generations. In a uniquely sultry voice, grandson sings, "You poisoned me just for another dollar in your pocket." Other grandson must listens for the politically active include "thoughts & prayers," "WWIII" and "Die Young."
6. "America (You're Freaking Me Out)" – The Menzingers
The Menzingers really tap into the nuanced feelings of loving your country but despising several aspects of it, including those who are in power. From the garage, punk-rock-laced album Hello Exile, lead vocalist Greg Barnett belts, "With cranks for Christians in powerful positions/I've always felt like all their pomp and circumstance is just cover for the devil to dance." Basically, many watchers can relate to the alien in the music video who got more than they bargained for when they came down to visit the USA. 
7. "Not In California" – K.Flay (2019)
While it might seem like common sense that every human on Earth would fear melting ice caps, raging wildfires, and other harmful weather patterns, climate change has, in fact, become political. K.Flay took to the recording studio to use her signature synth-laden sound to tackle the cognitive dissonance surrounding the issue. She sings, "The babies all cry as the scientists try, but the politicians keep on screaming," as she swims in a pool filled with single-use plastics only to trudge through piles of trash on the surface. Fun fact: K.Flay purposely debuted this song on the same day as the United Nations' global climate summit. 
8. "Everything's Fine (Nuke Song)" – Roe Kapara
Rising alternative artist Roe Kapara released, perhaps, the cutest eat-the-rich song with "Everything's Fine (Nuke Song)" of 2023 on his Epitaph debut I Hope Hell Isn't Real. Kapara's soft vocals and bright guitar chords might fool anyone who doesn't closely listen to the grim, utterly realistic lyrics such as, "I'll watch as the nukes explode and kill the neighbor's kids/Rich men shoot out to space and watch us from their ships/Pretend like everything is fine, they'll make you take your pills." Along with these melodic, acoustic-tinged takes about greedy billionaires, the EP features other socially conscious tracks such as "Preacher," which draws inspiration from Kapara's own experiences growing up in the Catholic church, and the manipulation he saw at play against literal children. 
9. "Justice" – Oxymorrons
"Justice" by Queens-based rap rockers Oxymorrons sheds light on the exhaustion that comes from witnessing never-ending police brutality. For context, this song was written prior to the murder of George Floyd, which ignited worldwide protests against police brutality in 2020, but was released days after the news broke. They sing, "You voting blue or red/But man, that's the same thing/You see the flashing lights/They all the same gang."
Additionally, the band wants the song to live on in tangible ways. In a Stitched Sound interview, they shared: "All revenue from streaming, merchandise, and downloads both now and in the future from this song will be given back to the community through various charities, non-profits, and movements. We want this to be a never-ending cycle to our people to continue to develop the youth, enhance our culture, and fight the inequalities that we have suffered for too long. We will continue to fight, continue to speak out against oppression and stand for change."
10. "Randy McNally (No Love Like Christian Hate)" – TX2
Hopeless Records newcomer TX2 is all about pushing back against institutions, whether it be organized religion, state and local governments, the gender binary, and beyond. In his recent song "Randy McNally (No Love Like Christian Hate)," he calls out Tennessee Lt. Governor Randy McNally for signing anti-drag and anti-trans bills. He also calls out Tennessee Governor Bill Lee and Arkansas State Senator Gary Stubblefield, two Republicans who have pushed anti-drag legislation. As more and more laws and rhetoric are pushed against LGBTQIA+ individuals in the name of Christian principles, TX2 urgently sings: "You base your life off an ancient scroll, out there burnin' witches/Fillin' up the ditches, tell me can I still be saved?" TX2 also used this raw music video to showcase the talents of drag performers Gigi Flores, Trash Ketchum, Lilith Moon, and Avant Garbage. 
11. "III" – Stray From The Path
Stray From The Path has been at the forefront of anti-capitalist, anti-fascist, and anti-police anthems since their inception in the early aughts. From "Badge & A Bullet" and "Badge & A Bullet Pt. II" all the way to "III" on their most recent record Euthanasia, the band have actively used their art to stand up against police brutality.
"Policing in the United States has always been rooted in racism, hate, and violence. Public funding for police departments has skyrocketed since the 1980s," the band said in a press release. "The only protecting and serving the police do in this country is protecting the wealthy, the powerful, and capitalist interests while subjugating the marginalized and the working class." Their songs relate to horrifying statistics including how police officers kill roughly 1,000 people a year, nearly half of them being Black, while on the job, yet less than 1% of cops are prosecuted. With no police reform or abolishment in sight, we may be getting a fourth installment of these Stray police brutality awareness tracks.