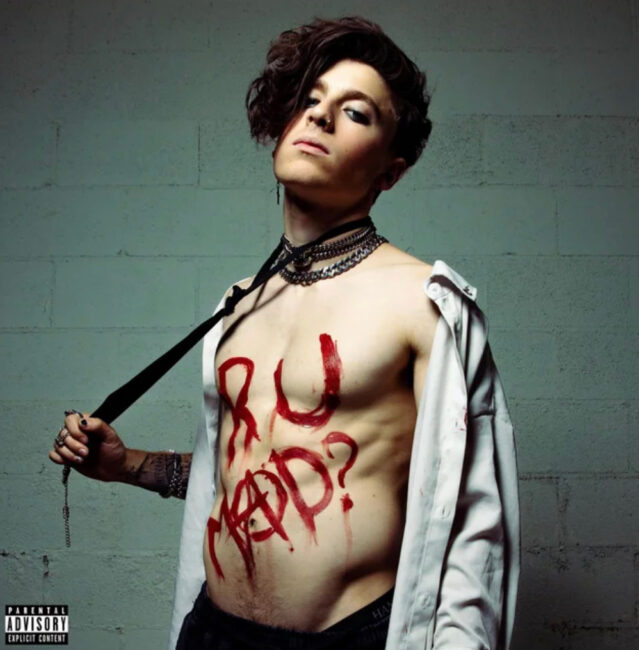 The Los Angeles-based Rock/Rapper hybrid artist, TX2 has had enough of people's bullshit. After going viral last month for his song "I Would Hate Me Too", he faced an insurmountable amount of backlash. Not because he said anything inappropriate, offensive, or cancelable… just because he was being unapologetically himself and some people couldn't stand it for some reason. He wore a dress and eyeliner, and boasted lyrics addressing his own insecurities and failures mixed with a satirical dose of self-aggrandizement.
Are people mad he is gaining millions and millions of streams? That is he conventionally attractive? Or that he has a unique style of music? Who knows. What we do know, is that TX2 dropped a brand new track today addressing the situation. "Say You're Insecure (Without Saying It)" is a diss track to anyone and everyone that gave him a hard time for his art.
The lyrics include: "Just say you're insecure, without saying it / If I'm the death of rock 'n roll, then you're tasteless bitch / You don't like a man 'cause he don't follow back / And you don't like a band, when they start getting fans / Say you're bored and, insecure without saying it"
In the fashion of classic Eminem lyricism and old Escape The Fate attitude and instrumentation, TX2 might not be for you, but he is doing what he loves. Earlier this month he dropped the track "Randy McNally (No Love Like Christian Hate)" calling out politicians by name and shaming them for their recent anti-trans and anti-drag legislature. It's clear that TX2 isn't afraid of anything.