Basically: A teen action-dramedy for the geeks, the burgeoning superheroes, and the children of immigrants everywhere—so basically all of us.
Ms. Marvel opens with the line, "Finally, the moment everyone has been waiting for." These words are true on so many levels they could be an anthem. Since the announcement of the first Captain Marvel movie, many of us have waited, impatiently, for Carol Danvers' (much more fabulous) counterparts. We got the first, Monica Rambeau, when she appeared in the WandaVision series and made us dream of a superpowered detective series called "Rambeau and Woo" (MoWoo, make it happen MCU). And we now, finally, have the second counterpart. 
That first line rings out because it is spoken by Kamala Khan (Iman Vellani), a teenager, a Jersey girl, a geek, an artist, a Captain Marvel fan, the child of Pakistani immigrants, a muslim, and a burgeoning superhero. Kamala /pronounced Ka-MAH-la/ is one of the ones Chaka and Whitney were singing about on "I'm Every Woman". What makes Kamala Khan AKA Ms. Marvel special is she embodies every facet of her identity fully; without sacrificing any one part of herself. This girl knows who she is and it's time we found out.
(I mean those of us who don't read the comics, of course.)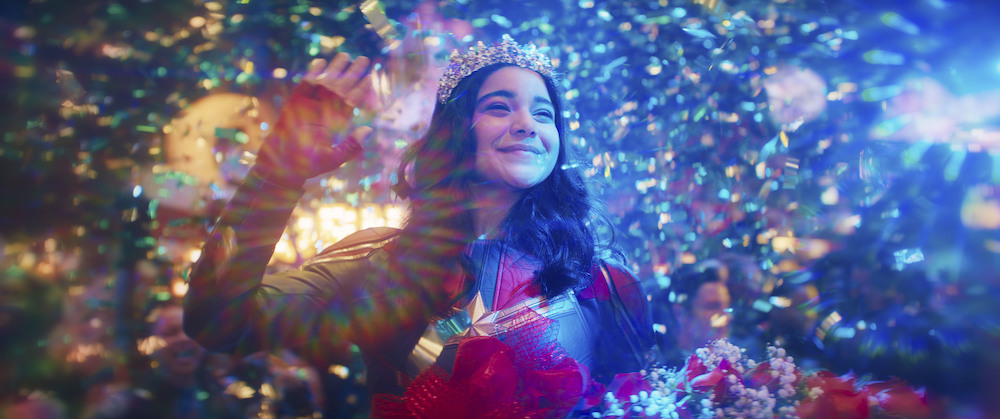 The Creator
"It's not the brown girls from Jersey City who save the world," Kamala says. But it should be. Bisha K. Ali, with the help of producer Sana Amanat, has written & created a series that is vitally needed. I talk a lot about starving audiences and what being American looks like beyond the perceived default. Ali goes beyond speaking on the matter, she feeds those audiences and shines the limelight on several communities that have been missing from the American entertainment feast. To quote the slang, Bisha K. Ali ate. 
"It's not the brown girls from Jersey City who save the world," Kamala says. But it should be.
The Culture
We would typically need to watch imported movies or shows to hear the joy of "Chalo" (let's go) spoken with authority by an ammi, an amma, or a mummi. Where else, other than in local neighborhoods, can we hear an argument about Shah Rukh Khan's greatest movies? (The answer is of course any of them featuring Kajol, if you were wondering.) And because of dear friends, a lovely ex-boyfriend, and my mother's days of watching Shashi Kapoor movies after school, the term "choti Hulk" nearly did me in. As an ally, these moments brought me joy but when your own culture is being celebrated the confetti cannons must be blasting.
The Directors
One of the things that makes Ms. Marvel work so well is where the directors put the camera, where they choose to push in, to pull back, to flip the angle, and the sunny tones they infuse into the scenes, even the ones indoors. Adil & Bilall (Adil El Arbi & Bilall Fallah) deliver a pilot that glows, and they also take on ep 106. Meera Menon gives us the height of a teen rom-com in 102, which makes us excited for the action-adventure promised for episode 103. We haven't seen the work of Sharmeen Obaid-Chinoy in episodes 104 and 105 but we already know from the tone set in the first two that it's going to be great.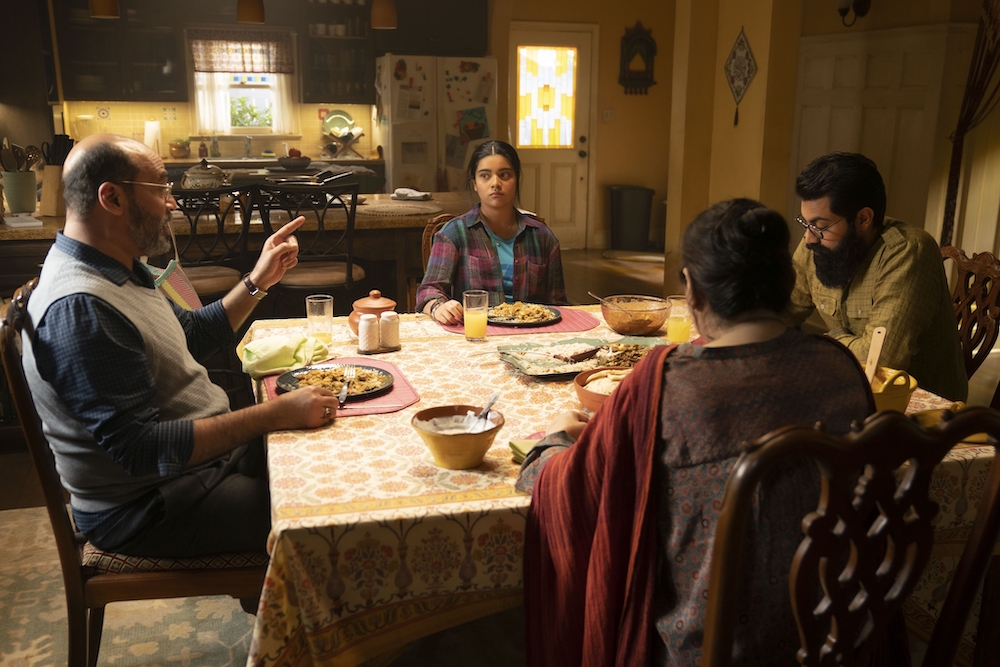 The Graphics & Animation
The Ms. Marvel team creates a series of dynamic visuals to firmly immerse us inside Kamala's head. Her drawings animate and shift to show how quickly her ideas change and how vast her imagination is. Her YouTube series is an action-fueled reflection of her headspace, and the other onscreen graphics could be called KamalaGram—an internal social media app floating around her everyday life. What amazes me is those visuals represent how a geek-girl-teenager thinks, but they could also be the contents of my own head (subtract Captain Marvel, add She-Hulk + Storm).
The Cast
They're so good. So very tangible and huggable. Mohan Kapur portrays abbu/Yusuf, making the character goofy and loveable and sensitive—a true girl dad. Zenobia Shroff is ammi/Muneeba, the classic worrying, fight for you, doesn't know why you're like this, mom who is into Jersey rock. Kamala's brother, Aamir is played by Saagar Shaikh. He is adorably oblivious, pious, and quite possibly an idobi listener. Out of the rest of the cast there are two standouts. Yasmeen Fletcher's Nakia is so much more than the pretty friend. Yes, she's fashionable but she's also fierce and funny and so thoughtful in relaying what it means to straddle two cultures. Another fun character to watch is the guidance counselor Gabe Wilson (Jordan Firstman) who is perpetually trapped somewhere between cool and cringe.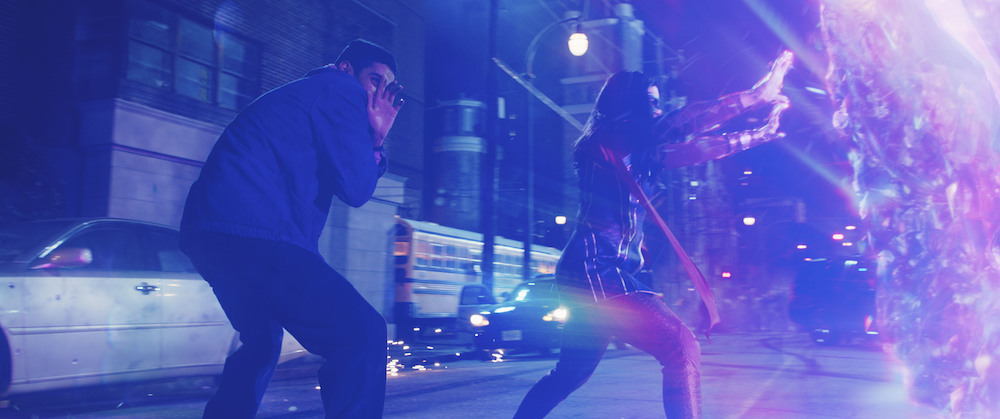 The Series
Ms. Marvel is definitely the kind of series many of us have been waiting for. It's culturally celebratory, witty, heartwarming, heroic, and exciting. It's shot gorgeously, acted beautifully, and a thrill to watch. I cannot wait to see more and to talk with y'all about how good it is.
The Star
Iman Vellani is magnificent. The creators of Kamala Khan must be dancing in the knowledge they were miraculously blessed when they found her. No hyperbole, Vellani is a dream Kamala. She has created a 3-dimensional character who shows off everything wondrous and wonky Ms. Marvel is meant to be. If you're looking for a hero, here she is, waving at you with an extra big fist for flattening the baddies, and an even more expansive goodness.
At one point Mr. Wilson calls her "A girl divided." and, yeah, she is doing the most to bring all of her facets into harmony without giving up any part of herself. However, as I referenced earlier, Kamala is only divided by those trying to force her to crunch herself down into a single dimension. It's going to be the best time watching her "Embiggen!" to bust through all the boxes throughout this series.
In the End: Introducing your hero and mine, friends of all genders, this is The Fantastic Ms. Marvel!
—
Want to read more about Ms. Marvel?
Check out Julian Lytle's review.