Basically: A young girl who's the biggest Captain Marvel fan ends up getting superpowers and then tries to be a superhero herself.
With all the MCU content coming out and all the other superhero-based adaptations on TV and in theaters, it's becoming harder and harder to be impressed or surprised by them. Well, at least for me. But, as the MCU ramped up in 2022 with Moon Knight into Multiverse of Madness and now into Ms. Marvel, there are no signs of slowing down. This show about Kamala Khan AKA Ms. Marvel is the biggest breath of fresh air in the genre this year.
Ms. Marvel really pulls from the character first and then goes into the hero story. It follows Kamala Khan, a 16-year-old Pakistani-American girl dealing with the average things a 16-year-old kid goes through: taking her driving test, dealing with teachers and counselors at school, and her parents not totally understanding or giving her just a little bit of freedom.
Iman Vellani plays Kamala with all the charismatic wonder, humor, and heart this character has in other interpretations and in her comic book origins. Vellani does a great job of holding your attention and getting you into loving her character.
I also want you to know that the supporting cast is significant too. Kamala's family and friends add to her story and really build a solid world in which they move and operate. Kamala's parents, Muneeba (Zenobia Shroff) and Yusuf (Mohan Kapur), really feel like parents, the kind you get from a top-tier network drama. Their dynamic is really good, which is something that hasn't been in much of the MCU (even though that is something I KNOW others disagree with me). Her mom is harder on Kamala, especially on her Avenger fandom, and wants her to focus on her studies, while her father gets to be the more supportive one. But make no mistake, it's all love there. Saagar Shaikh as her brother Aamir is good too but isn't in the first two episodes much.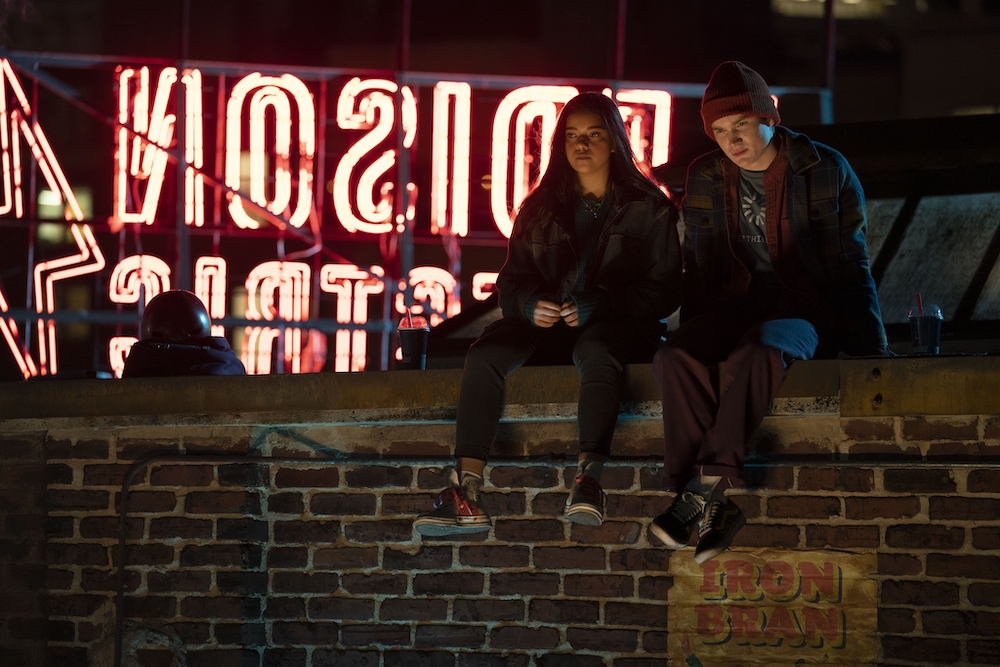 Kamala's friends Bruno (Matt Lintz) and Nakia (Yasmeen Fletcher) are very well-rounded from the beginning. Bruno has a nice plot as the best friend and possible love interest, which is tropey but the showmakers make it work and the characters play it very well. Nakia is a good friend who gets some solid characterization in the second episode. She also helps to integrate the viewer into the community of their faith and social structures.
I think one worry for fans of the character from previous interpretations is the change to Kamala's powerset—going from the Inhuman (Terrigen Mist) Stretchy to something more energy-based from a bangle. I've always liked this change since it connects this Captain Marvel-based version of Ms. Marvel to her classic interpretation with Nega-Bands. The change really works in the series, as many comic book powers don't work as well when there are no Inhumans. (Also, Mr. Fantastic should be the first stretchy character in the MCU.) The effects of Kamala's powers look good too. I could go on but I'll stop here so folks can enjoy this series on their own—it's definitely worth watching each week. 
In the End: From just two episodes, Ms. Marvel is the best MCU show to date and easily one of the best shows of the year so far.
—
Want to read more thoughts on Ms. Marvel?
Check out Sherin Nicole's review.