Basically: A man learns he has another personality he's had his whole life, which has superpowers.
I never expected to be writing about Moon Knight in 2022. Moon Knight is a pretty niche character in the Marvel pantheon. I was very surprised to learn they were making a show about him. While he is more popular than Shang-Chi, for example, Shang-Chi was filling a void and kind of fixing a problem they have ignored for years. My interest was piqued when they announced Oscar Isaac would star as Marc Specter AKA Moon Knight. But when we didn't get more information about the series, my mind wandered back to the question: Why Moon Knight? 
Moon Knight is a character with so many different takes that he feels chaotic; even as a person who regularly explains comics to people, I have a hard time with him. Especially now as the character has shifted from the classic hooded superhero costume to a white business suit with a simple mask. Many creators have also used Moon Knight to delve into Dissociative Identity Disorder (which has been called different things over time as the terminology and understanding has changed) to make the hero unique even though he's been jokingly referred to as a "Bootleg Batman."
Now, does this show quiet my thoughts and wonderings?
No, it really doesn't.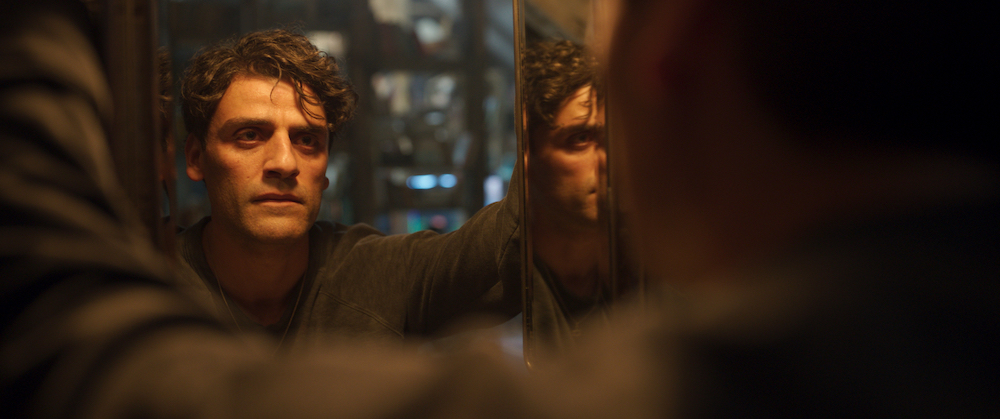 Moon Knight opens with Isaac as Steven Grant, a peculiar "British" man who works as a gift shop employee at a London Museum. Each night he straps himself into his bed because of a severe case of "sleepwalking," or so he tells people who don't seem to like him that much. He's struggling with blackouts and ends up in places not knowing how he got there, with people he doesn't remember meeting.
Next, we're introduced to Arthur Harrow (Ethan Hawke) who is a sort of cult leader looking for a magical scarab that Steven somehow has. Steven is in over his head and has to escape Harrow and get back home. That's when Steven hears a voice asking for control of his body.
This is where I'll stop with the setup. I watched four episodes of the six-episode season, so two-thirds of the whole thing, which is more of a preview. And I'll keep a buck with you all: I'm not enjoying this series. It doesn't work for me. The mystery beginning, with a nebbish Steven who's in way over his head, is tedious. We're stuck with Steven for so long before we get to see Isaac as Marc Spector. Nothing is explained or properly set up. You're just supposed to go along with what's happening, which I don't feel works as well as previous Marvel shows, since this is a completely new character for most viewers. The lack of setup hurts the empathy we have for our lead(s) and the battle they are in.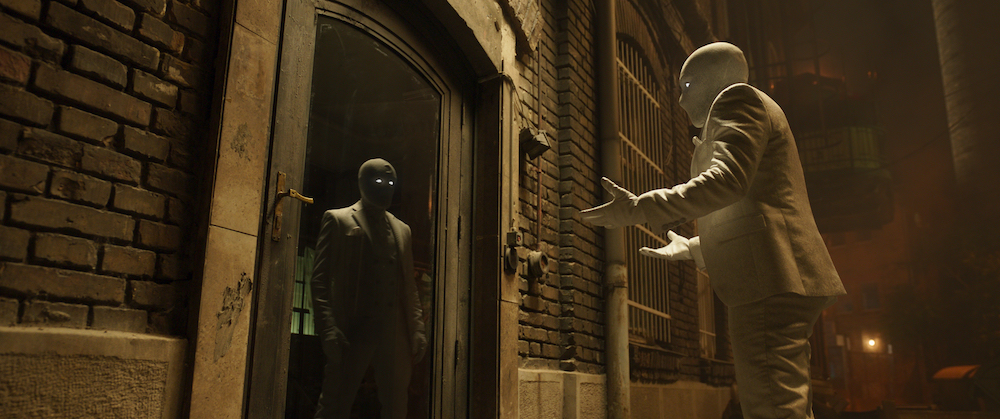 Moon Knight's other lead is May Calamawy as Layla, a woman connected to Marc's life who utterly confuses Steven. The way Layla and Steven act around other people and deal with each other feels like they're in an action version of The Nutty Professor (the 1963 Jerry Lewis one). Layla feels out of place, she doesn't seem like an utterly whole character for many episodes, but it is nice she gets to show off all her action and fight skills.
The use of the Egyptian gods also feels different and in conflict with how deities have been used in the MCU to date. It makes me wonder if this series will connect to the Doctor Strange line of the MCU as Strange seems to be the current middle-aged, professional genius, white male lead.
While I do like that the series tries to break regular Marvel structure and do things differently, I think it would be helped with just a bit of standard setup and exposition. However, I do believe my opinions of the overall show will be the opposite of many as Isaac's performance is good and will grab people. He plays each different character so completely that it will overshadow everything else. Yet, I was primarily bored with it all, which is a feeling I've never really had with Moon Knight, even if I don't check in with the character that much.
In the End: Moon Knight attempts to do something even more different in the MCU but it fails at every attempt.