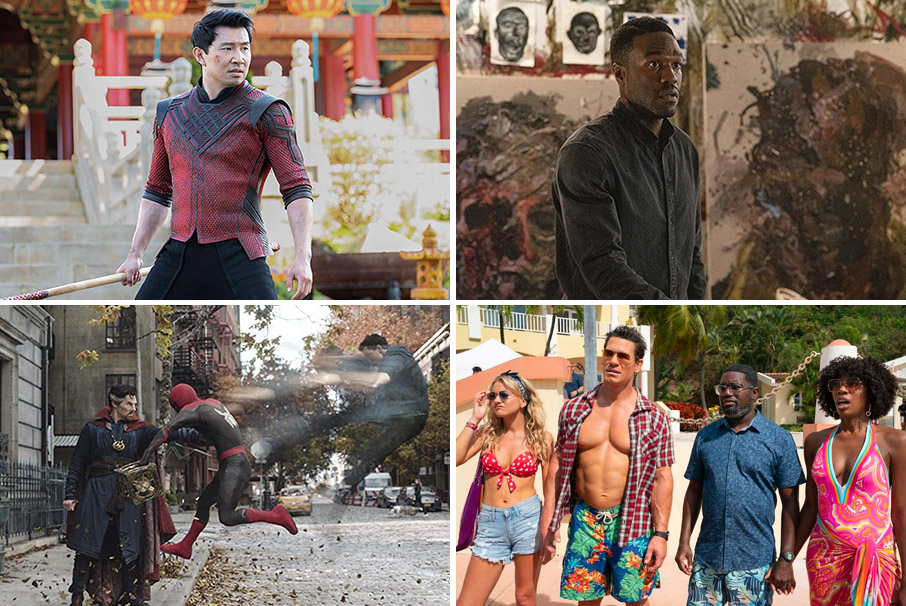 CW from top left: Shang-Chi and the Legend of the Ten Rings (photo: Jasin Boland © Marvel Studios 2021) // 
Candyman (photo: © 2020 Universal Pictures and MGM Pictures) // Vacation Friends (photo credit: Jessica 
Miglio/20th Century Studios) // Spider-Man: No Way Home (photo courtesy of Sony Pictures - © 2021 CTMG. 
&  Marvel)
Geek Girl Riot's serving up an episode of massive proportions, talking: Shang-Chi, Candyman, the new Spider-Man: No Way Home trailer, AND Vacation Friends. Our Rioters also pay tribute to some beloved legends.
Shang-Chi and the Legend of the Ten Rings
Marvel is coming in hot with Shang-Chi and the Legend of the Ten Rings, telling the tale of Shang-Chi (Simu Liu), the kung-fu master and son of Xu Wenwu (formerly called The Mandarin). Sherin and Julian have differing opinions about the movie—which means Philip gets to play referee and question-keeper. Sherin says: "Shang-Chi takes me back to the wuxia & other martial arts films I grew up with but also blends pop culture with Chinese mythology. It's a bit hodge-podge in parts but the cast is fab and the story ties in nicely to the larger MCU. Also Tony Leung forever." Our Rioters get into the cast & characters, the highs and lows, and the issues Hollywood has so often had when portraying Asian characters and cultures. Whew! Watch Shang-Chi in theaters on Friday, September 3.
Candyman
Don't say his name…Candyman is coming for you in theaters now. Nia DaCosta's chilling new horror sequel to the 1992 film of the same name, Candyman returns to the now-gentrified Chicago neighborhood where the bloody and terrifying legend began. Philip and Julian tell Sherin what to expect, including the standout moments, the themes, and why this story is so much deeper than a typical slasher movie.  
Spider-Man: No Way Home Trailer + Vacation Friends
Tom Holland is out here causing spoiler alerts on a massive level as Peter Parker in the new Spider-Man: No Way Home trailer—yup, he indirectly causes the creation of the multiverse, which sees him meeting some new (old) friends from Spider-Men gone by (and some old villains too). Our Heroic Trio break down the new trailer and prepare for the Multiverse of Madness.
Then they briefly get into Vacation Friends and the secret (invisible) sauce that is John Cena. Sherin says: "Lil Rel Howery and John Cena should team-up more. Vacation Friends is a throwback to old school slapstick with opposites who grow into something more than antagonists. I have to say, I enjoyed it." Watch Vacation Friends now on Hulu!
In Memoriam
In this podcast version, our Rioters take a minute to pay tribute to some beloved stars who have recently transcended. They honor badass acting legend Sonny Chiba, Lee "Scratch" Perry AKA one of the pioneers of reggae and dub sound, and Ed Asner, the actor whose roles spanned generations.
Tune in to Geek Girl Riot on idobi Radio every Tuesday at 11pm ET / 8pm PT for your dose of late-night geekery. 'Til next time, see a list of everything our Rioters talked about below:
LINKS:
 – Shang-Chi and the Legend of the Ten Rings (read Julian's review)
 – Candyman (read Philip's review)
 – Spider-Man: No Way Home
 – Vacation Friends (read Julian's review)
 – Nora from Queens
 – Iron Man 3
 – Iron Man
 – Black Widow
 – Iron Fist
 – 'Crazy Rich Asians, AAVE, and My Asian-American Identity' – Alice Meichi Li
 – Daredevil
 – She-Hulk
 – Mulan
 – Raya and the Last Dragon
 – High on the Hog: How African American Cuisine Transformed America
 – Candyman (1992)
 – Spider-Man: Far From Home
 – WandaVision
 – Loki
 – The Eternals
 – The Eternals – Neil Gaiman
 – Spider-Verse
 – Into the Spider-Verse
 – Police Story
 – Higher Than the Stars in the Sky
 – Kill Bill
 – The Fast and the Furious: Tokyo Drift
 – Yakuza Cop
 – The Mary Tyler Moore Show
 – The Boondocks
 – Up
Podcast: Play in new window | Download