Basically: A heartfelt tribute, where the women of Wakanda shine.
When Marvel/Disney released the trailer for Wakanda Forever, the second Black Panther film, everything about it incited me to feel. The loss of fellow Howard University alumnus and magnificent actor Chadwick Boseman, the melodic force of Tems singing "No Woman No Cry" (as though it was always hers), and the thrilling possibility that Shuri—the same as in the comics—might become the Panther.
Before the trailer dropped and louder afterward, comic book fans were critical of the MCU retiring their version of the T'Challa character. As a tribute to a game changer, it felt right to me. I also knew the jersey hadn't been lifted into the rafters but the filmmakers, cast, and crew needed time. Mourning takes more than months, more than years, and it requires catharsis. Wakanda Forever is part of that healing.
The story pops off from the opening moments, T'Challa (unseen) is suffering from an unknown and fatal disease. As a super scientist, Shuri (Letitia Wright) is frantically working with her A.I. Griot (Trevor Noah) to engineer an artificial version of the Heart-Shaped Herb, the source of the Black Panther's power and ostensibly a means to save the king. You already know she fails and failure sharpens her pain.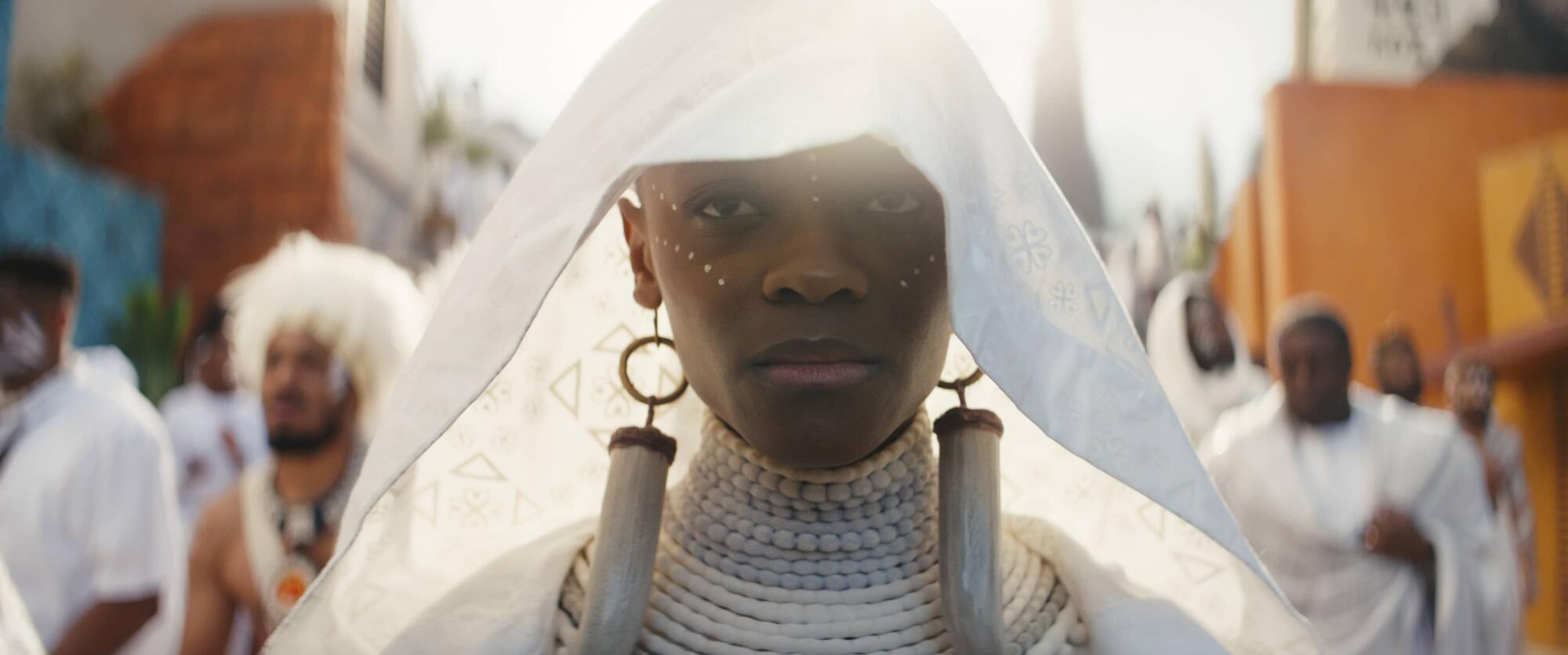 After a white-clad and dance-filled funeral procession, during which we see all but one of the characters we adore (where is Lupita Nyong'o's Nakia?) we fly into a meeting of the UN's Security Council. There, Queen Ramonda (Angela Bassett) flexes her fabulous forearms and her will, when she takes the floor to rebuke the insinuation that vibranium is too dangerous for one kingdom to hold. She rightfully tells the gathering they have always been the threat. She's not wrong. One of those nations has found a cache of the metal under the sea and although it is not a cursed treasure they still get body-bagged. The Atlanteans (now known as the nation of Talokan in the MCU) unleash a siren song that might as well be a requiem, Wakanda isn't the only ancient kingdom with a vibranium-infused culture. And therefore: Uh oh.
The situation is further complicated because Shuri refuses to make space for the spiritual side of grief—choosing a cold disconnected reality despite the council of her mother, General Okoye (Danai Gurira), and the forever swaggy but wiser-this-time M'Baku (Winston Duke). Shuri may not be ready for the main character gig but the ocean is calling.
The ruler of Talokan (aka Atlantis), the anti-villain with the rude eyebrows, and the one known as the Sub-Mariner finally steps into the spotlight and Tenoch Huerta knew exactly what needed to be done. His Namor is dripping in finesse and totally unconcerned with your feelings.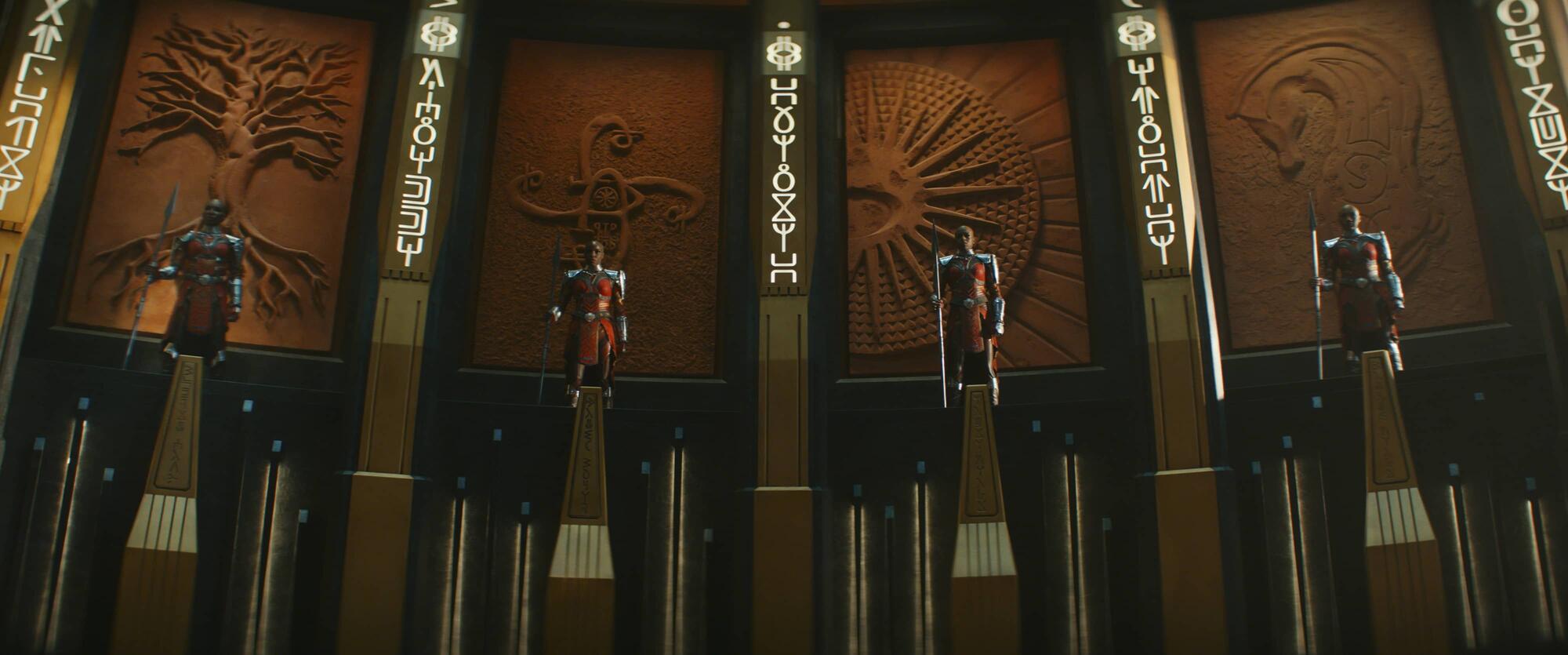 Friends of all genders, tonight on the Marvel stage, the meeting of Africa and Mesoamerica, the battle of the Vibranium Nations, we give you: WAKANDA vs TALOKAN
It's a great concept and the combination of themes—grief, an arms race, the stealing of resources from Indigenous cultures, the feuds between BIPOC cultures that America and Europe provoke—and for the first half of the story it works, it excites, it builds anticipation. But when I was asked for my thoughts after leaving the theater I said, "It's a heartfelt and fitting tribute, that I need to sit with for a while to discover the depths of my feelings."
The thing is, I didn't feel, not like I wanted to. The first half had me, the second half lost me. You must understand, writer/director Ryan Coogler and co-writer Joe Robert Cole didn't have it easy. They had to rewrite the entire script and revise their plans for the franchise, while in a state of mourning. That's a lot to carry into a film of this scope, perhaps that is why the story seems to focus too much on some aspects and not enough on others.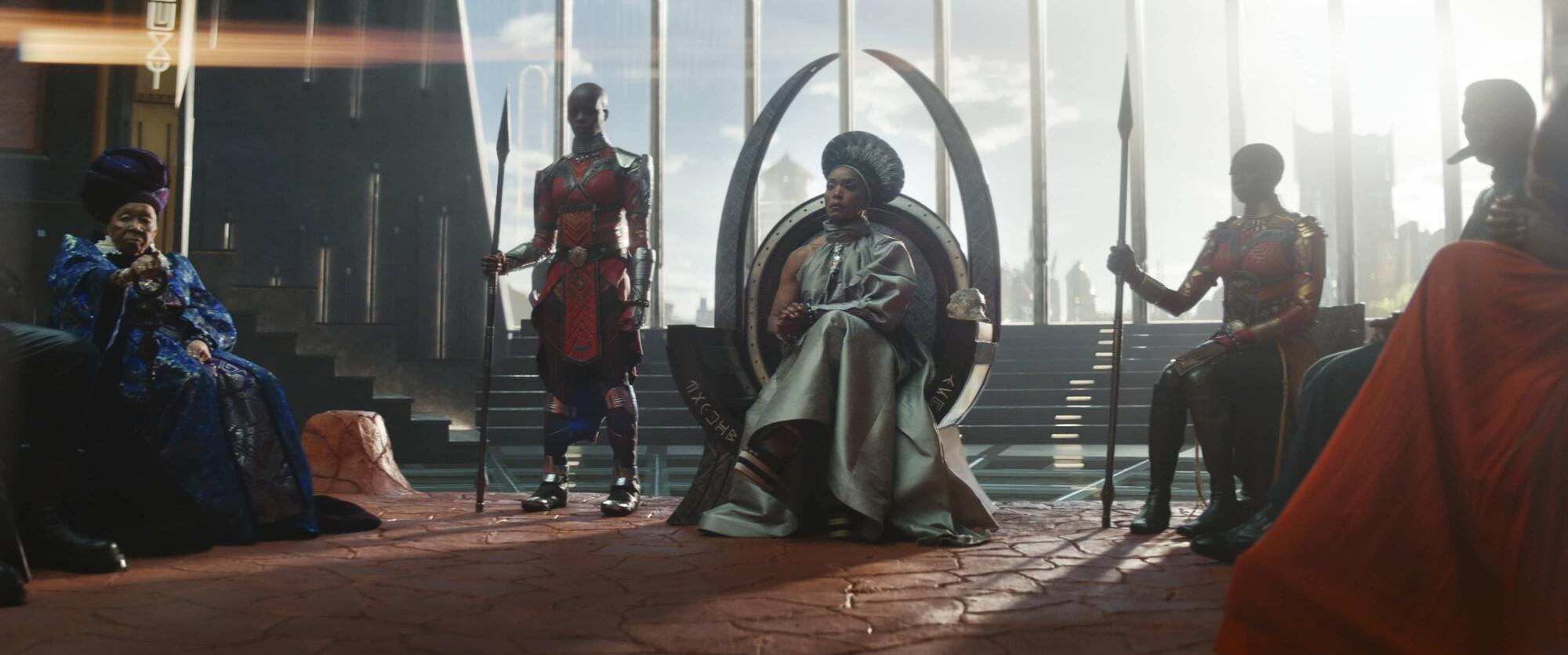 We're introduced to Riri Williams (Ironheart), joyfully embodied by Dominique Thorne. As two young, Black-woman geniuses the interplay between Shuri and Riri sings—you could watch it for days—but as an introduction to the character, Riri might take up too much space, especially since she has her own TV series coming.
Another high-chemistry pairing is Shuri and Namor, as royals, as gifted people facing trauma, and as leaders looking to save their people by any means. Shuri isn't like T'Challa, she has hidden rage, which connects her to Namor. But spoiler-y decisions are made in the storytelling that lead the duo away from a satisfying conclusion to their conflict. The same with Shuri and Ramonda. We see wisps of the mother-daughter relationship but those moments aren't specific enough to connect us to their journey together and therefore their differences don't have impact. With less of, the admittedly great, Riri the storytelling might've had more space for the Shuri/Ramonda/Namor relationships.
Unfulfilling moments run through much of Wakanda Forever, not enough of some things and too much of others. Agent Ross (Martin Freeman) and Valentina Allegra de la Fontaine (Julia Louis-Dreyfus)? Too much. Yet Nakia is still an underdeveloped character who seems more like a plot shifter. Ayo (Florence Kasumba) and the newly introduced Aneka (Michaela Coel) are barely there and are missed because of it.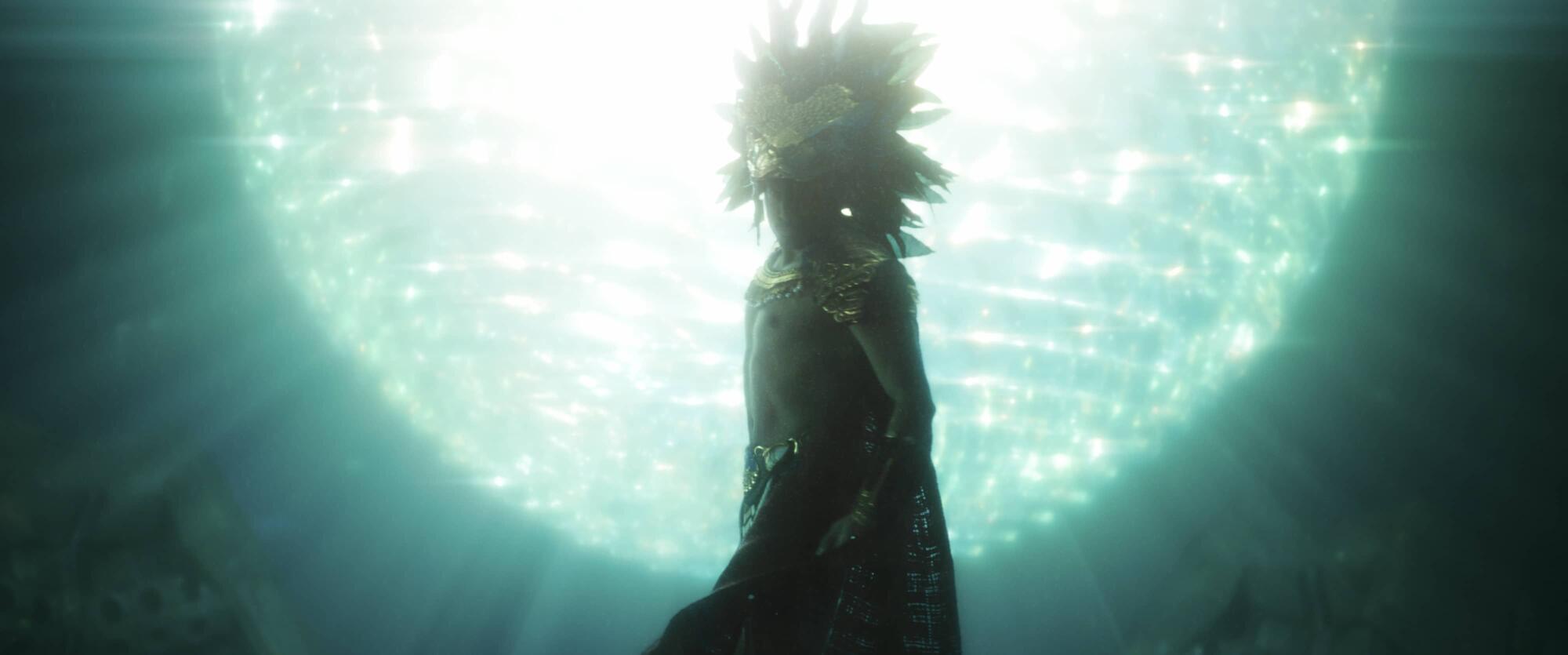 Further contributions to the disconnect come from the puzzling decision-making. In the climactic battle, we have two super-scientists and several military tacticians making choices that could only end in defeat. They have no chance with the strategy they lead with, which makes it difficult to invest as the action unfolds.
The film isn't constructed in a way that shakes you up. When you combine all of the above, the emotional punches just don't land. I'm guessing that is why our screening ended in an uncomfortable silence. Some of us liked it but weren't entirely enthusiastic, some of us were mad, and others of us (like me) didn't know how to feel. I still don't. Here's what I do know: the cast is phenomenal, Hannah Beachler (production design) and Ruth E. Carter (costume design) are goddesses at their craft—got damn—Ludwig Göransson (music) is great too, and Ryan Coogler is an outstanding director. Still, the trailer did more for me.
In the End: Wakanda Forever is warm, exciting, and a heartfelt tribute but I might've liked it more if it had done less.
—
Check out Julian Lytle's review of Wakanda Forever for his take!