Basically: A home invasion descends into horror and madness, asking the impossible question: Who would you sacrifice to save the world?
Eric (Jonathan Groff) and Andrew (Ben Aldridge) are a married couple with an adopted daughter, Wen (Kristen Cui). On vacation at a remote lakeside cabin, Wen is happily catching and studying grasshoppers when an imposing figure emerges from the surrounding forest. He sits and talks with the girl, identifying himself as Leonard (Dave Bautista). While they chat, he seems to be waiting for something…and soon enough Wen sees three more people walking toward them, carrying strange homemade weapons.
Eric and Andrew are quickly overwhelmed and tied up. Leonard apologizes, his threatening size and muscles belied by his gentle demeanor, and explains: This family must choose one of their own to sacrifice or the world will end.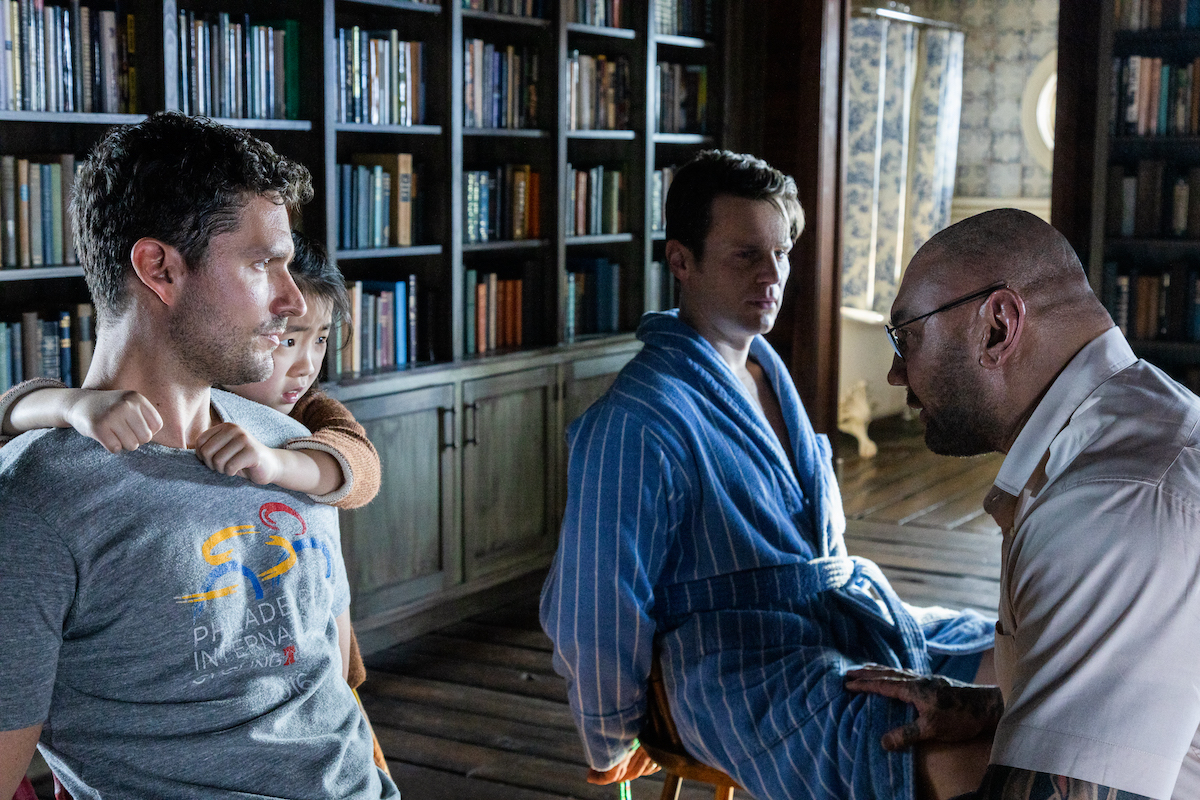 One by one, his companions introduce themselves: Sabrina (Nikki Amuka-Bird), a nurse from California; Adriane (Abby Quinn), a line cook from DC; and Redmond (Rupert Grint), a gas company lineman from Boston. Leonard is a second-grade schoolteacher from Chicago. They had never met before but came together because they shared impossible but undeniable visions of the end—leading them to Eric, Andrew, and Wen.
Leonard explains Andrew and Eric will have a few opportunities to decide before the end but, each time they refuse, the plagues will escalate and more people will die. Time is running out and this hostage situation is…not at all what it appears.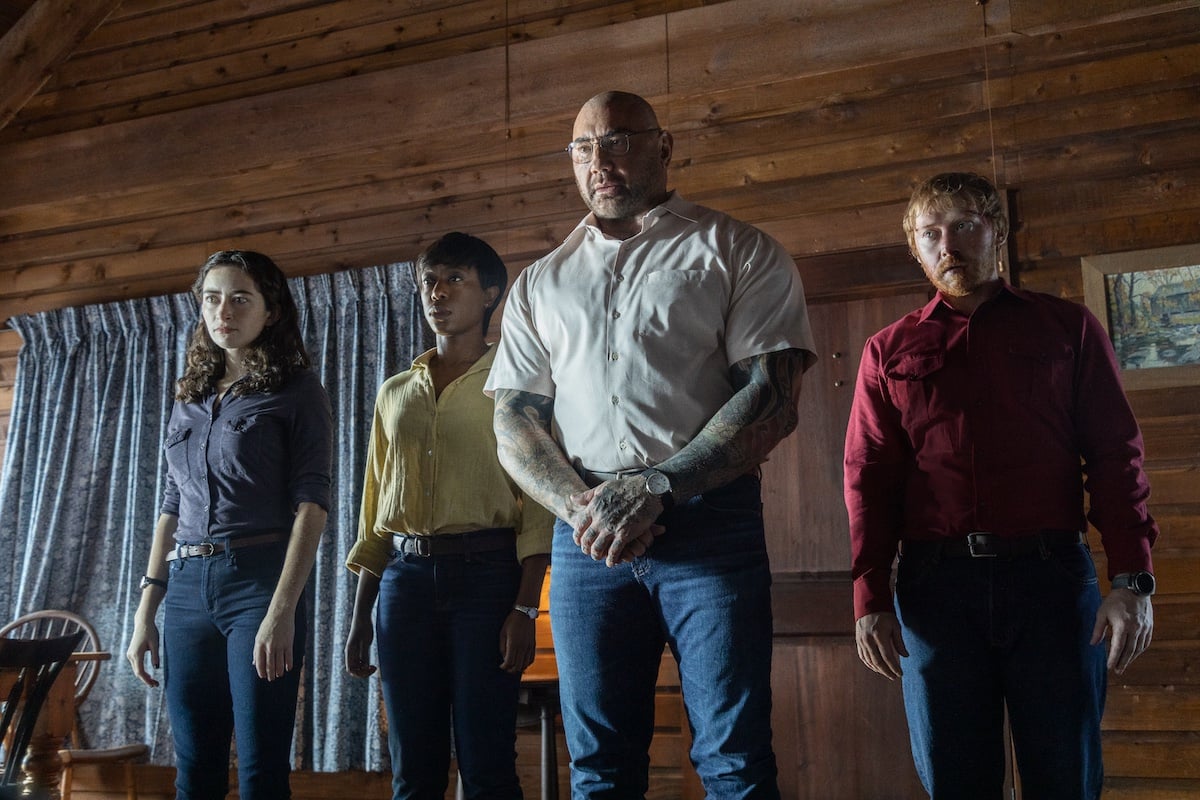 Knock at the Cabin is a strangely intimate story about the end of the world, with a small cast assembled in the living room of a cabin. The implausibility of the premise—that a random family must volunteer to kill one of their own, based on little evidence with huge consequences—means the movie depends on the actors and the director.
Happily, this movie is up to the challenge. Dave Bautista has never been better, giving us a Leonard who hates what fate demands of him. He is a stable, sturdy, dependable figure, anchoring the horror with an understated calm and certainty. He's become a great actor and this could be the launchpad to truly big things for him.
Jonathan Groff and Ben Aldridge, as Eric and Andrew, sell their horror and anguish as unwilling captives of this nightmare. Groff embodies gentle empathy, while Aldridge reflects the fear and intolerance that couples like theirs endure, and both convey the dads' deep love for Wen. Kristen Cui is also delightful as Wen, whose childhood is shattered but retains her presence of mind admirably; she has quite a career ahead if she chooses to continue acting.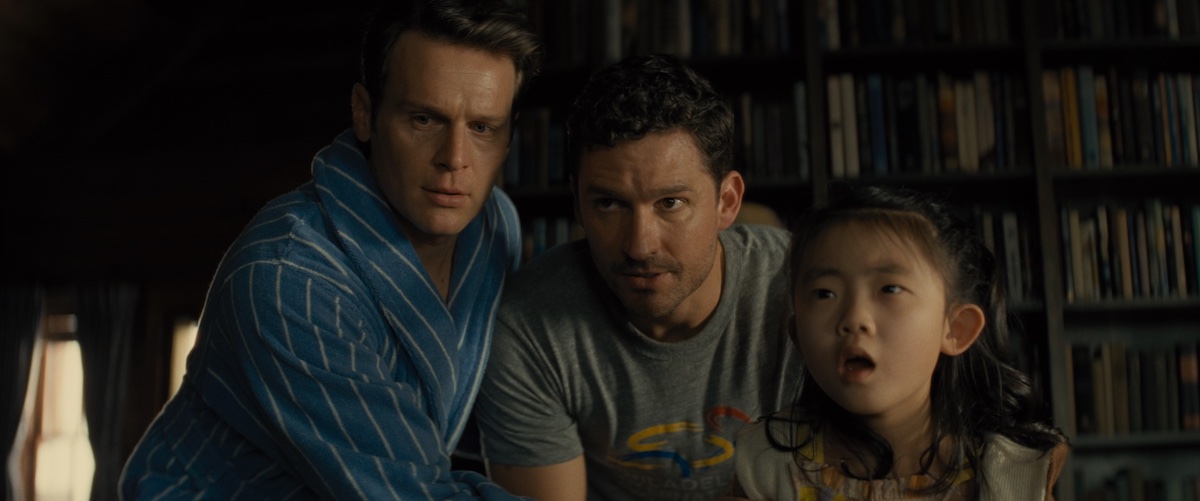 As the witnesses to this ritual, Nikki Amuka-Bird is a standout as Sabrina, her nurse's impulses broken by what she must do, while Abby Quinn gives Adriane a shattering solo moment. And viewers have never seen Rupert Grint like this—he's able to demonstrate his true range as an actor.
M. Night Shyamalan delivers a story that, if anything, pulls its punches. There's no gore but the fallout of the group's choices seems smaller than it could be. For an apocalypse, it starts off fairly low-key. But that doesn't detract from the intensity of the performances or the suspense that's built as things move forward.
In the End: Knock at the Cabin is well worth watching at least once, especially if you're a fan of Shyamalan's movies.