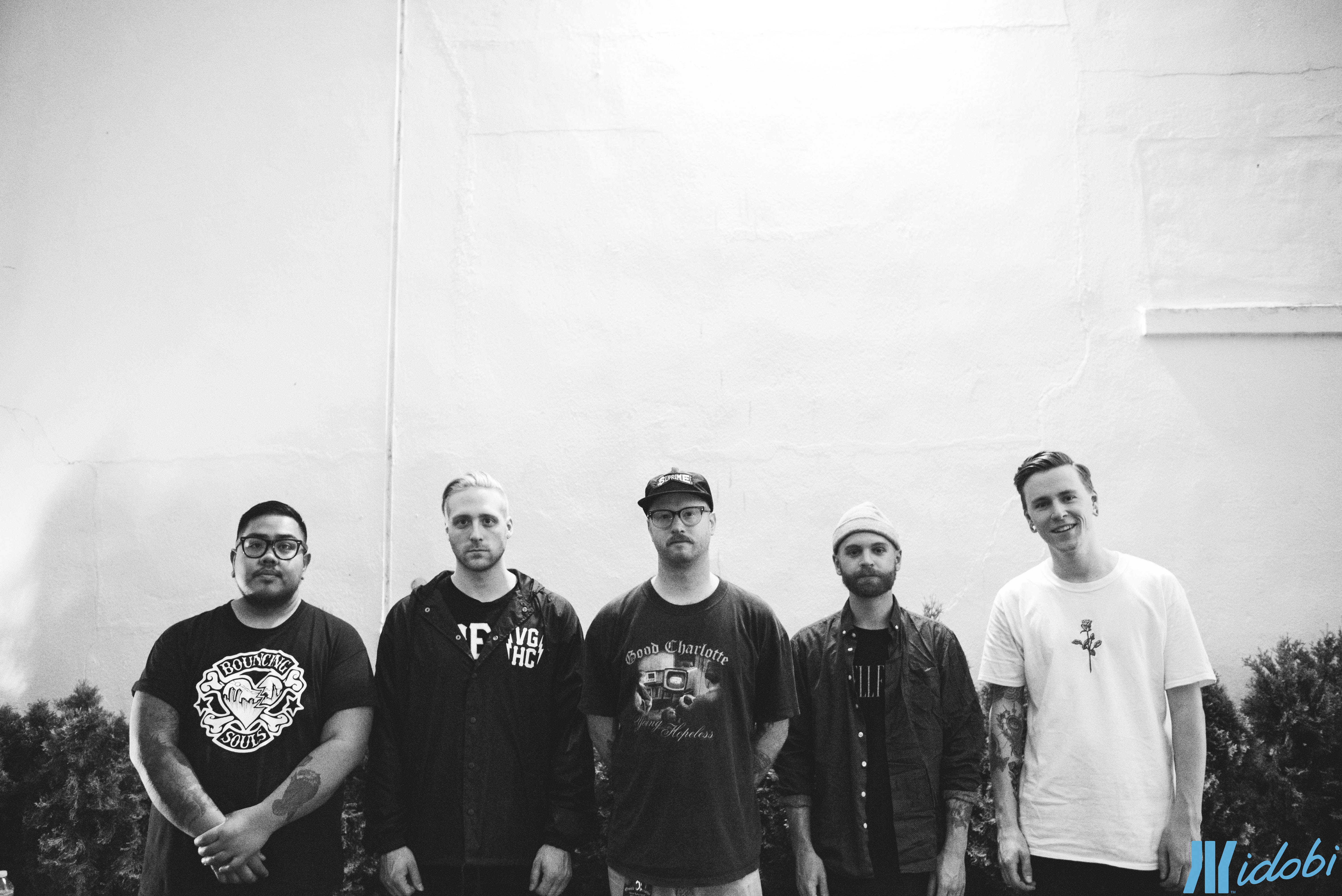 Having the perseverance to make it in the music industry as a small punk band isn't easy. With tons of bands in that genre and obstacles like getting onto bigger tours, it can be discouraging to keep pushing forward. Despite these factors, Chris Thaung, Jordan Black, Luke Holmes, Greg Hall, and Tay Ewart of Like Pacific have kept driving to create a name for themselves and achieve their goals. I caught up with the Toronto natives when they played The Paramount in Huntington, NY to talk about their dynamic as a band, life on the road, and what it's like making their dreams become a reality.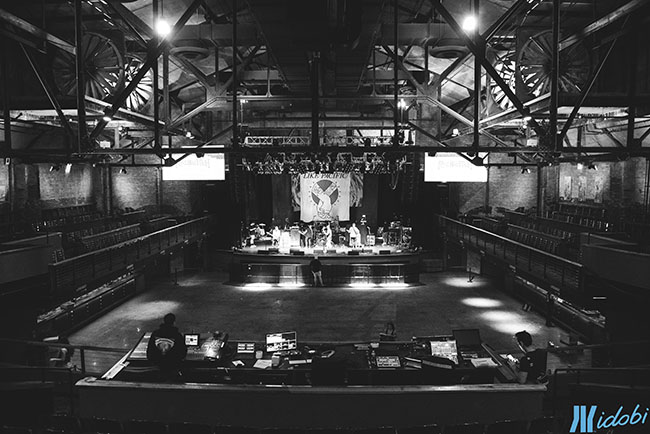 I drove out to Huntington to meet up with the guys on their second day of the Good Charlotte tour at one of my favorite venues, The Paramount. I got there a tad early but it left me time to grab an avocado toast and some iced tea before I continued to brave the summer heat. Shortly after, I met up with Chris [bassist] and Connor [tour photographer], and walked around back to meet up with the rest of the band.
"This place smells haunted I need to get out of here. I don't want a ghost to get on my clothes."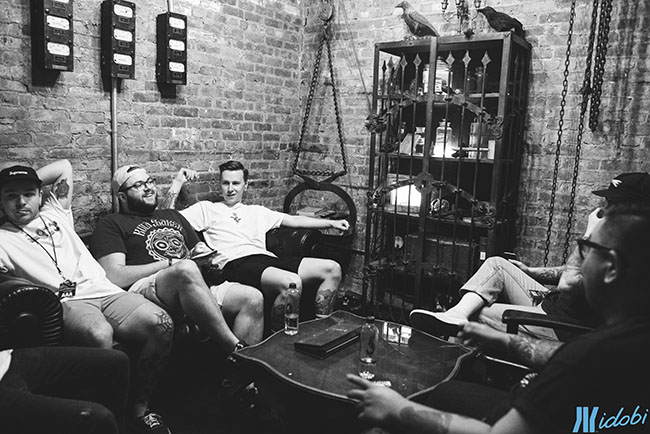 Once inside I was greeted by the rest of the band: Jordan [singer], Luke [guitar], Greg [guitar], Tay [drums], and Andy [merch guy]. They were still waiting on word from the venue about when to load-in, so I asked if they had explored the space yet or if anyone had told them about the speakeasy in the basement. They all stared at me with looks of confusion and curiosity. I took that as my cue to show them around the secret passageways since I had been to The Paramount a few times before. Upon entering a room that resembled a prison, with a fake electrocution chair Jordan said, "This place smells haunted I need to get out of here. I don't want a ghost to get on my clothes." With that said, we exited immediately and I continued to lead them around the speakeasy, showing them each of the corridors. Eventually we ended up at the pool table where they played a few rounds.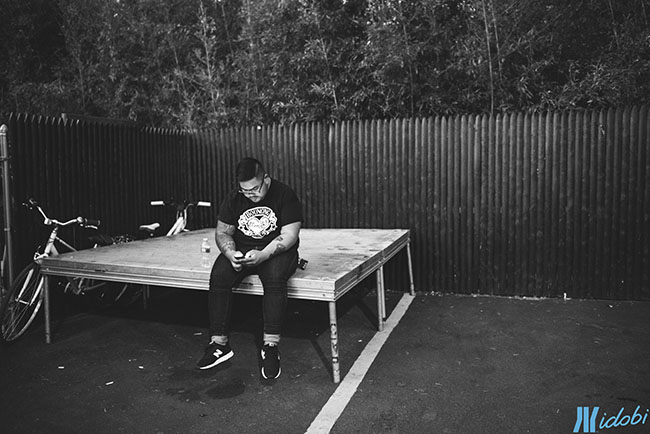 Load-in time was approaching quickly, so everyone dispersed to go grab food while I stayed behind with Chris to chat about his role in the band and their dynamic as a whole. I was eager to hear about what he handles for the band on and off the road. When they're traveling the globe, Chris oversees the day to day, but when he's home he tells me, "I'm the one looking at all the contracts and handling the 'suit stuff'." It was clear that Chris has really taken his role by the reins and is serious about taking Like Pacific to the top.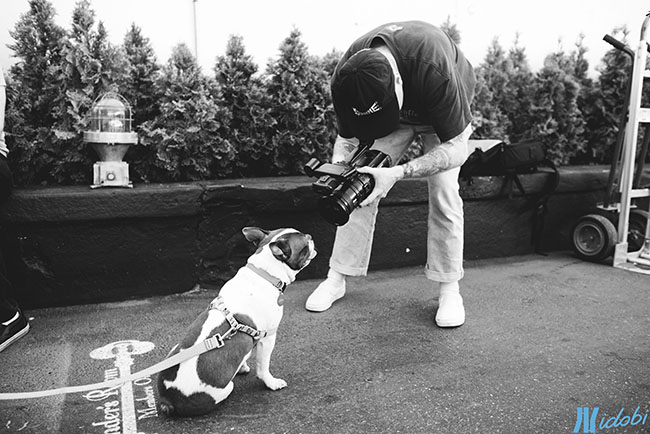 Although Chris plays a vital role in the Like Pacific crew, things wouldn't run as smoothly if it weren't for his incredible bandmates. We continued the conversation by talking about how everyone else on his team helps out. "Luke has really stepped up to help with the finances of the band," Chris says. In addition, Luke oversees all the responsibilities that come with taking care of their van. When it comes to being on tour, Luke and Greg are a huge part in the day to day: "They are the arms and legs of the band, that help with a lot of loading and driving. They also help with the logistics and routing." Lastly, Jordan contributes a crucial part for the Like Pacific crew by finding places to stay when they're out on the road. It's clear that they gel together perfectly and play to each of their strengths. As we wrapped up our conversation, we were notified it was time to gather everyone to load in.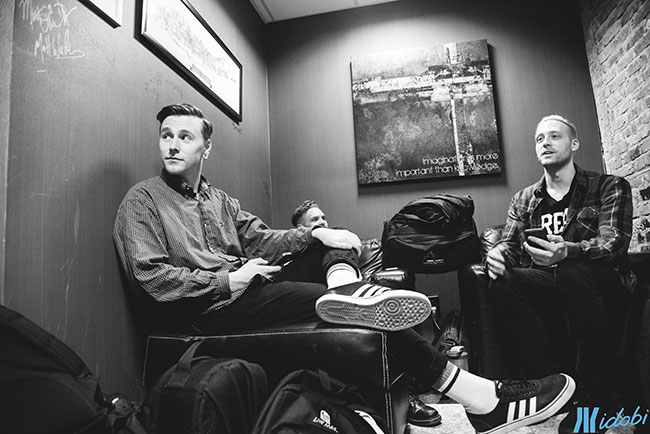 Once they finished soundcheck we had a little bit of time to hang out. As we settled back into the green room, Jordan yelled. There was a G-I-A-N-T centipede in the room, it crawled all over someone's chair and inevitably went behind the couch where everyone's phone chargers were plugged in. I decided to brave the multi-legged beast's domain and grab their chargers, all while everyone was screaming at me not to. We immediately relocated to the next green room and resettled into our spots.
"To them it doesn't matter if 3 people or 300 people leave this show loving Like Pacific, what does matter is that they reach another person."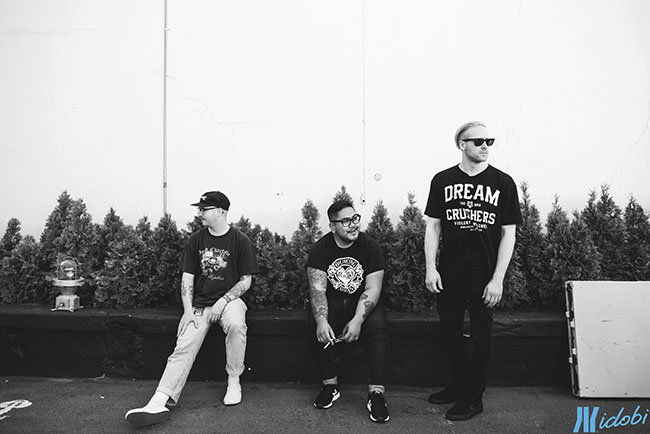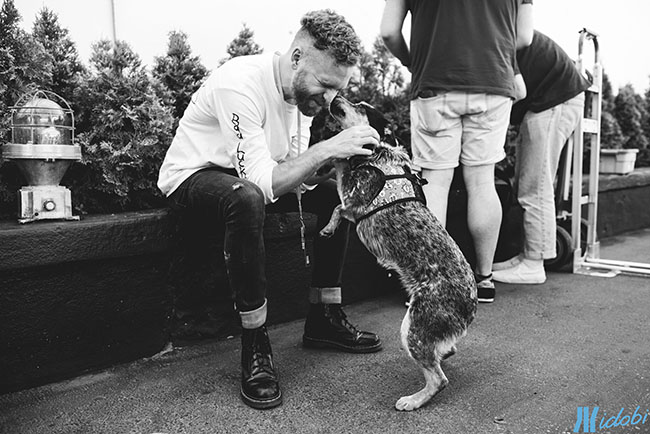 The hour or two before doors gave us a chance to talk about how much this tour with Good Charlotte means to them. I could already tell that they were big fans from Jordan's t-shirt of their album "The Young and the Hopeless" but each of them went on to tell me stories from when they were growing up. "In 5th grade we were allowed to bring in CDs and play it in school, I brought in Good Charlotte and had it played in class," Tay told us. As each of them shared their stories about their ties to Good Charlotte it was clear this tour meant much more to them than just another run. It's their dreams literally turned into reality.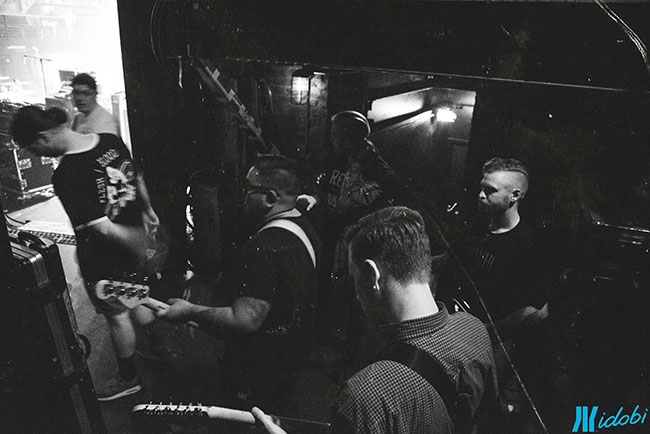 Before we could continue our conversation, it was showtime. Everyone headed downstairs to side stage with their instruments ready to go. As they walked out, I headed to the photo pit with their photographer, Connor. I was excited to see what their live performance would be like in a larger venue like The Paramount since I had only ever seen them at a club venue. Like Pacific did not disappoint. In fact, you could feel their passion and presence filling the room. Each of them commanded the stage with enthusiasm and poise, especially Jordan. His showmanship as a frontman was impeccable and only further proved how much music means to him. I glanced over at fans on the barricade between taking photographs and saw many of them rocking out even if they didn't know the words. While it could be easy for a band to get bummed over fans coming to the show to see the headliner and not their band, Like Pacific had a very different perspective. "We're playing to a ton of new people. I look at it as a challenge to win people over," Tay said to me. With this in mind, it encourages them to constantly put out their best every night. The amount of fans I saw engaging with Like Pacific during their set proved that Jordan and his crew are achieving exactly what they set out to do. To them it doesn't matter if 3 people or 300 people leave this show loving Like Pacific, what does matter is that they reach another person.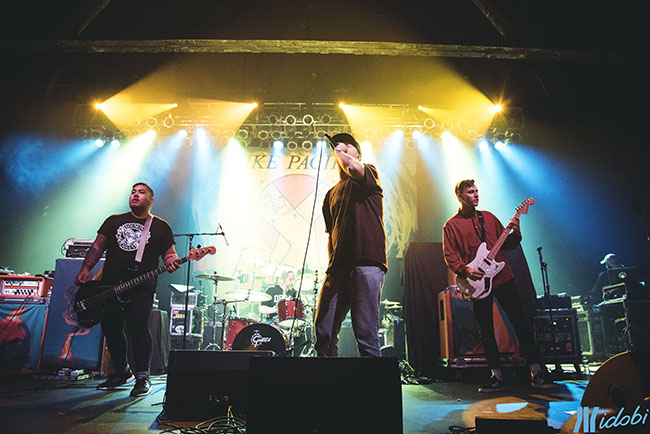 I saw Like Pacific's positive and open mindset carried out throughout their performance. Towards the end of their set, they realized that Luke's mic wasn't working. The show went on as if nothing was wrong. After they played their last song and I met up with them back in the green room, there was no mention of that technical difficulty even happening. There are so many artists that let something like a guitar string breaking or the mic cutting out completely mess up the entire rest of their show, even their day. With Like Pacific, everyone was just as hyped, if not more excited, after the set.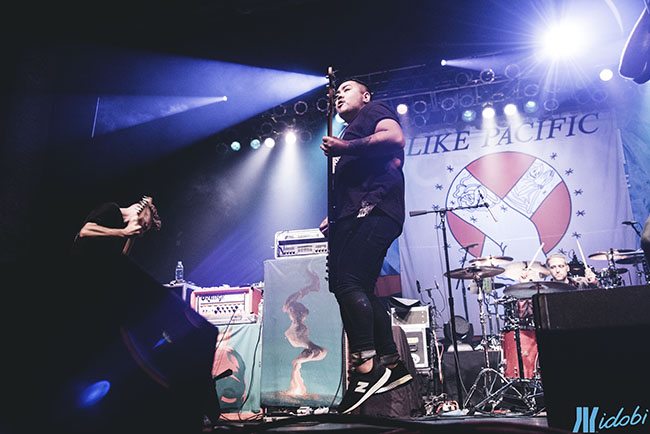 "They are making waves by encouraging equality and being genuine people."
As we took a break to cool off, I sat down with Chris to ask him about the journey from playing club shows to touring with Good Charlotte. He started from the beginning, when Like Pacific almost broke up. With members leaving, he and Jordan were ready to throw in the towel, until somebody booked them for a mystery gig. They took it as a sign to keep going. After that, they hit one benchmark after another. Among a few goals Chris had for the band, one was signing to Pure Noise Records and the other was to have Brad Wiseman as their booking agent. They achieved both and have continued to succeed. Their perseverance coupled with how driven they are makes Like Pacific an unstoppable force.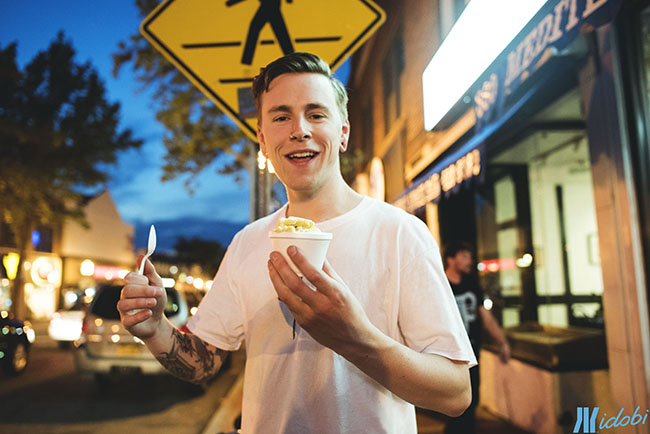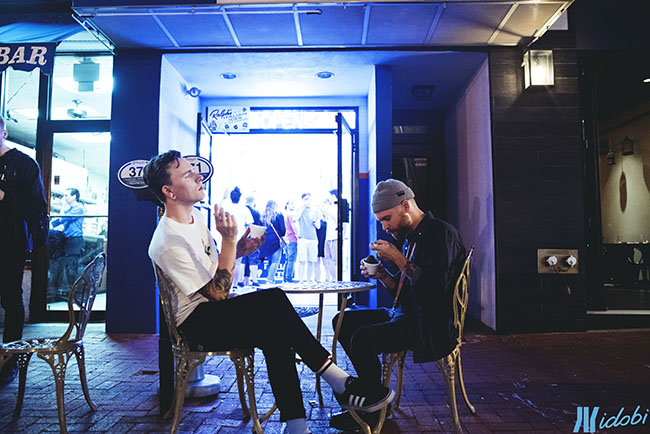 Before we closed out our day, with italian ices from Ralph's, we chatted about how they're making a positive impact in music. After listening to them it was simple: They are making waves by encouraging equality and being genuine people. When it comes to the equality aspect, Greg and Luke recommended that I speak with Jordan about it. As an openly gay frontman of a punk band, I asked for his perspective on how they are creating change. While he doesn't necessarily feel like he's paving the way, he feels like he's helping. "Kids have said to me, 'I can finally identify with something'," in regards to Jordan's lyrics. On top of having a voice that fans across the board can identify with, Like Pacific is creating an impact simply by being genuine. There wasn't a time in my day with them that I didn't feel welcome. Despite just meeting them that afternoon, I felt as if we had been friends for a while. From grabbing drinks to talking about our experiences in music; it was just another day with my pals in my eyes.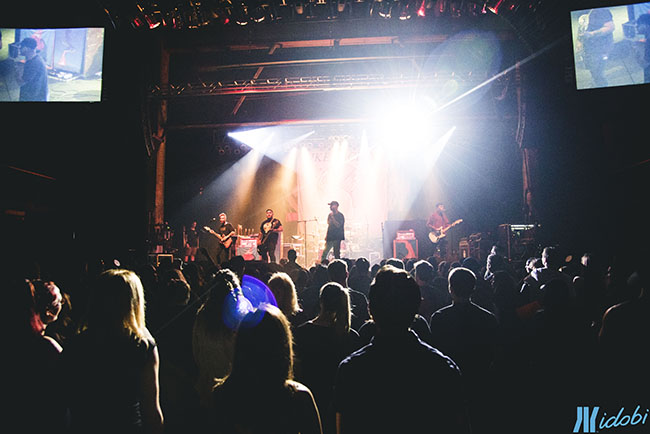 The cumulation of all of these aspects showed me how important Like Pacific is to our scene. They are a band that doesn't just talk about something—they go out and act on it. Whether it is about equality or accomplishing milestones for the band, they're making things happen. Like Pacific is proof that you can turn your dreams into reality if you are driven, genuine, and work hard with your friends.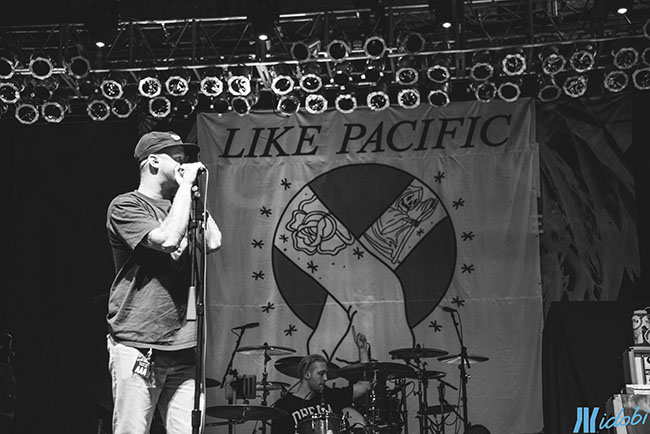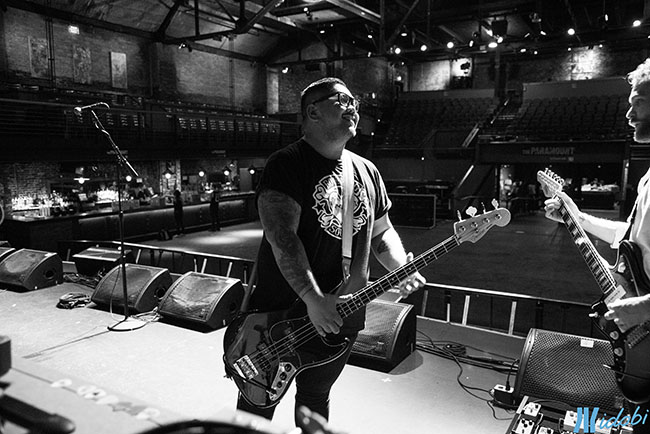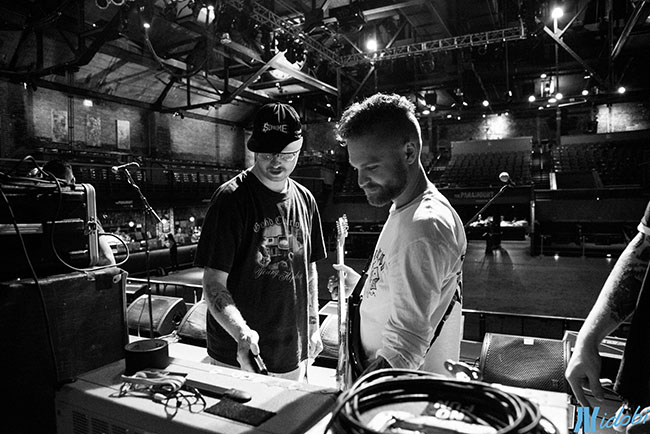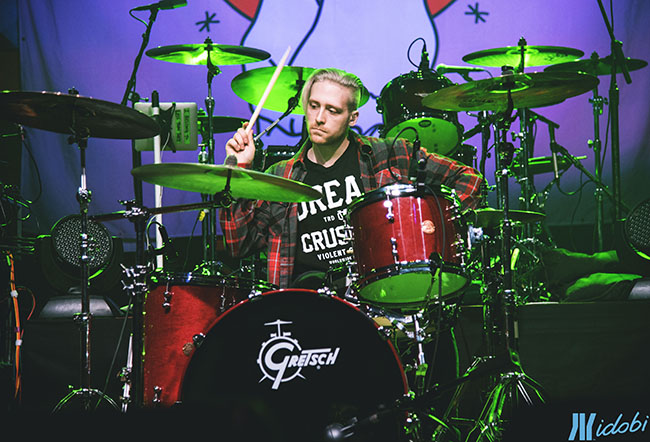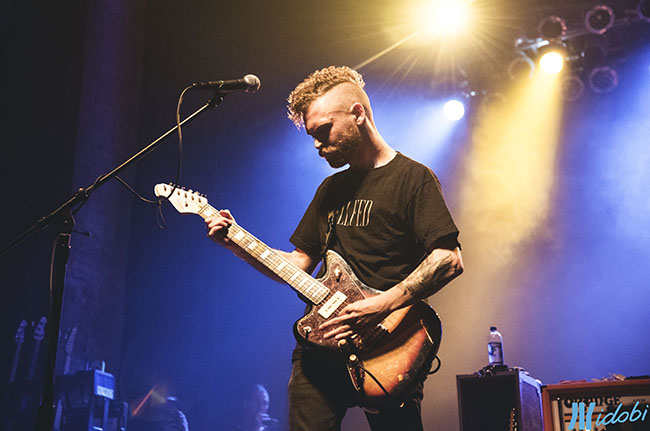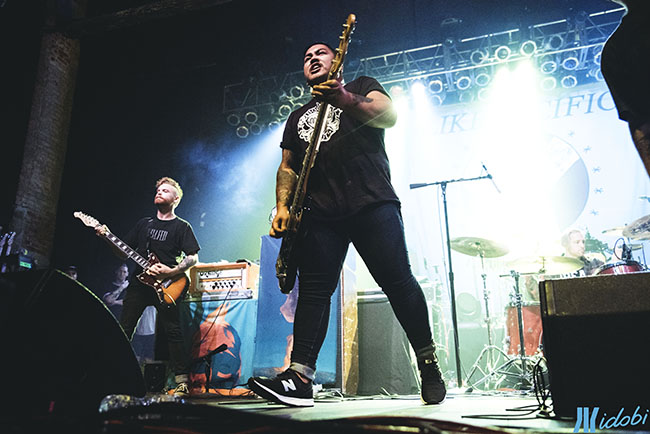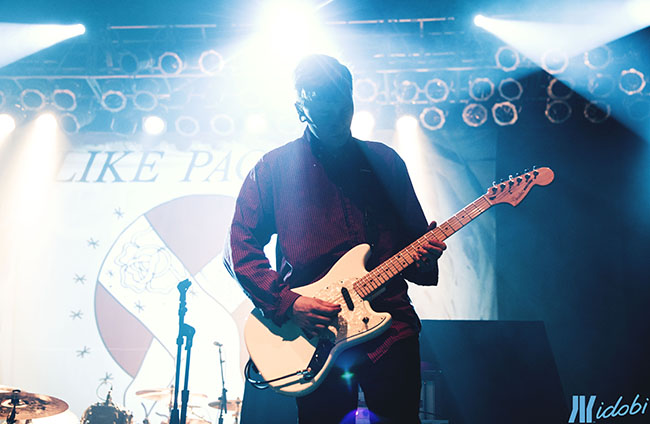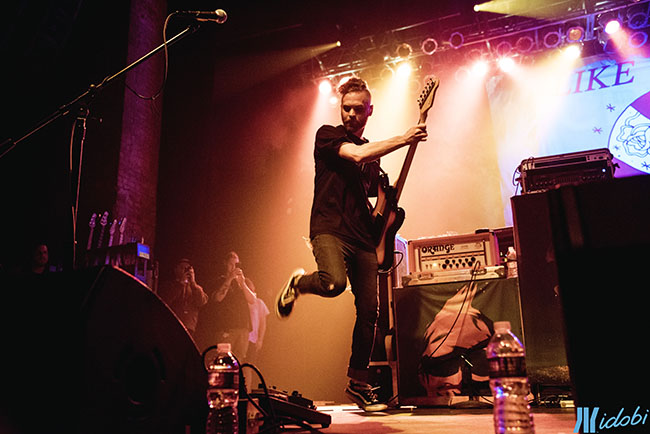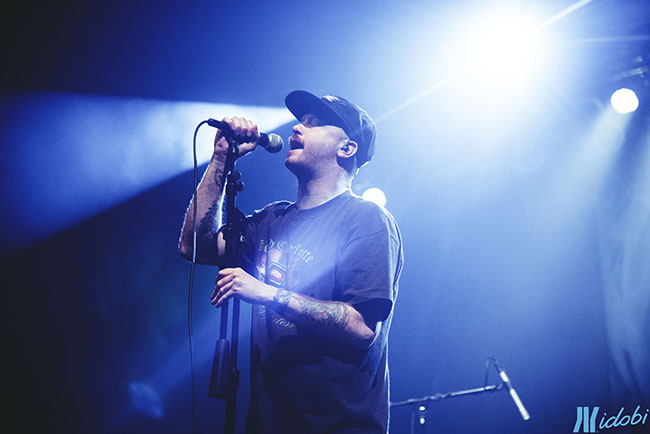 Tags:
day in the life
,
Like Pacific