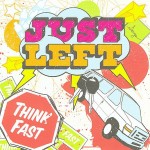 Think about if someone approached you in a record store asking for something that blends the unique vocal sound of Hit the Lights, the emo power of The Early November and the homegrown pop-punk sound that The Starting Line have perfected.   If that person were savvy enough they would hand you a copy of Think Fast from Just Left, the band's second album and debut for Victory imprint Standby Records.
In a stale landscape over saturated with bland pop and bland punk and even blander pop punk, this Chicago quartet has bestowed upon us a record with a little something special.   Having these producers on board are pieces of the puzzle that not many other up-and-coming bands have.   There are no tricks, no synthesizer, just a toe tapping good time courtesy of our old friends guitar, bass, drums and vocals.   The songs may still be about a girl but it is apparent from the opening vocal sequence that there is something a little bit different about the record.
The co-producers on the album, The Early November's Ace Enders and The Starting Line's Chris Badami, have their fingerprints all over the record.     The acoustic guitar throughout the album is reminiscent of the catchiest songs The Early November has written while the pop sensibilities demonstrated throughout the 11 tracks are in the same vein of the material on Say it Like You Mean it, The Starting Line's debut album.
Think Fast is an album full of huge sing-a-long choruses and the vocal breaks are destined to be home to crowd clapping that continues the strong tradition of Chicago pop punk.   It is definitely a more polished improvement on the sound Just Left created on 2007's self-released Keep This in Mind. It seems that vocalist Aaron Hill is smiling with every word he sings, while the band is enjoying every note that it's playing.   This collection of gems, with several radio ready tracks, is a little rough around the edges, making it all that more endearing and accessible. Think Fast is a solid pop-punk album that can certainly hold its own against the masses. (3.5/5.0)
Just Left has supported such acts as Fall Out Boy, All Time Low, HelloGoodbye and The Audition as well as appearing on twice on the Vans Warped Tour and appeared in over 100 cities across the United States.   The band is performing acoustic sets at select Hot Topic locations in the Midwest through February.
You can purchase Think Fast through iTunes here.