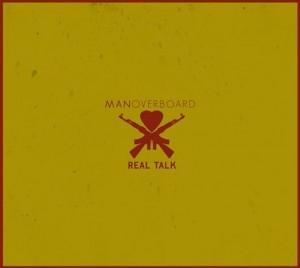 MADISON, N.J. – New Jersey outfit Man Overboard released an album Tuesday that every pop punk band will be trying to duplicate in the future.
Real Talk, the nearly flawless debut album released on Run For Cover Records, has the potential to become a scene staple.   It is very likely going to be kept on repeat in the way Say It Like You Mean It and Take This to Your Grave did and defined a generation nearly 10 years ago.   The opening title track wastes no time and kicks right into the catchy pop punk that has made Man Overboard a favorite in the New Jersey music scene for years.
To define this band as pop punk is to live in a closed-minded box of labels, however, for this band and this album are beacons of the underground music community.   Every band that starts off playing Veterans of Foreign War halls and all-ages shows dreams of releasing an album of this magnitude; heck, there are some bands signed to major labels that won't be able to come close to this record.
The shared lead vocals are a real treat, giving the lyrics another layer on top of the sharp drumming that takes the lead on the record, with the bass and snare causing incessant head bobbing and toe tapping.   The lead and rhythm guitars are on-point and the bass lines seem right in place and complementary.   Even when acoustic guitars are brought out, like at the end of "Sidekick", it can leave the listener wanting more.   This track serves as a perfect closer to a near-perfect album. It feels raw and less produced than the rest of the album, akin to "Soco Amaretto Lime" off Brand New's Your Favorite Weapon. This song is one last cry, coaxing a love interest to join the writer; "You could say fuck 'em all and ditch the world like I did. We could be untouchable."  This album does not overuse the sometimes clichéd hands claps and gang vocals, but instead places them with a precision that makes every track stand out that much more.
Lyrical comparisons to New Found Glory are obvious, with spectrum spanning lines, from "You're everything that I hoped for and I'm all the shit that you go for stop kidding yourself now. I hate you, you should have picked up the phone tonight" to "I'm finally laying somewhere where I'm happy that I'm here, and my troubles said goodbye and the heartache disappeared."   These lyrical excerpts are from "Septemberism" and "I Like You", respectively and display the range of emotion that the quartet has put to paper.
Teenagers in New Jersey will be incredibly, even painfully familiar with the subject matter in the 12-track, 33-minute debut full length.   Part of this album is describing the girl of one's dreams; another part is describing the longing and heartbreak that goes along with this desire. This album goes a long way in proving to the world what New Jersey has known for years: Man Overboard is ready to defend pop punk. (4.5/5.0)
Man Overboard will be on tour until the end of September with bands like Tiger's Jaw, Fireworks, The Swellers and Transit.
Fans are encouraged to  purchase the album on iTunes.