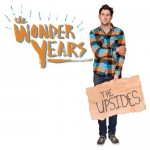 Taking a page out of the book of pop-punk veterans such as Saves the Day and fellow Philadelphia natives The Starting Line, The Wonder Years released its second full-length album aptly titled The Upsides Jan. 26 through No Sleep Records. A respectable second effort, the album is proof that there are still newcomers doing the pop-punk genre justice.
The Upsides is an optimistic album full of memorable hooks, powerful guitar riffs and great melodies. It starts off with a bang and never really slows down. "My Last Semester" captures its overall sentiment perfectly as lead singer Dan "Soupy" Campbell declares, "I'm not sad anymore / I'm just tired of this place". The lyrics are upbeat and the band avoids (for the most part) being overly whiny or obnoxious. While they don't necessarily bring anything groundbreaking to the table, they certainly know how to write catchy tracks. The running theme throughout the album is being tired of complacency.
Almost every song deals with having a strong desire to escape from the banality of life as a college student living in a world where everyone seems to be a stereotype. The songs are straightforward, to the point and very relatable.
No pop-punk album would be complete without songs about girl problems, and The Upsides is no exception. In "Melrose Diner" Campbell sings "I hate your bad tattoos and your second-hand stories/Those anecdotes that grew old last month/I hate the way you move when you're drunk and try dancing/It's not sexy/it's just keeping us up". There are very few metaphors to be found, as Campbell prefers to say exactly what he feels as bluntly as possible.
As good as the album is, it is not without its flaws. The one slower song and only acoustic track to be found, "Hey Thanks", comes off as being generic and somewhat trite when compared with the rest of the album. Campbell sings, "I'm not sad anymore/And you think that I'm angry/But I think that you're sad/We know it's not so bad/Here living the life we have/So hey thanks". It would have been nice to see some slower placed songs on this release, as the one ballad included felt forced and lacked the honest emotion found on the other tracks.
The Upsides is a solid release, and The Wonder Years is a band that has a lot of potential especially if it continues experimenting with more creative song structures and further develops its sound. The production quality throughout the album is excellent, and Campbell's intensely energetic and emotional vocals perfectly match guitarist Matt Brasch's fast and upbeat guitar playing. For anyone pissed off at the world and looking for something to blast through their speakers, this is definitely a release worth checking out.
(4.0/5.0)

The Wonder Years are currently on tour with Man Overboard and Therefore I am. Starting in April they will be joining Set Your Goals and Comeback Kid on the road. The Upsides can be purchased through iTunes here.