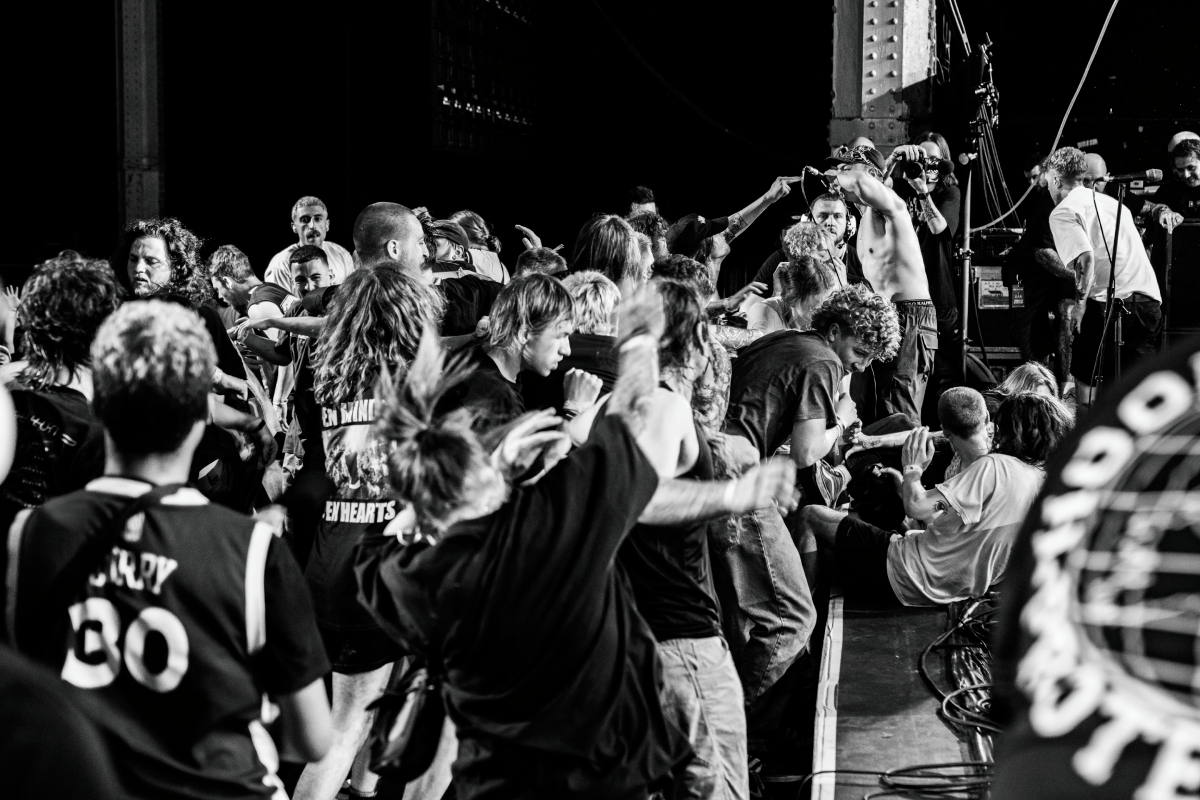 Outbreak Fest made its return to Manchester this weekend, and what a celebration of culture it was. From the most savage hardcore to the most dreamy shoegaze, the most challenging hip-hop to the most boundless of metal, there was a bit of everything on display.

Rooted firmly in counter-culture, the festival offered up a sanctuary for expression. A place where dancing was encouraged, no matter how violent, and community was at the forefront. A firm reminder of the beauty of togetherness, of picking each other up and defining friendship in all its forms, it was three days that will sit long in the memory.

And a lot of that came down to the special moments that it conjured. So to try and sum it all up, we have selected ten of the songs that perfectly amplified what this truly special event is all about. From chaos to clarity, here we go…
Sunami – No Heart
Friday lunchtime, only an hour into proceedings, the first truly huge moment of the weekend takes place. Sunami have been making waves on both sides of the Atlantic over the last couple of years with their West Coast attitude and unrelenting control of beatdown hardcore. And a week after releasing their debut LP, their Outbreak set felt like a culmination of everything they have achieved all at once. Especially when it came to the performance of 56-second bruiser "No Heart", which perfectly embodied the unbridled chaos and truly dangerous nature of their music in a flurry of fists. With a photo of Bruce Willis watching over them from their backdrop, we can only imagine just how proud he felt.
Converge – The Saddest Day
When a Converge show is good, it sticks with you for life. When a Converge show is great, it leaves you feeling completely altered. Outbreak was very much the latter, and everybody in attendance will attest to that. A career-spanning set of guttural, heart-wrenching metalcore, it was in one moment that both band and fan knew this was one for the ages.

Vocalist Jacob Bannon admitted they hadn't played or even practised "The Saddest Day", the opening track from their 1996 album/compilation Petitioning The Empty Sky in about 15 years, but they always bring it out when they know the energy is right. Cue utter disbelief from the gathered masses, clambering for their chance to stretch their vocal cords through the mic, and lose all inhibitions to a song they never thought they would hear. Frantic, messy and utterly compelling, these were seven minutes that define exactly why Converge continue to be the bar to reach.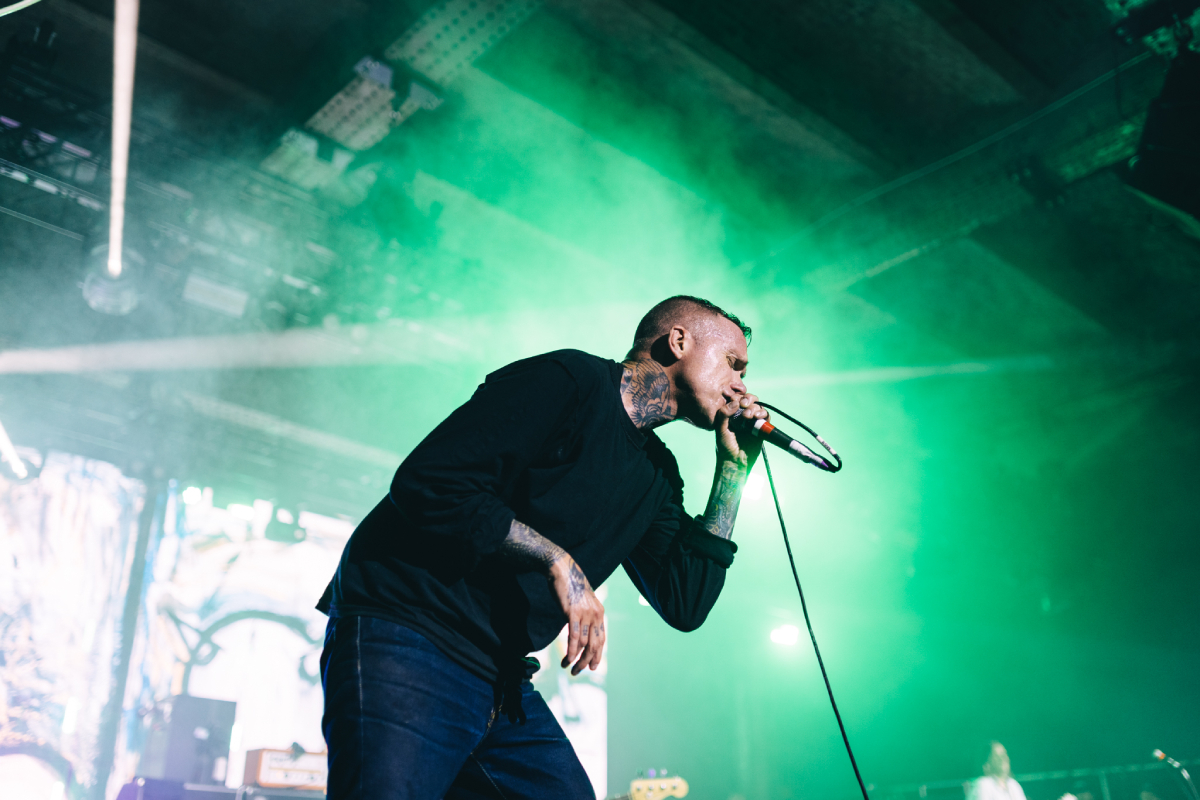 Denzel Curry – Ultimate
There were many who doubted the inclusion of hip-hop on this year's line-up, unimaginative purists who believe that hardcore shows should just feature hardcore. But one look at the utter mayhem that Denzel Curry caused during his closing set, and they will have eaten their words and then some. During an hour of distorted beats, howled vocals and endless stage invasions, it was during the viral sensation that is "Ultimate" that things went up to a completely different level. Every single person, from front to back, swung like it was the last thing they would ever do, captured by an endless stream of energy exuding from the stage. Three minutes of anything-could-happen carnage cemented that Outbreak made the right decision in their booking.
Soul Glo – Gold Chain Punk (whogonbeatmyass?)
One of the busiest and most bludgeoning sets of the weekend came from newfound heroes Soul Glo. Just months after shutting things down at Coachella, they did the exact same in Manchester. At the end of a set that was as sporadic as it was savage, "Gold Chain Punk" brought things to a head in some style. So much so that it almost stopped the show altogether. Between the hundreds who piled onto the stage to the guitarists standing on top of the speakers, the band's impassioned curtain call felt like the definition of what punk rock should be. Unpredictable, unhinged and ultimately terrifying.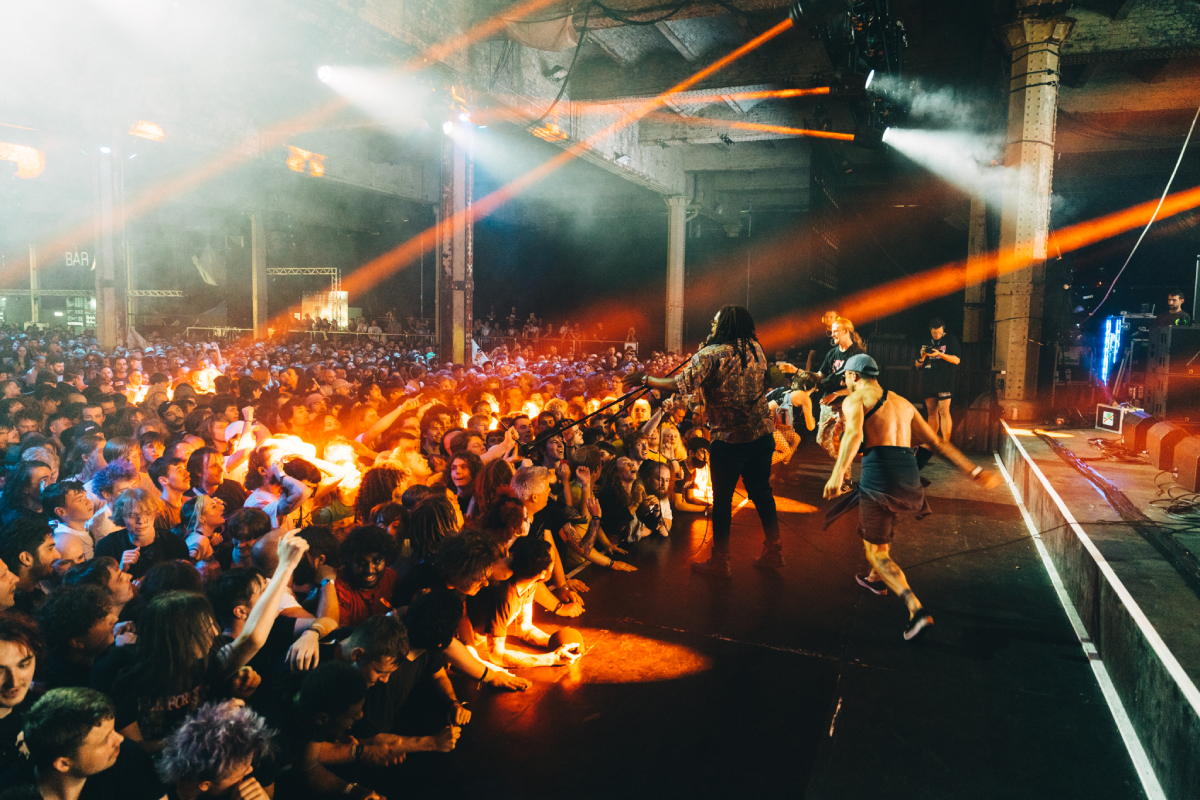 Code Orange – My World
Code Orange are the very definition of world beaters right now. From touring with Slipknot to pushing the ante on how utterly deranged their visual and vocal output can be, they felt like an arena band during their 45 minutes of hellish intent. But sometimes, it's the simple things in life that are best, and a return to their 2014 album I Am King served as a reminder of what happens when they just deal out the pain. From those iconic panic chords to the rumbling breakdown, and not forgetting those tribal vocals that hold it all together, there's a very good reason Code Orange have said this was one of their favorite shows ever. It's their world, we're just living in it.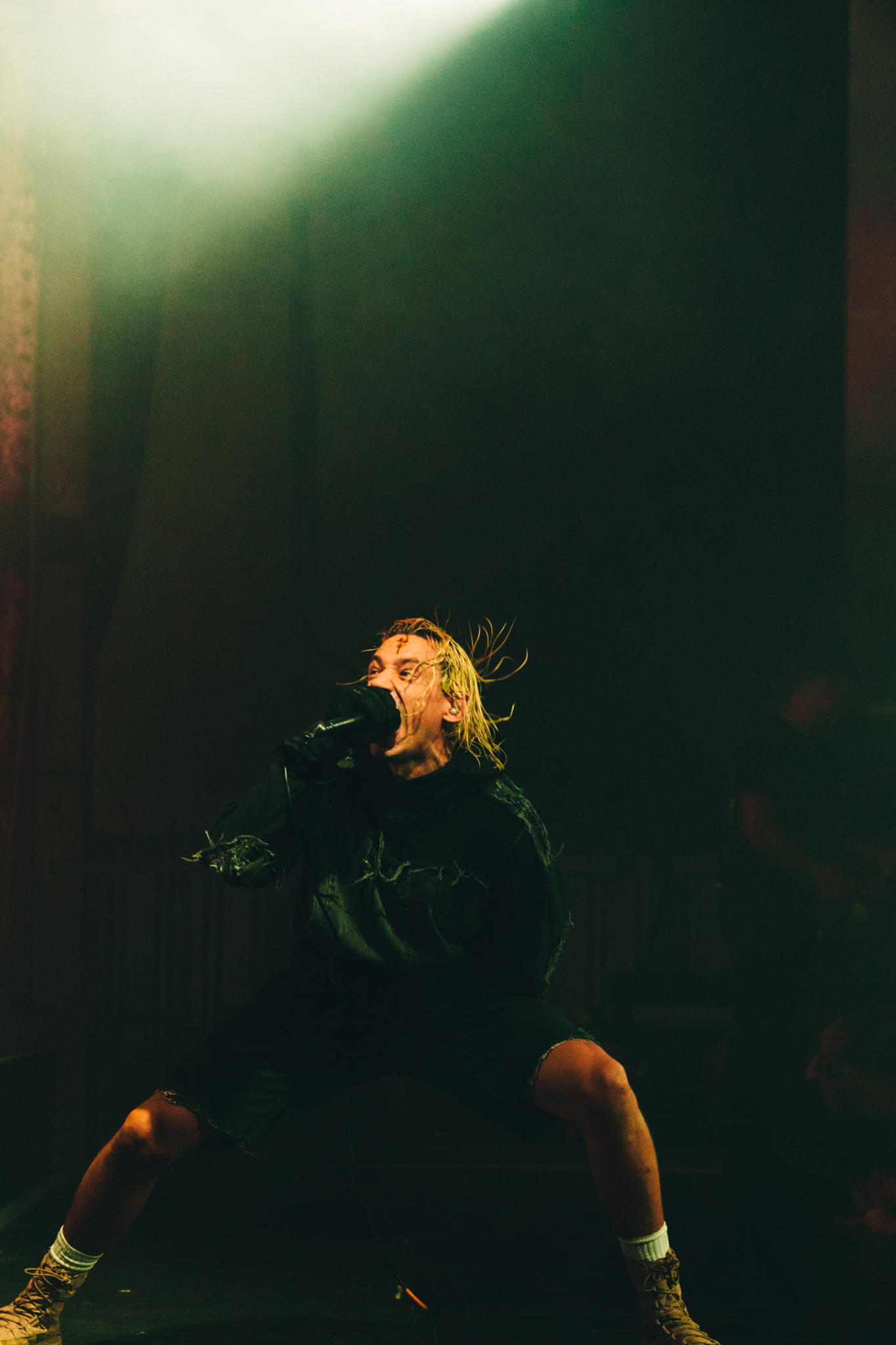 Death Grips – The Fever (Aye Aye)
On a line-up of intense music, Death Grips took home the prize for the most hypnotizing and harrowing. Shrouded in bold red for the whole of their time on stage, the trio whipped a crowd ready to give everything they had into a frenzy unlike anything else. "The Fever (Aye Aye)" closed what was an hour of unrelenting grit, showcasing the most volatile and vicious hip-hop possibly ever conceived, reaching one last dizzying crescendo of etherealism. Not for the faint-hearted, it was another performance that validated the stretching of wings that Outbreak have done, opening the doors for even more possibilities in the future.
SPEED – WE SEE U
The rise and rise of SPEED has been rapid, and most of that comes down to the fact that they show their love for this genre in everything they do. Their hearts pinned to their sleeves and their smiles reaching from ear to ear, it's impossible not to get caught up in the infectious fun of their brute force hardcore. From guest appearances from members of Basement to synchronised two-steps, their first time in Manchester had a bit of everything. But with "WE SEE U", a song dedicated to all of the Asians in the building, the band showed off the things that they are most proud of. Living as your true self, loving the things that matter to you and sharing in community when you find one that you belong in. Life lessons and beatdowns that is what it's all about.
Trapped Under Ice – Pleased To Meet You
Trapped Under Ice don't play too many shows these days. Between other commitments with other world-renowned bands, it's hard for them to get together to roll back the years. So when they do, it's got to be a moment. And their set was chock full of them. From High Vis' Graham Sayle spin kicking into oblivion during "Street Lights" to the violent uprisings of "Stay Cold" it was half an hour of pure power. But "Pleased To Meet You" felt like the cherry on top of it all. With an impassioned singalong, a few airborne bodies and vocalist Justice Tripp smiling from ear to ear, it was a moment that brought the past and present of the genre together in perfect harmony.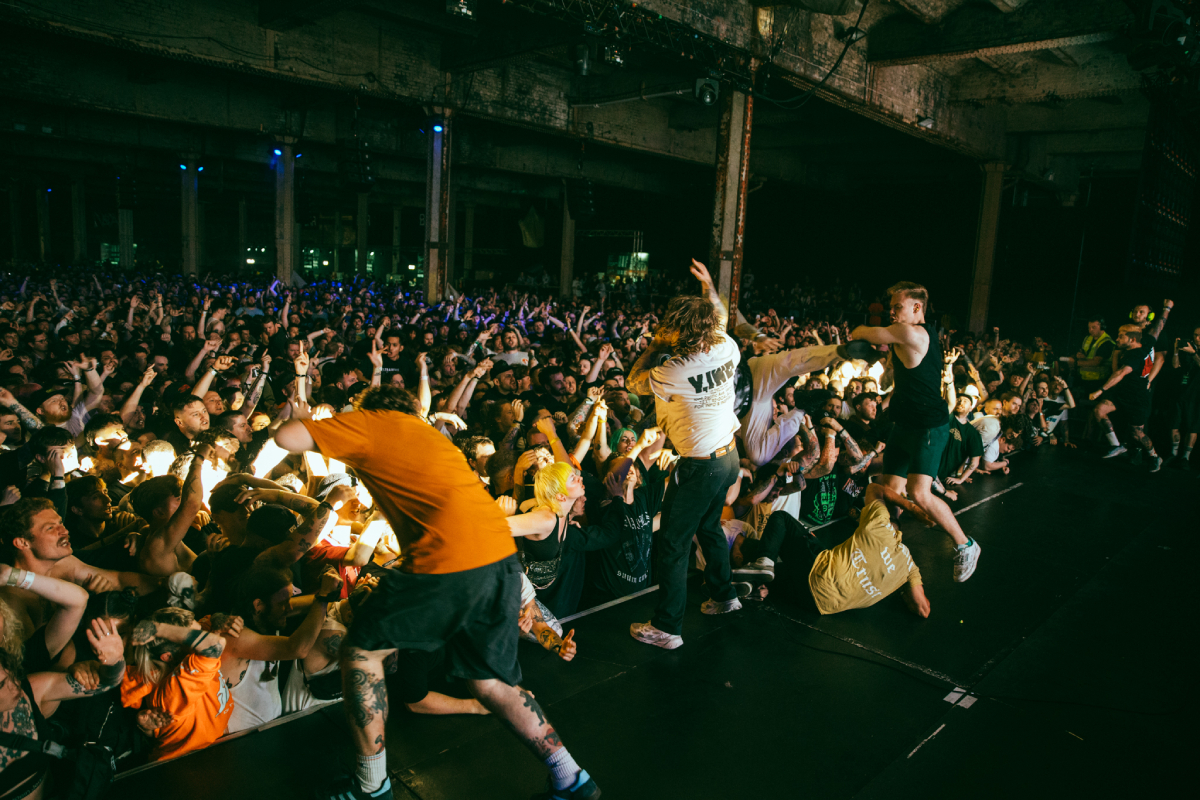 Turnover – Cutting My Fingers Off
And now for something a little bit lighter. Turnover have been playing with hardcore bands since their inception, and understand and appreciate being invited back into these spaces despite their music being so different from what it used to be. Though the cuts from their latest album Myself In The Way get the feet tapping, it's "Cutting My Fingers Off", the opening track of 2015's Peripheral Vision that stokes the biggest and most joyous reaction. Friends grasp each other as they sing in unison, hearts beating in time to the lovelorn poetry, and bring some much-needed melancholy to what has been a furious weekend.
Scowl – Bloodhound
Scowl are another one of the biggest success stories of modern hardcore in the last two years. Transcending their sun-stained roots and finding new ways to express their disdain for a world that wants to chew you up and spit you out, they have found new audiences in very unexpected places. But with "Bloodhound", 94 seconds of snarling gritty punk, they still have the ability to turn stages into dust. Commanding the crowd like they are playing an arena, vocalist Kat Moss towers over such chaos with an unbridled grin across her face. Simply because this is what hardcore should always be about. Togetherness, no matter where you have come from.