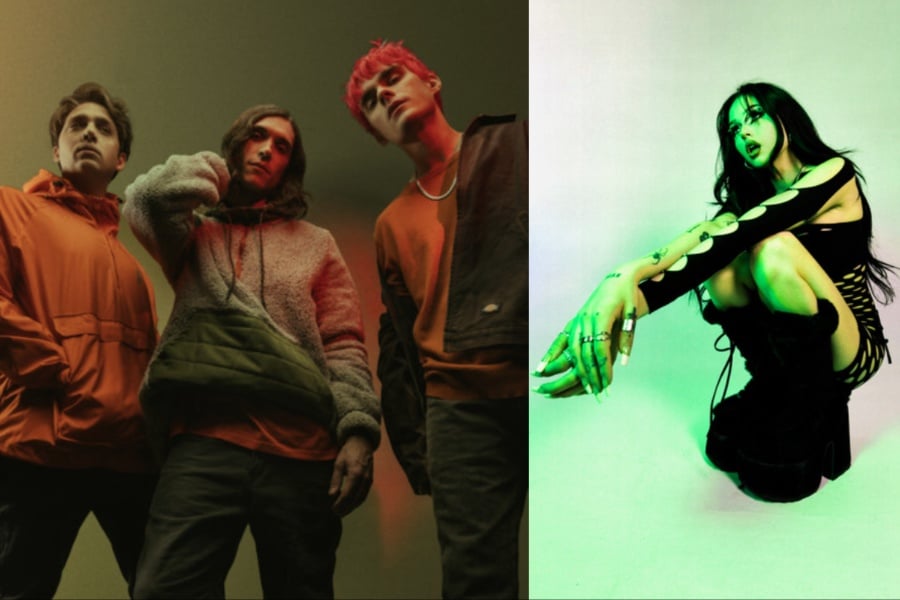 Halloween is basically emo kid Christmas. It's the season of the year where you can don silver chains and skull jewelry, create fake blood makeup, decorate your house with every single Jack Skellington item in existence, and more, without any questions from the normies of the world. Additionally, it's the time when celebs such as Heidi Klum use their wealth for good and make elaborate, cool costumes such as this year's peacock offering featuring 10 Cirque Du Soleil performers as her feathers. Shaquille O'Neal also had a standout costume, wearing a black wig with swoopy bangs and lip ring to be "emo Jimmy Butler." (I also consider this to be the perfect Taking Back Sunday fan costume.)
Even though the A-listers came out with amazing Halloween costumes, our alternative faves also served up incredible costumes at parties, during trick-or-treat hours, and beyond. Here are some thrilling 2023 musician Halloween costumes, from Travis Barker as Beetlejuice all the way to Pete Wentz as the Big Bad Wolf.
Travis Barker as Beetlejuice & Kourtney Kardashian as Lydia Deetz
Travis Barker of blink-182 stepped out with his wife, Kourtney Kardashian Barker, to show off some extravagant Tim Burton character costumes. Admittedly, we would be elated if we said "Beetlejuice" three times and Barker appeared.
Lucy Dacus as Pete Davidson and Julien Baker as Ariana Grande
3OH!3 as Travis Kelce and Taylor Swift
3OH!3's Sean Foreman and Nathaniel Motte go together like macaroni and cheese and rocked this year's best duo costume, Travis Kelce and Taylor Swift.
Ada Juarez as Fred Durst
Meet Me @ The Altar drummer Ada Juarez swapped her pop-punk street cred for some nu-metal fashion. Now, this is how you "roll" like Fred Durst of Limp Bizkit.
Vic Fuentes as Pedro from Napoleon Dynamite
Waterparks as Pope/Priest/Nun
Forget Harryween, emo kids need to hop on the Parxween train. Even if you're not religious, you can still worship at the altar of Awsten Knight, Geoff Wigington, and Otto Wood. There's obviously a lot of sneaking out of heaven going on right here, but don't forget…they're God's Favorite Boy Band.
Frank Iero as AMC Nicole Kidman
We come to this place for magic… and to celebrate L.S. Dunes' and My Chemical Romance's Frank Iero's birthday. A Halloween birthday for a spooky king makes sense, and of course, he definitely rocks the blonde wig.
Weathers as Green Day
Weathers should definitely stay in their eyeliner and pocket chain era beyond Halloween, TBH. Green Day were and currently are fashion icons.
Maggie Lindemann as Black Swan
Maggie Lindemann could play Black Swan, but Natalie Portman could not perform "Knife Under My Pillow."
The Summer Set as Spider-Man
Nothing but respect for *MY* Spider-Men, aka, all four members of The Summer Set. And yes, of course, they did the pointing meme on stage last night.
nothing,nowhere. as Fall Out Boy
Pete Wentz as The Big Bad Wolf
Of course, Fall Out Boy delivered great fits for their Halloween show, including Pete Wentz, who shared his Big Bad Wolf look. Additionally, Stump rocked a Beetlejuice look, Joe Trohman dressed up as a Ghostbuster, and Andy Hurley was Thor.
The Ready Set as a Bee
Jordan Witzigreuter's got a love like bzzzzzzzzzz.
Jordan Buckley as Grapes
It looks like Better Lovers' Jordan Buckley is raisin' hell this Halloween.
Andrew McMahon as Ken
Fresh off of his Something Corporate sets at When We Were Young Fest, Andrew McMahon is on trick-or-treat duty as Ken. Plus, he's joined by the one and only Barbie AND Great Gerwig.
Scene Queen as a Dragon
Dragon from Shrek, but make it "bimbocore"!