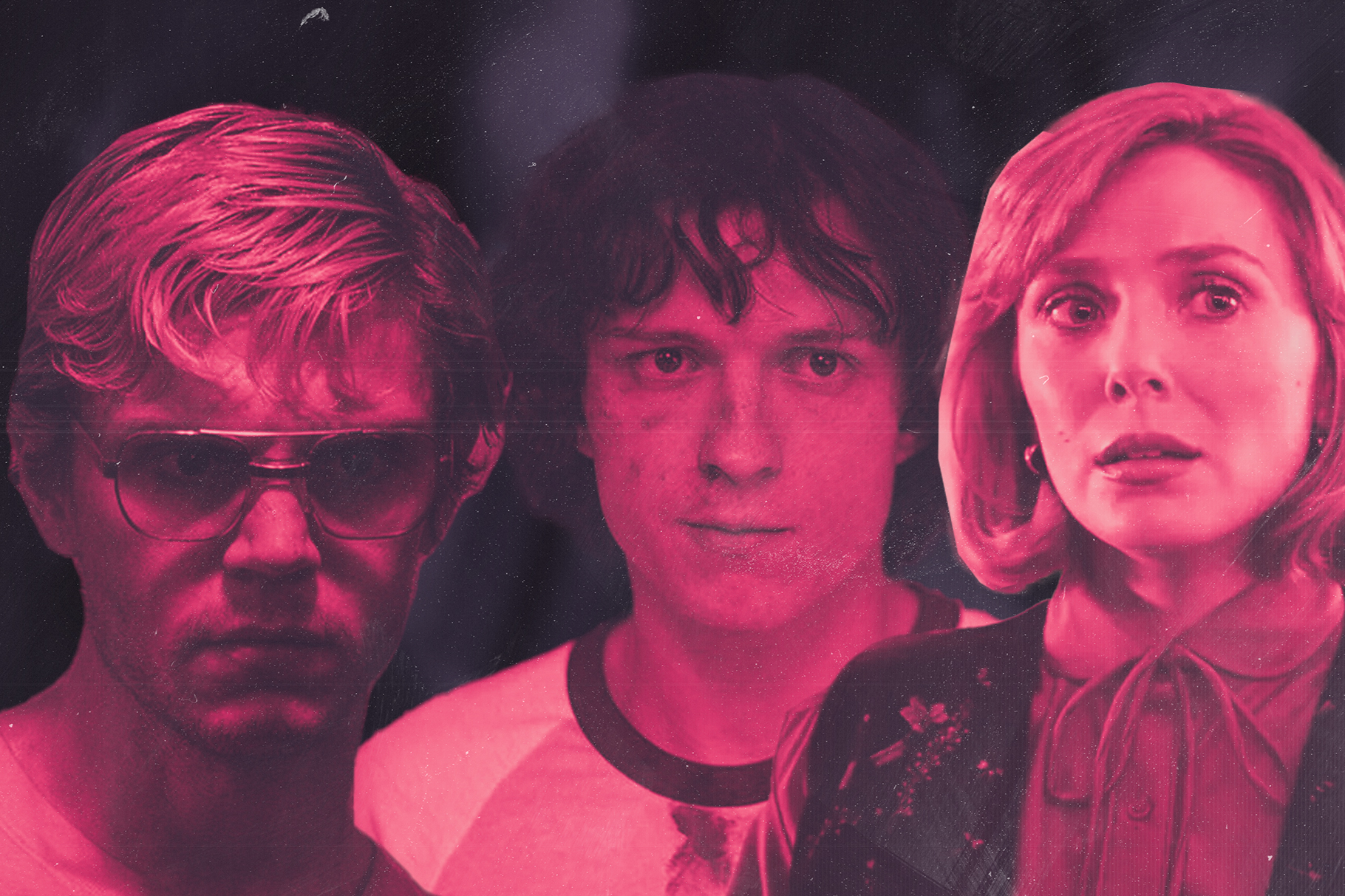 Marvel has dominated pop culture for most of our lives. From 'Blade' in 1998 to the X-Men and Spider-Man franchises in the early 2000s to the birth of the Marvel Cinematic Universe with 'Iron Man' in 2008. These larger-than-life roles jumpstarted numerous careers, from virtual nobodies to household names. It's always interesting to see what work these actors take outside the superhero genre. Some roles go to the most opposite end of the spectrum, from saving lives to taking them. Here are 5 actors that went from Marvel heroes to killers.
Tom Holland in 'The Crowded Room'
Our current friendly neighborhood Spider-Man, Tom Holland, swung his way into our hearts in 2016 in 'Captain America: Civil War.' Throughout several Avengers movies and his own web-slinging trilogy, Holland showcased his charm, humor, and emotional beats that made him a fan favorite. The big question is can he dig deep enough to disappear into a role in a way where everyone doesn't always compare him to Spider-Man? It looks like he finally has.
In the limited series 'The Crowded Room,' Holland plays Danny Sullivan. Similar to Peter Parker, Danny is an awkward high schooler outcast with a core group of friends. The big difference other than the series taking place in the 70s is that Danny has a much more troubled past than Peter. Being in this familiar setting allows Holland to really show his range while exemplifying a darkness we've never seen from him.
Danny gets wrapped up in a shooting in New York City, leading to Rya Godwin (Amanda Seyfried) interrogating him to find out what really happened. Through these interviews, we learn about Danny's life, revealing the events that molded him, the good and the bad. The one thing Spider-Man always has throughout all of his loss is hope. Danny Sullivan doesn't have much hope in his life.
Holland really impresses in this role, making us question if he's a good person or a straight-up murderer. What is Danny Sullivan hiding? He always looks tired, on edge, sunken in eyes, his hair is dirty, almost a constant look of pain in his eyes. 'The Crowded Room' is completely mind-bending, leading to revelations you wouldn't fathom. A series that allows Holland to rise above his Spidey suit and gives a look into a more sinister and layered performance from the young actor.
The first three episodes of 'The Crowded Room' debut June 9 on Apple TV+.
Elizabeth Olsen in 'Love & Death'
Elizabeth Olsen cemented herself as a key player in the Marvel Cinematic Universe when Wanda Maximoff took a turn into the Scarlet Witch in 'WandaVision' and even further in 'Doctor Strange In The Multiverse Of Madness.' After her award-nominated efforts in Marvel Studios' first series, her next project outside the superhero genre was highly anticipated. Her journey of a villain turned Avenger turned mourning reality warping baddie has led her to the land of prestige television: HBO.
'Love & Death' is a seven-episode miniseries based on the true story of Candy and Pat Montgomery and Betty and Allan Gore. Olsen plays Candy, a traditional stay-at-home wife and mother. Candy realizes she deserves more out of life after sacrificing hers to her kids and her husband for years and approaches Allan Gore to have an affair with her. The affair brings new excitement and joy to Candy until Allan wants out.
With Candy's excitement in the rearview, jealousy and rage take over, leading to a murder involving an axe. These events send the town into complete disarray. As the series goes on, the uncertainty of what actually transpired only heightens. Is Candy really guilty?
'Love & Death' is a slow burn, but the payoff is well worth the wait. Olsen is undoubtedly the star of the show giving us a performance that's reserved yet unhinged and even completely lacking remorse at times. With this sure to be another award-nominated performance, the series is another notch in the illustrious belt that is HBO-branded content.
'Love & Death' is available to stream on Max.
Evan Peters in 'Dahmer'
Evan Peters holds the title for some of the most memorable scenes in comic book movie history with his action sequences as Quicksilver in the X-Men franchise. Using slow motion to depict lightning-speed action at a pace we can comprehend. Peters' role as Peter Maximoff was a playful departure from his darker performance in 'American Horror Story,' leaving us all wondering what could come next. Little did we know he would deliver his most killer performance to date.
'Dahmer – Monster: The Jeffrey Dahmer Story' is the dramatic retelling of the brutal and unspeakable acts of the renowned psychopath. A terrifying and hard-to-watch depiction of the inner workings of a serial killer. Peters is charismatic yet disturbing in his showing as one of the most infamous murderers of all time.
This series certainly won't be for everyone, given the subject matter, but this Golden Globe-winning performance is a must-see. Peters has proven his talent through his body of work, but this series is his crowning achievement thus far. It's intense and frankly unforgettable.
'Dahmer – Monster: The Jeffrey Dahmer Story' is available to stream on Netflix.
Dave Bautista in 'Knock At The Cabin'
One of the biggest wrestler-turned-actor success stories is definitely Dave Bautista. From heavyweight champion to now having roles in 'Dune,' 'Spectre,' 'Blade Runner 2049' and, of course, the over-literal and hilarious Drax as a member of the 'Guardians Of The Galaxy.' Being an incredible supporting actor for years, it was only a matter of time before Bautista took the leading spotlight.
This past winter, the notorious M. Night Shyamalan's latest 'Knock At The Cabin' hit theaters. Bautista plays Leonard, the leader of a group certain the end of the world is imminent. The group takes a family hostage, claiming that if they sacrifice another member of their family, the world will be saved. Given this impossible choice, the family refuses, leading the world to spiral into chaos.
With Bautista's stature being so intimidating, his performance is almost the exact opposite. He's quiet, calculated, and has an eerie calmness to him. Leonard despises what fate has tasked him to do, but he does not hesitate to do what is necessary. Skyrocketing him to the leading man position while delivering his most awe-inspiring role yet. When you're faced with the end of the world, will you make the choice?
'Knock At The Cabin' is available to stream on Peacock.
Karen Gillan in 'Dual'
Karen Gillan started winning fans over in the BBC hit series 'Doctor Who,' but what she is most known for is playing the tortured and complex villain turned Guardian Of The Galaxy, Nebula. From a seemingly one-note adversary to the Guardians to being a leader figure of the team in 'Guardians Of The Galaxy Vol. 3' Nebula has had one of the most compelling and well-written character arcs in the well-established cosmic universe.
Gillan brings that same deadpan type of performance in the sci-fi thriller/dark comedy 'Dual.' Gillan plays Sarah, who, after getting a terminal diagnosis, enlists in a program where a clone can take your place. The clone is there to cushion the blow of loss on your loved ones. Miraculously Sarah's condition disappears after the clone has already integrated into what was her life. With her husband and even her mother more happy with the new Sarah, her attempts to decommission the clone fail. By law, the two must face off in a court-mandated duel to the death to see who will become the one true Sarah.
With one year to train for the duel, Sarah starts training with combat expert Trent (Aaron Paul) promising to avenge the life she lost. The premise is worth the price of admission alone, but Gillan's performance is fantastic. Almost robotic in ways, with no real emotion other than spite for the new version of herself. Even though she's an unlikable character, you empathize with her as the people surrounding her are far worse. This movie flew under the radar for most, but it is certainly worth the watch.
'Dual' is now streaming on Hulu.