This week: Motherland: Fort Salem, Sexy Beasts, Grown-ish, Ted Lasso, Masters of the Universe: Revelation, Central Park, Eden: Untamed Planet
Motherland: Fort Salem
"Brianna's Favorite Pencil" – Season 2, Episode 5
Tues July 20 – 10PM
On Freeform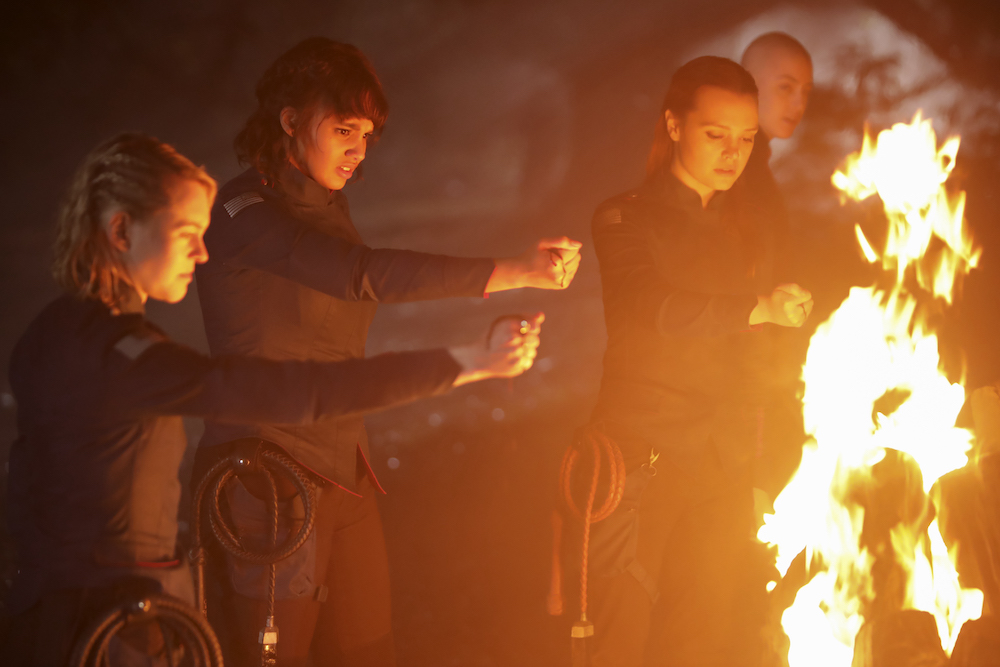 Photo: Freeform/Jeff Petry
Abigail (Ashley Nicole Williams) is struggling with survivor's guilt and has so many questions about the Camarilla. Meanwhile, Tally (Jessica Sutton) has even more questions for General Adler (Lyne Renée). On the night of Samhain, the cadets seek to talk to the dead but face a sinister journey to perform this time-honored ritual. Interspersed with these thrilling scenes are Anacostia (Demetria McKinney) and Scylla's (Amalia Holm) latest discoveries in their undercover mission. It's a chilling one-two punch that will make your heart pound in terror. Can talking to the dead bring the Bellweather Unit the answers they need? Or will it leave them more lost than ever? Things are getting dangerous for the witches as the stakes rise to horrifying levels and you won't be able to tear your eyes away from the screen.
Motherland: Fort Salem hits Freeform tomorrow.
From Freeform:
The Unit competes for a chance to commune with the dead during Samhain. Scylla and Anacostia search for Camarilla leadership by attending a Halloween gala and make a horrifying discovery.
—
Sexy Beasts
Season 1
Wed July 21
On Netflix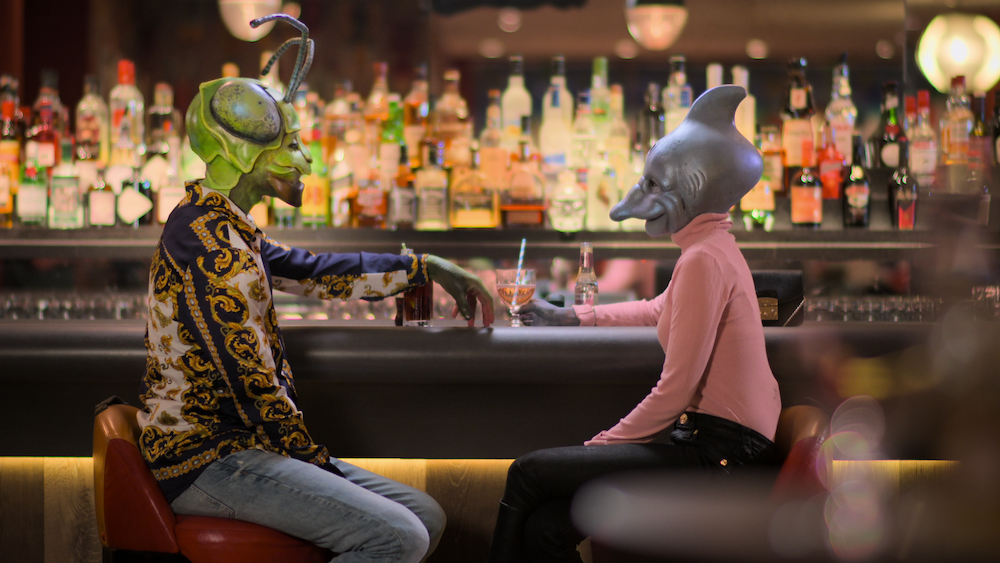 Photo courtesy of Netflix
What if The Bachelor met The Masked Singer? Netflix is asking a question that nobody wanted to know…and also turning the wildness up to 11 (all while pretending that furries don't exist). Sexy Beasts is a new dating series they're bringing to the reality show stage, where singles get to know their potential dates beyond the superficial—by wearing ridiculous animal/monster-style prosthetics! Oh, did we mention? The contestants are all conventionally attractive people so…uhh…they get to feel like the rest of us for the day. The daters are forced to judge each other purely on charm and personality (all while the narrator roasts the $#!t outta them). Once they've chosen who they like (and who they want to send back to the zoo), the prosthetics are removed and they get to see if their attraction matches on every level (*wink*). Sexy Beasts is bonkers but has a lot of fun with the premise, so settle in and get ready for a trip towards a deeper, weirder kind of love.
Sexy Beasts hits Netflix on Wednesday.
From Netflix:
Ready to say goodbye to superficial dating? SEXY BEASTS is the dating show that takes looks completely out of the equation using fantastical, cutting edge prosthetics to transform the daters – giving them a chance to find love purely based on personality!
—
Grown-ish
"Demons" – Season 4, Episode 3
Thurs July 22 – 8PM
On Freeform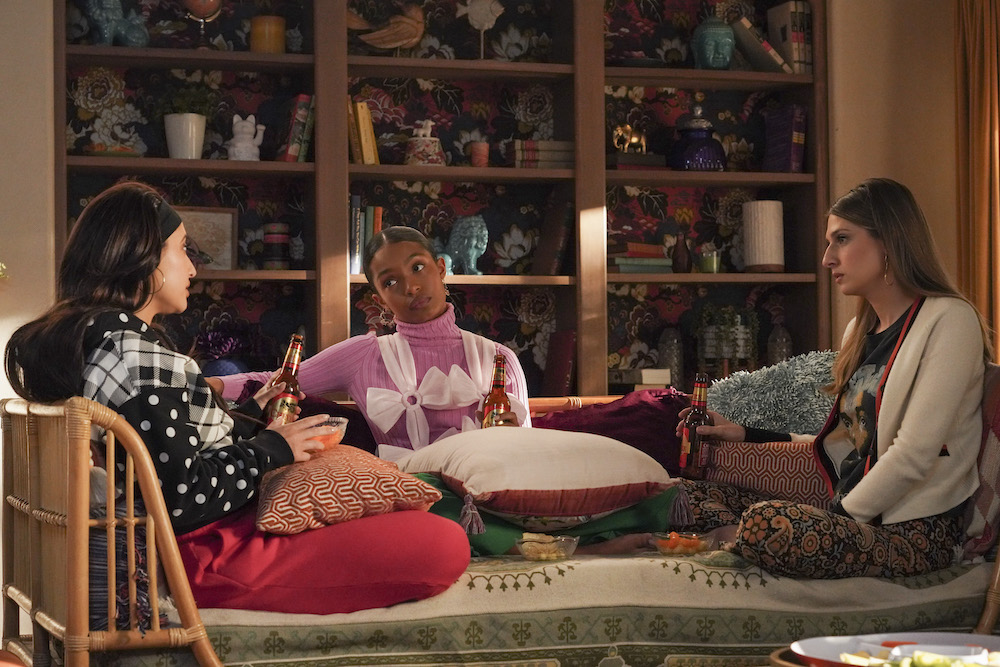 Photo: Freeform/Tiffany Roohani
Much like many other shows currently airing, the pandemic hit pause on grown-ish. In its latest episode, the show fast-forwards over the shutdown part of 2020 to rejoin our crew, one semester later. They're returning to class and semi-regular life—six feet apart. Because the semester got pushed, Zoey (Yara Shahidi) is trying to get an internship…which means facing the internship administrator AKA Aaron's (Trevor Jackson) ex Rochelle (Raigan Harris). And she gets a hard lesson in consequences. Meanwhile, Jazz (Chloe Bailey) considers her professional future. "Demons" finally starts to dig into the problems we saw crop up from last season and gives the characters a dose of reality, which is something they could definitely use more often. You'll be cheering on the show for holding the grown-ish crew accountable—even if it does it with a wink in its own special way.
Grown-ish airs on Freeform on Thursday.
From Freeform:
The gang finally return to Cal U after a global pandemic stalls their senior year. In order to graduate, Zoey needs to secure an internship and must face Rochelle in the process.
—
Ted Lasso
Season 2
Fri July 23
On Apple TV+
Our review is coming soon!
Ted Lasso returns to Apple TV+ on Friday.
From Apple:
Jason Sudeikis plays Ted Lasso, a small-time college football coach from Kansas hired to coach a professional soccer team in England, despite having no experience coaching soccer.
—
Masters of the Universe: Revelation
Part 1
Fri July 23
On Netflix
Stay tuned for our review!
Stream Masters of the Universe: Revelation on Netflix on Friday.
From Netflix:
The war for Eternia culminates in "Masters of the Universe: Revelation," an innovative and action-packed animated series that picks up where the iconic characters left off decades ago. After a cataclysmic battle between He-Man and Skeletor, Eternia is fractured and the Guardians of Grayskull are scattered. And after decades of secrets tore them apart, it's up to Teela to reunite the broken band of heroes, and solve the mystery of the missing Sword of Power in a race against time to restore Eternia and prevent the end of the universe.
—
Central Park
"A Decent Proposal" – Season 2, Episode 7
Fri July 23
On Apple TV+
Watch Central Park on Friday on Apple TV+.
From Rotten Tomatoes:
Owen does damage control after accidentally ruining a marriage proposal. Molly attends Bitsy's birthday party with Brendan.
—
Eden: Untamed Planet
"Borneo: Sacred Forest" – Series premiere
Sat July 24 – 8PM
On BBC America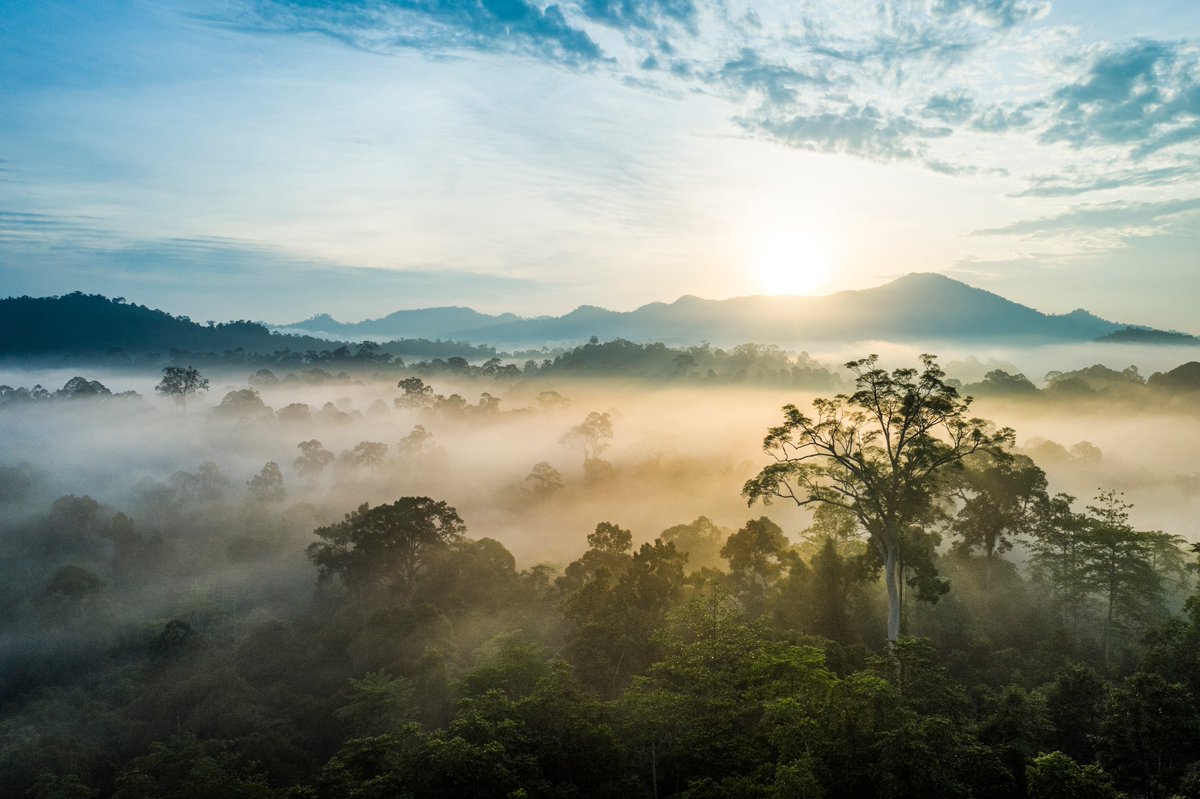 Photo courtesy of BBC America
Take a trip to the dense and pristine tropical forests of Borneo for a look at a place where human destruction has yet to truly touch. That means wildlife is flourishing, making this the perfect starting point for a series named Eden—Borneo is a natural paradise here on Earth. We're given a glimpse into life without us, where the animal kingdom truly rules and life is a cycle of predators, prey, habitats, and family. Helena Bonham Carter narrates, bringing a soothing kind of whimsy to each scene as we follow animals on their daily routines, shown off in stunning shots that makes you feel like you're right there on the forest floor. 
Watch Eden: Untamed Planet on BBC America on Saturday.
From BBC America:
Explore the last places on our planet that remain untouched. From the makers of 'Planet Earth' and 'Blue Planet II', and narrated by Helena Bonham Carter, the next epic BBC nature event premieres Saturday, July 24 at 8PM on BBC America.