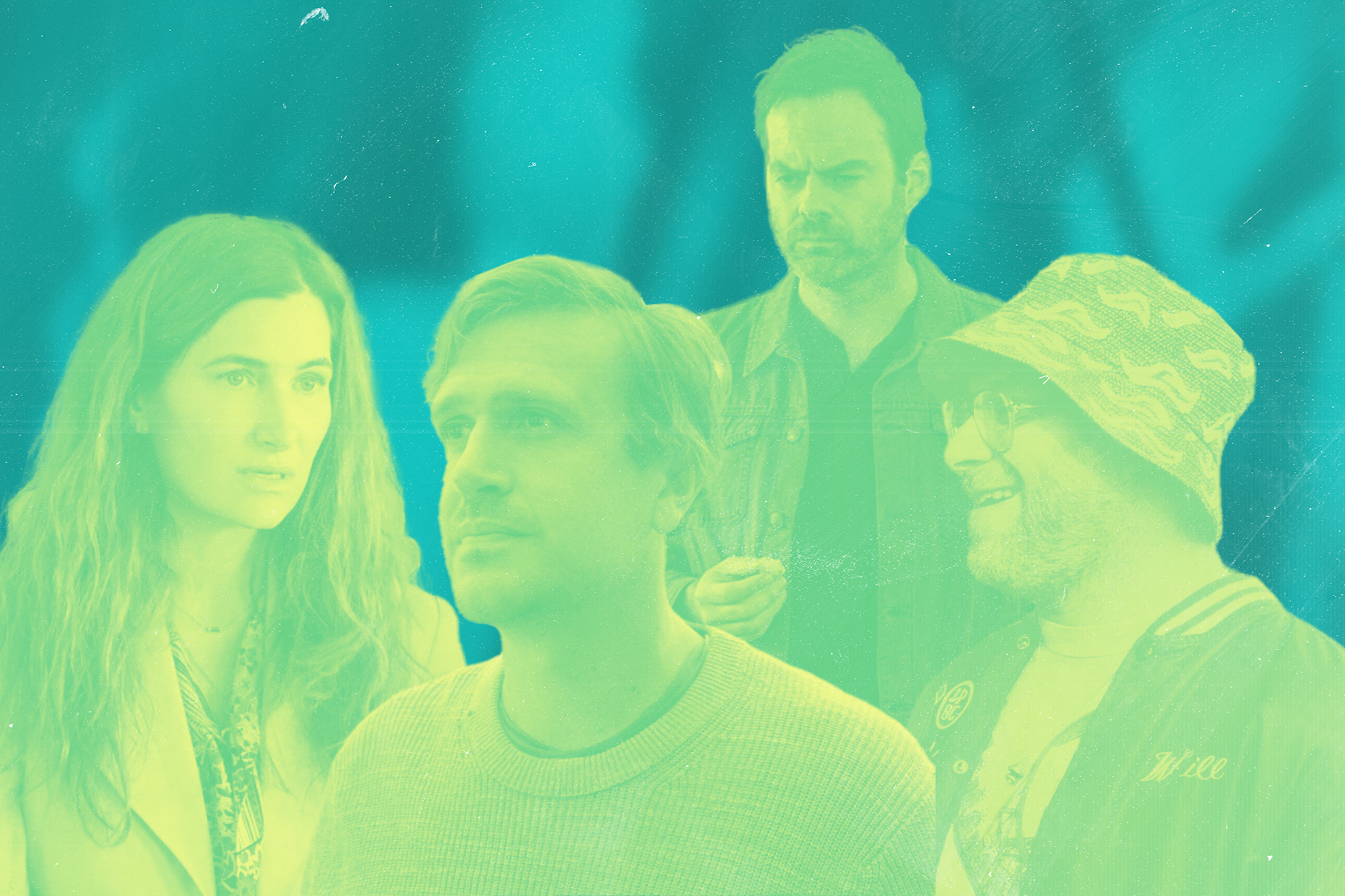 Once upon a time, movie stars used to be exclusive to the silver screen. With the introduction of streaming, the endless plethora of options has completely changed the game. More creative freedom, and not being bound to twenty-four episode seasons to fit network programming have been some of the primary driving forces to invite big stars to the small screen. This has led to the current golden age of TV. There hasn't been this high level of quality content possibly ever, and the world of streaming has made that possible.
Streaming has also become a haven for content that has been absent lately from the movie landscape. The box office is dominated by IP action phenoms, leaving certain genres to the wayside. This gave streaming TV the opportunity for comedic stars to not only show what they can bring to the table in serialized form, but their range as actors as well.
Here are 5 actors in comedy TV shows you don't want to miss and that you can now enjoy in the comfort of your own home.
Seth Rogen in 'Platonic'
'Neighbors' co-stars Seth Rogen and Rose Byrne reunite in 'Platonic' as former best friends Will (Rogen) and Sylvia (Byrne). Will is a hipster brew master struggling to find the balance between artistic integrity and being a part of a successful bar. Sylvia is struggling with the fact she put her law career on hold to raise her children almost a decade ago and is left wondering if her life has personal meaning. As the friends' bond grows stronger, their lives both seem to crumble beneath them in a hilarious fashion.
The two friends reconnect after Will goes through a divorce. They immediately revert to their old partying ways and pick up their friendship right where they left off. Sylvia realizes that her old lifestyle mixed with her new family life doesn't quite work. Beyond the partying, the question arises—are platonic friends possible?
The series is legitimately laugh-out-loud funny, as you would expect from Rogen. But there's so much more to it beneath its comedic exterior. It's an exploration of self-discovery. An exploration that is told better in long form, really getting to know the characters and what makes them tick. Even in the middle of life, we're all trying to figure out ourselves and our purpose, and that's totally okay. Life is about the journey, growing over time is the end goal, isn't it? There will be obstacles and setbacks along the way, making the high points even more worthwhile. Life is a special thing, appreciate it.
The first three episodes of 'Platonic' are now streaming on Apple TV+.
—
Bill Hader in 'Barry'
Bill Hader made his name on the big screen with small roles in comedy classics such as 'Superbad,' 'Pineapple Express,' and Hot Rod.' But Hader takes center stage in his magnum opus, 'Barry.' Not only does he star in the series, but he also co-writes it and directs many of the episodes. The dark comedy focuses on the life of Barry as he tries to right the wrongs of his mercenary life through his newfound love of acting.
'Barry' has a more dramatic tone and is infused with some surprisingly brutal action, but it still has its laughs. It has a meta-commentary on Hollywood, poking fun at the inner workings of streaming services as well as blockbuster movies. NoHo Hank (Anthony Carrigan) is a crime boss that's almost a cartoon character come to life, whilst Gene Cousineau (Henry Winkler) plays Barry's narcissistic acting coach that gives a grounded perspective in this ridiculous world Hader has created. Both provide a lot of big laughs throughout the series.
The series really boils down to multiple journeys of self-worth and purpose through the whacky lens of drama, comedy, action, and character development blended together unlike anything else on TV.
Season Four of 'Barry' is now airing on HBO.
—
Jason Segel in 'Shrinking'
'Shrinking' features the return of Jason Segel ('How I Met Your Mother,' 'Forgetting Sarah Marshall') to TV. The series follows Jimmy (Segel), a grieving therapist struggling to get his life together and truly help his clients. Harrison Ford, aka the legendary Indiana Jones and Han Solo, co-stars as Paul, Jimmy's boss and mentor.
Coming from the team who brought 'Scrubs' and 'Ted Lasso' to life, it's no surprise the show is awkward and hilarious while also being hopeful, heartfelt, and relatable. It's a masterclass study on how grief affects everyone differently and how the relationships around that trauma fail or flourish.
Ford seems to be having the time of his life in this role, delivering dry humor that will have you in stitches from laughter. Segel brings his goofy sensibility that we're used to seeing him as Marshall in 'HIMYM' and adds a nuanced layer of vulnerability. A man struggling to overcome his own trauma while being a voice of guidance for others. Masking his pain with laughter, work, and a search for purpose. This human relatability is why 'Shrinking' is easily one of the biggest surprises of the year in the TV realm.
Season One of 'Shrinking' is available to stream on Apple TV+.
—
Steve Martin and Martin Short in 'Only Murders In The Building'
The unlikely trio of Steve Martin, Martin Short, and Selena Gomez star in the crime-based comedy 'Only Murders In The Building.' All three are true crime-obsessed "experts" who get tied into a tangled web of real murder in their apartment building in New York City. In an attempt to get to the bottom of these murders, the new friends start a podcast to document their investigation.
It's no surprise that the series has great witty humor, with the legendary Steve Martin ('The Pink Panther,' 'Cheaper By The Dozen') and Martin Short ('Innerspace,' 'Jungle 2 Jungle') The stand-out of the series is how well-written it is, giving tons of twists and turns that lead to impressive cliffhangers and reveals. Not to mention the chemistry between the old guard and Gomez is off the charts. They form a found family, sharing a bond over being at certain crossroads in their lives. The blend of the old guard with the new school gives the show a fresh voice that speaks to a wide audience.
The cherry on top is star-studded cameos and guest appearances, including Sting, Amy Schumer, Tina Fey, and plenty more. The highly anticipated third season premieres August 8 with the addition of 'Ant-Man' himself, Paul Rudd.
The first two seasons of 'Only Murders In The Building' are available to stream on Hulu.
—
Kathryn Hahn in 'Tiny Beautiful Things'
Known for stealing scenes in comedies such as 'Step Brothers,' 'Anchorman,' and 'Bad Moms' in recent years, Kathryn Hahn has made her mark as an acting force of nature. In 2020 she stole the show in Marvel Studios' first TV series 'WandaVision' as the villainous Agatha Harkness. Now she's starring in her own show, 'Tiny Beautiful Things'. It's based on the best-selling collection by Cheryl Strayed of the same name.
The series follows Clare (Hahn), struggling with keeping her life together. Her marriage is on the rocks, her daughter won't speak to her, and her childhood dreams of becoming a writer are the last thing on her mind. Until an old friend presents an opportunity to take over an anonymous advice column, called Dear Sugar.
Through her newfound outlet, she realizes helping other people is helping mend her broken past as well. Even if we are broken, we are not beyond saving. The loss and struggles we experience can be the catalyst to make us our best selves. The thirty-minute episode runtime makes it an easy watch, but it packs a punch. You can't let the worst thing to happen to you stop you.
'Tiny Beautiful Things' is now streaming on Hulu.