This week: Motherland: Fort Salem, Naomi Osaka, Miracle Workers, My Unorthodox Life, Gunpowder Milkshake, Never Have I Ever, The Walking Dead: Origins, Grown-ish, Schmigadoon!, Central Park, Space Jam: A New Legacy, Making the Cut, McCartney 3,2,1
Motherland: Fort Salem
"Not Our Daughters" – Season 2, Episode 4
Tues July 13 – 10PM
On Freeform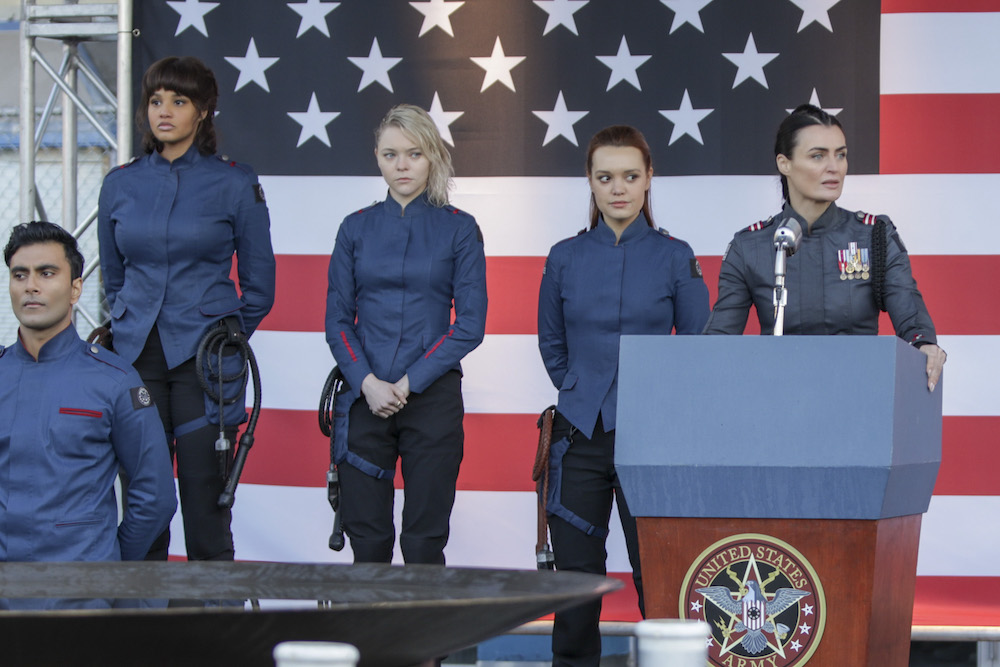 Photo: Freeform/Jeff Petry
Tally (Jessica Sutton) has some burning questions after her flashback into General Adler's (Lyne Renée) memories. And she's not going to sit around and wait for answers. Anacostia (Demetria McKinney) is being proactive too, stepping way out of line (and you'll be cheering her on). She goes undercover with Scylla (Amalia Holm) among anti-witch protestors at the opening of the first witch testing center, where the Bellweather Unit are given a taste of what it's like to be hated for protecting their nation. Dissent is growing from the public and from within—and the Camarilla are fueling it all, moving in the shadows to snatch the witches and their voices right out. If you're thinking things are primed to spiral out of control…you'd be right but it explodes way beyond anything you could imagine. When things become hauntingly personal, it pulls Abigail (Ashley Nicole Williams), Raelle (Taylor Hickson), and Tally deeper than they should ever go. "Not Our Daughters" is a chilling episode that shows the horrors of the Camarilla…and the rot within the system that allows them to thrive. You'll be on the edge of your seat and ready for blood—just be careful what you wish for…
Motherland: Fort Salem returns to Freeform tomorrow.
From Freeform:
Anti-witch sentiment boils over as the Unit defends the first witch testing center at its grand opening. Anacostia and Scylla go undercover to follow the Camarilla.
—
Naomi Osaka
Tues July 13
On Netflix
Stream Naomi Osaka on Netflix tomorrow.
From Netflix:
What does it feel like to be one of the best tennis players in the world? An intimate look inside the life of one of the most gifted and complex athletes of her generation offers insight into the tough decisions and ecstatic triumphs that shape Naomi Osaka as both an elite global superstar and a young woman navigating a pressure-filled world.
—
Miracle Workers
Season 3
Tues July 13
On TBS
Miracle Workers returns to TBS tomorrow.
From TBS:
During the third season of the top-rated anthology comedy series "Miracle Workers," cast members Daniel Radcliffe, Steve Buscemi, Geraldine Viswanathan and Karan Soni are transported to the American Old West. Set in the year 1844, "Miracle Workers: Oregon Trail" follows an idealistic small-town preacher (Radcliffe) who teams up with a wanted outlaw (Buscemi) and an adventurous prairie wife (Viswanathan) to lead a wagon train west on the Oregon Trail across an American landscape which, much like today, is fraught with both promise and peril.
—
My Unorthodox Life
Season 1
Wed July 14
On Netflix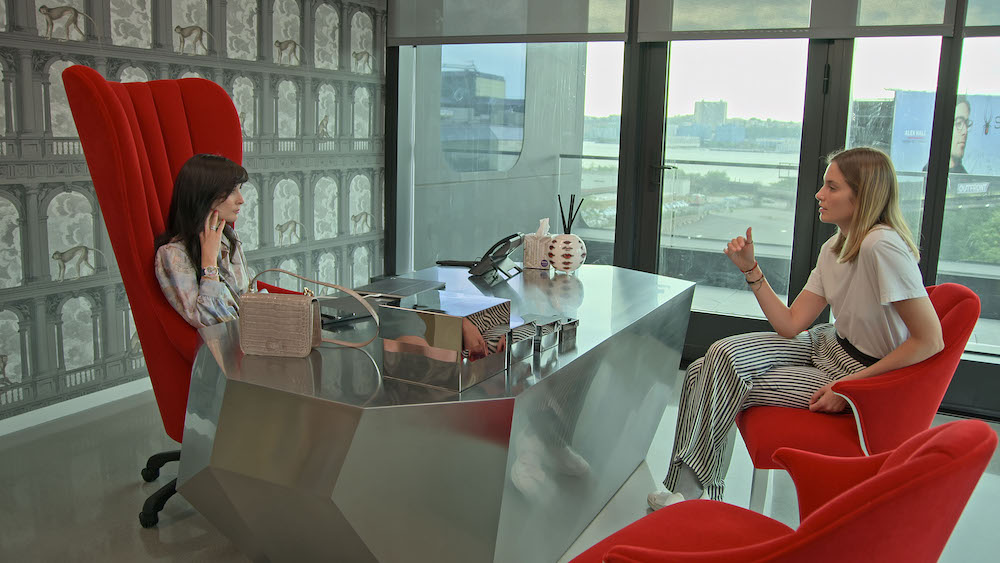 Photo courtesy of Netflix © 2021
Julia Haart is a fascinating woman. As CEO of Elite World Group she's shaking up the fashion world…but you'd never guess where she started out. She used to be part of an ultra-Orthodox Jewish community with more traditional and restrictive upbringings. Ever since she left that world she's doing her best to empower other women and make sure her family has the chances she didn't when she was young. Her four children are different mixes of cultures, figuring out how to balance their religious roots and their new lives. Julia does her best to be completely open and honest with her kids, which allows them to be honest with themselves about adjusting to life outside the Orthodox Jewish community. My Unorthodox Life might look like a typical "reality series" but there's a lot more depth to it that offers an interesting portrait into what it's like to break away from your community and upbringing in order to forge your own path.
Watch My Unorthodox Life on Netflix on Wednesday.
From Netflix:
This series centers around the personal and professional life of fashion mogul Julia Haart – former member of an ultra-Orthodox Jewish community turned CEO of Elite World Group. Since taking the reins of a global talent empire, Haart has been on a mission to revolutionize the industry from the inside out – all while being a mother of four. Her children include a TikToker, an app designer, a lawyer, and a high schooler torn between two conflicting cultures, and Haart helps them reconcile their orthodox upbringings with the modern world. My Unorthodox Life takes you on a journey through Julia Haart's untamed, unpredictable, and unorthodox life.
—
Gunpowder Milkshake
Wed July 14
On Netflix
Gunpowder Milkshake hits Netflix on Wednesday.
From Netflix:
Sam (KAREN GILLAN) was only 12 years old when her mother Scarlet (LENA HEADEY), an elite assassin, was forced to abandon her. Sam was raised by The Firm, the ruthless crime syndicate her mother worked for. Now, 15 years later, Sam has followed in her mother's footsteps and grown into a fierce hit-woman. She uses her "talents" to clean up The Firm's most dangerous messes. She's as efficient as she is loyal. But when a high-risk job goes wrong, Sam must choose between serving The Firm and protecting the life of an innocent 8-year-old girl – Emily (CHLOE COLEMAN). With a target on her back, Sam has only one chance to survive: Reunite with her mother and her lethal associates, The Librarians (MICHELLE YEOH, ANGELA BASSETT and CARLA GUGINO). These three generations of women must now learn to trust each other, stand up to The Firm and their army of henchmen, and raise hell against those who could take everything from them.
—
Never Have I Ever
Season 2
Thurs July 15
On Netflix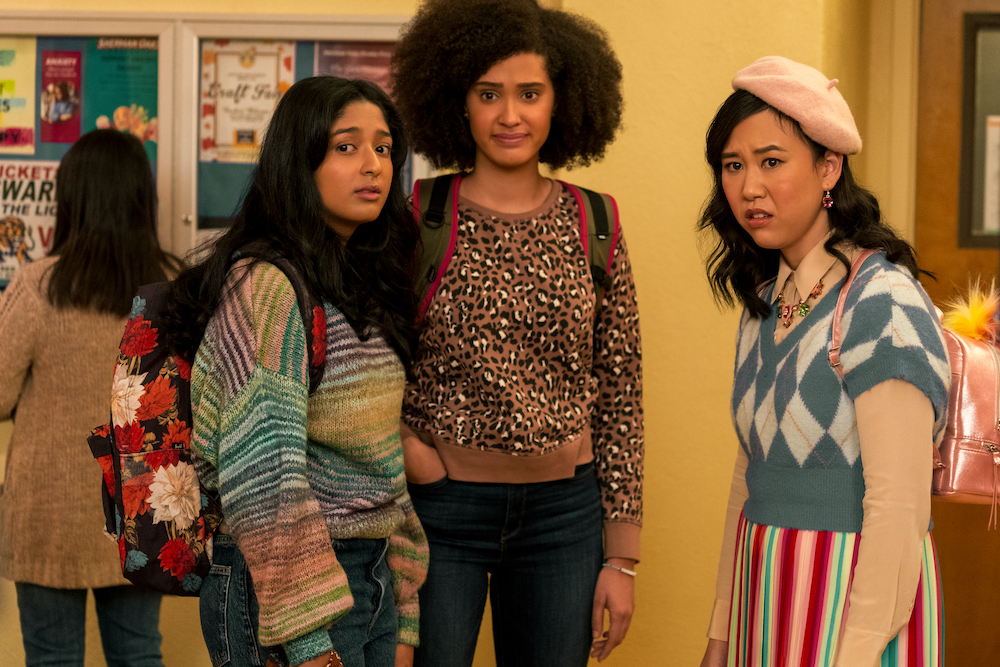 Photo: Isabella B. Vosmikova/Netflix © 2021
Our super flawed heroine returns for another season of f#ckin' sh!t up in the worst kinds of delightful ways. If that sounds like a riddle, well, so is being a teenager. Especially a teen at the intersections of womanhood and burgeoning sexuality, trauma and discovery, nationality and heritage. Those are a lot of crossroads to stand at but Never Have I Ever – Season 2 finds truth within them all. This series seeks the realness in the confluence of hormones, harmony, and hilarity. What it finds ain't pretty but it truly sparkles. (read Sherin Nicole's review)
Never Have I Ever returns to Netflix on Thursday.
From Netflix:
In Season 2 of the coming-of-age comedy Never Have I Ever, Indian American teenager Devi (Maitreyi Ramakrishnan) continues to deal with the everyday pressures of high school and drama at home, while also navigating new romantic relationships. Never Have I Ever is created by executive producer Mindy Kaling, with Lang Fisher serving as executive producer, showrunner and writer. The Universal Television project is also executive produced by 3 Arts Entertainment's Howard Klein and David Miner.
—
The Walking Dead: Origins
Series premiere
Thurs July 15
On AMC+
Watch The Walking Dead: Origins on AMC+ on Thursday.
From AMC:
Spotlighting Daryl Dixon (Norman Reedus), Carol Peletier (Melissa McBride), Maggie Rhee (Lauren Cohan) and Negan (Jeffrey Dean Morgan), each episode of The Walking Dead: Origins charts the story of the zombie apocalypse from the point of view of a single character and features new interviews and narrations from the actors that portray these iconic characters, interwoven with clips from the most pivotal moments of their journeys so far. Each episode will also feature an exclusive sneak peek of season 11.
—
Grown-ish
"Drunk in Love" – Season 4, Episode 2
Thurs July 15 – 8PM
On Freeform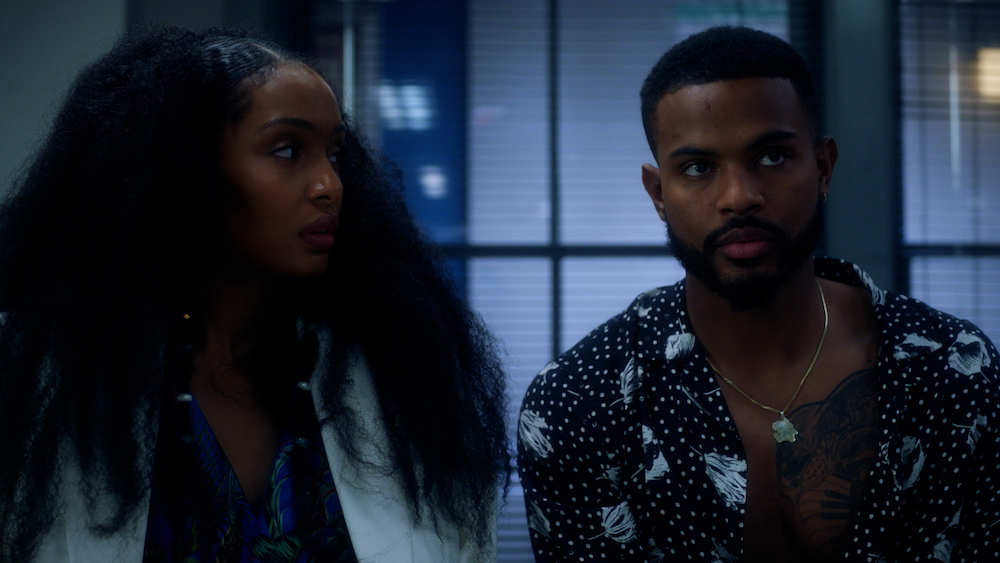 Photo: Freeform/Eric McCandless
The hangover is real and it is bringing out the harsh truth. Zoey (Yara Shahidi) and Aaron's (Trevor Jackson) trip to jail makes them question their headlong sprint into love. Ana's (Francia Raisa) blowout at Javi (Henri Esteve) causes all kinds of friction. And as for Luca (Luka Sabbat) and Vivek (Jordan Buhat)…well, they're just here for a good time. Our crew have some fun in the sun, all while taking their time to figure out what they want and need from each other. It's not like there's a massive world-changing event waiting around the corner ready to put their lives on hold…right? Oh…yeah…did we mention? This episode takes place right before the dumpster fire of 2020 hits. Enjoy the party while it lasts, grown-ish fam! "Drunk in Love" is a fun episode and you'll toast to simpler times, when problems like relationship drama and stolen piñatas seemed way more important.
Grown-ish airs on Freeform on Thursday.
From Freeform:
While in Mexico, Zoey and Aaron find themselves in trouble following their first night out as a couple. Ana debates with Jazz about Javi and the status of their relationship. Doug and Luca continue on their excursion with two local ladies.
—
Central Park
"The Shadow" – Season 2, Episode 6
Fri July 16
On Apple TV+
Watch Central Park on Friday on Apple TV+.
From Apple:
The Brandenham is robbed by a jewel thief, reminding Bitsy of a criminal who terrorized the hotel over 50 years ago.
—
Schmigadoon!
Season 1
Fri July 16
On Apple TV+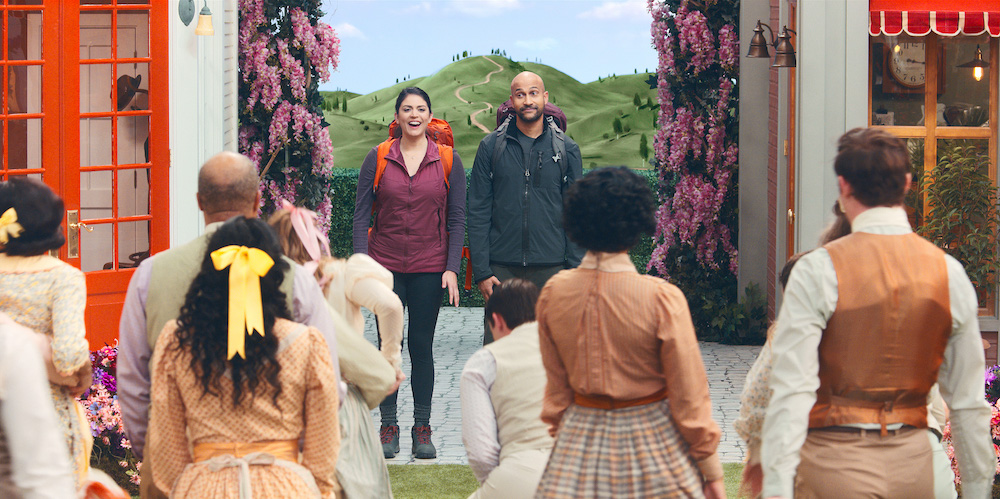 Photo courtesy of Apple Studios
"With musicals there's always this beautiful sense of wonder, escapism, elegance, dancing, and memorable songs that stay with you. Schmigadoon!, despite all of the jokes, is still smartly written enough to give you all of the sense of wonder of those grand musicals…What I enjoyed most about Schmigadoon! is it is not only a musical and a rom-com, it's also an anatomy of a love in its second phase. It breaks it down and takes us on this journey of whether or not love can survive."—Sherin Nicole (hear our full preview on Geek Girl Riot)
Dive into Schmigadoon! on Apple TV+ on Friday.
From Apple:
A parody of iconic musicals, "Schmigadoon!" is a new musical comedy series executive produced by Lorne Michaels and starring Emmy Award nominee Cecily Strong and Emmy Award winner Keegan-Michael Key as a couple on a backpacking trip designed to reinvigorate their relationship when they discover a magical town in which everyone is living in a studio musical from the 1940s. They then discover that they can't leave until they find "true love."
—
Space Jam: A New Legacy
Fri July 16
On HBO Max
Stay tuned for our review!
Space Jam: A New Legacy hits theaters and HBO Max on Friday.
From HBO:
Welcome to the Jam! NBA champion and global icon LeBron James goes on an epic adventure alongside timeless Tune Bugs Bunny with the animated/live-action event "Space Jam: A New Legacy," from director Malcolm D. Lee and an innovative filmmaking team including Ryan Coogler and Maverick Carter. This transformational journey is a manic mashup of two worlds that reveals just how far some parents will go to connect with their kids. When LeBron and his young son Dom are trapped in a digital space by a rogue A.I., LeBron must get them home safe by leading Bugs, Lola Bunny and the whole gang of notoriously undisciplined Looney Tunes to victory over the A.I.'s digitized champions on the court: a powered-up roster of professional basketball stars as you've never seen them before. It's Tunes versus Goons in the highest-stakes challenge of his life, that will redefine LeBron's bond with his son and shine a light on the power of being yourself. The ready-for-action Tunes destroy convention, supercharge their unique talents and surprise even "King" James by playing the game their own way.
—
Making the Cut
Season 2
Fri July 16
On Amazon Prime Video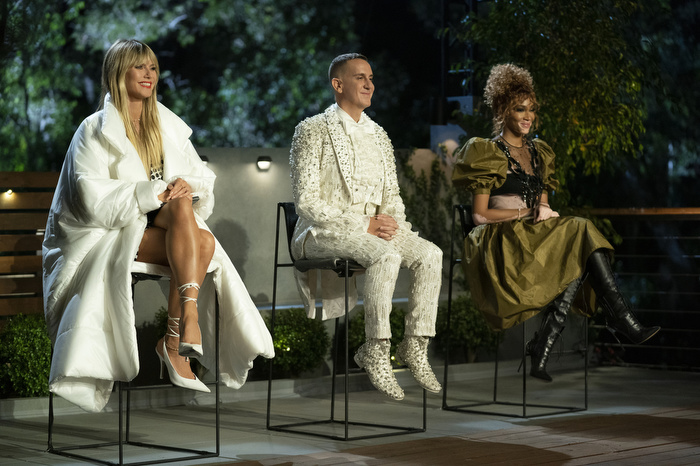 Photo courtesy of Amazon Studios
Making the Cut is back with its high-energy fashion drama. With the stakes of one million dollars and their brands sold on the Making the Cut store on Amazon, the competing designers have a lot to prove. The contestants are already established creatives but Making the Cut will test them in new and exciting ways. California provides a beautiful and inspiring backdrop for their designs and allows the designers to step outside of their comfort zones. And that makes for some fantastic designs—whether hit or miss—that are accessible, fashionable, and highly creative. Sit back with a glass of your favorite red and enjoy casting your own judgements on who should make the cut.
Making the Cut is back on Amazon on Friday.
From Amazon:
New city. New designers. Same great style. Making the Cut is once again on a mission to find the next great global fashion brand. In the second season, hosts Heidi Klum and Tim Gunn will be joined by judges Winnie Harlow, world-famous supermodel, and fashion pop icon and Moschino Creative Director Jeremy Scott. Plus, additional judges will make cameos throughout the season, including Prabal Gurung and Shiona Turini.
—
McCartney 3,2,1
Season 1
Fri July 16
On Hulu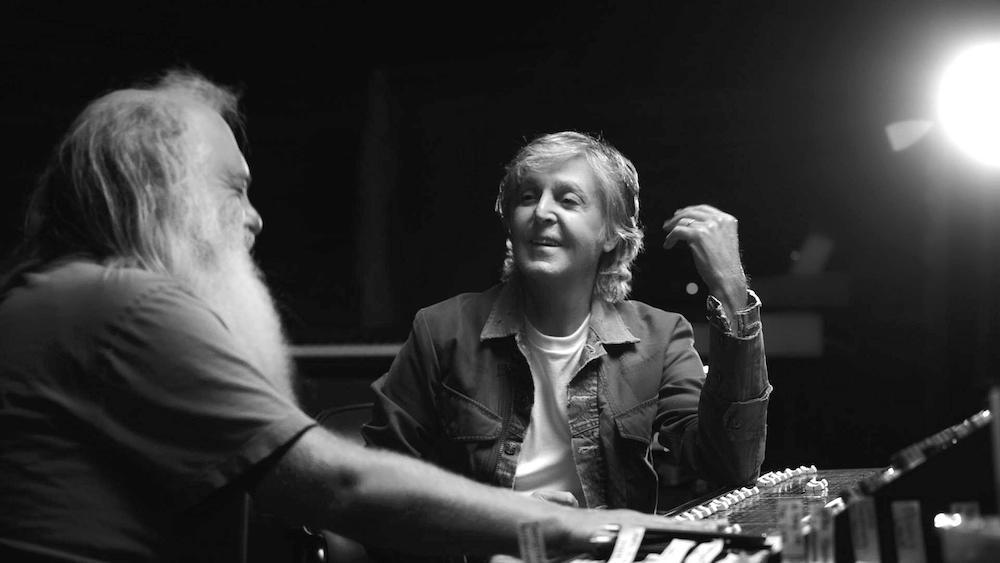 Photo courtesy of Hulu
This one is a must watch: Living legend Paul McCartney sits down with another living legend, producer of every great artist you can think of, Rick Rubin. McCartney takes us through his incredible career, starting with The Beatles, running through the Wings era, all the way to his 50+ years as a solo artist. He's so down-to-earth and completely masterful at his craft—you can tell it's because he loves and believes in it with his entire being. It's enthralling to watch him reminisce about his early days and take us into the relationships with his bandmates over the years. The stories are excellent and will make you smile in wonder at a rockstar life we can only dream of. And hearing about the influences he pulls from watching other artists will add new layers of appreciation not only of his songs but of music composition in general. Take notes and get inspired, in 3,2,1…
Stream McCartney 3,2,1 on Hulu on Friday.
From Hulu:
Paul McCartney sits down for a rare, in-depth, one on one with legendary producer Rick Rubin to discuss his groundbreaking work with The Beatles, the emblematic 70s arena rock of Wings and his 50 years and counting as a solo artist. In this six-episode series that explores music and creativity in a unique and revelatory manner, join Paul and Rick for an intimate conversation about the songwriting, influences, and personal relationships that informed the iconic songs that have served as the soundtracks of our lives.