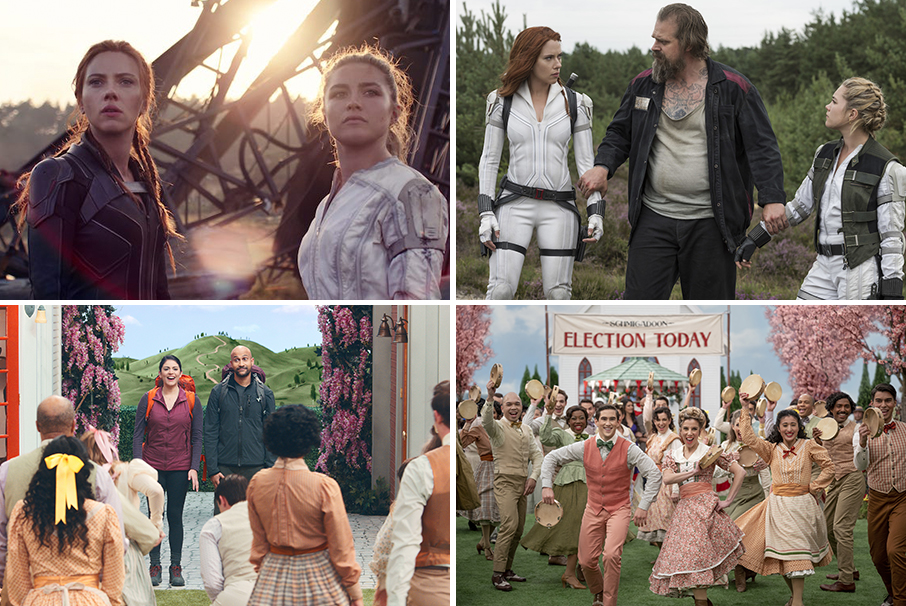 Top row: Black Widow (p

hotos by Jay Maidment © Marvel Studios 2021) // Bottom row: Schmigadoon! (photos 
courtesy of Apple Studios)
We have two great (but very very different) watches for you on Geek Girl Riot: Black Widow and Schmigadoon!
Black Widow
Black Widow is coming to theaters and Disney+ on July 9—and our Rioters are here to get you hyped with a spoiler-free preview. Sherin is joined by Mae Abdulbaki and Nell Minow to talk all about the latest addition to the MCU, starting with their expectations going in vs. their first impressions. Ooh, then they get to the juicy part and tease what they think of the villain…
Sherin, Mae, and Nell also break down the cast and the incredible amount of character development for both the main cast and smaller roles (shoutout to O-T Fagbenle as Mason!). They share what worked and didn't work—including teasing that MacGuffin (you'll know it when you see it). Stay tuned to hear whether Black Widow is a satisfying movie to watch and what they think it means for the future of the MCU.
Schmigadoon!
Sherin and Nell switch gears and head over to the magical maniacal musical land of Schmigadoon!, a fantabulous spoof-meets-homage to Brigadoon (and every other musical ever). Sherin says of the series: "With musicals there's always this beautiful sense of wonder, escapism, elegance, dancing, and memorable songs that stay with you. Schmigadoon!, despite all of the jokes, is still smartly written enough to give you all of the sense of wonder of those grand musicals." They dive into the story and the references to other musicals, before applauding the stellar all-star cast. Our Rioters close out by telling you why you need to watch it and what their other favorite musicals are. Catch Schmigadoon! on July 16 on Apple TV+.
"What I enjoyed most about Schmigadoon! is it is not only a musical and a rom-com, it's also an anatomy of a love in its second phase. It breaks it down and takes us on this journey of whether or not love can survive."
—Sherin Nicole
Tune in to Geek Girl Riot on idobi Radio every Tuesday at 11pm ET / 8pm PT for your dose of late-night geekery. 'Til next time, see a list of everything our Rioters talked about below:
LINKS:
 – Black Widow (read Sherin's review)
 – Schmigadoon!
 – Saturday Night Live
 – Avengers: Endgame
 – Little Women
 – Fighting with my Family
 – Captain Marvel
 – Storm
 – Wonder Woman
 – Captain America: Civil War
 – Dragon Ball Z
 – Jason Bourne
 – John Wick
 – Loki
 – F9
 – La Femme Nikita
 – Red Sparrow
 – The Assassin
 – The Falcon and the Winter Soldier
 – James Bond
 – Austin Powers
 – Our Man Flint
 – Emma Peel
 – The Favorite
 – The Handmaid's Tale
 – Sherlock Holmes
 – Ms. Marvel
 – Hawkeye
 – Doctor Strange
 – WandaVision
 – Brigadoon
 – Wicked
 – The Prom
 – Carousel
 – Li'l Abner
 – The Music Man
 – Oklahoma!
 – Sound of Music
 – West Side Story
 – Jumanji
 – The Morning Show 
 – Ted Lasso
 – Kiss Me, Kate
 – Bells Are Ringing
 – The Wiz
 – Aida
Podcast: Play in new window | Download