by Kat Bittner
Basically: If your InfoWars misinformed Uncle wrote a teen show.
The Catholic in me feels guilty for writing this review. I'm gonna go lightly splash myself with some Holy Water to guard against backlash from The Heathers.
Thirty years ago the movie Heathers reinvented the way we looked at teen movies. It was a dark contrast to the well worn formula of all the cliques (nerds, jocks, and preppies oh my!) coming together at a raucous house party. Heathers, the movie, looked past the roles of the popular girl, the rebel, and the outcast and gave them emotional depth while bitingly satirizing them. From the Suicide Squad (pun intended) color scheme of the credits to the fashion and the dialogue, Heathers, the upcoming Paramount Network series is screaming in all caps: THIS IS NOT YOUR MOTHER'S HEATHERS! The paradigm of what's cool has shifted and the freaks have become the popular kids.
Left to Right: Veronica Sawyer (Grace Victoria Cox), Heather Chandler (Melanie Field), 
Heather Duke (Brendan Scannell) and Heather McNamara (Jasmine Mathews). Photo: Paramount Network

The queen bee of the group, Heather Chandler—played with spectacular self loathing by Melanie Field—is ostensibly a body positive social justice warrior, who along with her genderqueer minion, Heather Duke (Brendan Scannell), and her maybe gay but mostly just "the black one" minion, Heather McNamara (Jasmine Mathews), rules Westerburg High through fear and intimidation. If everyone has 15 minutes of fame then all of it can be undone in a snap/gram. Veronica Sawyer (Grace Victoria Cox) is a preppy cheerleader who gave up her good girl persona to be the newest member of the Heathers' clique. Her wide eyes are a blank Pinterest board that slowly fills up with whatever gives her the most likes.
In the first episode, Heather Chandler rips into a jock for wearing a jersey with a Native American mascot and slur on it. She threatens to post a pic of him, to get all of her followers to attack unless he takes off the offensive shirt and, btw, sexually harasses a girl as punishment. Rather than incur the self-righteous wrath of Heather C's followers the jock humiliates himself and an unsuspecting classmate.
Meanwhile, Veronica notices a mysterious new student looking on. Bonnie meet Clyde. JD (James Scully) is Veronica's "white" knight. All it takes is a slushie and the backseat of his car (which is filled with Nazi memorabilia) to console her. Because pretty, rich, white, cis and hetero is no longer the voice of the classrooms, they are the "real" victims in this new world order and something needs to be done to restore them to simpler less politically correct times (when they had the power to slushie everyone else).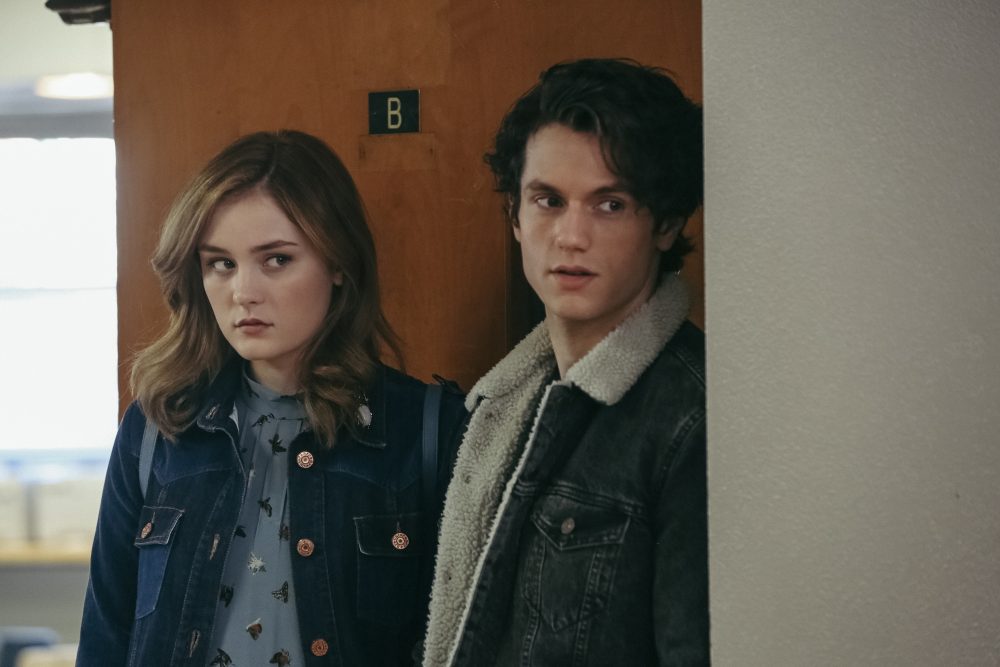 Veronica (l-Grace Victoria Cox) and JD (r-James Scully).Photo: Paramount Network
For a show that frames itself as empowering diversity in its #representationmatters casting, Heathers (2018) goes beyond portraying its characters as one dimensional. Each person is boiled down to an irredeemable and self-hating caricature. The ethnically ambiguous Heather is a straight girl posing as a lipstick lesbian. The ginger queer Heather knows the price of everything and the value of nothing (to quote Oscar Wilde). The skin deep body positivity of the lead Heather is a missed opportunity for genuine self confidence. Instead her insecurity sours into all consuming hate towards herself and everyone she crosses.
The series is a critique aimed at liberals who are accused of loving the group but hating the individual. It confirms every conservative talking point that the goal of equality is a thinly veiled power grab; that by bringing other voices to the table we all lose in a zero sum game of free speech and self expression. It is the kind of thinking that keeps  kids separate instead of bringing them together—a lack of empathy that if the other person does not share your values they are automatically suspect. It's a particularly troubling stance in this era of increasing calls for equality. The show seems to work as an agitator, telling the farthest-right that they were actually right all along and that violence is a viable solution. If you don't come out of each episode feeling like someone ran over your rescue puppy consider yourself among the privileged class.
The supporting characters like Heather Duke (who would have been better cast as JD) and Betty Finn (Nikki SooHoo) try to make the best of what they have, but each one is given a predictable storyline—the flamboyant kid having a secret tryst with a closeted jock or the Asian sidekick with overprotective parents. The rare moments of humor or tweetable insight, during the first few episodes, are unintentional and usually come from supporting cast or extras.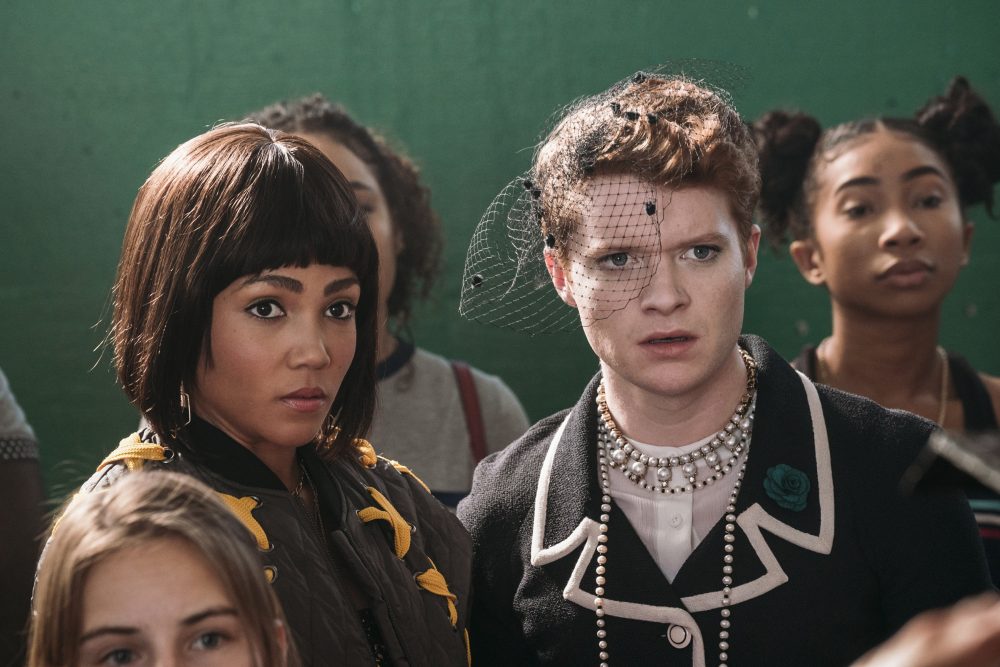 Heather McNamara (l-Jasmine Mathews) and Heather Duke (r-Brendan Scannell). Photo: Paramount Network
A major factor of what makes the movie Heathers (1988) so brilliant is the amazing onscreen chemistry between Veronica (Winona Ryder) and JD (Christian Slater). At first JD seems like the rebel who inspires Veronica to break away from her claustrophobic life of popularity. Yet, what differs between the series and the movie are Veronica's reasons for being friends with The Heathers.
TV version: "It's high school. Why do we do anything we do?"
Movie version: "Well, it's just like—they're people I work with and our job is being popular."
The movie Veronica does not blindly follow every vicious whim her friends or her boyfriend force on her like the Stepford television version. The original Veronica is not afraid to call out when a Heather is being a mega bitch—she has the intelligence and agency to stand up to the absurdity and cruelty teenagers encounter while navigating high school. We could hope her TV counterpart will catch up with her but after episode five that would take a twist worthy of Game of Thrones, and we all know how those turn out.
In the end: [read with sarcasm] The social justice warriors are on top and they will bully every Stepford Veronica and Nazi JD who gets in the way of their New World Order—consider the point missed.
Heathers premieres on Paramount Network on Wednesday, March 7 at 10 pm ET/PT.