idobi Votes: 9/10 – Sherin Nicole | 8.5/10 – Alex Bear
We're not gonna act like we don't when we do: We love Grown-ish. Deadass. And what better way to start 2019 than with the #reallifegoals of Grown-ish season 2? It's sophomore year for Zoey (Yara Shahidi) and her crew which means it's a new year, new mistakes to make. The first week back at college is always about parties and reconnecting with school-life but sometimes it's hard to get back into the flow of things…especially when you've been off carbs for awhile or your girl and her boy look better on the 'gram than you do… All of which will have you half-laughing, half-shaking your head at the truth of college life. Mostly because Zoey probably hasn't picked the right boy…Is Luca #relationshipgoals or is he just extra pretty. We're not sure. We do know Zo' and Luca (Luka Sabbat) have been picture perfect on Snapchat all summer (while he's been in Paris). BUT will spending time together in person lead to a sophomore slump? We're not telling but **hint hint** it ain't gonna be #Apeshit.
Sidebar: We know Aaron (Trevor Jackson) is situationally clueless and in danger of coming down with a bad case of hotep (Google it) but we're totally on his team. He's our Dwayne Wayne (what? you're already Googling).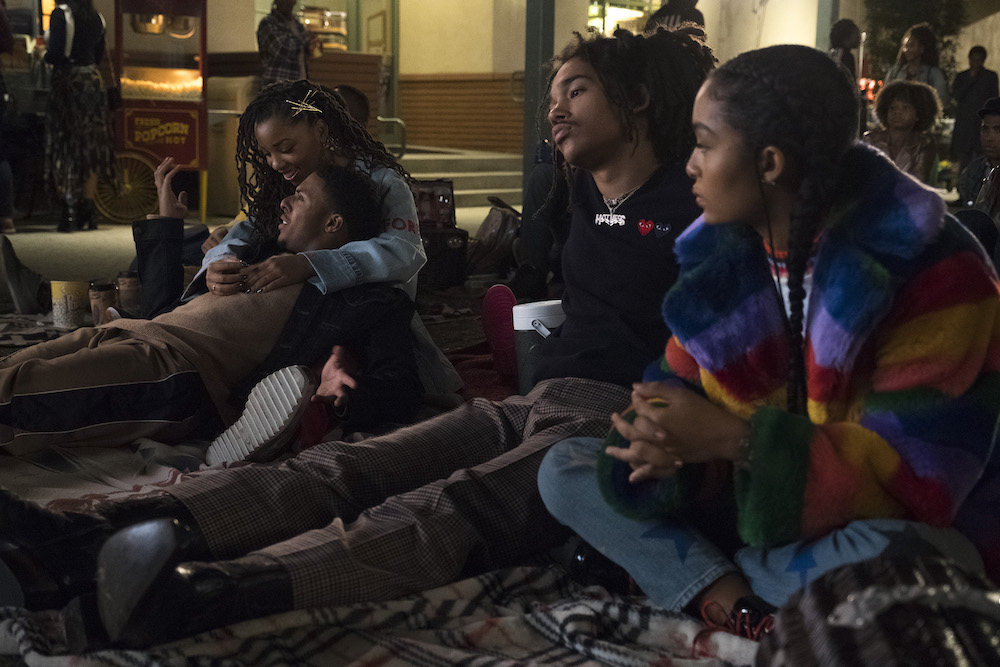 Photo: Freeform/Tony Rivetti
So… Whether you're studying at college, about to go, or just like remembering it from a distance, Grown-ish is you. Each character will drive you insane (with giggles) in their own ways because they'll remind you of exactly how you used to be (or still are). You'll watch the girlfriends debate about situations—without shying away from the topics of sex, drugs, racism, love, sour cream and cheddar, or anything in between. And if you're like us, you'll scream at the TV when your Grown-ish doppelgangers reach the wrong conclusions. The writing is so on point, each scenario rings true with hilarious but still heartfelt precision. Ultimately, college life is a learning curve (sometimes more like a learning…rollercoaster) that'll take you on a highly-enjoyable ride…and Grown-ish is your fast pass to hop on.
What more can we say but: Mo' learning. Mo' problems. You gotta watch Grown-ish.
…
…
…
(If you don't love it…well, we're going to shade you on the internet.)

Catch up on the S2 premiere episodes of Grown-ish
right now on Freeform. And watch it live Weds 8/7c.