idobi Votes: 7/10 – Sherin Nicole | 6.5/10 – Alex Bear
How do we clue you in to the 'sing-a-long wackiness with heart eyes emojis' that is Zoey's Extraordinary Playlist? Hmm. Imagine Glee but with twenty-ish or thirty-ish millennials, in an office setting; so kind of like Eli Stone (because the music is in Zoey's head and everyone in the cast is a great singer) but with the unexpected whimsical angst of Ali McBeal (because a successful heroine who's unsure of
herself is endearing). If you can do that, then you've got it…mostly. (Sidebar: if you don't remember those last two shows you're doing TV wrong. Go get your binge
on now). 
After an accident involving an MRI scanner (you'll have to watch to understand), Zoey (Jane Levy) can hear the innermost desires of everyone around her, told through song (accompanied by some weird & wonderful choreographed dance). This is a fast-forward way of cutting to the core of each character—kind of like a musical number on Broadway—which range from slightly cheesy reprieves to deeper heartbreaking confessions. You'll catch yourself singing along to some classics, performed with flair by the cast (even if Zoey is completely clueless about music. Like, girl, did you ever listen to the radio growing up?).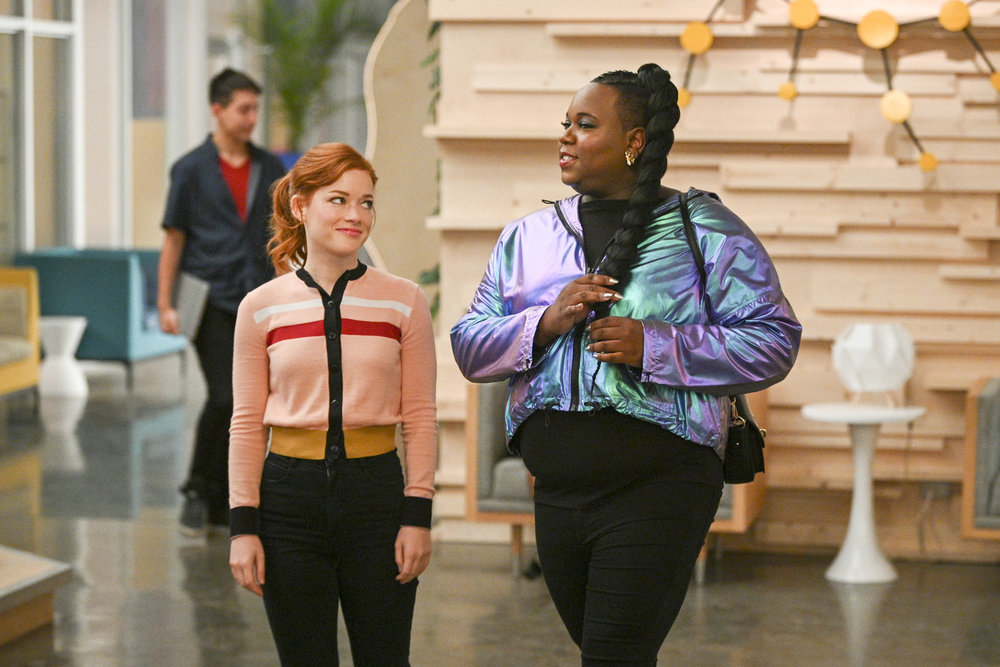 Photo by: Sergei Bachlakov/NBC
Jane Levy is a strong lead, flipping from completely overwhelmed and neurotic to proactive yet gentle about helping those around her. But the standout are her parents—her mother Maggie (Mary Steenburgen) is a positive ray of light (with some explosive anger hidden underneath), while her dad Mitch (Peter Gallagher) is a man who is almost completely unable to move or speak due to a rare neurological disease called progressive supranuclear palsy. However he can communicate through Zoey's head-songs. Again, it sounds weird but the show pulls you in with its wishful thinking. We're not sure yet about Zoey's possible love interests yet (no spoilers) but you'll be able to see the long game the show is playing. And her neighbor / friend / landlord Mo (Alex Newell) is a great character for Jane to bounce her revelations off of, keeping her grounded with a whole lot of snap.
The pilot is a bit wobbly because it's a pilot and, well, they're not always good at takeoff. The series starts to find its rhythm (no pun intended) in the following episodes but it still has a way to go. Yet the show does have its jukebox musical AKA karaoke charm and might just work for you on a Sunday night when you want to sink into relatable feelings of loss and unrequited love and isolation, but you'd rather sing about it than cry.