by Devon Sanders
Actually: 8.5
Basically: Veronica Mars Season 4 is the grown and sexy continuation of the incredible teen sleuth drama so many came to love in the mid-aughties.
There are few things I hold on to tighter than the idea that in life, you should never let anyone find you in the place they left you. In that time, you should take time to learn, improve, grow and whenever you can, flex on 'em.
Kristen Bell, fresh from box office and critical hits such as Disney's Frozen and NBC's The Good Place reprises her role as Veronica Mars, the one that made her famous nearly a decade and a half ago and let me tell you, this is a flex. Not like a showing-up-to-a-cookout-dripping-in-Gucci flex. No, this is a brown sandals/towel over the shoulder/I'm-about-to-put-in-work-on-this-grill flex. She, along with series creator Rob Thomas and joined by the majority of the original cast, have come together to bring the adventures of Veronica back and this time, to Hulu and let me tell you, while they may all still be residents of the fictional town of Neptune, they're absolutely not in the same place where we left them.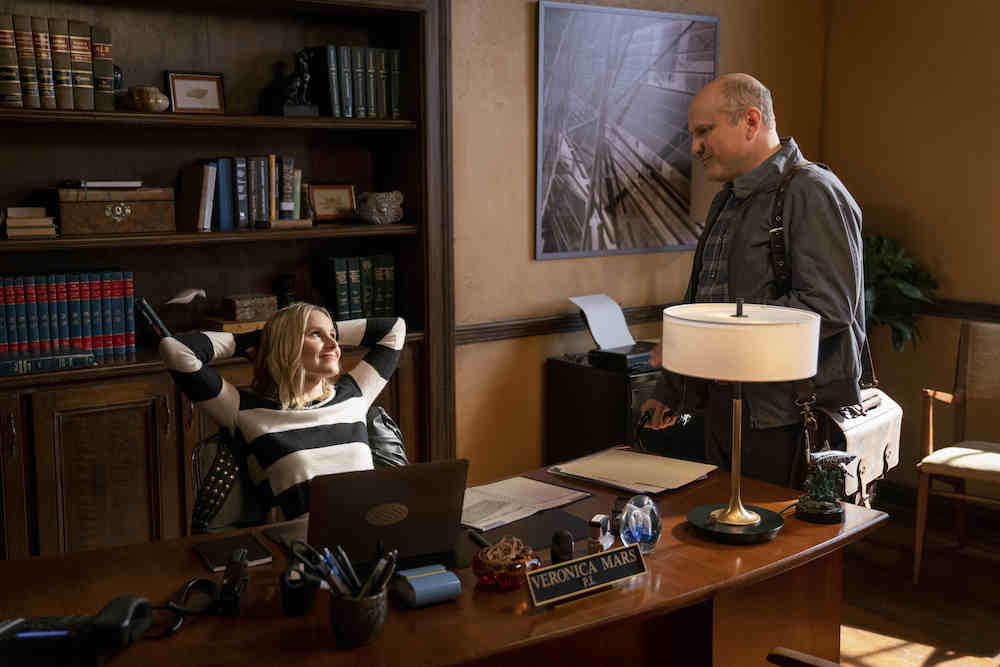 Photo by: Michael Desmond/Hulu
I've been slowly re-watching the first season of Veronica Mars and so much stood out.* One, just how smartly written this show always was. In Veronica, we were given a protagonist we knew had watched an episode or two of Daria and rolled eyes at Charlie's Angels. Two, we were given a diverse cast who operated in a world built on the wide shoulders of classism, sexism and capitalism. Questions regarding these weren't neatly answered as they would've been in 80's television but they were, at the very least, addressed knowing there should be a conversation about them. Three, oh, my God…the flip phones, frosted tips, men's beaded chokers and why were our clothes so baggy then?!?
In Season 4, we find Veronica back in Neptune, having returned in a film version I have yet to see, helping her father, Keith (Enrico Colantoni) keep their detective agency, Mars Investigations afloat. These days, the bulk of her business is spent installing cameras for bored rich housewives in the hope that they'll yield footage of significant others banging someone who's not them, on the marble kitchen islands no one ever cooks on, so they can successfully win divorce settlements. It's not ideal or exciting but hey, it pays the bills. At this point in time, things are quiet for Veronica and she seems to like it. The work is fairly steady, she has someone in her life who loves her and a new dog. (RIP Back-Up, you'll forever be a good boy.) Life is good. Until it isn't.
Neptune, a town that thrives on tourist dollars, is rocked by a hotel bombing that sends shockwaves, with Veronica and those close to her thrown into the middle of a potential war that will send shockwaves through the halls of Congress and one of Mexico's largest drug empires.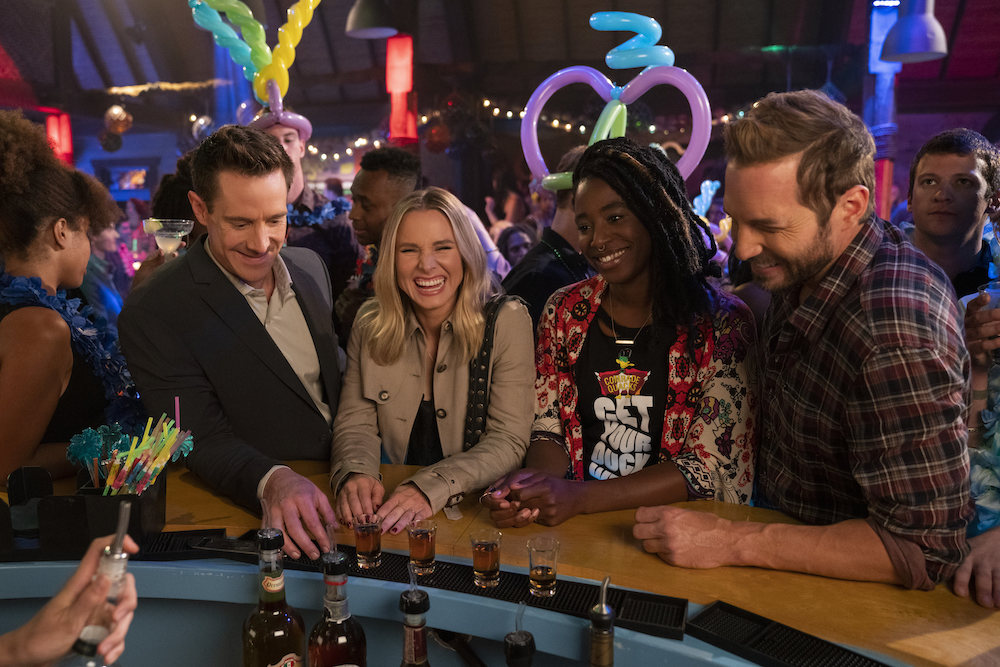 Photo by: Michael Desmond/Hulu
To say that I enjoyed this season is somewhat of an understatement. I absolutely am not in the same place where this series left me but to see Kristen Bell, the cast and the writer's room which includes NBA legend and former Bruce Lee opponent, Kareem Abdul-Jabbar, slide so seamlessly back into the creation of this seminal series is amazing. The pacing is as quick and agile as ever. The writing and acting are as top notch as anything and, my God, I truly was drawn back into the lives of the characters of Neptune. As much as I cared for them then, the work everyone involved put into this fourth season left me invested in these characters more than I could've in my younger days when time felt like a thing we all had in abundance. To be more succinct, Veronica Mars Season 4 thanks you for being there for it all along. It welcomes you in and lets you enjoy your time with it. It is the strongest yet softest of flexes. It is a fresh look at an early adopter of appointment television and is a very welcoming place for viewers, new, old and lucky who will someday, I hope, find it.
In the End: Veronica Mars Season 4 doesn't disappoint. It's as strong, if not stronger than the seasons before. I quietly shook my head in disbelief at how easily I fell back into the world of Neptune. I'm so glad we get to see Kristen Bell and company bring it back to life.
Veronica Mars S4 comes to Hulu on July 26th.
—
* footnote: Re-watching the first season has also given me an appreciation for what wasn't returned to us. The opening credit song, The Dandy Warhols' "We Used To Be Friends", it banged! It, sadly, is replaced by a tepid cover version, which in today's vernacular, doesn't "slap."