Basically: Unbreakable Kimmy Schmidt is back for one last ridiculous hurrah.
As the saying goes, if you want your children to be smart read them fairy tales. Well, Kimmy Schmidt (Ellie Kemper) ain't here for that. She's writing her own fairytale that smashes patriarchal stereotypes and questions white privilege in Unbreakable Kimmy Schmidt. In season 4 our intrepid leading lady learns how to navigate a new workplace—the millennial tech company that hired her at the end of season 3—and she realizes that even Kimmys have to watch their step in this world.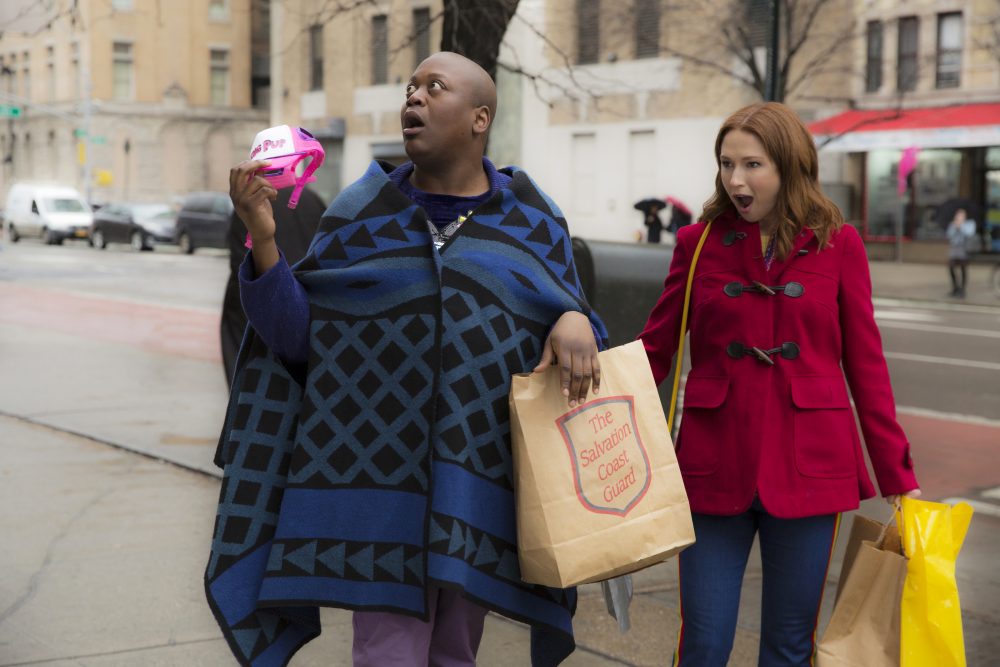 Photo: Eric Liebowitz/Netflix
Yup, remember every pop culture and topical reference from the past year? Unbreakable Kimmy Schmidt does…and it goes hard. From models and DJ documentaries, to catfishing and Tide Pods, to the #MeToo movement and even the men's rights one, the show continues with zing after zing with practised finesse. As always Tituss Burgess shines in his delivery of the most #relatable one-liners 'cause Titus Andromedon does not deliver—he DiGiornos! The rest of the cast delivers with just as much flair, making UKS more giggle-worthy when you (inevitably) re-watch and catch the jokes you missed.
Kimmy may have grown a lot since her days in the bunker but in this season the characters move at a much slower pace. While you're left wanting deeper character development, on the surface they're still delightful to watch. Titus and Jacqueline (Jane Krakowski) up their game in harebrained schemes…which somehow have a way of working out. Lillian (Carol Kane) is just trying to find some peace after her love, Artie (Peter Riegert), died but finds some family drama she didn't ask for. Run Lillian! There are old faces and new and a few surprising cameos (but we'll never tell). The characters are at their best when they support each other—even if they work on their individual agendas along the way (they are human after all).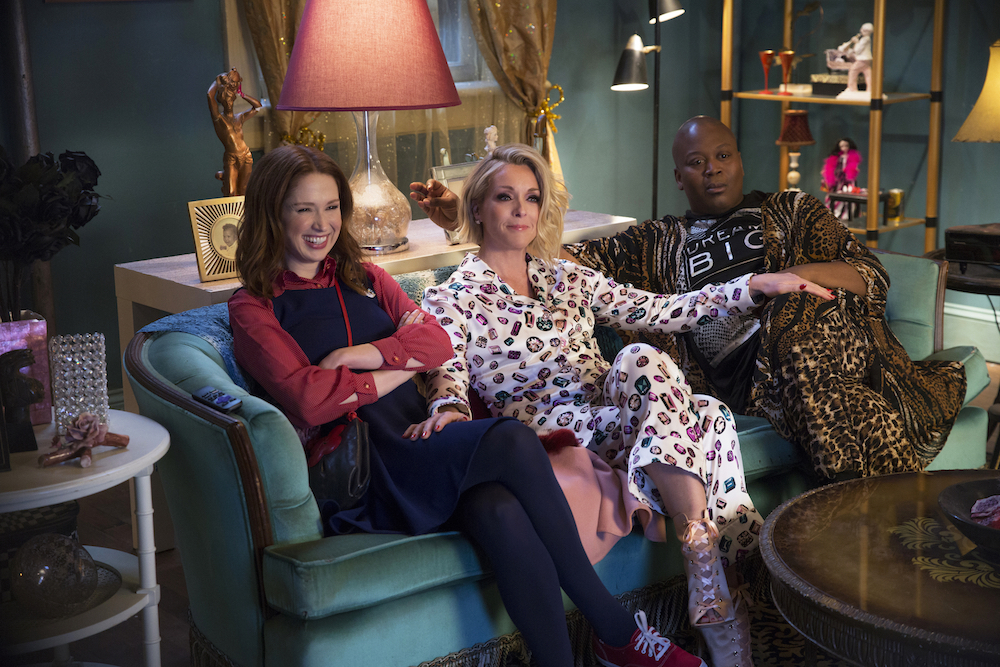 Photo: Eric Liebowitz/Netflix
This is the Kimmy you know and love. The show is bowing out with the trademark insanity that works for them; it doesn't necessarily push any new boundaries but you'll have a whole lotta fun along the way. The first six episodes spend most of the time laying groundwork, which makes us impatient for the second half of the season later this year…we just hope all the storyline-bombs they've planted live up to the hype for a fabulous finale. Of course, the ridiculousness is still off the charts in the first half of season 4. At times it gets to be a bit too much but the cast bring their A-game. You'll lose count of how many times they'll make you say, "this freaking show, man" as you cackle at the shade they throw in every direction.
In the End: You'll enjoy Part 1's pinot noir but you'll be left hungry for part 2's caviar.