by Philip Jean-Pierre
Basically: With the Eternal Darkness coming, can the Trollhunters protect Arcadia, save the Trolls, defeat Gunmar and an evil that nearly defeated Merlin?
As a fan of this series, I was both excited and nervous about the climactic conclusion of Trollhunters. In the third season of the Netflix show we begin with Jim Lake (Anton Yelchin & Emile Hirsch) on the defensive. The dark troll lord Gunmar (Clancy Brown) has breached the barrier and is now on Earth; Vendel (Victor Raider-Wexler), the troll's leader, has been assassinated by a traitor on the Troll Council; and the benevolent trolls have been driven from their homes in Trollmarket—forced to hide in the alleys and sewers of Arcadia. As the first human-bearer of the mantle, Jim's tenure as Trollhunter is not off to a stellar start.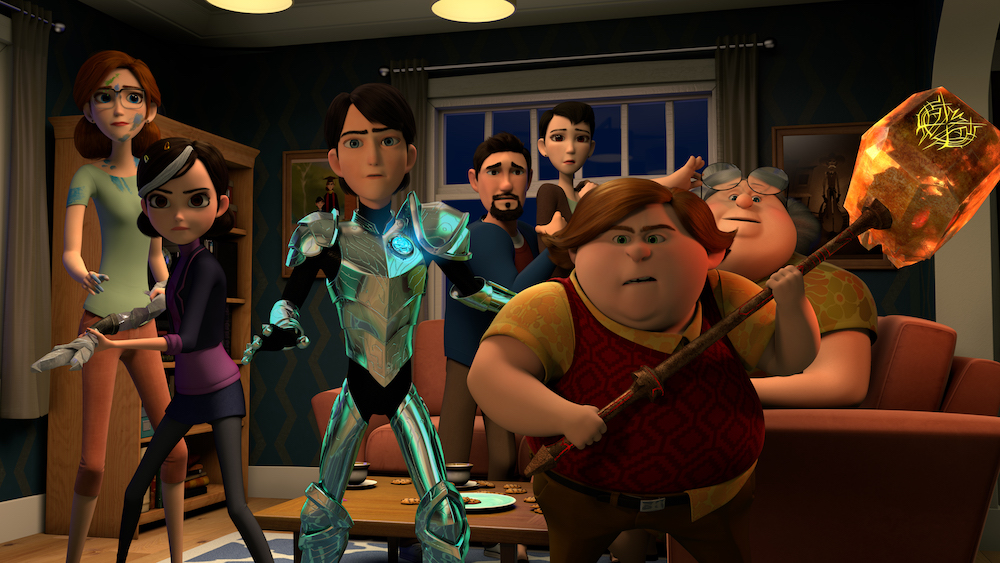 Photo: Netflix
Our Trollhunter must now train harder to stop Gunmar who is closer to bringing the Eternal Darkness. Nothing about that sounds remotely good, does it? He's up against the resurrected Morgana (Lena Headey) AKA the Baba Yaga AKA the Pale Lady (why does evil have so many names?). Not to mention Jim has to figure out who the two new mysterious students, Aja (Tatiana Maslany) and Krel (Diego Luna), are. Are they here to help or stop Morgana? Everything from the prior seasons foretold of a big fight with a big bad. This season delivers that and more. From Jim's dark training by a former enemy, to Claire's uncontrolled staff powers, to the improper use of gum gum ash, each episode brings us closer to a battle that will change Arcadia.
While it would be easy to dismiss this as a kids' show—with silly antics, cute monsters, and jokes about teen angst—the well-crafted characters, dialogue, and stories make Trollhunters an adventure you want to take part in no matter your age. It's not a John Hughes-esque escapade with a collective of clichéd teens, it has ordinary characters doing extraordinary things for simple reasons. Jim, our classic zero-to-hero, has no idea how to save both human and troll-kind but does it because someone has to…and because the trolls Blinky (Kelsey Grammer) and AAARRRGGHH (Fred Tatasciore) told him it's his destiny. Why doesn't destiny ever tell you to go on vacation or eat lots of cake?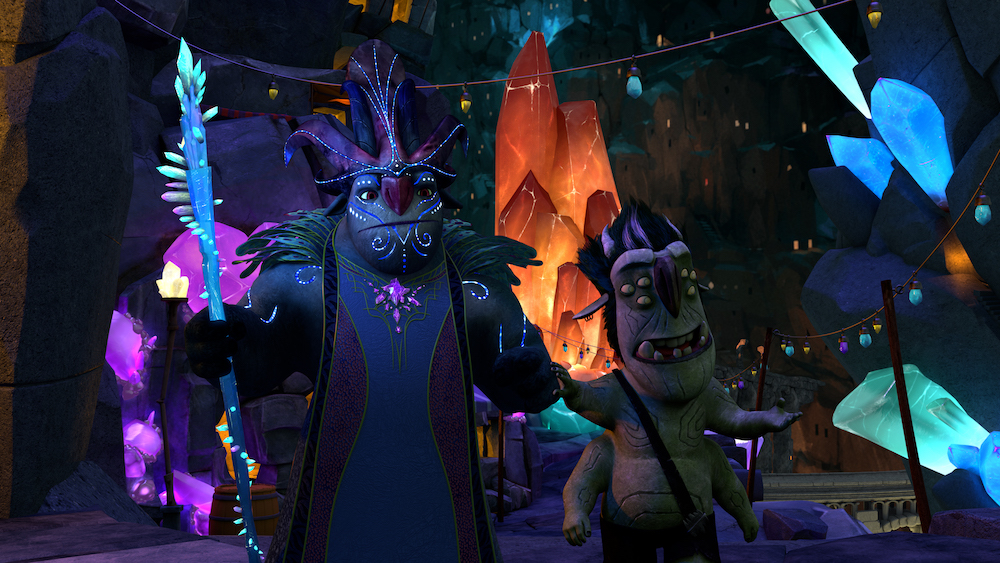 Photo: Netflix
We also have a supporting cast who battle the darkness with Jim. Toby (Charlie Saxton) was set to be the classic goofball sidekick but we've learned he is a hero in his own right. It's an uncommon occurrence in this type of character whose non-traditional physique [read: full-figured] would normally be used as comic relief but Toby actually provides the most logical options when it comes to fight or flight…usually its flight but he has that cool hammer now so things get more interesting. Round out the heroic trio with Claire (Lexi Medrano) who is not your typical love interest. Rather than a damsel-in-distress/Pearl Pureheart role she distinguishes herself as a partner-in-danger. Claire jumps into the fire feet first with a stouter heart than Jim and she is equally reckless when it means life or death for the ones she loves.
In the end: Trollhunters is an opera of great action, drama, and comedy, which plays out well in this climax to a fine series. Let's hope Arcadia survives.