by Philip Jean-Pierre
Basically: Titans takes all the aspects of teen drama: mystery-solving, supernatural hi-jinks, superheroes, and puts it all in a bag of fail
and sadness…  
WRITER'S NOTE: While I ranked Titans as worse than Iron Fist please know this score does not reflect a comparison. No hope for Iron Fist is expected therefore any effort by the franchise, no matter how futile, is seen as a win. Titans, as my review shows, is a failure of content.
EDITOR'S NOTE: To translate, there was no expectation Iron Fist S2 would be good. With Titans, Philip is deeply soul shatteringly disappointed. And now
his review:
Titans is the first series due to release exclusively on the DC Universe streaming platform. It's a service I have joined and am very excited for the potential of, however, like pancakes this series proves the first one is always ugly. Unlike pancakes this was not, at the very least, tasty or enjoyable.
Backstory: The Titans were originally born from the idea: What if the sidekicks of DC's premier heroes joined forces to form their own team? Dating back to the 70's, the members have been as varied as members of Wu-Tang Clan. The incarnation producers, Akiva Goldsman, Geoff Johns, and Greg Berlanti chose to develop is the seminal 1980–1996 run—conceived by comic book legends Marv Wolfman and George Perez. This is the version seen in such venerable shows as The Superman/Aquaman Hour of Adventure, Teen Titans, Young Justice, and Teen Titans Go! (Although, I admit, it did take a while for TTG! to grow on me.)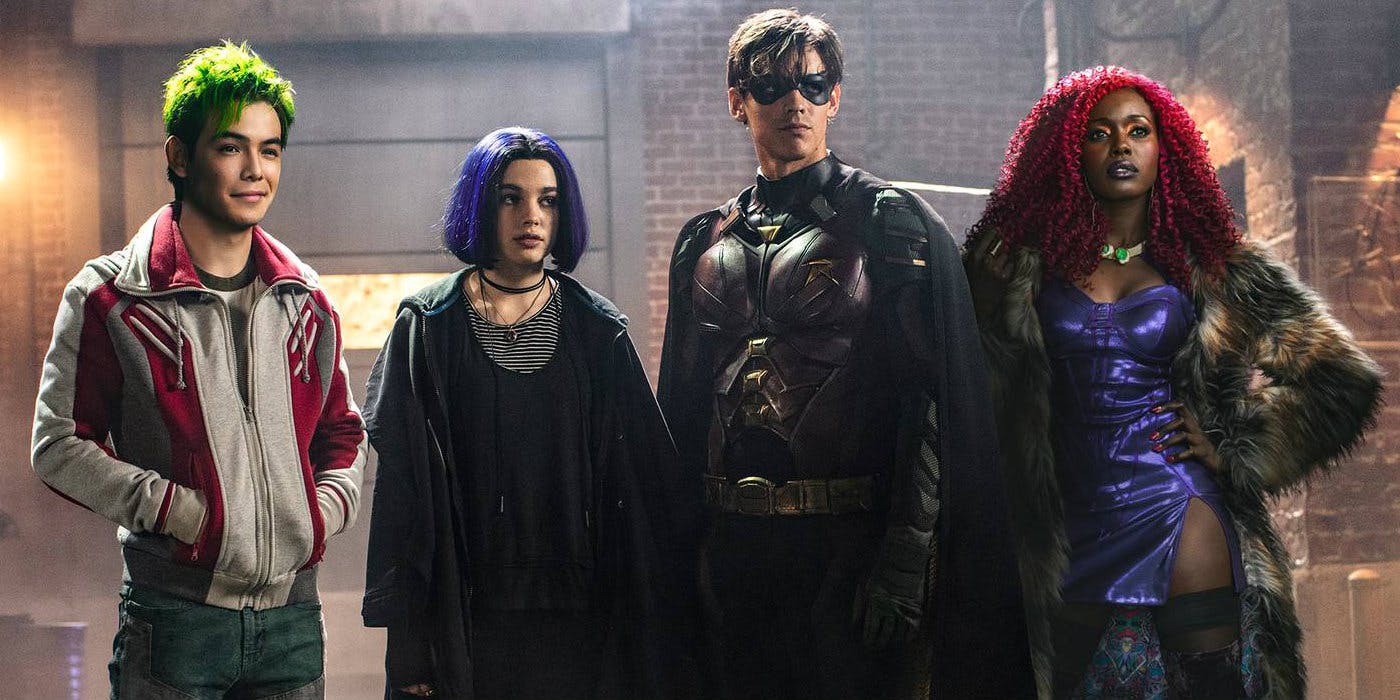 Photo Credit: Steve Wilkie / ©2017 Warner Bros. Entertainment Inc. 
If you are thinking this is just a simple case of "Old man yells at kids to get off his lawn", that is exactly what this is. However, do not mistake my curmudgeonly charm as a fear of change. The Titans have always evolved. If the Justice League was a parallel for The Avengers then Titans was a reflection of Marvel's X-Men. The very nature of the stories and characters were counter-culture to the "grown-ups" who didn't get it. So when this new version was planned I had hoped, once again, to be dragged from the hobbit hole of senility and shown something all-new and all different. What I got was a collection of fine actors drowning in a sea of incoherent storylines, questionable dialogue, and awkward direction. The only person to traumatize The Titans this horrifically is Terra. (See The Judas Contract)
This team consists of the core, if not all of the 80's team, starting with a viscerally hostile and broken Richard "Dick" Grayson / Nightwing / Robin (Brenton Thwaites) fresh off his split from Bruce Wayne / Batman. Dick, now considering himself "retired" from the game, tries to build a new life as a detective in Detroit. Sadly, Detective Grayson meets Rachel Roth / Raven (Teagan Croft) who eventually pulls him back into the old life when demonic forces conspire to threaten our beloved little goth-girl lost. Drawn into this mélange of stank gumbo is Koriand'r / Starfire (Anna Diop) with an unexplainable connection to Raven who arrives on the scene as her protector, we hope. The cast is rounded out by Garfield "Gar" Logan / Beast Boy (Ryan Potter) who for his part is an x-factor in the Titans universe. These four are drawn into a world-threatening web of conspiracy and danger and must band together to obviously stop it. At this point I was on board; this type of over-the-top superhero/supernatural kerfuffle is the Titans' stock-in-trade.
The failure of this effort falls squarely on the shoulders of the writers' room. Thwaites for his part plays a genuine Dick Grayson. The internal struggle of dealing with a "toxic parent" taints every aspect of his life, from relationships to how he deals out justice on the streets. Lonely, distant, detached and single minded in his focus, Dick walks this world as a ghost only interacting with "people" when it is utterly necessary. (Thanks, Bruce, you suck as a dad.)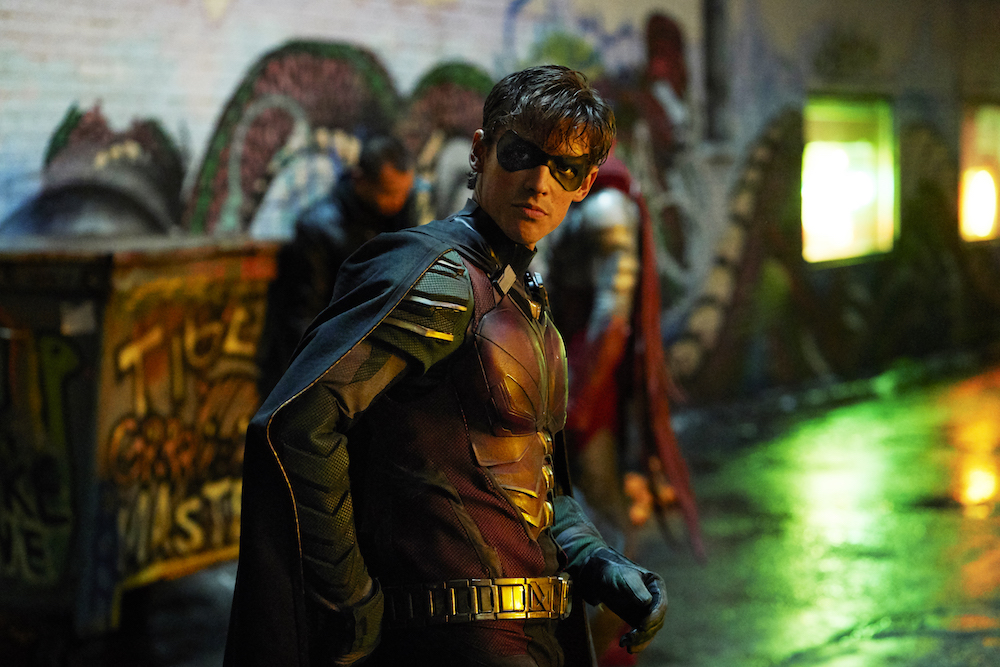 Photo Credit: Steve Wilkie / ©2017 Warner Bros. Entertainment Inc.
I would love to include an equally deep evaluation of Diop's Starfire, Croft's Raven or Potter's Beast Boy but sadly all the work went into the Dick character and the rest of the cast is simply there, it seems—Christmas ornaments on the Grayson tree of brooding melancholy. Did I mention Dick is sad and angry?
A personal assault to my internal curmudgeon is the trite damsel in distress of the Raven character (I refuse to call her Rachel). In this story, and this is no spoiler, Raven is the harbinger of doom—a terrifying doom cookie of gothic terror wrapped in a chocolate frosting of evil and rage. Needless to say this does not leave her with a great deal of emotional capital for the very trying experience of people-ing. The comic book and animated Raven is never a victim, she's a testament of strength through trauma because iron sharpens iron. Comic/animation Raven is vulnerable with an unsettling edginess because of the tragic reality that is her backstory. Instead, Croft's Rachel is a frightened teenager with no direction at times throwing herself into the comforting arms of Dick. She looks to be saved like every Disney princess waiting for their prince to come charging in on a white stallion or in this case a Porsche 911.
Despite the lackluster and unimaginative costume (fuck that Party City wig), Anna Diop adds her own brand of humor and wit to the Starfire role…I should say she attempts to. While Starman gave us the doe-eyed amnesiac alien with a hidden mission of unknown importance, Starfire's stunted and inconsistent dialogue leaves you frustrated, thoroughly killing any need to care about her presence. Beast Boy, who is brought on for comic relief, is more odd than interesting. His transformation which I believe most of us were waiting for is more Manimal than shapeshifter.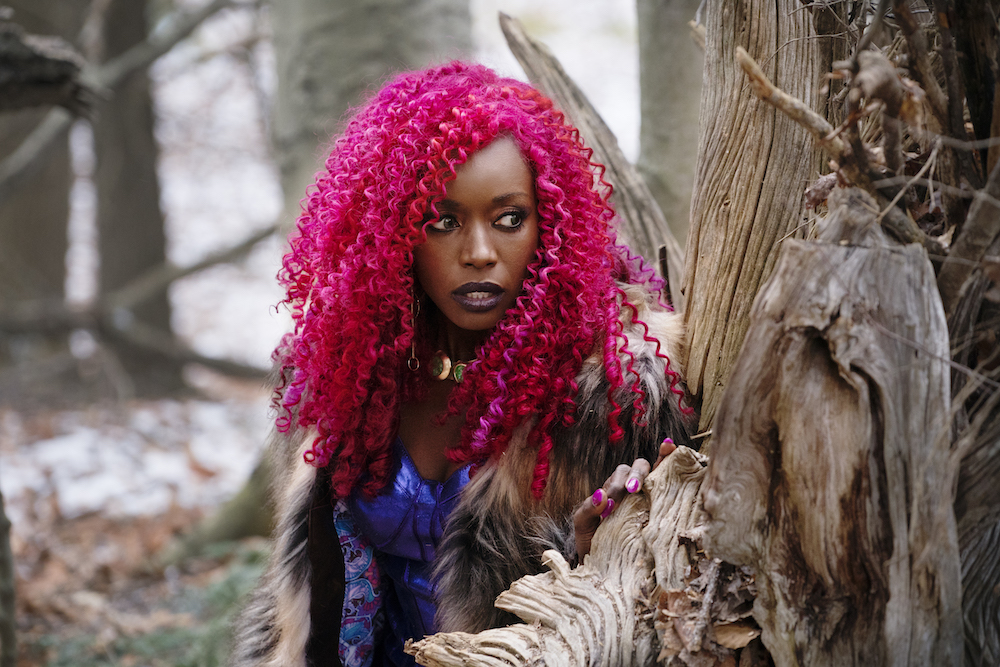 Photo Credit: Steve Wilkie / ©2017 Warner Bros. Entertainment Inc.
The effort to turn this series into the progeny of its Zack Snyder predecessors is quite apparent. With the exception of Dick Grayson, the cast is handled like the luggage on the claim rack. One of the most egregious failures is Rachel / Raven's narrative, an awkward incoherent collection of bleak scenes that want to shock you. However, the writers' room relies on cheap parlor trickery and 80's-esque dialog, hoping to con the audience into caring. You spend a great deal of time wondering who these people are rather than anticipating who they will become. Anna Diop's effort to add depth to Starfire is sabotaged by writing and direction that strings together boring scenes in a clumsy effort to gesticulate wildly in Starfire's general direction and say, "look she really IS a badass." The melancholy aesthetic weighs down the story to an almost snail's pace. Any sense of caring is whittled away by storylines that drag you into one dead end after another.
Dear writers, you can be gritty without triggering a sense of suicidal ennui. My wishes for a balance of dark and light, despair and hope, never developed in the writing—despite the actors' best efforts. The dark edginess the writers sought simply has the characters fumbling in the shadows for a story that never really arrives but falls over itself trying to be something it simply isn't.
In the End: Titans never sparkles or shines, turning on the lights
might help.