idobi Votes: B+ – Sherin Nicole | B – Alex Bear
Basically: Your next favorite detective, a French-Canadian version of Poirot steps off the pages of his books and into all kinds of murder (most foul).
8 episodes, 4 mysteries, 5+ dead bodies, and a battle of intrigue and quirkiness that will keep you gasping and giggling. That would be enough to make us recommend Three Pines starring our beloved Alfred Molina but there's more to it. This series endears itself further by speaking the truth about Canada's history of violence against Indigenous people. Everything Three Pines does, from the suspense to the strange to the sacred, it does so well.
Set in a small Quebec village, the series follows Chief Inspector Armand Gamache (Molina) as he investigates four bizarre but brutal murders—while the whole town becomes more and more connected. Molina brings his magnetism to Gamache, painting a portrait of a deeply insightful, gentle, yet tortured man. Pairing perfectly with the writing, direction, and performances, Gamache leaps to the same heights as our most-loved detectives. Where Holmes has his Mind Palace, while Columbo plays the bumbling dupe to glean inadvertent confessions, or Blanc feigns conspicuous ignorance to agitate, and Marple uses societal stereotypes against it; the compassionate Gamache continues to process the ins and outs of murder through his dreams. This approach is riveting, adding a sense of supernatural to a series very much grounded in the real-world ugliness of people.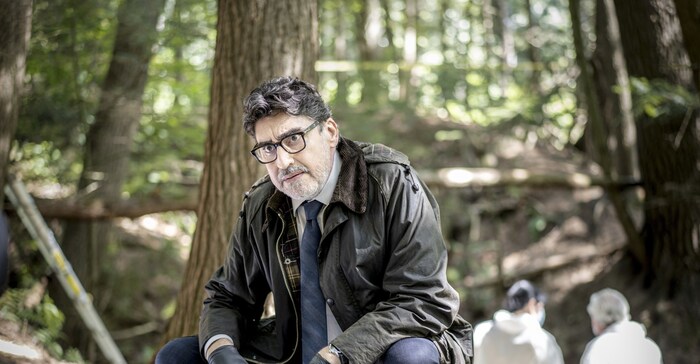 Unflinching in its exploration of Canada's residential schools, the further mistreatment of Indigenous women, and various cover-ups by those in power, Three Pines is a thrilling and suspenseful mystery full of complex characters and layers upon layers of secrets. You won't be able to look away as more and more threads pull this story open and the people at its core are torn apart. And it encourages important conversations about harsh truths we all must recognize within ourselves and our communities, creating a mirror for the real-life work toward justice this show embodies so well.
Whether or not you've been missing your Alaska Daily fix, Three Pines is a must-watch. We devoured it like popcorn seasoned with scandal.
Watch Three Pines on Prime Video on Friday.