Basically: A new story in the world of Holmes with paranormal bite and a teen drama hook.
221B is back and eldritch horrors abound. Should you watch? Let's find out. When Sir Arthur Conan Doyle wrote The Baker Street Irregulars they were a gang of boys who helped Sherlock Holmes with his investigations—pretty much living forms of "keep your eyes and ears to the street." On the new Netflix series, available now, The Irregulars are a lot more diverse and their world is a lot scarier. 
This time around the crew is led by Bea (Thaddea Graham), an Asian-British young woman with the wits and the guts to survive almost anything. "Anything" includes a literal murder of crows (cover your eyes if you want to keep them), a toothfairy so vicious you'll let her keep the money, and a new version of John Watson (Royce Pierreson) who cannot be trusted. That's not a spoiler, that's just sensible.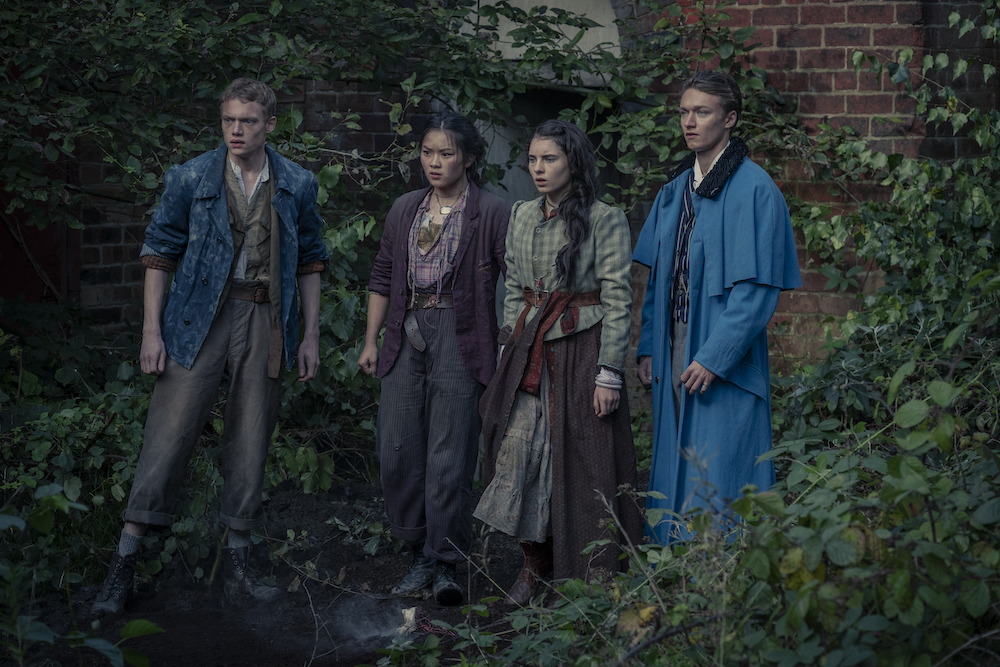 Photo: Matt Squire
The rest of the crew is made up of classic archetypes: the introverted girl with special powers (Darci Shaw), the adorably quick witted grifter (McKell David), a Sherlock (Henry Lloyd-Hughes) who isn't quite the man he used to be, the appealing tough guy with the squishy heart (Jojo Macari), and the wealthy pretty boy who wants to live freely (Harrison Osterfield).
What? Which love triangle?
If horror tinged paranormal isn't your thing you should probably keep scrolling, but if you like a bit of fright this series has a lot of it. Each episode features a monster of the week as The Irregulars unravel a central magical mystery, while dealing with personal quests and conundrums of their own. The writing works, with well paced surprises and arcs that continue to expand. Which means the characters have to be well developed in order to keep up. And the effects are good enough to make you hide your face. There's also a nice dose of woman empowerment.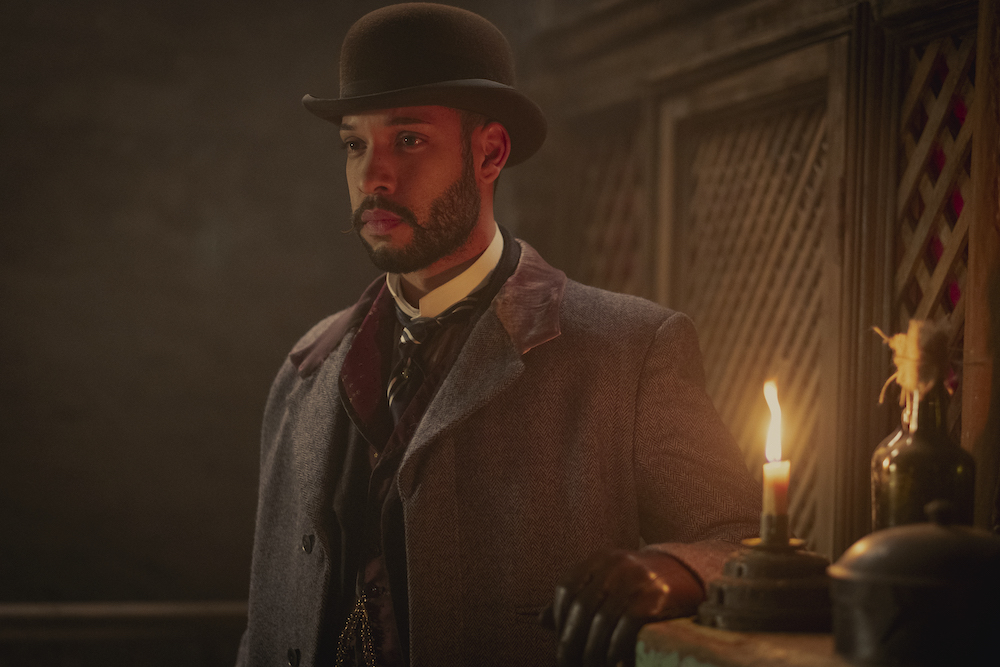 Photo: Matt Squire
The only real problem with The Irregulars is the colorism. Most of the dark-skinned people are either monsters, villains, or arseholes. That's the range. Are they given some level of pathos? Sure. Is it bad none of them are heroic or even chaotically good? Yes. That problem needs to be fixed.
The Irregulars is an engaging watch for paranormal lovers, the characters feel like they could be your friends, and the story moves along nicely. Oh, and I actually enjoyed the anachronistic techno music. Just be aware that dark-skinned people can play any role lighter skinned people can. Until there's balance in these portrayals stereotypes will persist and we're going to have to talk about it.
In the End: If you want occult frights and an alternate take on the Holmes-multiverse this series lands.