by Day Al-Mohamed
Grade:  A-
Basically: The Handmaid's Tale turns a cliffhanger into a nail-biting season 2. We are now in unchartered territory. And we love it.
Season 1 of The Handmaid's Tale focused primarily on the journey of June/Offred (Elisabeth Moss). Season 2 opens up, where we see more of the world and follow the journeys, both past and present of June/Offred and the other women she trained with in season 1.
This season picks up where the last left off. For those of you, like me, who read the book, you'll note that the cliffhanger closing of season 1—a pregnant June/Offred is put in a van and driven away—is also the end of the novel. Who got her, whether the police or the Mayday resistance, we don't know.
"Whether this is my end or my new beginning, I have no way of knowing. I've given myself over into the hands of strangers. I have no choice. It can't be helped. And so I step up into the darkness within or else the light."
– excerpt from The Handmaid's Tale by Margaret Atwood
There is an epilogue that fast forwards to the far future at an academic symposium. The discussion is on the "discovery" of Offred's journey. Atwood uses this teaser to hint there may be more to her story. Season 2 of the Hulu series is that story. We are now in unchartered territory. And I love it.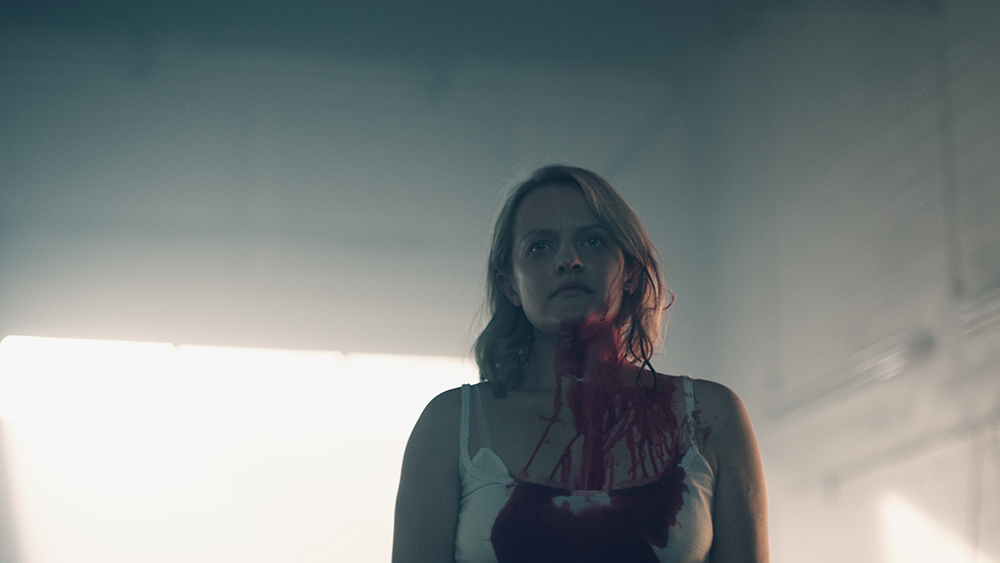 Photo by: Take Five/Hulu
So far, showrunner Bruce Miller has very much kept the tone of Atwood's original piece and, with Atwood herself consulting, I have no doubt the political rhetoric and moral quandaries will continue to echo many of the dilemmas we face today.
In our season 1 review I talked about "how small our individual lives become under these kinds of totalitarian regimes." In season 2, the focus on the intimate and personal is still there and very vivid in the fact that we see what happens to several of the women we met in season 1. Emily/Ofglen (Alexis Bledel) has been sent to the Colonies; Janine (Madeline Brewer) is set to be stoned to death; and of course June/Offred. I anticipate we will see more of Moira too (I am not-so-secretly hoping to see Samira Wiley leading a resistance group and causing trouble in Gilead). In fact, the first two episodes of season 2 echo the teaser art with the image of Offred and the burning of her head covering. It clearly says "Let's burn this $h!t down!"
This season gives us additional backstory of what happened before the rise of Gilead. Several scenes show the backlash against homosexuality and the erosion of women's rights and independence. In particular, I really enjoyed learning more about Emily/Ofglen. She was a scientist and professor, forced to become a Handmaid and following her rejection of the role (and genital mutilation) was sent to the Colonies.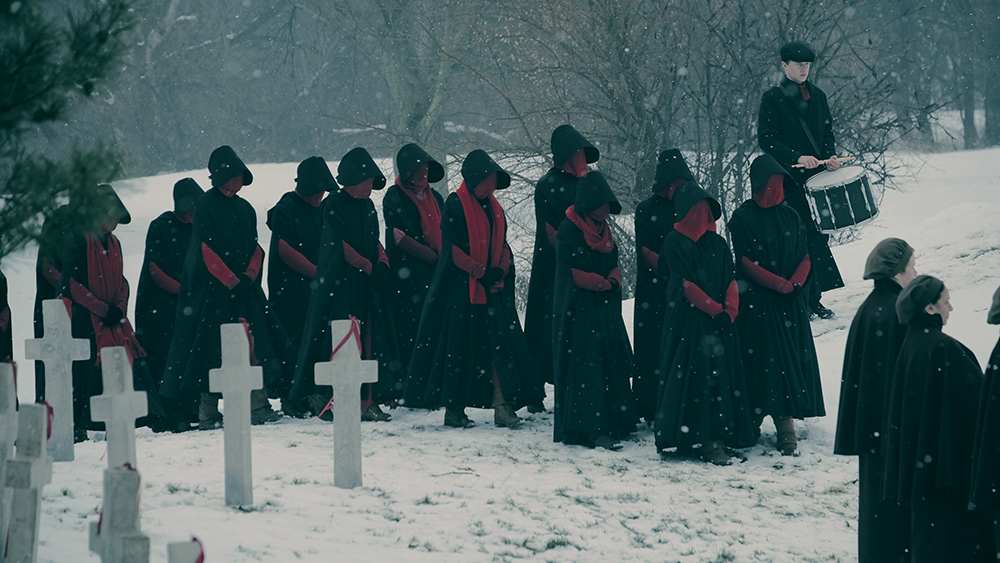 Photo by: Take Five/Hulu
The story of LGBT oppression in her flashback is haunting (and yes, I had to leave the room for a minute or two) because the events in the show are things that we see today—people afraid to put up pictures of their spouses in their offices because they are in same sex relationships. College campuses with graffiti of words like "faggot" or "dyke". I certainly have seen those slurs used on people I know on Twitter—as recently as yesterday. There were three incidents of nooses on college campuses last year. The writers of The Handmaid's Tale are not flinching from showing us just how far we could go if circumstances allowed.
And I love Aunt Lydia. Well no, actually I hate her. She is manipulative and cruel and torments these young handmaids "for their own good" and I cannot, for the life of me, ascertain if she really believes this or if she too is a prisoner of Gilead's system. Ann Dowd is utterly brilliant in this role especially in the first episode of this season and I would shower her in awards if it were up to me.
There are a couple of places in the two episodes I previewed where I began to have concerns about the amount of torment we were seeing. Season 1 was difficult to watch but the torture of the characters all seemed to serve the story and have a purpose. Season 2, episode 1 has a powerful scene (not to be too spoilery) with several women on gallows. It is filmed beautifully and we see up close and personal the emotional toll on the individual women. We feel what they feel. The torment was meant for us to connect with them and to drive home how ruthlessly resistance is dealt with by those in authority in this world. Shortly afterwards there is another scene involving a woman, a pair of handcuffs, and an oven burner. It isn't pretty. The scene, other than to further epitomize casual torture doesn't move us or move the plot.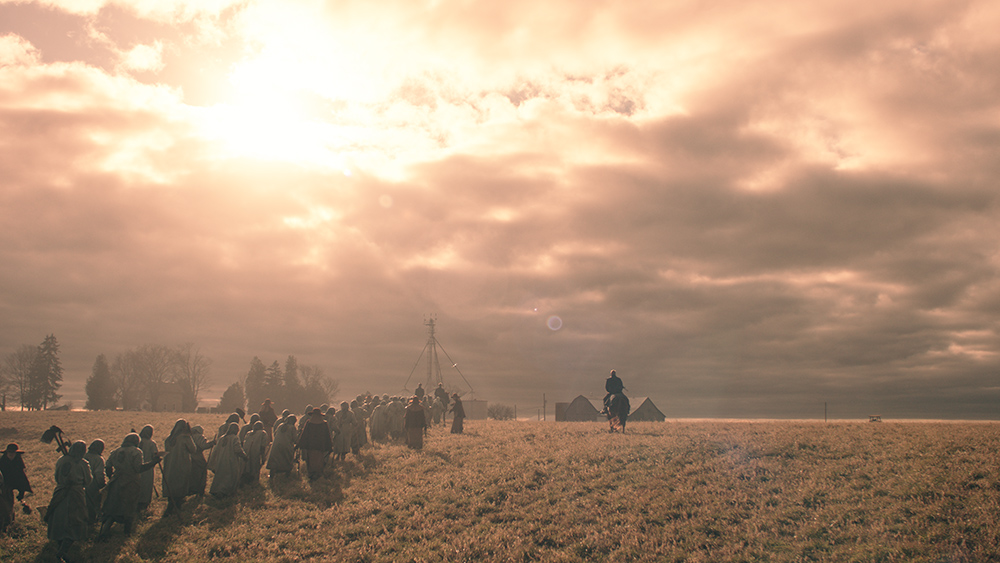 Photo by: Take Five/Hulu
Season 5 of Orange Is The New Black received significant criticism and was called "torture porn" when it became more about the ways the characters were ground down rather than focusing on who they were and how they responded individually to events. Many viewers quit watching. Forcing people to look at things that make them uncomfortable is a core value of science fiction. It shapes our views of the world and also reshapes them to push us to greater understanding, greater equality, and greater accomplishment. If we are made to look away from The Handmaid's Tale because it is "too much" then the show will have lost its greatest strength.
I continue to be blown away by the beautiful imagery and symbolism and I love the tight storytelling. Make no mistake, this is an intense show with political and cultural overtones that many may find very relevant and also very disturbing, especially considering the current political climate.
In the end: Hulu's The Handmaid's Tale is an intense ride with powerful emotional resonance, complex storytelling, and brilliant visuals. A definite a must-watch, even if, like us, you need a little ice cream for comfort afterwards.
The first two episodes of season 2 will
premiere on Wednesday, April 25th only on Hulu.