Review by Drew Bittner
Actually: 7 out of 10 ninjas!
Basically: Four street-level heroes go against an ancient evil to save New York City.
The culmination of four separate storylines across five miniseries, THE DEFENDERS brings together Daredevil, Jessica Jones, Luke Cage and Iron Fist to fight for the survival of New York City. The eight-episode series starts off putting the pieces on the board: lawyer Matt Murdock (Cox) has retired from crime fighting after the death of his love Elektra (Elodie Yung), private eye Jessica Jones (Ritter) is drinking hard and avoiding new cases, Luke Cage (Colter) is out of prison and back in Harlem, and Danny Rand (Jones) is hunting the Hand alongside Colleen Wing (Jessica Henwick). At the same time, a rich and powerful lady named Alexandra (Sigourney Weaver) has gotten bad news, affecting some very big plans.
The heroes each pursue a separate problem that inevitably draws them together. Murdock is taking small cases tossed his way by old friend Foggy Nelson (Elden Henson), which introduces him to Jones, who's in trouble after taking a missing persons case; Cage is trying to find who's getting kids killed in Harlem, which puts him up against Rand. None of them realize that the source of their mutual problems is the same—and if the villains are allowed to enact their plans, New York City itself will be destroyed.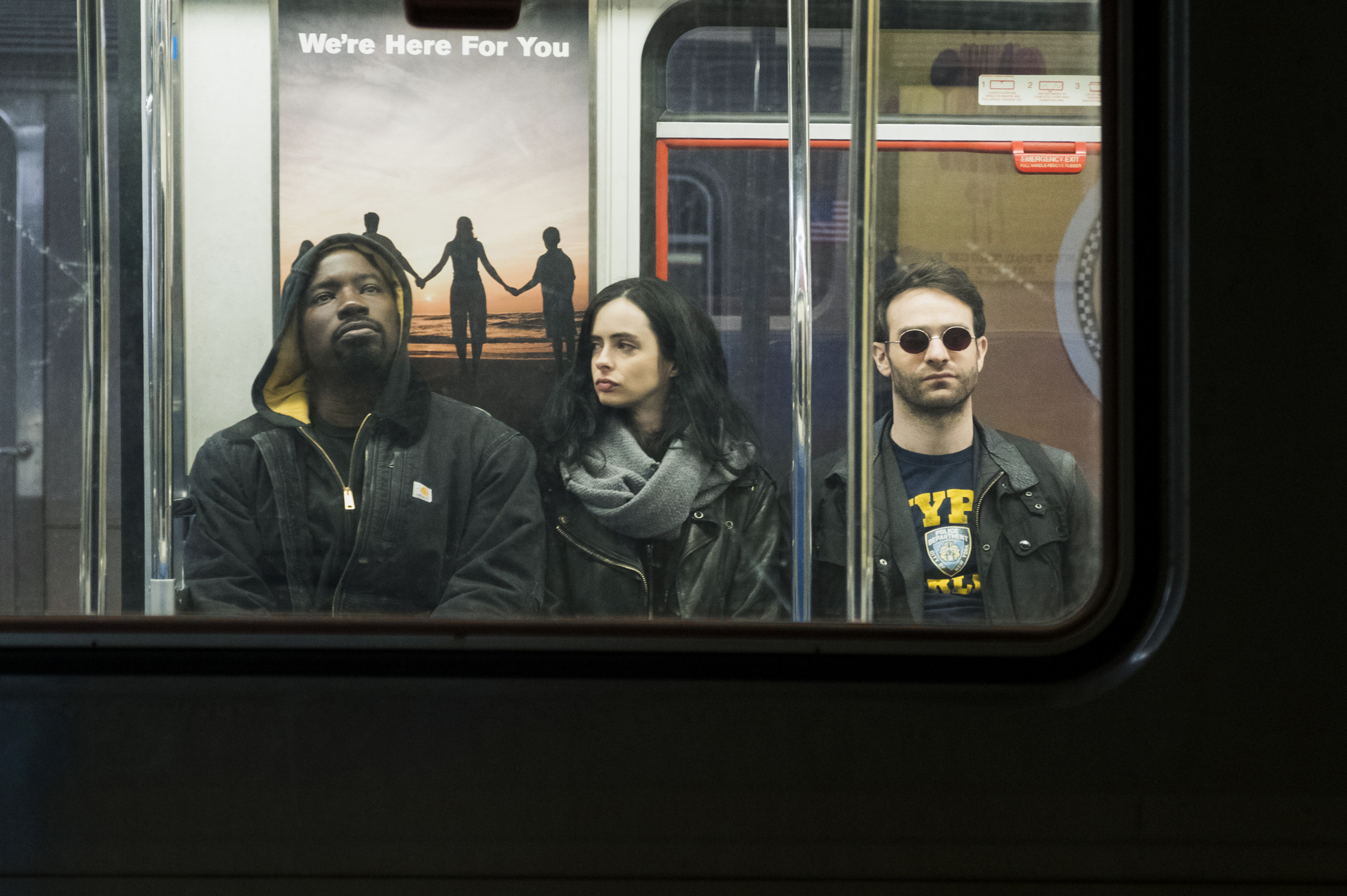 The series starts off slowly. Getting through "when we last saw our heroes" takes time, as does setting up a new villain (more on this in a moment). What each hero has gone through makes them a bit shy about teaming up with anyone—but they do it, unwittingly, to save two of them from bad decisions. Once they're all in the same room the series takes off.
However…
Even though the bad guys have a surprise secret weapon, there isn't a great villain rising to challenge the heroes. And that is a serious problem. Weaver is an elegant and sophisticated lady, as well as a genre superstar, but we see Alexandra's history in bits and pieces, and while she has a good backstory, she's not on the level of a Kingpin or Killgrave. She doesn't show any particular abilities early on, apart from being a leader, that make her a match for the heroes. What we learn about her offers the potential to be a threat to the good guys, certainly, but it's hard to say if she's a threat sufficient to challenge them. Great villains make great heroes and, up to episode 4, Alexandra is not a great villain.
In the end: The heroes are engaging, have a strong chemistry between them, and provide more than enough action to please fans of the individual series to date. THE DEFENDERS may or may not offer the next great villain, but it does give viewers some reasons to cheer.