Basically: Five young girls form a baby-sitting club and learn what it means to be true friends (and responsible mini-adults). 
Oh my gosh this is so cute. That's the sentiment you'll feel watching The Baby-Sitters Club. Netflix's adaptation turns Ann M. Martin's beloved book series into an enjoyable watch for a new generation of kids AND the now-adults who once read each and every chapter. For those who don't know, The Baby-Sitters Club follows a group of middle schoolers who form a babysitting service for their town. But their "club" is so much more than that. It's a tight knit friendship group of girls with different dreams, ambitions, and personalities—that often clash but come together to form a close bond.
Let's introduce the girls: Kristy Thomas (Sophie Grace) is the self-proclaimed founder and president of the Baby-Sitters Club. She's outspoken and possessive which causes a lot of the friction between the group. But you'll soon learn there's a reason she's so scared to let go of control. Mary-Anne Spier (Malia Baker) is the club's secretary due to her on point organization skills. She's quiet and attentive, listening to the other girls and always noticing when something's up. Claudia
Kishi (Momona Tamada) is VP, looking after the creative aspects of the club. She's extremely artistically talented but her parents keep pushing her towards more "academic" subjects. Luckily she has her grandma who always encourages
her creativity.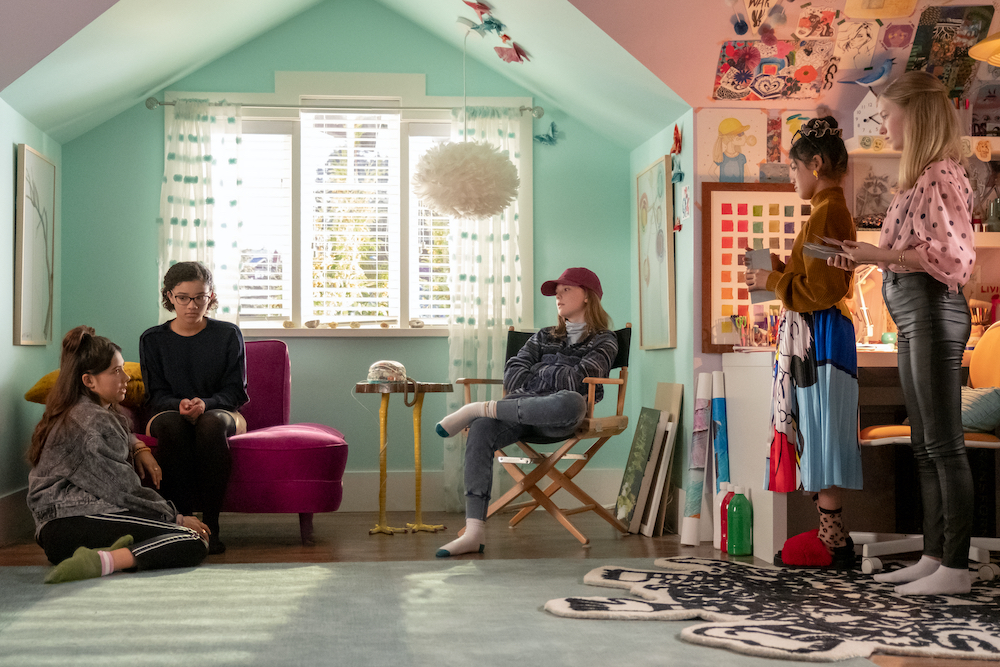 Photo: Kailey Schwerman/Netflix
New York native Stacey McGill (Shay Rudolph) is new-ish to town and is always fashionable and poised. She becomes the club's treasurer because of her wiz-kid math skills. She's also confident and outspoken in a way that causes her and Kristy to clash. Finally Dawn Schafer (Xochitl Gomez) is the newcomer to the club, which upsets Kristy at first. She's sweet and more mature than the other girls in some ways but feels she has to prove herself. 
With that said, we have to take a moment to appreciate that Netflix didn't cast 20-somethings to play these girls. They all look and act like 12-year-olds. There are squabbles, bad decisions, and fights with their parents but the kids work together to figure out how to deal with each issue. They're also all well-rounded individuals with their own talents and goals that enable them to work well together as a club. Did we mention it's super cute?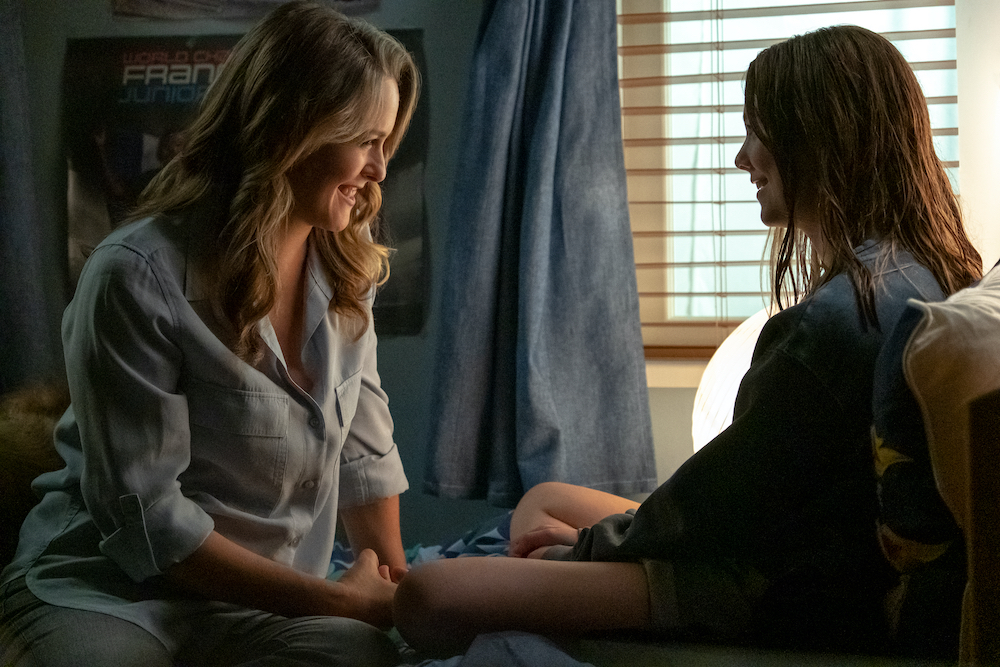 Photo: Kailey Schwerman/Netflix
Now let's give it up for the parents: Alicia Silverstone is wonderful in her role as Kristy's mom Elizabeth Thomas-Brewer. She tries her best to be a part of her children's world and holds them accountable in order to help them learn (which is so refreshing to see). Her fiancé Watson Brewer (Mark Feuerstein) wants desperately to please his new step-daughter and make the Thomas-Brewer union smooth. Richard Spier (Marc Evan Jackson), on the other hand, is the strict widowed father to Mary-Anne. The pain Richard feels from losing his wife is handled with grace and honesty that's quite touching. There's also an awkward romance brewing for Richard, which plays to Jackson's comedic strengths. And Melissa Chasse is Dawn's mom Sharon who follows her feelings and lets the kids be kids.
Having the storylines of the two generations intertwine adds depth to the series and makes sure anyone at any age can enjoy it. The girls' friendships are deep and they deal with a lot of issues you wouldn't expect from a lighthearted show. It not only allows them to grow but it allows their parents to grow and change too—something you don't often see from kid-led shows. Whether or not you've read every book or you're the new kid in town, The Baby-Sitters Club will make you reminisce about being 12 when you were still trying to figure out the world and when every "first" was a big deal (it still is). 
In the End: Call up your BFFs and join the Baby-Sitters Club.