Basically: A teenage girl finds herself taking up the legacy of a team of dead heroes, fighting for a new generation of justice.
Just as Greg Berlanti's Arrowverse was starting to feel a bit rote (if not stale), along comes a breath of fresh air. Stargirl brings novice hero Courtney Whitmore (Brec Bassinger) into action against a deadly team of villains.
Courtney expects life will be unbearably dull after moving from California to Blue Valley, Nebraska, with her mother Barbara (Amy Smart) and stepfather Pat (Luke Wilson). She isn't looking forward to navigating a new school and trying to make friends. But the discovery of the Cosmic Staff—once wielded by the bygone Starman (Joel McHale)—pushes Courtney onto a new path in life. Taking on a group of high school jock bullies at a drive-in, she accidentally comes to the attention of a powerful enemy. With unexpected help from her stepdad, she manages to win her first fight… but the second, against a tougher enemy, carries a dire price tag.
Even so, the brand new Stargirl isn't ready to give up—but she's going to need help…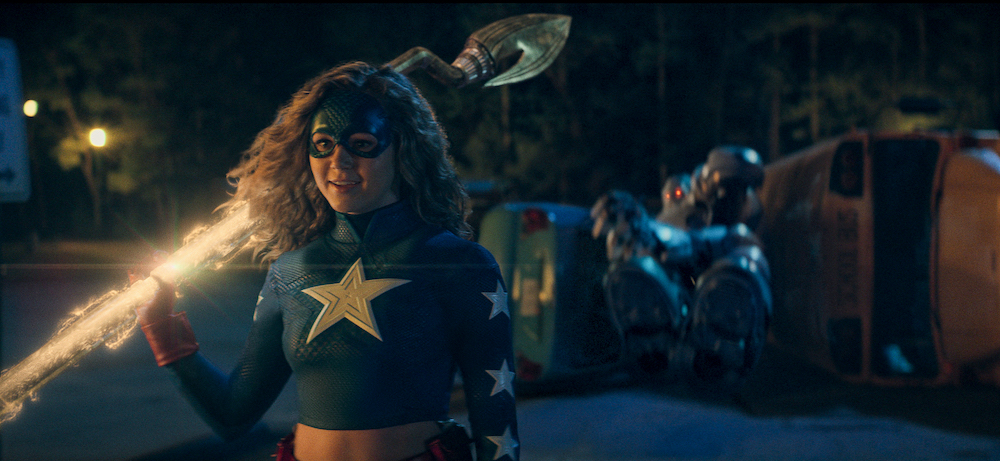 Photo courtesy of DC Universe
Based on the '90s DC comics series by Geoff Johns (who's an executive producer and writer for this show), Stargirl is clearly a labor of love. It's also fun, which sets it apart from its siblings like Flash and Supergirl this season. Bassinger is an appealing young heroine, willing to risk it all to do the right thing, while Wilson is a solid steadying presence as her unlikely mentor. Wilson also plays well against his cinematic persona of a likeable goofball, taking a more serious approach to being
Pat Dugan.
The villains—supervillains living normal lives in Blue Valley—are likewise interesting and engaging, with frictions and rivalries threatening their unity just as a new heroine arises.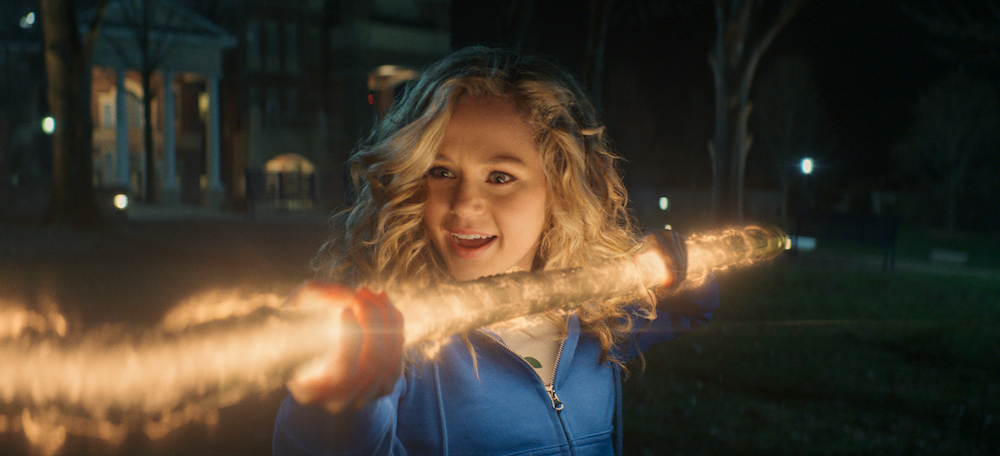 Photo courtesy of DC Universe
The effects, including a gigantic manned robot-suit, are pretty darned good and no less than we'd expect from a team as experienced as Berlanti's. The fight scenes could be better, as could the parameters of Stargirl's powers (especially since her signature weapon seems to be it), but there's plenty of reason to believe these will be ironed out as the series finds its legs. The show already offers plenty of humor and well-defined connections between the past and the future, along with a load of Easter eggs for comic book readers. More than just an adaptation of Stargirl, the way is clearly being paved for this to include Johns' other DC masterwork, The Justice Society of America.
In the End: In the hands of Stargirl, the future looks bright.