Grade: C+
Basically: The world is dead, long live the train.
Back in 2016, when it was announced a television adaptation of Snowpiercer was on the way, I had to take a minute to consider. How would Bong Joon Ho's post-apocalyptic satire on class—a kind of violently absurdist Willy Wonka's chocolate factory, set on the last train on earth—translate into a multi-episode series? 
One of the things that makes the Snowpiercer film work is the claustrophobic tension of it all. A train with 1,001 cars—that emulates every environment once found in the natural world along with each socio-economic tier of a dead society—cannot go on forever. It must, in fact, fail. It must come crashing to an end in some way. The joy was in watching how terribly wrong a rebellion can go on its way to finding out why things are as bad as they've become.
Perhaps my question on how Snowpiercer might be stretched into a series could be answered by the original source material. Nope. Le Transperceneige, the 1982 graphic novel the film is based on, tells a completely different story (a really interesting one, if you're interested).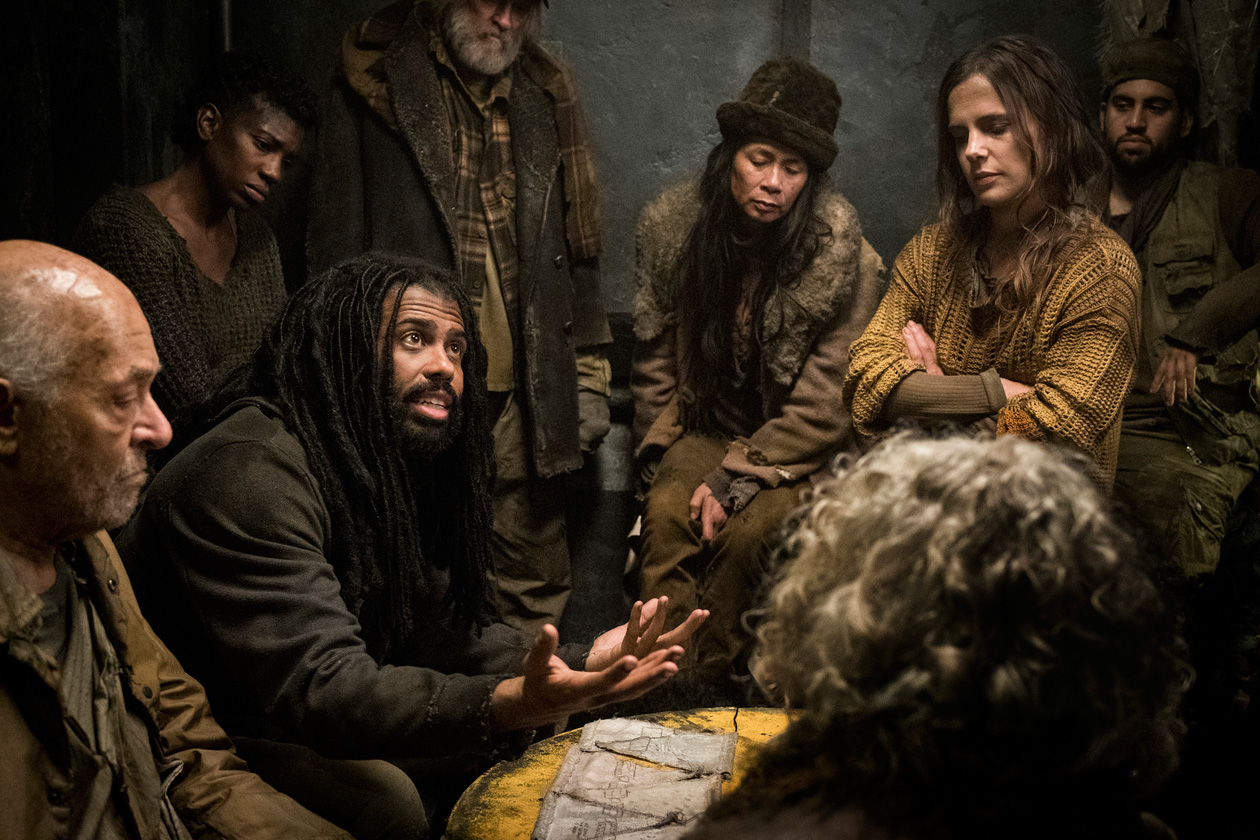 Photo © 2020 Turner Entertainment Networks, Inc. A WarnerMedia Company.
With no answer available, I had to wait…for four years…but now I know and I'm about to tease the hell out of you with that knowledge. No need to thank me. The TNT Snowpiercer series starts very similarly to the film but takes us back to events before boarding Mr. Wilson's Wonderful Last Chance Train. First humanity boiled the world and then we chilled her to her core. The result is an unending frozen apocalypse with temperatures at below minus 100ºC (this must be the winter we were promised). Of course the wealthy, white collar, essential workers, and the service industry all have seats on the train. They're needed so… The rest of humanity however gets a middle finger courtesy of the unknowable Mr. Wilson. Revolt happens, resulting in a large number of stowaways forming a caste resembling 'untouchable' in the rear of the train (also known as The Tail). 
The whole thing forges ahead frostily (if you don't have the misfortune of being in The Tail) for seven years before the unthinkable happens. MUUURDER. Perhaps serial murder and very grisly. Appendages are missing…sexy appendages…you know what I mean. Our steely train conductor, Melanie Cavill (Jennifer Connelly) seeks order at all costs, but when you want to find a killer, well, bodyguards just aren't going to get it done. You need a detective. You need Andre Layton (Daveed Diggs). Actually I can't think of a situation in which Daveed Diggs wouldn't be…ahem…useful. Anyway, Detective Layton happens to be a stowaway in The Tail. Even more unfortunate, he's basically a leader in the rebellion brewing back there. Oooh, plot boiling.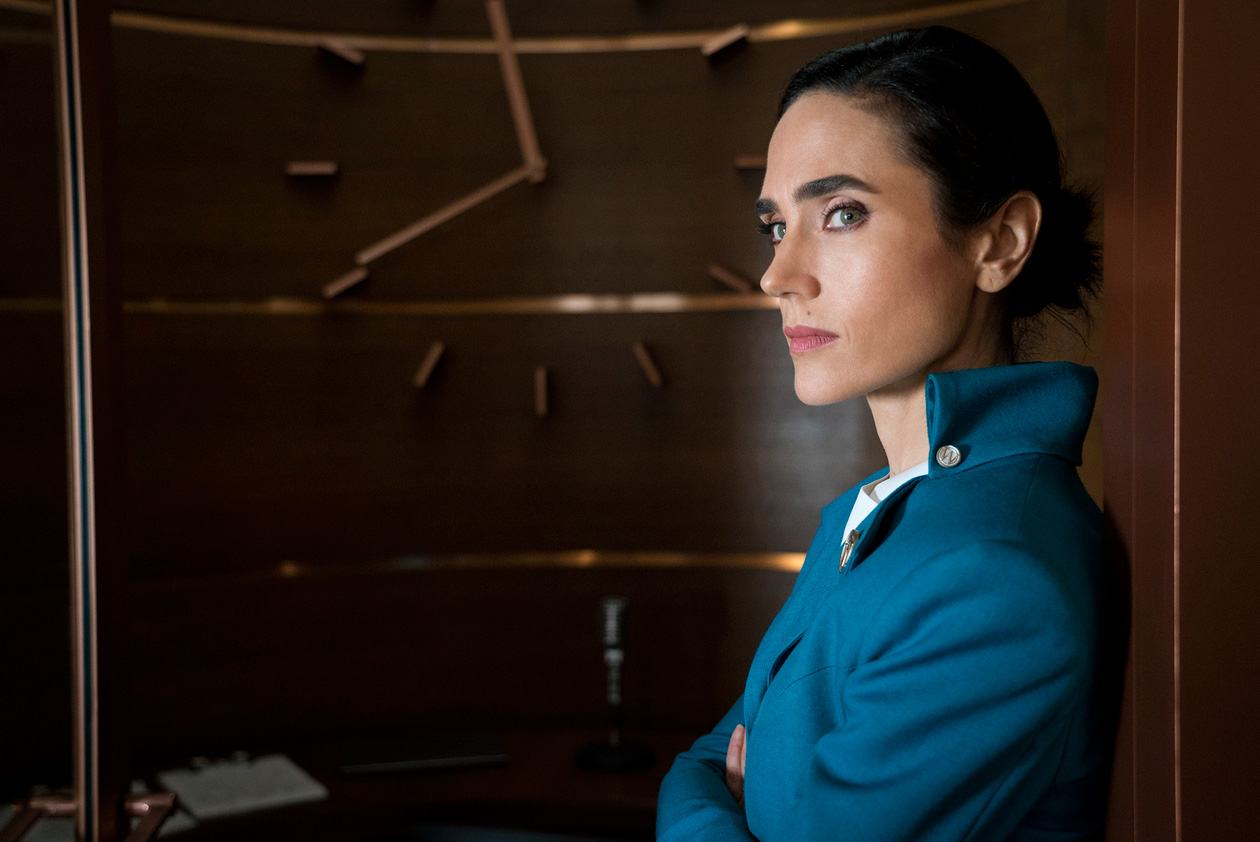 Photo © 2020 Turner Entertainment Networks, Inc. A WarnerMedia Company.
One thing is for sure, wherever the unbalanced privileges of society exist, the ills of society are soon to follow. Mr. Wilson's Train tried to solve a problem by becoming a petri dish for the source of that problem—remember that old adage about the definition of insanity? Insanity's name is Snowpiercer and the rabbit hole it falls down is dark and deep (and there's drugs too)… This version of the future is also strangely nearly devoid of dark-skinned people (a problem the film didn't have). Another form of madness, I guess. Must be the lack of sun, huh? 
At first the series seems grim with none of the whimsy that kept you from screaming in desolation at the film. It is also not quite as desolate, so that works. The addition of the Noir-style detective is reminiscent of The Expanse S1 and is a useful tactic in genre storytelling. The science-fiction becomes a backdrop for a rebellion based on the quest for equality, and the murder mystery gives us a framework to discover the rot eating away at the train. As though cursed, the passengers on The Snowpiercer are living in "interesting times" and although it never screams with intrigue the series does chug along nicely.
In the End: It's an interesting show with enough tension and discovery to make it a pleasantly dark ride.