Basically: An aesthetically pleasing epic fantasy adapted from a bestselling YA book series. 
It's a tale as old as time: a Chosen One with massive powers, who can make or break their world. But despite the tropes, this is a story you'll want to immerse yourself in. Magic, mystery, a little bit of teen angst—Shadow and Bone has it all. Netflix's adaptation of Leigh Bardugo's bestselling Grishaverse novels has been a long time coming and it's been worth the wait. 
The original Grisha trilogy, and most of the adaptation, focuses on an orphaned mapmaker, Alina Starkov (Jessie Mei Li) whose rare power marks her as a Grisha. The Grisha are people who can manipulate the elements as weapons. Alina's power manifests when she attempts to save her childhood friend Mal (Archie Renaux) from a monster attack (oh yeah, there are monsters both literal and figurative in the world of Ravka). Soon, Alina is sent off to hone her powers with the help of the dark and brooding General Kirigan (Ben Barnes).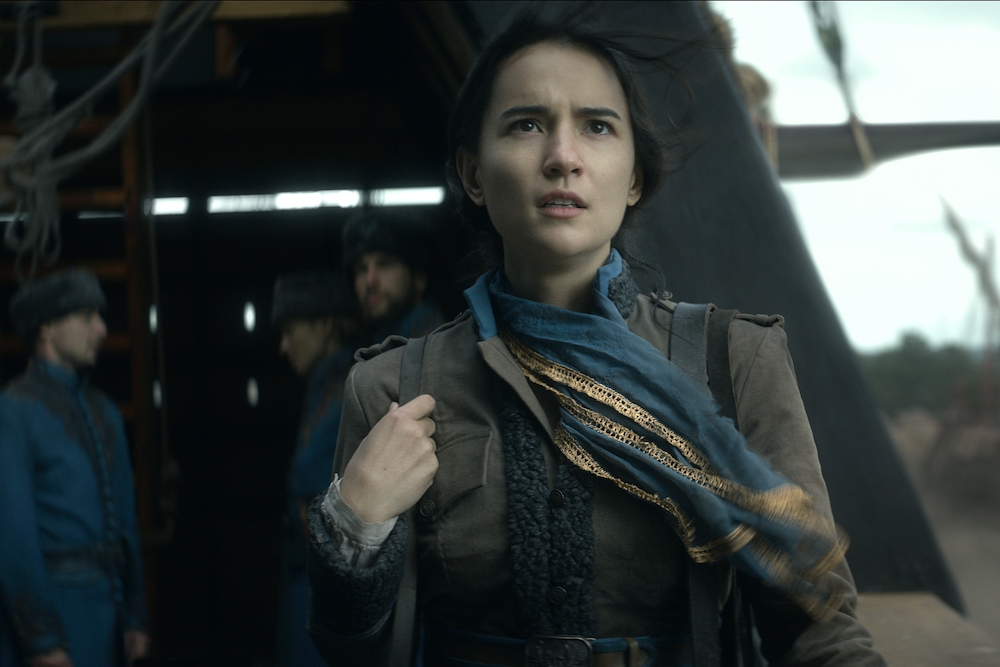 Photo courtesy of Netflix © 2021
But that's not all. We also meet some of the Dregs, the revolutionaries who make up the major cast of Six of Crows, Bardugo's other duology. Kaz (Freddy Carter), Inej (Amita Suman), and Jesper (Kit Young) all have their own strengths and relationships and each actor gets their opportunity to shine. It's also pleasant to see the diverse casting, most of it faithful to the books (Inej and Jesper are both canonically BIPOC) with the added bonus of having a non-white leading lady. 
Alina's ethnicity isn't the only change. While the show follows the first book pretty closely, the introduction of the Dregs offers a previously unseen part of the Grishaverse history and is sure to captivate book fans who will be left wanting more. For casual viewers, the first couple of episodes might present a bit of a struggle. Who are these people and why should I care about them? The first episode in particular throws way too much information at us in one shot (but it is an epic fantasy after all, what would you expect?).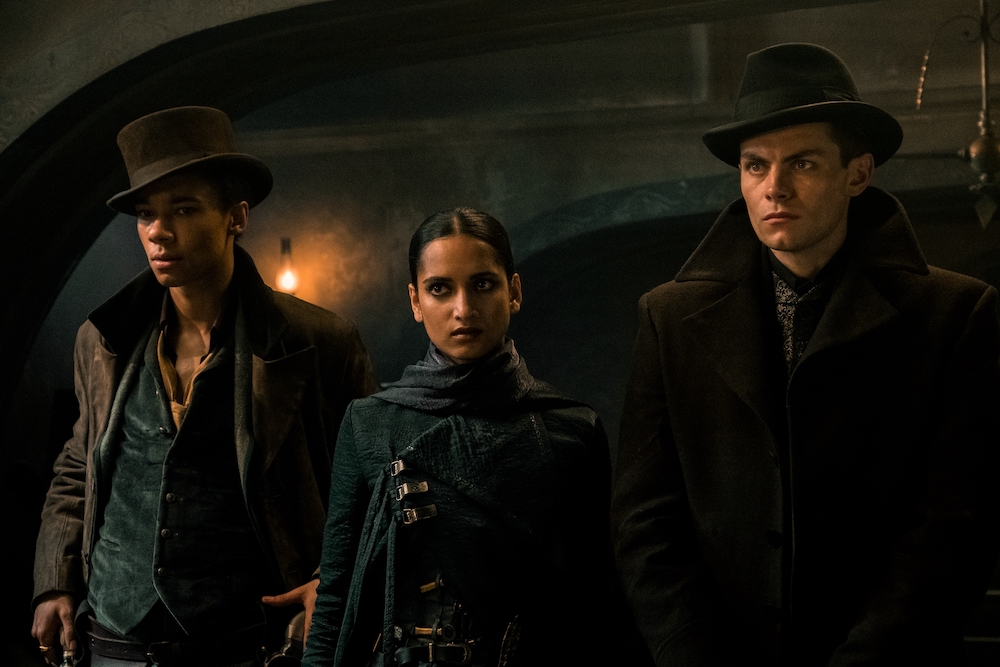 Photo courtesy of Netflix © 2021
But the show starts to hit its stride after the second episode and, before you know it, you're hooked—wondering who you should be rooting for and if the heroes and villains are really as clear cut as we're used to seeing in these types of shows. With charismatic actors and a richly imagined world—not to mention some evocative costuming and special effects—there's truly something for everyone in Shadow and Bone.
Bardugo's legions of fans will watch beloved characters come to life and treasured scenes play out on screen with bated breath. Casual readers will appreciate finally being able to put faces to names (we all know how much #BookTwitter loves Kaz Brekker). And new viewers looking to fill the Game of Thrones-sized hole in their chest will slowly start falling for the Grishaverse the same way they did with Westeros (plus, with award-winning showrunner Eric Heisserer at the helm, we can guarantee a better ending).
In the End: Fantasy fans of all ages will easily fall for the Grishaverse—and the best part is, there are more than enough books to keep us occupied between seasons.