Basically: Madam C.J. Walker said knock you out.
"Sisters, let's talk about hair. Hair can be freedom or bondage."
A pair of mirrored moments in Self-Made: Inspired By the Life of Madam C.J. Walker (Netflix, Mar 20) are two of its most effective. The first is near the beginning of the four-part series. It is a story of hair loss and abuse and bottomed out self esteem. The second is an opposite reflection, the story of a burgeoning tycoon connecting with her customer, through the truth about herself. Each moment takes place outside on busy streets, with Sarah Breedlove (Octavia Spencer) on a figurative soap box. Those early 20th century streets are apropos symbolism because in both instances Sarah is standing at a crossroads. She reaches out to black women with her voice, her pain, and the hope of acceptance. And it works. Twice. Those are the roads she travels to become Madam C.J. Walker.
Rewinding back to the start, the creative team—co-showrunners Janine Sherman Barrios and Elle Johnson, along with writer and co-executive producer Nicole Jefferson Asher, and directors Kasi Lemmons and DeMane Davis—give us an unexpected framework for Madam Walker's story. The series doesn't begin with Sarah Breedlove's birth at the edge of slavery, or even precisely with her life as a washerwoman, it begins with a flash-documentary narrated by Spencer, about the power of Black hair…"who we are, where we've been, and where we're going"…and it leads into a surprising image. When we see her, Spencer is hooded in a bright boxer robe, standing inside the ring. She's ready to face off with her nemesis, Addie Monroe (Carmen Ejogo), or perhaps what her nemesis represents—self worth in a world determined to disprove it.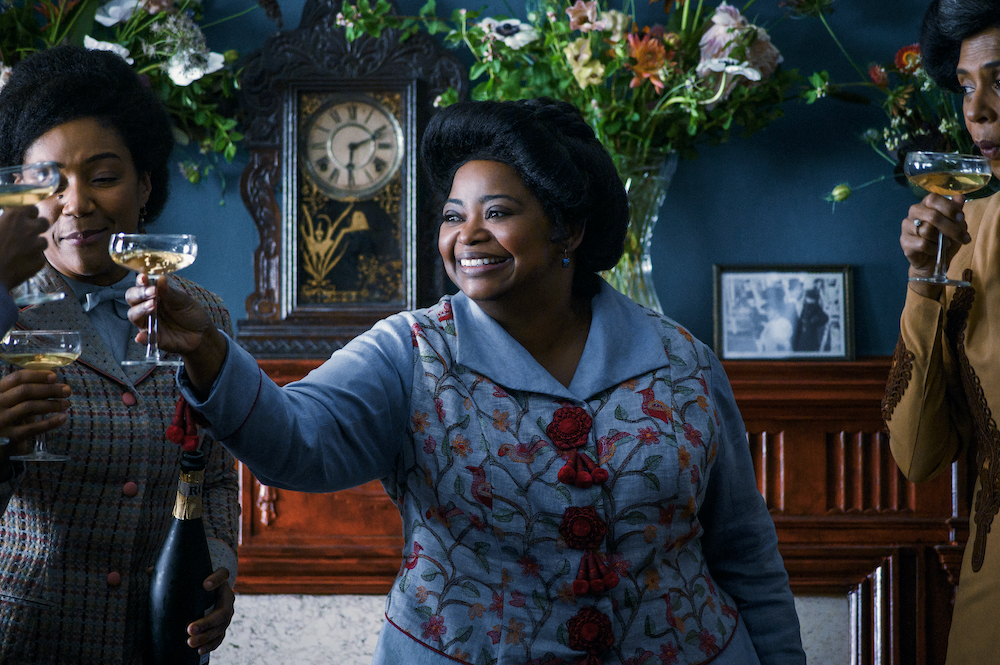 Photo: Amanda Matlovich/Netflix
Power fuels power in this opening and the boxing ring symbolism is a combination of the equally iconic rise of heavyweight champion Jack Johnson, with the gangsta boogie of LL Cool J's "Mama Said Knock You Out". The documentary and the boxing ring are a 1–2 punch, signalling this is not a traditional biopic. Even the music is anachronistic, including a very good cover of "7 Nation Army" that pays homage to the tenacity of Walker and Johnson as the indomitable firsts they were.
From there the series is a "no bathroom breaks" binge. idobi contributor Julian Lytle and I couldn't stop watching. Spencer's portrayal of Walker is no joke and, because this story is "inspired" without claims to being a biography, writer Nicole Jefferson Asher is able to sculpt a character who is imperfect yet an enthralling whole. This series is creative non-fiction with magnetic pull. It reveals the determination it took for Madam Walker to build her haircare empire with humor but also without flinching. She was a tycoon and tycoons aren't always easy. We get to see that—not a wax model in a museum but a usually warm and sometimes boiling over woman who refused to be stopped. 
"If I can help one person I'm lifting us all up."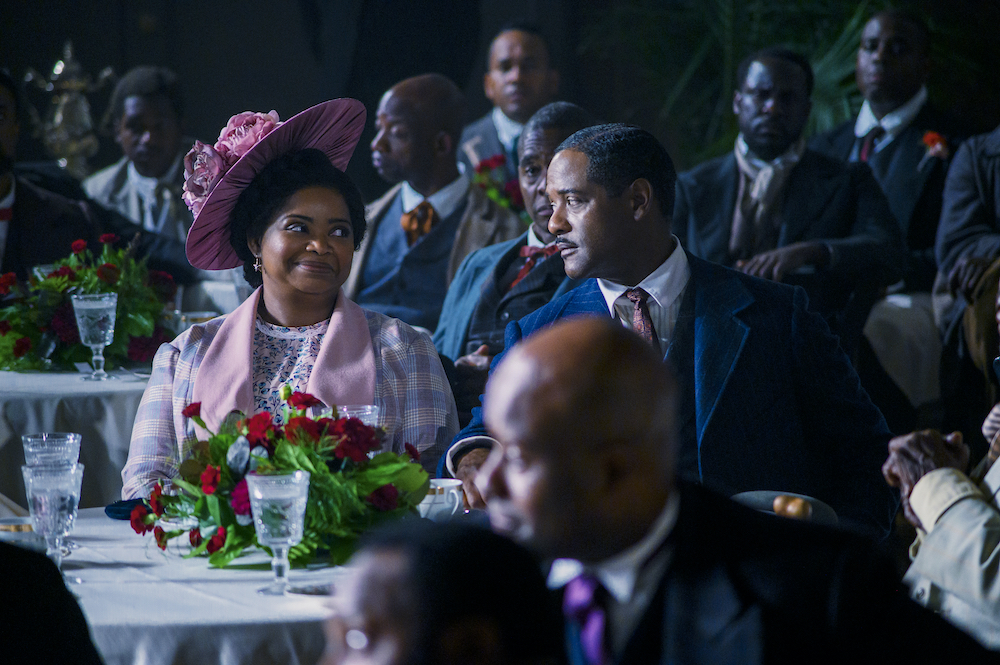 Photo: Amanda Matlovich/Netflix
That quote, from the series, is a truth unending. We are still uplifted by Madam Walker's successes—the first self-made millionaire among American women, proponent of Black-American beauty, inventor. Her influence on "who we are, where we've been, and where we're going" must endure and should continue to inspire. Based on "On Her Own Ground: The Life and Times of Madam C.J. Walker" by A'Lelia Bundles, this is a history that has and will launch more icons. And it features one of my favorite female characters, one who cannot be made to be quiet or be made small.
More moments in the ring, Jazz Age style musical numbers, and nightmare sequences punctuate the historical journey. Along with cameos from W.E.B. DuBois (Cornelius Smith Jr.) and Booker T. Washington (Roger Guenveur Smith)—another set of nemeses. Blair Underwood plays C.J. Walker (the husband) with an at times silky, at other times oily aplomb. You don't know whether to punch him in the guts or give him a hug. Carmen Ejogo, Tiffany Haddish, Kevin Carroll as the touching Ransom, Garrett Morris as family patriarch Cleophus Walker, and Bill Bellamy as the big pimping Sweetness round out a cast with no weak links.
What more can I say? Self-Made: Inspired By the Life of Madam C.J. Walker is highly enjoyable creative non-fiction with a hard nosed historic punch. Period.
In the End: Get your apocalypse snacks ready and press play.
Self Made: Inspired by the Life of Madam C.J. Walker
debuts on Netflix on Friday.