by Sherin Nicole and Alex Bear
idobi Votes: 8/10 – Sherin Nicole | 8/10 – Alex Bear
Basically: Keeping up with Devi is one of the best times you can have on Netflix. Let the high school hijinks begin!
Devi (Maitreyi Ramakrishnan) is on a mission to up her cool status and, of course, the boys of SoCal are the fast pass to getting it done … Right? Freshman year was horrible for Devi. Her father died, she struggled with hysterical paralysis afterward, and her life as the coolest girl in "orchestra" turned into pity glances and people saying all the wrong things. Well, praises to tennis-god John McEnroe 'cause the bad times are over. This persona non grata has a plan to become "Grata as hell!"
It's sophomore year and the future means college and boys…all the boys. The only thing is, the past—and her family—keep bringing Devi back down to earth and she's not the best at handling her feelings (no, really, she has a short fuse). This girl is a cherry bomb. No one, not her mom Nalini (Poorna Jagannathan), not her therapist Niecy Nash, nor her nerd squad besties Fabiola (Lee Rodriguez) and Eleanor (Ramona Young), not even her trusted narrator (the tennis god and infamous hothead John McEnroe) can stop Devi from popping off with hilariously
heinous results.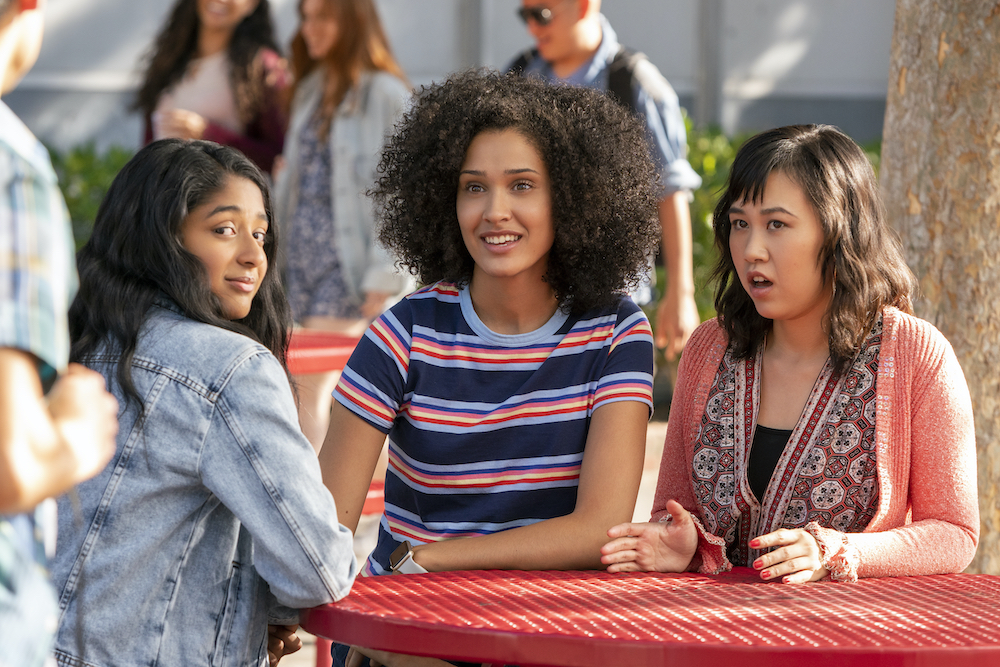 Photo: Lara Solanki/Netflix
So Devi comes up with a Plan B, um, because her Plan A smelled too much like Mariah Carey (seriously, watch for yourself). Right, so Devi goes with her backup plan: To have sex with the hottest boy in school AKA Paxton H-Y (Darren Barnet). And, he might be up for it…or maybe he's not. Who can tell with high school hot boys? The point is, our cherry bomb thinks she's ready for some cherry popping like the SoCal South Indian Kardashian she wants to be. But she can't do it alone. Nuh uh. Devi also drags her two best friends Fabiola and Eleanor into this plot to date boys who'll upgrade their social status (because what's a crazy scheme without your BFFs?). But, thankfully, it turns out there's more to Paxton than meets the abs and Devi's plans to get railed get derailed. 
Meanwhile, Devi also has to deal with her mom, who wants her daughter to be less American party girl and more of a focused filial daughter. More like her oh-so-perfect cousin Kamala (Richa Moorjani) who's deeply religious, dedicated to her studies, and is fine with an arranged Hindu marriage…sort of…probably…we're not sure, Kamala has some secrets of her own. And ooh, the family arguments get heated. Which we can all relate to. Right? Praise be to tennis-god John McEnroe because at least Devi has the memories of her dad (Sendhil Ramamurthy) to help her figure things out. Each of the three Vishwakumar women handle their grief in different ways but it's all painfully authentic.
Photo: Lara Solanki/Netflix
Never Have I Ever is a coming-of-age story that flashes back to the classic sitcoms of the 90s era but blossoms into something that reflects what teens are going through now. It's awkward and way too honest, while dealing with the blues of being multicultural in a world that's just starting to recognize how fabulous that is—just like its girl squad leads. You know these characters because they were once your friends or your nemeses (or those kids you wish you were at school). Devi is the orchestra nerd who would probably make Tik Toks featuring rocked out covers of pop hits on her harp, if her mom would leave her alone. Fabiola is the robotics nerd, with Black-American and Italian parents, who gets tongue tied because she's not ready to tell her own truth, but she does know sick fashion from Kohl's when she sees it. While Eleanor is the drama nerd with a bohemian style and a "suck it" attitude towards conformity—she also has a mom who could out melodramatic all the best K-Dramas on South Korean TV. We know these girls but we don't get to stream them that often. Yay for us!
Actually, every "high school stereotype" is presented and then smashed before any snap judgements can be passed. Popular jock Paxton is really caring and protective of his loved ones; annoying rich kid Ben (Jaren Lewison) is also sweet and geeky without being laughable; Devi's life and her family are so much more nuanced than you usually see in teen stories. Which is why we loved this series so much we watched it twice.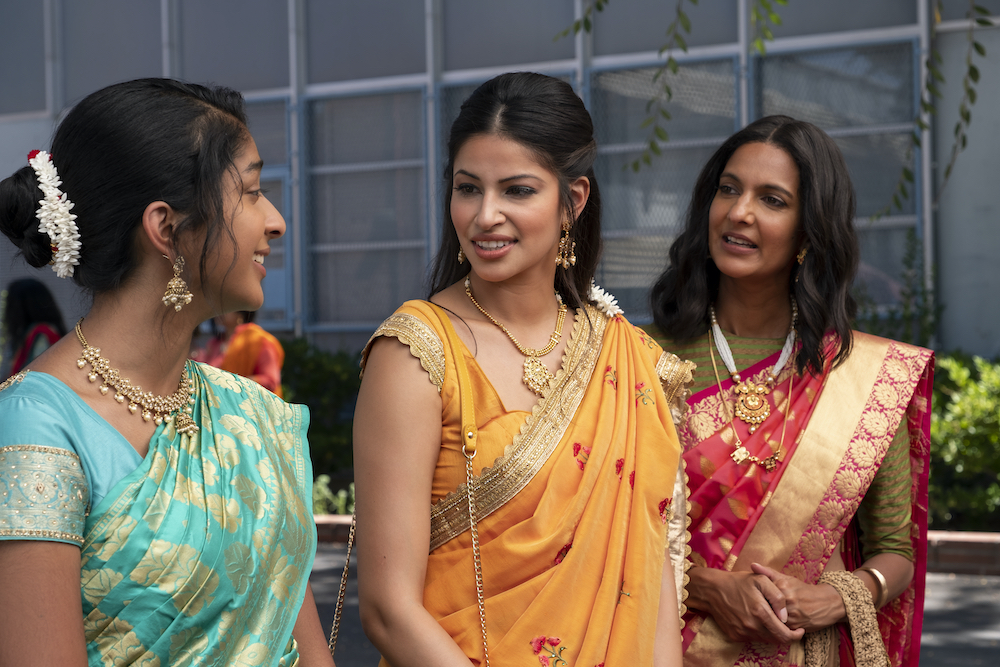 Photo: Lara Solanki/Netflix
Yet, we do have to say that the start of Never Have I Ever might not grab you at first sight. It so closely resembles shows like The Wonder Years and Freaks and Geeks that you might think you've seen it before. Not true. This series allows these kids and their parents to be complex and imperfect and sometimes dead wrong; which allows us to giggle and grow right along with them. They suffer hardships but Never Have I Ever is a lift rather than a stone cold weight, unlike other teen shows that seem to glory in dragging us down.
Beyond Devi's anger issues and self-involvement—which are so real—Never Have I Ever paints the world around her in bright hues. It shows the struggle of her widowed immigrant mother who feels alone in an America that snatched her husband away, while she's left trying to parent a child who can't easily be managed. The series shows the inner conflict Fabiola feels as she finds the courage to speak
her truth. It shows Eleanor searching for her sense of purpose after some revelations in her own family. It's heartbreaking and raw and real. It's also hilarious. You'll love this nerd squad for being the shining stars, all while being unflinchingly true
to themselves.
In the End: Binge it! It's not just good plague watching, it's great TV.