by Philip Jean-Pierre
Grade: C-
Basically: The Punisher unleashes his righteous (but mostly mediocre) fury on the criminal scum on the roads of middle America.
The Punisher is back for its second season. In season one we saw Frank Castle (Jon Bernthal) fight against darkness—a covert-ops conspiracy, a mad bomber, and his inner demons—across the textured landscape that is New York. After wreaking holy vengeance, sometimes with a sledgehammer, on the criminal underworld, our broken knight was given a pardon. He then found some measure of peace. Must be nice.
After season one, I hoped the sophomore effort would bring us a darker grittier Frank Castle who is more diabolical and less berserker. He'd already fought his inner demons to a draw, which is as much as any of us could ask. Have you ever heard the expression, And I looked, and beheld, a pale horse! And its rider's name was Death? Well, this season feels more like the pale horse is dragging its rider, after that rider got distracted by something pretty, fell off, then lost all hope in life. As far as maudlin dirges go, season two is a fine way to expedite your exit from this world thanks to a lackluster plot. One that is only palatable through the efforts of the cast, who work hard to keep the story moving forward.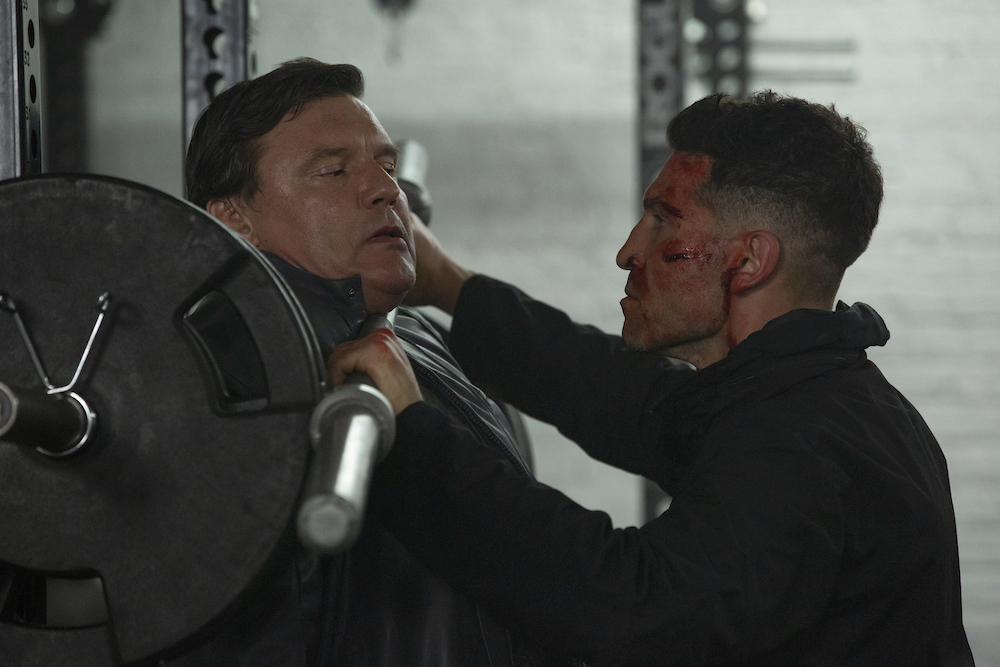 Photo: Cara Howe/Netflix
We begin the season in what can only be described as an homage to Road House. The effort, while bold, falls flat. The storytelling does nothing to make you invest in this series beyond a yawn and the crushing desperation that the next scene ends quickly. Jon Bernthal does his best but with a script that seems determined to change Frank Castle's nature from broken man with a vengeance-complex to a victim of circumstance, Netflix has unearthed a salient detail that all comic fans know: A Frank Castle who is not a crazy-pants broken soul is as boring as "single-pole night" at a Las Vegas strip club.
This season we get to see the fallout from the wreckage of The Punisher's season one rampage. The first is in the return of Agent Dinah Madani (Amber Rose Revah), the spirited go-getter at the center of the first season investigation. Despite the fact Federal agents never do well in the Netflix MCU, she became a favorite of mine. I am not sure who this S2 Madani is but I want the original back. This new version spends more time lamenting her lot in having to chase "The Punisher thing". And while Frank Castle could give anyone nightmares, Madani's role seems standard issue MCU Federal agent—the system is working against me and I have to fight it. The only interesting effort was the evolution of Castle's former squad mate Billy Russo turned Jigsaw (Ben Barnes) but, like most plot points in the season, his story was anticlimactic. His descent into dementia and madness is interesting to watch but feels contrived and not very original. Which is a problem with season two on the whole, every time something occurred I was more surprised the characters were actually moving at more than a snail's pace—because mostly they weren't. But, hey, the kill count is still high.
In the End: The Punisher is a failed, clumsy attempt at creating a new Frank Castle who is more family friendly and less likely to kill your neighbor's puppy.