by Philip Jean-Pierre
Actually: 7.5
Basically: Black Mariah! Bushmaster! The war for Harlem begins! Is Luke Cage the hero Harlem needs?
According to modern philosophers Pete Rock & CL Smooth: It's best to battle physically, conquer mentally. In the second season of Luke Cage the man known as Power Man returns to take his place as the "Hero of Harlem". For those of you who missed the first season, we are introduced to a Luke Cage (Mike Colter) who is unsure, lacking in purpose, and struggling with what life has thrust upon him in the form of super strength and unbreakable skin. Thank you, illegal prison medical experiments. Despite staying below the radar and attempting to rebuild some semblance of a life, like all tragic heroes Luke is drawn into a confrontation with criminal forces threatening his city while dealing with a past he wishes would stay buried.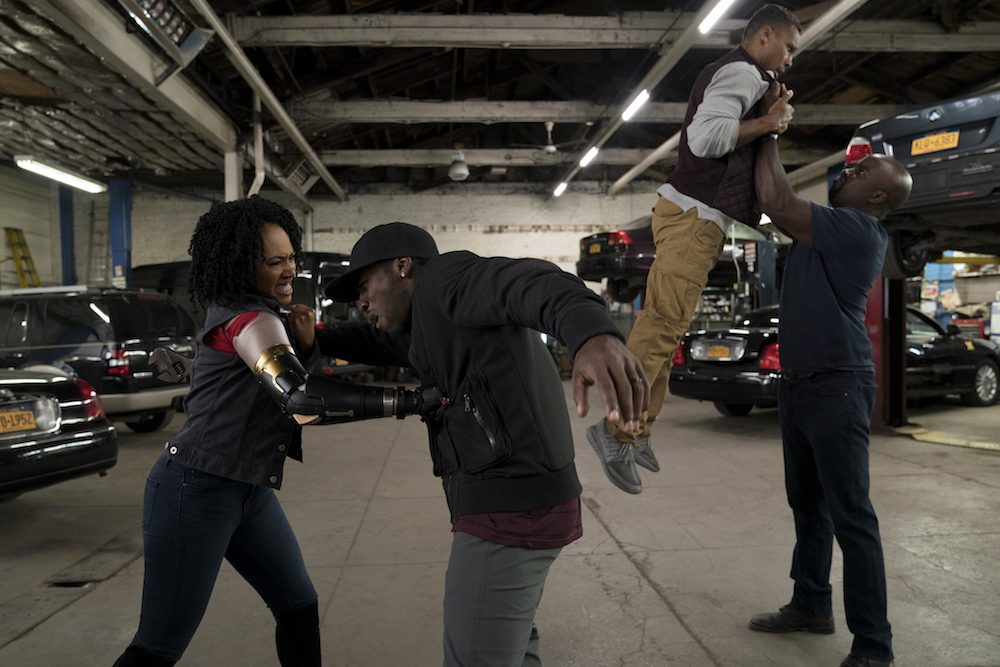 Photo: David Lee/Netflix
However this Luke Cage—hero achievement unlocked Luke Cage; bad guys mostly defeated Luke Cage; no longer a fugitive from the law Luke Cage—is now a hero and celebrity in Harlem. He even manages to find a good cup of coffee when he wants one. What could possibly go wrong? Hello other shoe, DROP. Welcome to the second season.
I will admit, I was not totally enamored with season one. While I thought it was a good debut, moments throughout left me cold, unfulfilled, and without the sense our hero had won the day. So with this new season, I hoped for some improvement in the series. I can honestly say showrunner Cheo Hodari Coker and his team raised the bar for the entire Netflix MCU. While it is a factor, the real appeal of Luke Cage is not his powers. Luke represents the voice of a culture too often copied yet marginalized by a capitalist get-yours-first society. Fully embracing his role as the Hero of Harlem, Luke must now learn where the line is that separates hero and villain. The series does the same, from Misty Knight (Simone Missick) explaining that laws must serve the people, to Claire (Rosario Dawson) explaining might [strength] does not always make right.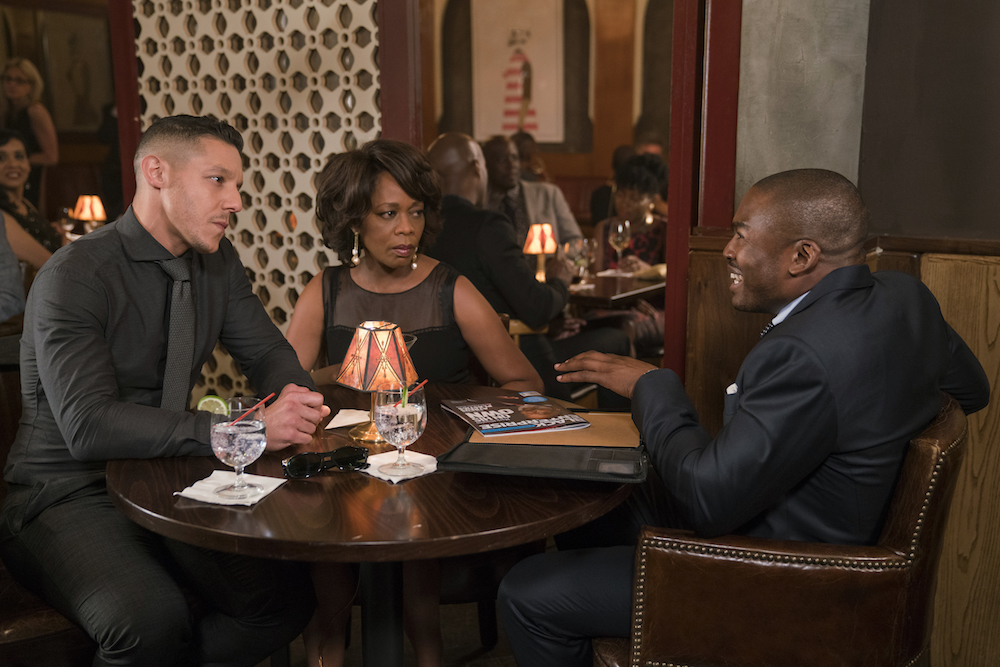 Photo: Sarah Shatz/Netflix
Did someone say villain? "Black" Mariah Dillard (Alfre Woodard) and Shades (Theo Rossi) return with a plan to shake up Harlem. What was once a relationship of convenience has turned into a partnership no one in the city is prepared for. And it's spicy too. Alfre Woodard raises the stakes with a dynamic performance that is both terrifying and great. Every ounce of decency tells you to look away but YOU. CANNOT! Her connection to the city is deepened and you learn why she truly is the Queen of Harlem. Shades, the kingmaker, or in this case the Queenmaker, is by Mariah's side the entire time. Morally bankrupt with an uncompromising code of honor, Shades is the bloody hand of the Queen who reminds people who really runs Harlem. However even Shades has secrets…
With this new season, comes new challenges. From the shadows of Harlem's past comes the upstart John "Bushmaster" McIver (Mustafa Shakir), a man with a dark past and even darker intentions. For the sake of avoiding spoilers, I will only say plans to destroy Mariah "Stokes" Dillard and takeover Harlem are in the mix. Bushmaster also whoops Luke's ass like he's a government mule. Mustafa Shakir's performance is one of the standouts in the Netflix Marvel Universe and one of the many in this series. The humanity in this character is appealing and tragic—there is a flawed, broken hero inside Bushmaster, one who causes Luke to question his role and at times what "right" means.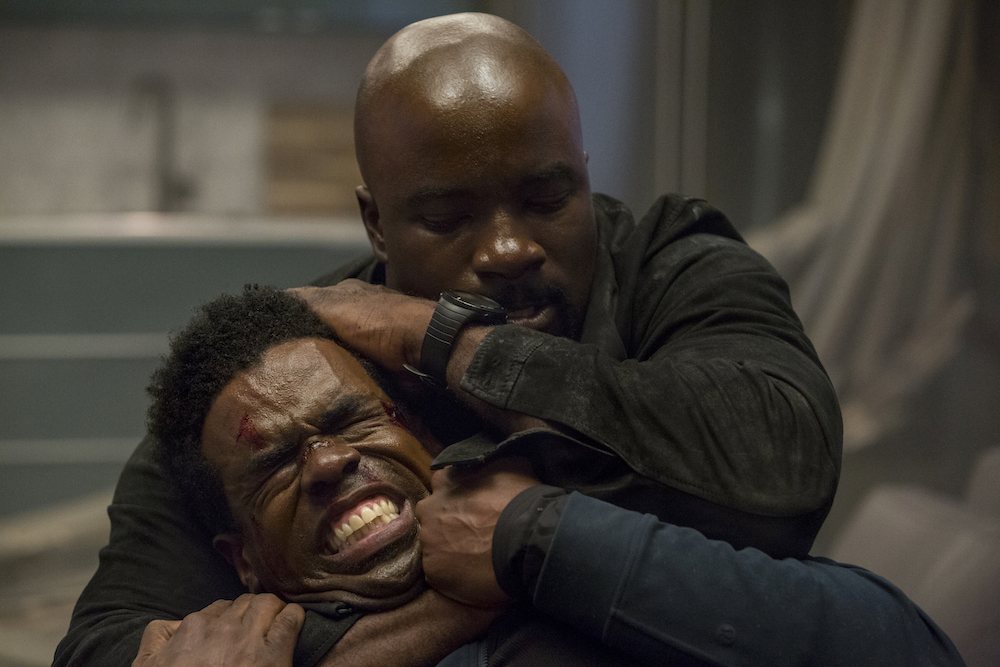 Photo: Cara Howe/Netflix
Additional cast members come on board to add to the rich makeup of the series. We have Tilda (Gabrielle Dennis) who has a heartbreaking connection to Mariah. Comanche (Thomas Q. Jones), who is Shades' second in command but does not approve of the way his boss caters to Mariah. We also have James Lucas (Reg E. Cathey) whose intervention forces Luke to face hard truths about forgiveness and humility. This season is crafted beautifully, interweaving music, history, politics, and Pan-Africanism with liberal dabs of Marcus Garvey, Ida B. Wells, Muhammad Ali, Biggie, and the Harlem Renaissance. One of the joys of this season is the leading character: HARLEM. While dealing with internal conflicts, and adding some comic relief, Cheo Hodari Coker anchors the story in Harlem—it couldn't be told anywhere else. The feel of the city is tactile and grounded in a sense of purpose. It drives the story and our characters, adding more depth, to leave you breathless.
In the end: Luke Cage S2 is a high stakes game for the heart of Harlem. Will it go to the Queen, the Hero, or the Upstart?
Marvel's Luke Cage returns to Netflix for season 2 on Friday, June 22nd.