Basically: …sometimes, a heist does not go the way you expect.
In Avengers: Endgame, bad luck during the Avengers' Hail Mary time heist delivered the Tesseract (containing the Space Stone) into the hands of Loki (Tom Hiddleston), who used it to escape. Well, now we know where he went.
Popping onto the Mongolian steppes, Loki is almost immediately apprehended by soldiers in black armor and hustled off to a strange police station. This is the Time Variance Authority, an organization that protects "the sacred timeline" with lethal force. Loki has gone off-script by taking the Tesseract, which makes him a variant: one of those who split off from the main timeline and go rogue. And things usually don't go well for variants.
But his outlook greatly improves with the intervention of Agent Mobius M. Mobius (Owen Wilson). It turns out Mobius needs Loki's help, but can the God of Mischief be trusted? Or will the temptations of his past prove too strong to overcome?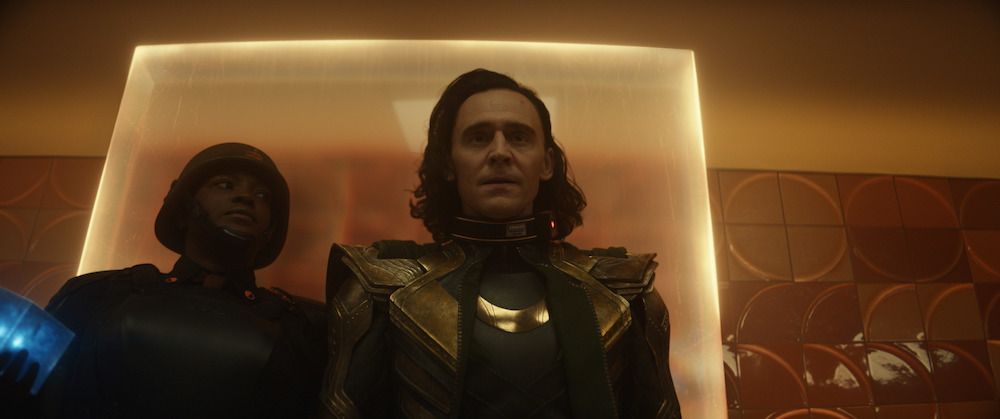 Photo © Marvel Studios 2021
Hiddleston gets a chance to break away from being tied to Thor or the Avengers and he makes the most of it. There are several scenes that give him the chance to display his impressive skills as an actor, particularly moments where Loki must confront his past choices head-on with no evasions. Hiddleston, and the series, expand and deepen who Loki is—beyond a charismatic foil to pull the Avengers together or bedevil Thor.
Wilson likewise has plenty of room to roam here. His genial persona comes in handy, as Mobius is an upbeat and idealistic field agent who's playing a hunch. And if he can persuade the Judge (Gugu Mbatha-Raw) that he's right, they may come out with a win. Of course, if he's wrong, then he may have created a much greater problem than the one he's trying to solve. Both Hiddleston and Wilson are bringing their A game to this project.
Loki is an engaging buddy-cop style time travel caper, with hints of Midnight Run, Time Bandits, and many more woven into its DNA. It's strongest when Hiddleston is out of his usual element, with Wilson casually pulling strings, but the first two episodes definitely set up a lot of payoff to come.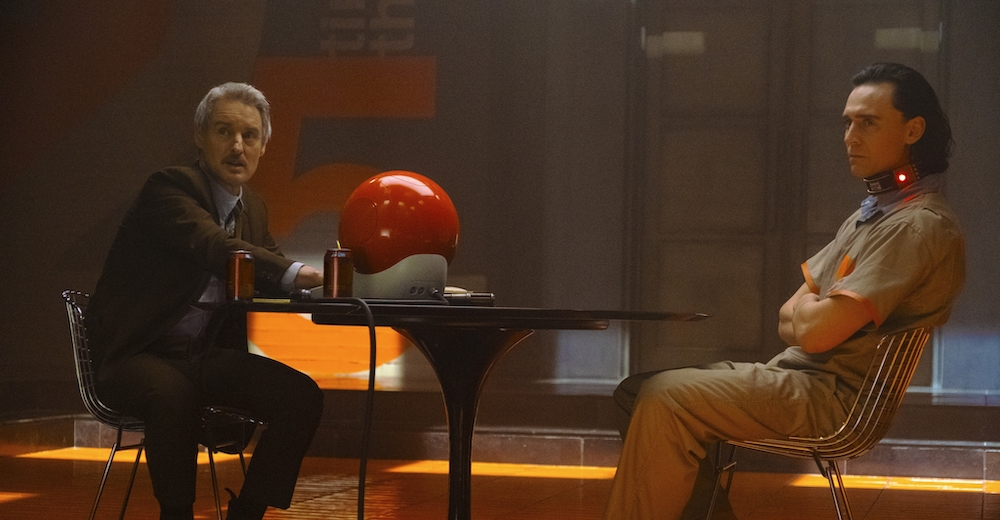 Photo by Chuck Zlotnick © Marvel Studios 2021
Here's what my fellow Rioters had to say:
"Much like Loki himself, I suspect the Loki series is a trickster. It is setting us up ever so slowly in order to double-cross us with irresistible mischief."
–Sherin Nicole


—

"With its Hitchhiker's Guide vibes, this might be the most interesting pilot of the three. Loki is going to have folks fiendin' each week for new episodes."
–Julian Lytle

—
In the End: With Wandavision and The Falcon And The Winter Soldier setting a high bar, Loki is shaping up to be a worthy addition to the Disney+ lineup of Marvel miniseries.
———
Here more of our conversation tonight on
Geek Girl Riot 11pm ET / 8pm PT: ido.bi/player