Basically: A different take on a Superboy story with twists and turns and a dash of hyperviolence.
Here we have another new superhero show premiering on a streaming service and I can't say that I'm not feeling a bit burnt out on this genre in, like, EVERYTHING. This one is a bit different, though. While one might ask: How is it different from, say, other cartoons adapted from comics? I'd have to say in a lot of ways. 
See, most US animation to this day has been made specifically for children. It wasn't until The Simpsons that showed you can make stuff for an older audience. Now while someone can bring up classic shows like Batman: The Animated Series or FOX's X-men: The Animated Series, those shows were still made for kids and to sell toys. They just had amazing people behind the scenes crafting good stories. Yet another influence happened in the 90s and that was the proliferation of anime with shows like Dragonball and Sailor Moon that continued through the 2000s and even now. Those shows are based on manga but unlike the US shows, where they use the source material as inspiration for stories, these animes would adapt the story as it was in the manga. We got the same story in anime and that is one thing that hasn't been done, for the most, in American animated shows. Until Invincible.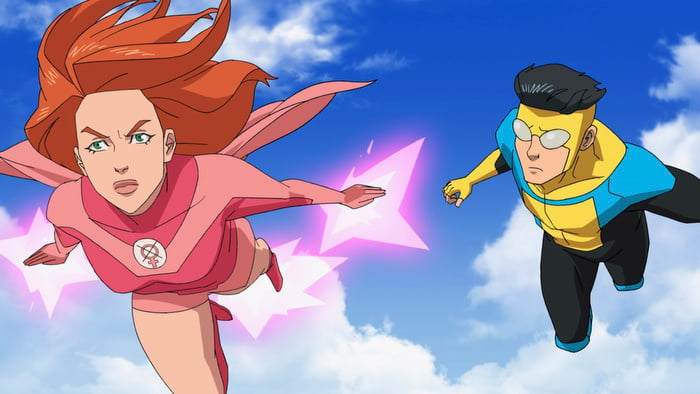 Photo courtesy of Amazon Studios
Invincible is an early 2000s Image Comics series by Robert Kirkman of The Walking Dead fame, Cory Walker, and Ryan Ottley about an average teenager named Mark Grayson, who's the son of Omni-Man, the most powerful superhero in the world who is very much a Superman analog. Mark is waiting and hoping that he'll get powers like his dad, while dealing with the ho-hum life of being a teenager with bullies and unrequited crushes. That all changes one night when his powers kick in and his father starts teaching him the family business. This is where the show takes off. The creators stick pretty close to the source material, and the episodes are close to a network TV drama length, which is something not really done in animation. With Invincible being such a long series I worried about how it would translate but after watching the first three episodes all of my apprehensions fell away, as my memories of what I read almost 20 years ago started flooding back during the twists and turns in this new medium. It all works so well.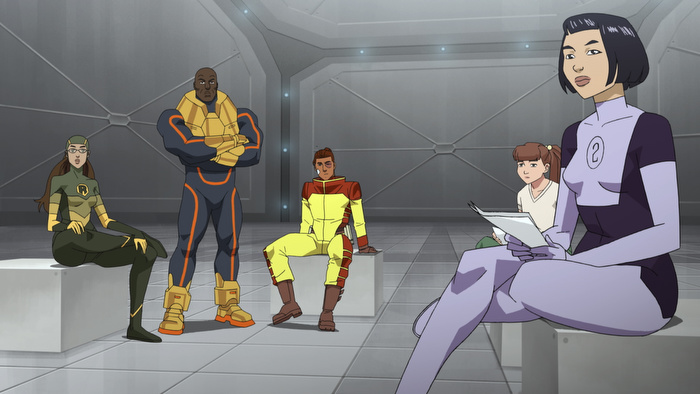 Photo courtesy of Amazon Studios
The show looks good too. Clear character designs look like they leapt off the page, the action is fluid, and comedic scenes carry off well. The style of animation highlights reactions, expressions, and posing. The voice work by the cast led by Steven Yeun as Mark and the cartoon father figure voice gawd J.K. Simmons as Omni-Man, with Sandra Oh, Mark Hamill (also a voice gawd), Seth Rogen, Gillian Jacobs, Zazie Beetz, and so many others all do fantastic jobs. Most having done some type of voice work before, the emoting and voice acting brings you into the story. With these first three episodes being so well done, I look forward to reliving this story and I hope people check this series out, as you'll be seeing a welcome surprise in US animated TV. 
In the End: These first episodes are a great primer for the series with good animation, good characters, and solid twists and turns.