Basically: In a place very much like our own, science, magic, and a little bit of "dust" set the stage for a young orphan who is destined to either save or burn down the world.  
Allow me to introduce this review in a way no fan of an adapted property wants
to hear: 
I did not read the books.
For the uninitiated, the His Dark Materials series is an adaptation of the internationally acclaimed award-winning trilogy of fantasy novels by Philip Pullman, CBE, FRSL, consisting of Northern Lights (also published as The Golden Compass), The Subtle Knife, and The Amber Spyglass. Dear Game of Thrones of fans, that means the series is complete (don't worry).  
If you were hoping for a replacement for GoT this is in no way it. This series combines elements of fantasy, religion, animism, Victorian Steampunk, and Micheal Moorcock-ian multiverse theory. Confused, you should be, with the His Dark Materials series that is a good place to be. The only thing more diabolical than the characters' motives are the producers' designs in presenting the story. Weaving the aforementioned themes into a compelling and engaging series was no small task and these mad-folks deliver it beautifully.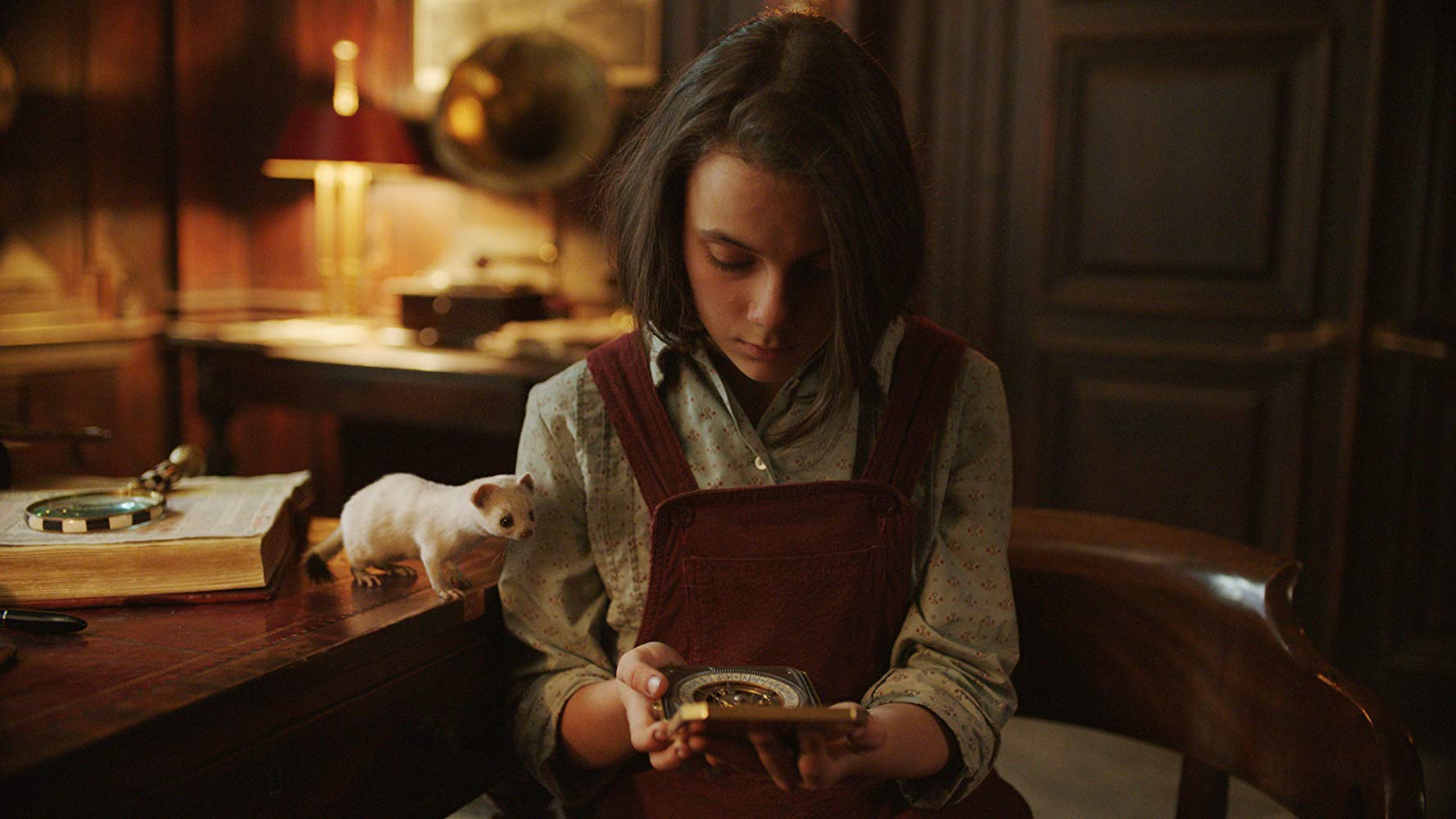 Photo courtesy of HBO
Enter the orphan Lyra Belacqua (Dafne Keen) who, on a stormy night, is delivered to the academics of Jordan College, Oxford by the questionably sane Lord Asriel (James McAvoy) for reasons only known to him. Fast forward and the baby reaches the age of precociousness, Lyra has grown into a charming child full of the type of naive but savage intelligence that makes most adults uncomfortable…or angry. Through a series of cunning twists and turns, Lyra finds herself the ward of Ms. Marisa Coulter (Ruth Wilson), a ruthless figure with secret machinations that could shake the natural order of things across the empire and the Magisterium (the governing religious organization that exerts a potent and expansive control over most aspects of society). 
Within this lush backdrop is the terrifying mystery of the Gobblers, an unknown force abducting the children of the nomadic Gyptian folk. This river-faring culture, which still lives by old-world traditions, sees their future being taken away so they must venture out into the wider world to take their children back and to discover: Who are the Gobblers and what do they want with the children? 
Photo courtesy of HBO
When I began the series, I could not help being struck by the lavish quality of the production. His Dark Materials, as the opening cards state, takes place in a world very much like our own but not. The "not" part is what is astounding. Each person has an animal companion called a dæmon, who is a physical representation of their soul (more on that later), and every other detail shows this world as both fantastic and familiar. While fulfilling the promise of Steampunk, the show displays beautiful alternate technology, set design, and well rendered characters within the culture it creates. Admittedly some things were a bit more modern than in the books but in creating the HDM-world, HBO created a more complex organism that for some viewers might be overwhelming. After all it's a "fantasy" full of weird, strange, and often creepy imagery, so the series spends a good amount of time setting the table, in an effort to make sure that no one watching is left behind.
With a world stage such as this, what about the poor players that strut and fret their hour? The true standout is Ruth Wilson. While I thought no role could outshine her portrayal of the oft-bent Alice from Luther, Ms. Wilson unleashes a figure of enticing sensuality and dominance. Moral ambiguity does not even begin to describe her inclinations. Every world needs a "villain" but classifying Mrs. Coulter as the bad-guy is both limiting and unimaginative. She is more than that. What "more" remains to be seen but one thing is for sure, you can't wait to find out. Her connection to Lyra is suspect to say the least, however none dare question her motives for fear of the repercussions. And those repercussions are dealt out by Lord Carlo Boreal (Ariyon Bakare), a dark mysterious figure with a head full of his own secrets. Bakare delivers a character so enigmatic and charming that every appearance immediately raises the tension in a scene, which is no small feat considering the caliber of actors in this show. The man has more BDE than King Kong. Explaining more about him would spoil the fun, so we'll move on to Lyra. Not to be ignored is the "silver tongued" [book joke] Dafne Keen, better known to some of us as X-23 from Logan. Keen plays Lyra faithfully, displaying the natural impatience and poor judgment one expects from a 12 year with a desperate need to find their place in the world.
Photo courtesy of HBO
A special note should be made about the creatures of the series, or as they are called dæmons. Crash course time: Dæmons are a person's "inner being", soul or spirit—which in no way is to be confused or associated with the "Spirit Animal" beliefs of indigenous cultures. Dæmons take the form of creatures such as moths, birds, dogs, monkeys, snakes, ocelots etc. They are usually the opposite sex to their human counterparts. The dæmons of children have the ability to change form—from one creature to another—but towards the end of a child's puberty, their dæmon "settles" into a permanent form, which reflects the person's personality. And yes that exposition was necessary as dæmons play an integral part to the story. An effort the series stresses by giving them characters as deep, fun, and sometimes more tragic than their human counterparts.
In the End: His Dark Materials has levels of fun, wild, terrifying depths that will not only engage you in this new world but will have you taking sides. Because something bad is coming—and make no mistake it will be worse than Winter.