Basically: A remix of the High Fidelity story for the millennial generation.
High Fidelity (2000), based on the novel of the same name by Nick Hornby, is a pretty well-liked movie. It fits perfectly in a place between the world of the 1990s and the 2000s. Many end up loving John Cusack's Rob and his two employees/best friends Dick and Barry and their conversations of a top-five of this or a top-five of that. It's safe to say that, for many, this movie popularized the list-type of thinking and is maybe to blame for listicles in the 2010s. This tale of a man trying to figure out his relationship issues seems universal for those times. 
Now it's 2020, a whole twenty years later, and Hulu has taken this story, flipped it, and made it into a series. Rob is now played by Zoë Kravitz and, much like in the other versions, she owns a record store. Rob has two music nerd employees and they have music nerd conversations all day. This time the store is in Brooklyn, New York instead of Chicago or London.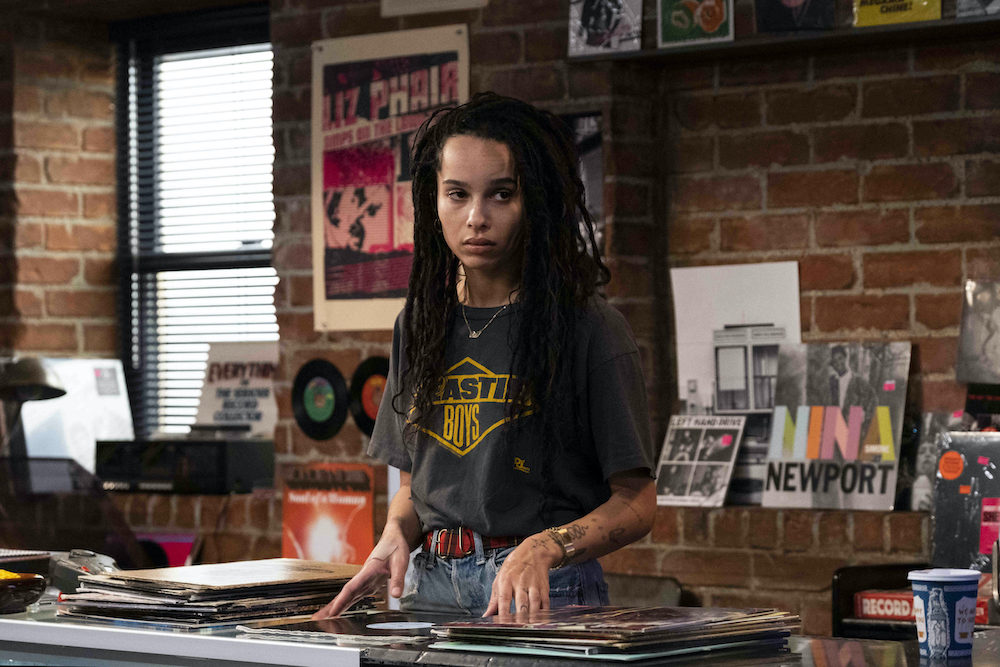 Photo by: Phillip Caruso/Hulu
I liked this show. Gender flipping the main character brings something else to the story. It's not the usual male "I'm afraid of commitment and growing up" stuff that gets old even if it's done in a great and entertaining way. 2020 Rob is still heartbroken after a bad breakup but this version feels a lot more complicated. Rob also still breaks the fourth wall which means we get into her head. Her big break up is with a gentleman named Mac (Kingsley Ben-Adir) from London (nice wink there). 
While Rob is in the post-breakup period, lumbering around in a malaise, her brother Jackson (Rainbow Francks) and her friends/employees Simon (David H. Holmes) and Cherise (Da'Vine Joy Randolph) try to get her out of her funk. This show takes the story's original structure—Rob dealing with a breakup and going on a journey of self-discovery through her top five previous breakups—and grows into something more akin to Sex in the City. Now, that's not to say High Fidelity is exactly like
that classic series but it has that vibe, mixed with the source material and the
movie version.
Kravitz has the charisma to carry High Fidelity through all ten episodes. I don't remember seeing her be the focus of a show before—where we see the whole world through her character's eyes. She plays her version of Rob with a level of neurotic overthinking yet she remains effortlessly cool. You can love her in one scene and think she's trash is another and that's great to watch. She also has great chemistry with Kingsley Ben-Adir who plays her ex-fiancé. This will-they-won't-they question hovers around the season that drives any great rom-com. 
Photo by: Phillip Caruso/Hulu
Unlike the movie version, her two friends Simon and Cherise get to be more well-rounded characters instead of archetypes (let's be honest, Jack Black was just being Jack Black). Simon is the solid voice of reason, bouncing off of Kravitz's chaos-inducing Rob. The one person who stands out in every single scene she's in is Da'Vine Joy Randolph as Cherise, she brings so much energy to each frame with excellent timing. She's there to provide the big laughs but she's also the gut check for Rob and Simon (to make sure they don't go off the dark end of their feelings and to keep them honest).
As you can tell, I liked High Fidelity and it's perfect for this Valentine's Day weekend. You'll feel like you can choose to stretch out the viewing but you'll also want to finish it. It grabs you and brings you along and gets you so invested in this whole world. The showrunners clearly believe in this series because the story doesn't wrap up with a bow at the end and leaves so many things open to be explored later. I like what Hulu is doing with their rom-coms and I hope they continue. This one is my favorite Hulu series so far.
In the End: Hulu's High Fidelity is a great remix of a known property, adding in some color in the correct way to make it way less male-focused. It's a great new era rom-com show and I hope plenty of people see it.