by Sherin Nicole and Alex Bear
Actually: 8.5
Basically: It's 90210 but for the grown and sexy—a full glow-up—with a Notting Hill address.
If you know us at all, you'll know that we're totally "bonkers" over British rom-coms. Particularly those written by Richard Curtis (who else?). Just give us those nervous overly-polite umming and ahhing declarations of love shouted out on a Notting Hill street and we're ready to cheer. So when we heard that Four Weddings and a Funeral, the film that launched Curtis' (and Hugh Grant's) career, was being adapted into a limited series by Hulu we were delighted. When we heard Mindy Kaling and Matt Warburton were behind it, we were even more thrilled.
And Hulu's Four Weddings and a Funeral lives up to our (higher than the London skyline) expectations. For those who don't know the story, it revolves around a group of American friends in London brought together by (you guessed it) four weddings and a funeral. In this version, we get all new characters. Maya (Nathalie Emmanuel) is a political speechwriter living in New York and she has a personal life that's out of control [read: she's doing dirt, y'all]. So when she gets a chance to escape to see her best friend Ainsley (Rebecca Rittenhouse) in London, she hops on the next plane.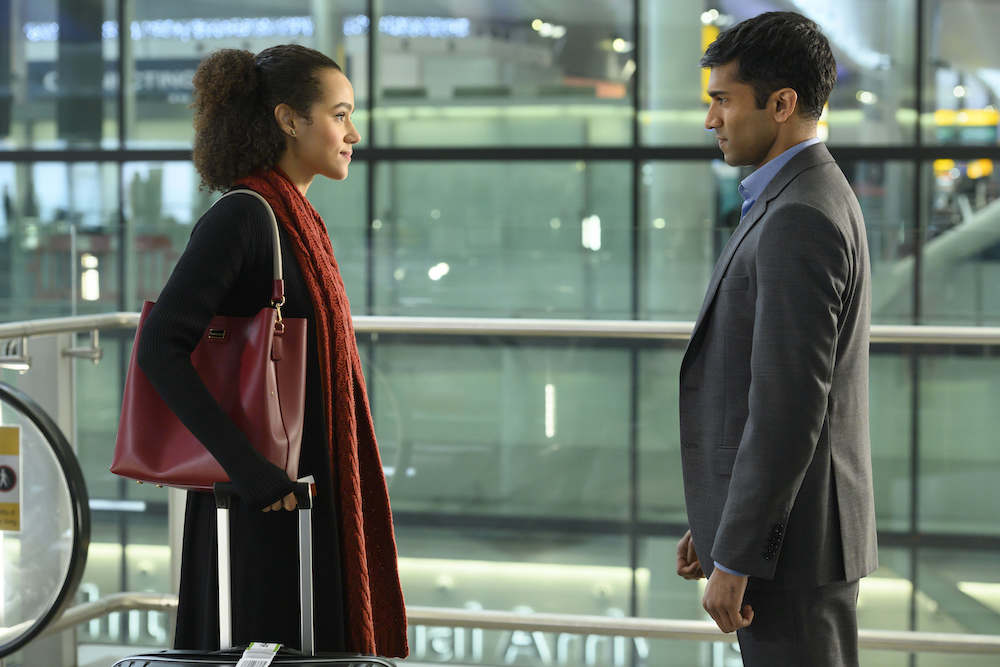 Photo Credit: Ollie Upton
All Ainsley wants is that picture-perfect romance…but not everything in her life is so rose-tinted. Her boyfriend Kash (Nikesh Patel) is having second thoughts after meeting an amazing woman at the airport (in one of the cutest meet-cutes we've ever seen). So much chemistry! Annnd we'll give you ONE guess as to who that woman is. Kash is a total romantic hero with the flaws, charm, and the "Ryan Gosling dipped in caramel" looks to match.
There's also Duffy (John Reynolds), another friend from college. He's the rom-com best friend—bookish, a bit forlorn, and hopelessly in love with Maya (emphasis on the word hopeless)—and not entirely the guy he seems to be. Then there's Craig (Brandon Mychal Smith) who refers to himself as the funny one of the group. He's dripping in machismo and he's not afraid to show his abs or his sweet side—especially when it comes to his super-over-the-top, super-Essex girlfriend Zara (Sophia La Porta). Essex is London's Jersey Shore, for those of you who don't know.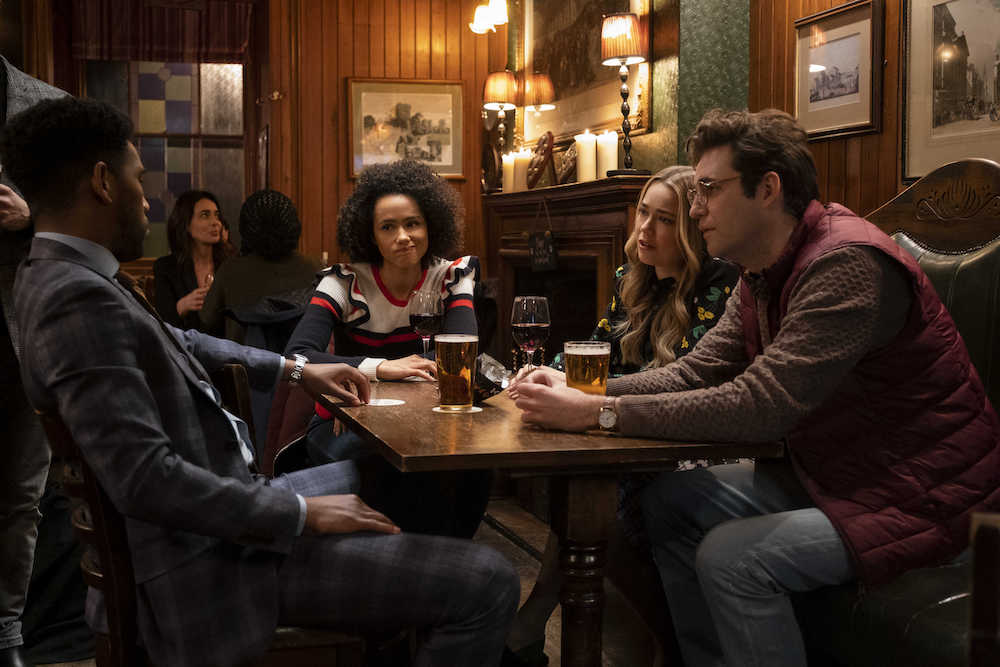 Photo Credit: Ollie Upton
Are you in love yet? You're going to be. The sheer roller coaster of it all will keep you binging until the last episode. We may be suffering from withdrawal or maybe it's a craving. We're not quite sure what to call it but we can say this slice-of-life rom-dramedy is absolutely delicious. Four Weddings and a Funeral the series has all the classic Richard Curtis recipes. And with Mindy Kaling added to the mix it's so freakin' good.
The writing is sharp, observant, and witty—often dissecting love, friendship, and the growing pains of going from college grad to "responsible" adult when the last thing you want to be is reasonable. It's like: What if 90210 was funny and filled with adults? AND there's a cliffhanger at the end of every episode, so you really can't stop watching. After viewing the first seven episodes, the Londoner in this duo said, "I'm about to sound the most British I've ever sounded (blame the show) but it's bloody brilliant innit?"
In the End: Watch the Four Weddings and a Funeral series as soon as possible. The character development is strong, the laughs are stronger, and the opening scene—y'all are not ready for it.