Basically: What if you were shown when the END OF EVERYTHING was going to happen…what would you do to save the universe? 
Welcome to the far future, about 19,500 years, mathematically speaking. It is a future where all of existence is ruled by the Galactic Empire. Thanks to the wonders of psychohistory, it is possible to mathematically predict future events by extrapolating from historical trends. This is a future of balance and control through numbers, equations, and theorems. These themes of the past, the future, and what we do in the present permeates the new Foundation series. How can we move forward into a future when still tethered to the past? However, without the past, how can we accept any future is real? 
"The clock is ticking; the hours are going by. The past increases, the future recedes. Possibilities decreasing, regrets mounting."
–Haruki Murakami
—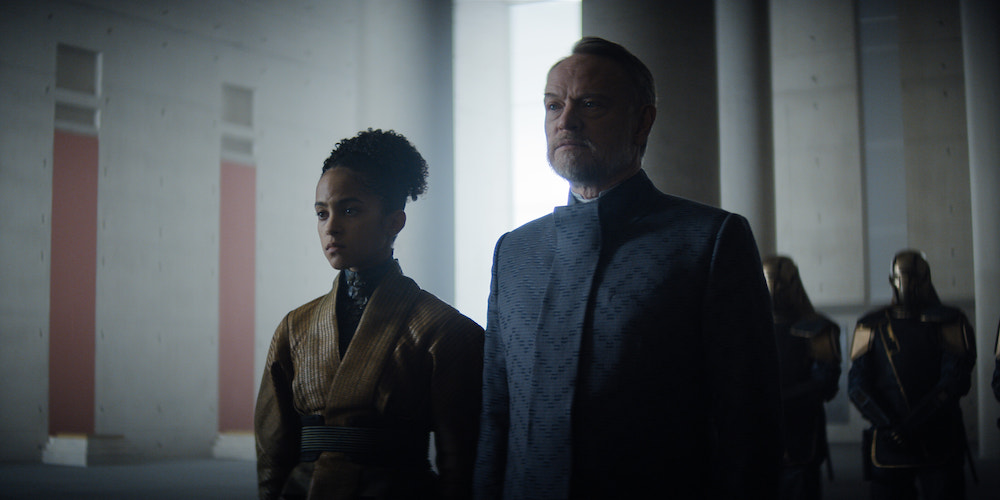 Photo: Apple Studios
Foundation chronicles a band of exiles and their leader Hari Seldon (Jared Harris) on their monumental journey to save humanity from itself and prepare to rebuild civilization amid the impending fall of the Galactic Empire. Based on Issac Asimov's Foundation novels, published between 1942 and 1955, it also forecasts the end of an era—thanks to the preeminent psychohistorian Seldon. Needless to say, this type of news threatens the 12,000-year "stable" rule of a trio of megalomaniacs. 
Considered one of the greatest science fiction stories of our age, the attempt to take on this monster, called Foundation, is worthy of applause in and of itself. As a hard science fiction elitist snob—I take great joy in crushing the Star Trek vs Star Wars argument (Star Trek btw)—this series does not disappoint. It has everything you would need to get lost in a fantastical world that is incredibly different but very much like our own at the same time: a corrupt, mad governing body, a brain-washed populace, intelligent heroes, and science so advanced that to lesser developed beings it would be mistaken for magic.  
To call this show's undertaking a bold and audacious move by Apple TV+ would be an understatement. After I previewed the series, I was genuinely pleased. While it is told differently, it is still at its heart Foundation. A series that explores all the successes, failures, quirks, and foibles of human nature in an unprecedented and desperate time full of crisis and insecurity. Hari Seldon declaring, we are DOOMED, starts off the conversation about human evolution, 'what is society,' and colonization that still holds up today.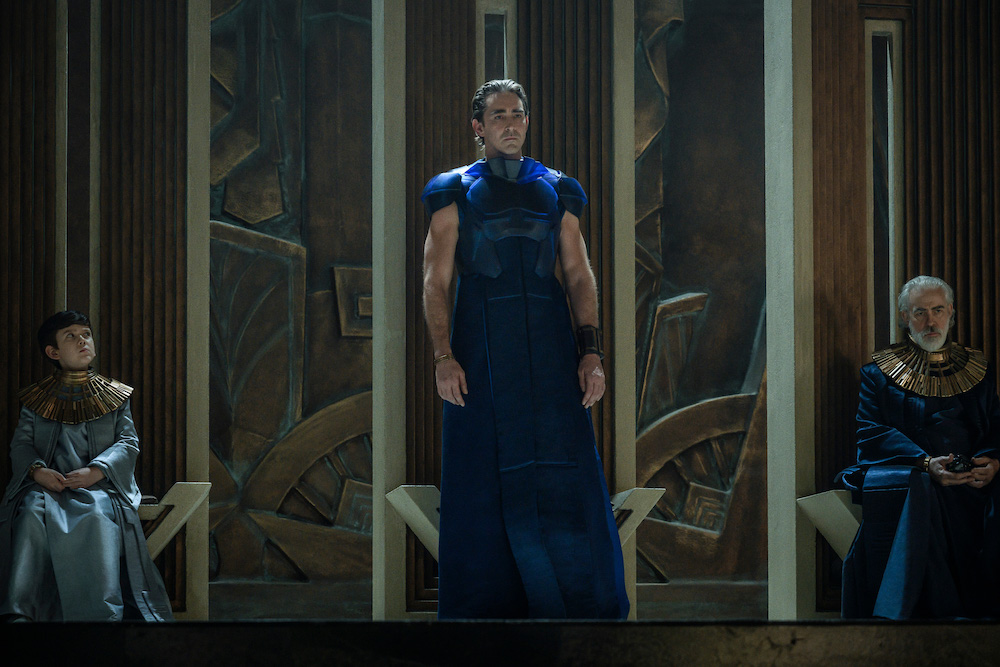 Photo: Apple Studios
The most essential character of the show is the Galactic Empire, the people, the society itself. While the themes in the show are universal, the world we are cast into is not. From space travel, mathematics, and even the races that populate this universe, we know unequivocally that we are no longer in Kansas. Remember, this is a show about history and its ties to the present and future. The creators David S. Goyer and Josh Friedman, with the backing of Robyn Asimov, do a fine job of showing the juxtaposition of advancement against provincial objects…like paper, further illustrating in small ways that the past is prologue in the end. 
The governing body of the Galactic Empire, simply called 'The Empire,' consists of a trio of clones of their original Emperor Cleon I: Brother Dusk (Terrence Mann), Brother Day (Lee Pace), and Brother Dawn (Cassian Bilton). I guess in-breeding will become too much work in the future. While these characters were created for the series, this thoughtful update gives us a visual and tactile road map of the rise and eventual fall of the Empire. Nevermore is this prevalent than in Brother Day, the head of the Empire. A charismatic figure whose words belie a mercurial temperament and volcanic personality bent on maintaining the Empire's rule over…everything…no matter the body count, even if that body count is of genocidal proportions.  
While Hari Seldon is the start of this kerfuffle, we see these events through the eyes of young novice Gaal Dornick (Lou Llobell), a math genius from Synnax, a rural repressive society. She yearns to join Hari Seldon on Trantor, the Galactic Empire's capital. Completely unaware the series of events Seldon has put into motion will threaten her life, Gaal's journey is inspiringly expansive and tragically salient in her relationships with Hari, his people, and her own personal demons. We experience her growth from her arrival on Trantor to her discovery of the secrets of the Galactic Empire to Hari Seldon himself.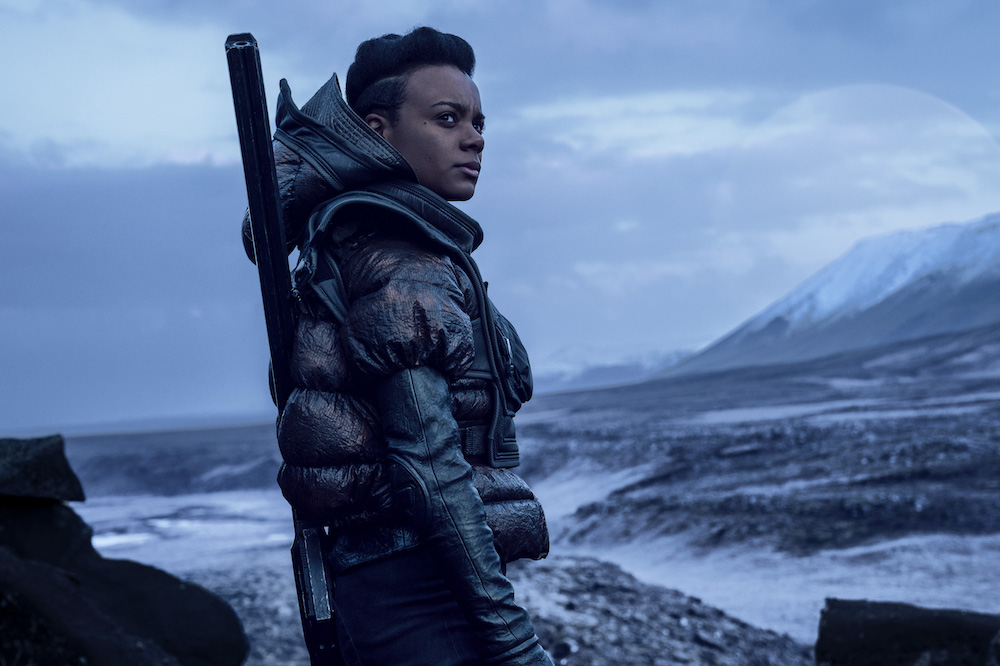 Photo: Apple Studios
Revelations about interpersonal relations, political intrigue, and the big question of humanity's achievements and if those achievements are worth keeping, are part and parcel of what makes the show compelling. However, the episodes rollout frustratingly slow at the beginning, to ensure the viewer does not get lost within such a high-concept story. With a smorgasbord of constant new character introduction, time jumps, and the occasional fictitious math debate, it feels a bit over-indulgent at times but the effort is most assuredly appreciated. As an aside, according to these talks, I am pretty sure around the 11,000-year mark of their history, 2+2 stopped equaling 4.  
I could go on about how brilliantly the series shows us a world very much like our own, where bread and circuses are cast out to the people to hide the cracks appearing in society. Or how performative displays of power are used to hide impotent policies that prop up a false narrative of control over the general populace. But Foundation does it better. 
In the End: Remember, numbers don't lie but people do. In Foundation, we learn that things fall apart no matter what, and it is fun to watch on this show.